I N T H E U K . . .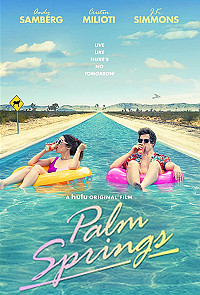 NB. With cinemas still closed, there is no box office data from the UK this week.



• Now showing: PALM SPRINGS. THE TRUFFLE HUNTERS. ROSE: A LOVE STORY. SEQUIN IN A BLUE ROOM. A COMMON CRIME. LOVE, WEDDINGS & OTHER DISASTERS. CHAOS WALKING. GODZILLA VS KONG. THE NIGHT. UNDINE.
---
I N T H E U S . . .
= GODZILLA VS KONG
+ NOBODY
– THE UNHOLY
> VOYAGERS
– THE COURIER
– THE GIRL WHO BELIEVES IN MIRACLES
• Still showing: MOFFIE. RUNNING NAKED. FRENCH EXIT. LIKE A HOUSE ON FIRE. THE MAN WHO SOLD HIS SKIN. MINARI. WW84. SHOPLIFTERS OF THE WORLD. BAD TRIP. THE FATHER.
---
T O P S T R E A M E R S . . .





D A T E L I N E : 1 4 A P R I L . . .
Phoebe Waller-Bridge is joining the cast of the fifth INDIANA JONES movie, alongside Harrison Ford. There's no word yet on the plot of this movie, but Steven Spielberg will be producing, passing the directing job on to James Mangold. John Williams is once again providing the score.
---
Anthony Hopkins, Mickey Sumner, Melora Walters, Madeline Brewer, Camille Rowe, Ray Nicholson and Angela Sarafyan will star in the dark drama WHERE ARE YOU, about a photographer whose career begins to fall apart, then his girlfriend disappears. Valentina De Amicis and Riccardo Spinotti are directing.
---
Josh O'Connor will reteam with God's Own Country filmmaker Francis Lee for a horror film based on a novel that's set in the 20th century, deals with the British class system and has elements of queerness as a sad young man is alone in the wilderness. Those are the only details Lee has let slip so far.
---
Benny Safdie has joined the cast of ARE YOU THERE GOD? IT'S ME, MARGARET, based on the classic novel about a young teen (Abby Ryder Fortson) questioning her life as she enters adolescence. Costars include Rachel McAdams and Kathy Bates. Kelly Fremon Craig is writing and directing.
---
Elsie Fisher, Cathy Ang, Amiah Miller and Rachel Ogechi Kanu are leading the ensemble cast of the horror black comedy MY BEST FRIEND'S EXORCISM, about a teen who begins to suspect that her best friend has become possessed by a demon after they go skinny-dipping. Damon Thomas (Killing Eve) is directing from a screenplay by Jenna Lamia (Good Girls).
---
Thomas Jane will star with his daughter Harlow Jane in the dark thriller DIG, as a single dad and his teen daughter who are taken hostage by intruders and forced to excavate under a vacant house. Director K Asher Levin (Slayers) starts filming later this month from a script by Banipal and Benhur Ablakhad.
---
Meanwhile, Thomas Jane and Gabriel Byrne are joining Isaiah Mustafa (It) in the Western thriller MURDER AT EMIGRANT GULCH, about a freed slave in 1882 who arrives in a declining Montana boomtown and is immediately arrested for murdering a prospector who had just found gold. Richard Gray is directing.
---
Following the success of their first project Shiva Baby, Emma Seligman and Rachel Sennott will reteam for the comedy BOTTOMS, about two unpopular queer girls who start a fight club in their high school. Both are writing the script, Seligman will direct and Sennott will play one of the leads. Elizabeth Banks is producing.
---
Cristiana Dell'Anna (Gomorrah) will star in CABRINI, a biopic about the 19th century Italian-American nun who founded a Catholic religious order to help fellow immigrants. She was also the first US citizen to be canonised as a saint. Alejandro Monteverde is directing.
---
And Margaret Cho, Fortune Feimster, Rebecca Henderson and Paris Jackson have joined the cast of SEX APPEAL, a teen comedy about a young couple (Mika Abdalla and Jake Short) navigating a long-distance relationship. Talia Osteen is directing from a script by Tate Hanyok (Transparent).
---






D A T E L I N E : 1 1 A P R I L . . .
Chris Hemsworth is teaming up with Russell Crowe to make a sequel to the 2000 hit GLADIATOR, which would see Hemsworth playing the now-grown son of Crowe's character Maximus. Ridley Scott is likely to be involved in some way, as is Hemsworth's wife Elsa Pataky, who apparently got the project moving.
---
Olivia Colman will team up with Sam Mendes for EMPIRE OF LIGHT, a romantic drama set around an old cinema on England's southern coast in the 1980s. Plot details are under wraps, but Mendes is writing and directing the film, and reteaming with cinematographer Roger Deakins.
---
Naomi Watts will star in an English-language remake of GOODNIGHT MOMMY, the Austrian psychological thriller about twin brothers who become unsure about their mother's identity and behaviour as her face is wrapped in bandages after surgery. Matt Sobel is directing from a script by Kyle Warren.
---
Salma Hayek has joined the cast of HOUSE OF GUCCI, Ridley Scott's true-crime drama about how Patrizia Reggiani (Lady Gaga) plotted to kill Maurizio Gucci (Adam Driver), grandson of the fashion house's founder. Costars include Al Pacino, Jeremy Irons, Jared Leto and Jack Huston.
---
Helen Mirren will play Israeli Prime Minister Golda Meir in a biopic set during the 1973 Yom Kippur War, when Egypt, Syria and Jordan launched a surprise attack to regain territory lost in the 1967 Six Day War. Guy Nattiv is directing from a script by Nicholas Martin (Florence Foster Jenkins).
---
Joe Alwyn and Dean Charles Chapman have joined the cast of CATHERINE CALLED BIRDY, alongside Andrew Scott and Bella Ramsey. It's based on the novel about a teenager in medieval England who's trying to avoid an arranged marriage. Writer-director Lena Dunham is currently shooting.
---
Maria Balakova, Pete Davidson, Amandla Stenberg and Myha'la Herrold (Industry) will star in the slasher horror BODIES BODIES BODIES. There's no word yet on the story, although the title and casting hint that it's probably a comedy. Halina Reijn (Instinct) is directing.
---
Wunmi Mosaku (Lovecraft Country) will join the cast of CALL JANE, alongside Elizabeth Banks, Sigourney Weaver, Kate Mara and Rupert Friend. It's about a 1960s housewife who joins a group of women's rights activists while seeking to end an unexpected pregnancy. Phyllis Nagy is directing from a script by Hayley Schore and Roshan Sethi.
---
Edgar Ramirez is joining the cast of BORDERLANDS, Eli Roth's adaptation of the videogame about space-travelling mercenaries seeking a source of power. Currently shooting, the film also stars Cate Blanchett, Kevin Hart, Jamie Lee Curtis, Jack Black, Ariana Greenblatt, Olivier Richters and Florian Munteanu.
---
Rachael Leigh Cook will star in the romantic adventure A TOURIST'S GUIDE TO LOVE, about a travel executive who, after a breakup, decides to go undercover as a tourist to check out the tourism industry in Vietnam. Eirene Donohue is writing the script based on an idea from Cook.
---
And producers Christine and Mark Holder are developing an animated feature based on PEEPS, those marshmallow Easter chicks. Imagined as a Trolls-meets-Smurfs comedy adventure, the movie will centre around a group of Peeps heading across the country to attend Peepfest.
---






D A T E L I N E : 7 A P R I L . . .
Zendaya is voicing Lola Bunny in SPACE JAM: A NEW LEGACY, the sequel to the 1996 romp combining Looney Tunes cartoon characters and basketball stars. Costars include LeBron James, Sonequa Martin-Green and Don Cheadle. James is also producing, while Malcolm D Lee is directing.
---
Nicola Peltz and Virginia Madsen will star in LOLA JAMES, about a troubled young woman saving up to get her little brother out of their toxic family home. Peltz is also writing, producing and making her directing debut alongside Bria Vinaite (The Florida Project). Costars include Luke David Blumm, Richie Merritt, Trevor Long and Raven Goodwin.
---
Dave Franco, Steve Howey, Oliver Masucci, Natasha Liu Bordizzo and CS Lee are joining Jamie Foxx in DAY SHIFT, about a single dad whose job as a pool cleaner is a front for his real work as a vampire hunter. JJ Perry is directing from a script by Tyler Tice.
---
Anthony Ramos is lined up to star in the next TRANSFORMERS movie, a Bumblebee spin-off about a guy whose life is off the rails when he gets help from Optimus Prime. Kiki Layne and Dominique Fishback have been rumoured as possible costars. Steven Caple Jr (Creed II) is directing from a script by Joby Harold.
---
Ashley Judd and Cree Cicchino will star in #FBF, a screen-based drama about a teen who accidentally takes her mother's laptop when she goes to visit her father. So she decides to pose as her mother online to get her parents back together. Ilyssa Goodman is directing from a script she wrote with Ashley Peter.
---
Bollywood superstars Amitabh Bachchan and Deepika Padukone will star in a Hindi-language remake of the Robert De Niro/Anne Hathaway comedy THE INTERN, about a 70-year-old widower who becomes an intern at a fashion website and strikes up a friendship with the workaholic CEO. Amit Ravindernath Sharma is directing.
---
Dianna Agron is joining Dustin Hoffman, Candice Bergen and Simon Helberg in AS SICK AS THEY MADE US, a drama about a young woman trying to keep her broken family together. Big Bang Theory star Mayim Bialik is making her writing-directing debut.
---
Kim Dickens and Noah Emmerich are joining the cast of the thriller THE GOOD NURSE, alongside Jessica Chastain, Eddie Redmayne and Nnamdi Asomugha. It's based on the true story of Charlie Cullen, a nurse who was perhaps the most prolific serial killer in American history. Tobias Lindholm is directing.
---
Al Madrigal, Sarayu Blue, Nija Okoro and Chris Williams are joining the cast of STARGIRL 2, which continues the adventures of a young woman (Grace VanderWaal) as she takes on the music industry in Los Angeles. Costars include Uma Thurman, Judy Greer, Judd Hirsch, Elijah Richardson and Tyrel Jackson Williams. Julia Hart is back as director-cowriter.
---
And Randall Park will make his directing debut with SHORTCOMINGS, based on the graphic novel about three young people who leave the Bay Area and travel across America in search of the perfect relationship. Author Adrian Tomine is writing the script.
---






D A T E L I N E : 4 A P R I L . . .
Daniel Craig will be back for two whodunit sequels to KNIVES OUT, both written and directed by Rian Johnson. There's no word yet on the premise, but casting is underway, and filming is set to start in late-June in Greece.
---
Kelvin Harrison Jr will star in CHEVALIER DE SAINT-GEORGES, a biopic about the 18th century composer, violinist and fencing champion who was the illegitimate son of a slave and a plantation owner int he French Caribbean. A falling-out with Marie Antoinette led to his downfall. Stephen Williams (Watchmen) is directing.
---
Steven Yeun is joining Daniel Kaluuya and Keke Palmer in the next film written and directed by Jordan Peele. There's no information yet on a title or premise, but it's apparently a horror film along the lines of Get Out and Us. And it's set to be released in July 2022.
---
Andrea Riseborough, Stephen Graham and Sindhu Vee are joining the cast of MATILDA, the musical based on Roald Dahl's classic novel about a young girl (newcomer Alisha Weir) who takes on her horrible headmistress (Emma Thompson). Matthew Warchus is directing.
---
Alia Shawkat, Clark Gregg, Jake Lacy, Linda Lavin, Robert Pine, Christopher Denham and Tony Hale have joined BEING THE RICARDOS, which stars Nicole Kidman and Javier Bardem as Lucille Ball and Desi Arnaz, plus JK Simmons and Nina Arianda as William Frawley and Vivian Vance, aka Fred and Ethel on the groundbreaking sitcom I Love Lucy. Aaron Sorkin is writing and directing.
---
Luke Evans, Olga Kurylenko and Jacob Tremblay will star in BEAR SEASON, based on the novel about a teen in late-1940s Detroit, trying to learn about his father from his immigrant mother and war-traumatised uncle. Simon Aboud is directing from a script by Donald Martin.
---
Andie MacDowell, Gale Harold and Patrick Gibson will join newcomer Rain Spencer in GOOD GIRL JANE, about a lonely girl who falls for a charming drug dealer and is pulled into his world of meth-addicted teens. Sarah Elizabeth Mintz is writing and directing.
---
Woody Harrelson will star in THE MAN WITH THE MIRACULOUS HANDS, a psychological thriller based on the real-life Finnish physician who was drafted in to treat Nazi official Heinrich Himmler, then carefully undermined his work. The project reteams Harrelson for a third time with director Oren Moverman.
---
Jeremy Strong will star in SPLENDID SOLUTION, a biopic about virologist Jonas Salk as he researches and develops the polio vaccine over seven years. Salk famously refused to patent the formula, so it could be used by anyone to help eradicate the debilitating disease. The script is by Gillian Weeks.
---
Josh Duhamel, Amy Landecker, Jack Quaid, Billy Burke, Titus Welliver and David Dastmalchian have joined the voice cast of BATMAN: THE LONG HALLOWEEN, a two-part animated feature starring Jensen Ackles in the title role. The mystery thriller also features the late Naya Rivera as Catwoman.
---
And Russell Crowe apparently has a cameo role in Taika Waititi's THOR: LOVE AND THUNDER, which again stars Chris Hemsworth, Natalie Portman, Tessa Thompson and Jeff Goldblum, plus villain Christian Bale, fellow Marvel heroes Chris Pratt and Karen Gillan, and cameos for Luke Hemsworth, Matt Damon and Sam Neill.
---
OLDER NEWS >>