I N C I N E M A S . . .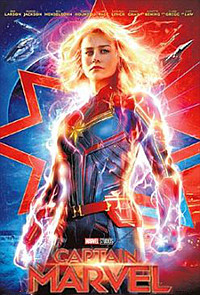 CAPTAIN MARVEL


EVERYBODY KNOWS (Sp)


THE KINDERGARTEN TEACHER


RAY & LIZ


BORDER (Swe)
ROSIE: Sarah Greene
CLEFT LIP: Reece Douglas
TIGERS: Emraan Hashmi
MAIDEN: round-the-world sailing doc
SCOTCH - THE GOLDEN DRAM: barley-to-barrel doc
H IS FOR HARRY: education doc

FIGHTING WITH MY FAMILY


THE AFTERMATH


WHAT THEY HAD


HANNAH


THE HOLE IN THE GROUND


FOXTROT (Isr)


SAUVAGE (Fr)
SERENITY: Matthew McConaughey
MISS BALA: Gina Rodriguez
BURNING MEN: Edward Hayter
RING: Nanako Matsushima
ANANDI GOPAL: Bhagyashree Milind
KOBIETY MAFII 2: Agnieszka Dygant
LUKA CHUPPI: Kartik Aaryan
SONCHIROIYA: Sushant Singh Rajput
OF LOVE & LAW: Japanese law firm doc

COLD PURSUIT


ON THE BASIS OF SEX


OLD BOYS


CAPERNAUM (Leb)
TOTAL DHAMAAL: Ajay Devgn
TEDDY PENDERGRASS - IF YOU DON'T KNOW ME: singer doc

A PRIVATE WAR


ISN'T IT ROMANTIC


INSTANT FAMILY


JELLYFISH


PIERCING


MEKTOUB, MY LOVE: CANTO UNO (Fr)
THE KID WHO WOULD BE KING: Rebecca Ferguson
HAPPY DEATH DAY 2U: Jessica Rothe
9 - NINE: Prithviraj Sukumaran
GULLY BOY: Alia Bhatt
FALL IN LOVE AT FIRST KISS: Lin Yun
---
A T H O M E . . .


BOHEMIAN RHAPSODY


SEARCHING


THE HOUSE THAT JACK BUILT


LEAVING NEVERLAND


THE LAST SHARKNADO: IT'S ABOUT TIME


POSSUM

THE GUILTY


FREAK SHOW


NO ORDINARY BOY: BOYS ON FILM 19 (shorts)


DESIRE (shorts)


JULIET NAKED


BOAR


REDCON-1

FIRST MAN


RBG


THE HATE U GIVE


JOHNNY ENGLISH STRIKES AGAIN

A STAR IS BORN


CLIMAX


HE LOVES ME (Gr)


TIDES


NIGHT SCHOOL

BLINDSPOTTING


THE MISEDUCATION OF CAMERON POST


MONSTERS AND MEN


DISOBEDIENCE


BAD TIMES AT THE EL ROYALE


THE CLOVERFIELD PARADOX


PAPILLON


VENOM
I N C I N E M A S . . .


CAPTAIN MARVEL


2050


DEVIL'S PATH
GLORIA BELL: Julianne Moore
THE KID: Chris Pratt
THE SEX TRIP: Jade Ramsey
AN ELEPHANT SITTING STILL: Zhang Yu
FERRANTE FEVER: novelist doc

THE WEDDING GUEST


MAPPLETHORPE


CLIMAX (Fr)


WOMAN AT WAR (Ice)
GRETA: Isabelle Huppert
A MADEA FAMILY FUNERAL: Tyler Perry
SAINT JUDY: Michelle Monaghan
HE MATADO A MI MARIDO: Maria Conchita Alonso
VIRGIN MINNESOTA: Aurora Perrineau
FURIE: Veronica Ngo
STYX: Susanne Wolff
TRANSIT: Franz Rogowski
APOLLO 11: moon misson doc

HOW TO TRAIN YOUR DRAGON: THE HIDDEN WORLD
RUN THE RACE: Mykelti Williamson
THE IRON ORCHARD: Austin Nichols
TOTAL DHAMAAL: Ajay Devgn
MOBILE SUIT GUNDAM NARRATIVE: J David Brimmer
WRESTLE: high school wrestling team doc
PROSECUTING EVIL: Nuremberg Trial doc

ISN'T IT ROMANTIC


FIGHTING WITH MY FAMILY


ALITA: BATTLE ANGEL


SORRY ANGEL (Fr)


BIRDS OF PASSAGE
HAPPY DEATH DAY 2U: Jessica Rothe
DONNYBROOK: Jamie Bell
RUBEN BRANDT, COLLECTOR: Ivan Kamaras

THE LEGO MOVIE 2: THE SECOND PART


EVERYBODY KNOWS (Sp)


COLD PURSUIT


UNTOGETHER


THE GOSPEL OF EUREKA
WHAT MEN WANT: Taraji P Henson
THE PRODIGY: Taylor Schilling
CHOKEHOLD: Casper Van Dien
UNDER THE EIFFEL TOWER: Matt Walsh
PEPPA CELEBRATES CHINESE NEW YEAR: Michelle Wai
---
A T H O M E . . .


THE FAVOURITE


FREE SOLO


VOX LUX


JUPITER'S MOON


THE MERCY


DON'T COME BACK FROM THE MOON


BURNING


INSTANT FAMILY


BEN IS BACK


CREED II


DEVIL'S PATH


I HATE KIDS

THE HAPPY PRINCE


MARY QUEEN OF SCOTS


RALPH BREAKS THE INTERNET


LEAVING NEVERLAND


HOLIDAY

A STAR IS BORN


CAN YOU EVER FORGIVE ME


SGT WILL GARDNER


ROBIN HOOD

SHOPLIFTERS


AT ETERNITY'S GATE


ANTONIO LOPEZ 1970: SEX FASHION & DISCO


BOHEMIAN RHAPSODY


THE FRONT RUNNER
---
© 2019 by Rich Cline, Shadows on the Wall
HOME | REVIEWS | NEWS | FESTIVAL | AWARDS | Q&A | ABOUT | TALKBACK