I N T H E U K . . .
> JURASSIC WORLD: FALLEN KINGDOM
+ SECRET CINEMA: BLADE RUNNER
> KAALA
> McQUEEN
• Still showing: ALL THE WILD HORSES. THE BOY DOWNSTAIRS. WELCOME TO CURIOSITY. I FEEL PRETTY. ON CHESIL BEACH. MY FRIEND DAHMER. L'AMANT DOUBLE. McKELLEN: PLAYING THE PART. THAT SUMMER. PANDORA'S BOX.
---
I N T H E U S . . .
> OCEAN'S EIGHT
– ADRIFT
> HOTEL ARTEMIS
– UPGRADE
– LIFE OF THE PARTY
• Still showing: THE FABULOUS ALLAN CARR. WESTWOOD: PUNK, ICON, ACTIVIST. ASTRO. BREAKING IN. DISCREET. HOOKED. SHOW DOGS. A QUIET PLACE. FAHRENHEIT 451. HOW TO TALK TO GIRLS AT PARTIES.

<< NEWER NEWS
---






D A T E L I N E : 1 0 J U N E . . .
Reese Witherspoon is set to return for a third LEGALLY BLONDE movie, along with original writers Kirsten Smith and Karen McCullah. There's no word yet on the plot, or whether director Robert Luketic will be back as well. The first two films came out in 2001 and 2003.
---
Donald Glover, Ryan Gosling and Ezra Miller are apparently on the shortlist to play WILLY WONKA in a film tracing the candy-maker's younger life. Paul King is directing from a script by Simon Rich.
---
Charlize Theron, Allison Janney, Oscar Isaac, Bette Midler, Chloe Grace Moretz, Nick Kroll and Finn Wolfhard have joined the voice cast of an animated ADDAMS FAMILY movie. Directors Conrad Vernon and Greg Tiernan have based the film's look on the original Charles Addams cartoons in The New Yorker.
---
Jared Leto will return to play THE JOKER in a stand-alone movie that he'll also produce. There's no word on the plot, although the film will sit alongside Margot Robbie's stand-alone Harley Quinn movie BIRDS OF PREY and Todd Phillips' Joker origin film.
---
Dakota Fanning, Damian Lewis, Emile Hirsch, Luke Perry and Clifton Collins Jr have joined the cast of ONCE UPON A TIME IN HOLLYWOOD, Quentin Tarantino's multi-strand film set around the television industry in 1969. Costars include Leonardo DiCaprio, Brad Pitt, Margot Robbie and Burt Reynolds.
---
Rami Malek will reteam with Mr Robot creator Sam Esmail for AMERICAN RADICAL, based on the book about a Muslim who joined the FBI to work undercover following the 9/11 attacks. Esmail is directing.
---
Helen Hunt, John Leguizamo and Jonathon Schaech are joining Tye Sheridan in THE NIGHT CLERK, about an autistic hotel employee who becomes a suspect when a woman is murdered during his shift. Writer-director Michael Christofer is currently filming in Utah.
---
Jeff Goldblum will join Michael Sheen and Michelle Monaghan in THE PRICE OF ADMISSION, a blackly comical thriller about a middle-aged playwright whose life is unravelling, so he buries himself in a play about himself. Peter Glanz is writing and directing.
---
Val Kilmer has reunited with Tom Cruise on the set of the TOP GUN sequel, which just began filming with director Joseph Kosinski. Aside from a rumour about unmanned drones, there's no word on the plot or other returning costars.
---
And Justin Bieber will voice CUPID in an animated movie about the winged god of desire, who causes mortals to fall in love by shooting arrows into them. Bieber is also producing; no writer or director has been named yet.
---






D A T E L I N E : 6 J U N E . . .
Rumour has it that Helena Bonham Carter will play the villain in the next JAMES BOND movie, which again stars Daniel Craig, Ralph Fiennes, Naomie Harris and Ben Whishaw. Danny Boyle is directing from a script by John Hodge.
---
Keanu Reeves, Daniel Dae Kim and Charlyne Yi are joining Randall Park and Ali Wong in ALWAYS BE MY MAYBE, a romantic-comedy about childhood sweethearts who reconnect 15 years after a big falling out. Nahnatchka Khan is directing.
---
Kumail Nanjiani is being lined up to join the new MEN IN BLACK movie, a globe-hopping sequel set around new characters played by Chris Hemsworth and Tessa Thompson. Liam Neeson is also on board. F Gary Gray is directing.
---
Dianne Wiest, Laurence Fishburne, Michael Pena, Taissa Farmiga, Allison Eastwood and Ignacio Serricchio are joining the cast of THE MULE, about a man in his 80s (Clint Eastwood) who becomes an efficient courier for a Mexican drug cartel, and becomes a target for an aggressive DEA operative (Bradley Cooper). Eastwood is also directing.
---
Jason Patric will star in BONDED, a drama about a Mexican teen who is enslaved and forced to work in a sweatshop after he travels to the US to take part in a football camp. Omar Naim is directing the film, which is based on a true story.
---
Amy Seimetz will star opposite Jason Clarke and John Lithgow in the remake of PET SEMATARY, based on the Stephen King novel about a family that decides to resurrect its dead son with the help of a creepy native burial ground. Kevin Kolsch and Dennis Widmyer are directing.
---
Matthew Modine will play a coach in the drama CHANCE, based on the true story of the community reaction after baseball player Chance Smith (Blake Cooper) committed suicide at age 16 after a breakup. John B Crye is making his directing debut, working from a script by real-life coach Michael P Daly.
---
Julian Dennison has joined the cast of the crossover adventure GODZILLA VS KONG, which will follow on from next year's Godzilla sequel. Characters from the earlier films are likely to be back, as are some from Kong: Skull Island. Adam Wingard is directing.
---
Zack Snyder will make a new film version of Ayn Rand's 1943 novel THE FOUNTAINHEAD, about an architect struggling to maintain his creative vision while surrounded by critics and friends who doubt him. The book was previously adapted in 1949.
---
And Brian DePalma is planning to make a horror movie based on the Harvey Weinstein case. He's currently working on the screenplay, and says that the story is set around a sexual-predator scandal in the film industry .
---






D A T E L I N E : 2 J U N E . . .
Angelina Jolie and David Oyelowo will play parents in COME AWAY, which is being written as a prequel to both Alice in Wonderland and Peter Pan, imagining the two as siblings before their fantastical adventures. Brenda Chapman (Brave) is directing.
---
Robert Pattinson, Ben Mendelsohn, Lily-Rose Depp, Sean Harris, Tom Glynn-Carney and Thomasin Harcourt McKenzie will join THE KING, which condenses Shakespeare's two Henry IV plays plus Henry V into a single narrative about King Hal (Timothee Chalamet) and Falstaff (Joel Edgerton). David Michod is directing.
---
Jamie Foxx has been confirmed to star in a film version of the SPAWN comics, about a CIA operative who is betrayed and left for dead, but in hell is convinced to become a demonic warrior. The comic's creator, Todd McFarlane is writing and directing.
---
Hugh Jackman is being lined up to star in THE GOOD SPY, based on the true story of a CIA operative who used relationship building to further his work in the Middle East, but was killed in the 1983 Beirut bombing. Baltasar Kormakur is set to direct from a script by F Scott Frazier.
---
Sterling K Brown is joining Blake Lively and Jude Law in THE RHYTHM SECTION, a spy thriller about a woman seeking the truth about the plane crash that killed her family. Production was shut down in January when Lively was injured during a stunt, but director Reed Morano has resumed shooting in Spain.
---
Dave Bautista will star in DOGTOWN, based on the comic Body Bags, about a bounty hunter whose life changes when he discovers he has a teen daughter. Kyle Ward (John Wick: Chapter 2) is writing the script.
---
James Marsden will star in a SONIC THE HEDGEHOG movie, which will combine live action and animation to tell the story of a human cop who teams up with Sonic to stop the evil Robotnik. Jeff Fowler is making his directing debut.
---
Wanda Sykes, Anna Camp, Patrick Warburton and Jenna Dewan are joining the cast of THE WEDDING YEAR, the romantic-comedy starring Sarah Hyland as a commitment-phobic photographer invited to 15 weddings in the same year with her new boyfriend (Tyler James Williams).
---
Kaya Scodelario is lined up to star in CRAWL, a thriller about a young woman trying to save her father in a flooded house during an hurricane. Alexandre Aja is writing and directing; Sam Raimi is producing.
---
And Sylvester Stallone will produce a biopic about Jack Johnson, the first African-American boxing champ, who was convicted under Jim Crow laws of transporting his white girlfriend across state lines. Stallone was instrumental in getting the conviction overturned to clear Johnson's name.
---
<< NEWER NEWS

Spring TV Roundup
Assassination of Versace, McMafia,
Everything Sucks, This Is Us 2...
---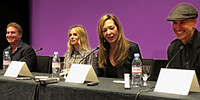 Liberated by the look
Chatting with I, Tonya's
Margot Robbie, Allison Janney,
Craig Gillespie & Steven Rogers...
---
SCREEN: Winter TV Roundup - Stranger Things, The Crown, This Is Us, Will & Grace, The Deuce, Black Mirror...

SCREEN: Autumn TV Roundup - Game of Thrones, Top of the Lake, The Orville, etc

4th of JULY: Baseball Battleground in Hyde Park

SCREEN: Summer TV Roundup - Twin Peaks, The Handmaid's Tale, 13 Reasons Why, etc

Shadows @ Galeca Dorian Awards in Los Angeles
---
AND MORE >>