I N T H E U K . . .
> VENOM
> AIDA: MET OPERA
– THE NUN
– THE WIFE
• Still showing: GUN NO 6. TEHRAN TABOO. COLUMBUS. BLUE IGUANA. STRANGEWAYS HERE WE COME. KING OF THIEVES. CHRISTOPHER ROBIN. MILE 22. ANCHOR AND HOPE. SKATE KITCHEN.
---
I N T H E U S . . .
> VENOM
– SMALLFOOT
– THE NUN
– HELL FEST
– THE PREDATOR
• Still showing: HEAVY TRIP. STUDIO 54. WHITE BOY RICK. SUMMER '03. CRUISE. BAD REPUTATION. THE MEG. SEARCHING. COLETTE. ASSASSINATION NATION.

<< NEWER NEWS
---






D A T E L I N E : 3 0 S E P T E M B E R . . .
Gugu Mbatha-Raw, Ewan McGregor, Janelle Monae, Sharlto Copley, Mary Elizabeth Winstead, Justina Machado, Margaret Qualley and Jurnee Smolett-Bell are contending to join BIRDS OF PREY, the super-antihero movie in which Margot Robbie will reprise her role as Harley Quinn. Cathy Yan is directing.
---
Sienna Miller, JK Simmons and Taylor Kitsch have joined Chadwick Boseman in the action thriller 17 BRIDGES, about a disgraced New York detective searching for a cop killer. Brian Kirk is directing from a script by Adam Mervis.
---
Katie Holmes and Josh Lucas will star in THE SECRET, a romantic drama based on the bestselling self-help book. It's about a widow with three children who hires a handyman to fix her house during a storm. Andy Tennant is directing.
---
Kate McKinnon is the latest member of the starry cast for Charles Randolph's film about the toxic male culture at Fox News, leading to the resignation of founder Roger Ailes (John Lithgow). The cast includes Charlize Theron, Nicole Kidman and Margot Robbie. Jay Roach is directing.
---
Clive Owen, Tim Roth, Catherine McCormack, Jonah Hauer King and Gerran Howell will star in THE SONG OF NAMES, based on the award-winning novel that traces relationships over a half century. Francois Girard is directing from a script by Jeffrey Caine. Filming started this week in London, and will move on to Budapest, Prague, Montreal and New York.
---
Bob Oedenkirk is the latest member of the starry cast for Greta Gerwig's remake of LITTLE WOMEN, alongside Meryl Streep, Saoirse Ronan, Laura Dern, Emma Watson, Florence Pugh, Timothee Chalamet, James Norton and Louis Garrel.
---






D A T E L I N E : 2 6 S E P T E M B E R . . .
Jamie Foxx and Joseph Gordon-Levitt will team up for a sci-fi action thriller set in Portland during an epidemic involving a drug that gives people superpowers. Henry Joost and Ariel Schulman (Catfish) are directing from a script by Mattson Tomlin.
---
Aubrey Plaza, Brian Tyree Henry and Gabriel Bateman are lined up to star in a remake of CHILD'S PLAY, the horror classic about a serial killer who puts his soul into a doll named Chucky. The new version will be more tech-oriented, apparently. Lars Klevberg is directing.
---
Zach Braff is joining Christina Ricci and Christopher Walken in PERCY, a drama based on the true story of a 70-year-old Canadian farmer who sued Monsanto when their genetically modified canola was found in his crop. Clark Johnson is directing.
---
LeBron James is teaming up with Ryan Coogler to make a sequel to the 1996 sci-fi sports comedy SPACE JAM, and this time James will costar with classic Warner Bros cartoon characters like Bugs Bunny. Terence Nance is directing.
---
Mike Colter, Michael Ealy, Damaris Lewis and Geoffrey Owens are joining Hilary Swank in the noir thriller FATALE, about a married man seduced into a murder scheme by a female police detective. Deon Taylor is directing from a script by David Loughery.
---
Giancarlo Esposito, Darby Stanchfield, Karan Brar and Maximiliano Hernandez are joining the cast of STARGIRL, a teen romance between a boy (Graham Verchere) and a girl (Grace VanderWaal) who resolutely refuses to conform to what's regarded as normal. Julia Hart is directing.
---
Bruce Greenwood will join Ewan McGregor in The Shining sequel DOCTOR SLEEP, based on the Stephen King novel about the now grown-up Danny. Rebecca Ferguson, Carl Lumbly, Alex Essoe and Zahn McClarnon costar; Mike Flanagan is directing.
---
Omar Sy is joining Harrison Ford, Dan Stevens and Colin Woodell in CALL OF THE WILD, a new adaptation of the classic Jack London novel about a prospector during the Yukon Gold Rush. Chris Sanders is directing.
---
Joan Chen, Hayden Szeto, Hong-Chi Lee, Yo-Hsing Fang, Fiona Fu and James Saito have joined the cast of TIGERTAIL, a 1950s multi-generational drama that also stars John Cho, Tzi Ma and Christine Ko. Alan Yang is writing and directing.
---
And Matthew Vaughn is working on a new KINGSMAN movie, once again likely to star Taron Egerton and Colin Firth. There's no word yet on the plot, or whether American cohorts Channing Tatum, Halle Berry and Jeff Bridges will be back as well. But it's scheduled for release next year.
---






D A T E L I N E : 2 3 S E P T E M B E R . . .
Michael B Jordan will produce and star in two films based on Tom Clancy novels: as the ex-Navy Seal John Clark in the prisoner-rescue adventure WITHOUT REMORSE and then the counter-terrorism thriller RAINBOW SIX. Clark appears in 17 of Clancy's novels and has been called the dark side of Jack Ryan.
---
Allison Janney is joining the cast of Jay Roach's Fox News drama as Susan Estrich, the lawyer who represented founder Roger Ailes (John Lithgow) when he was accused of sexual misconduct and forced to resign. Charlize Theron, Nicole Kidman and Margot Robbie costar.
---
Angelina Jolie will star in and produce THE KEPT, a survival thriller based on the novel about a midwife who returns to her farm in Upstate New York in the winter of 1897 just as three men are trying to kill her family. Alice Birch is writing the script.
---
Eddie Murphy and possibly Samuel L Jackson will star in a remake of GRUMPY OLD MEN, about the lifelong battle between two neighbours that escalates when a woman moves in across the street. Tim Story is directing. The 1993 original starred Walter Matthau and Jack Lemmon.
---
Emilia Clarke and Henry Golding will star in LAST CHRISTMAS, a holiday romantic-comedy set in London. The film reteams Golding with A Simple Favour director Paul Feig. The script is by Emma Thompson and playwright Bryony Kimmings.
---
Pharrell Williams is joining the voice cast to narrate the animated remake of the Dr Seuss classic THE GRINCH. Benedict Cumberbatch voices the Christmas-hating title character, and the cast includes Rashida Jones, Angela Lansbury, Keenan Thompson and Cameron Seely. Tyler the Creator is performing the songs.
---
Isla Fisher will play Steve Coogan's wife in the comedy GREED, Michael Winterbottom's next film. It's about a self-absorbed billionaire trying to present his best side to a journalist (David Mitchell) assigned to write a profile about him.
---
Ken Jeong, Temuera Morrison, Vince Colosimo and Stephany Jacobsen will star in the sci-fi thriller OCCUPATION: RAINFALL, a sequel to this year's Occupation, about survivors of an alien attack on Sydney who tenaciously fight back. Returning director Luke Sparke starts filming next month.
---
Kyra Sedgwick will direct THE WAY BETWEEN, about a man whose girlfriend dies in a car accident. Then he discovers a way to reconnect with her by manipulating reality, and in the process loses his grip on his own life. The script is by Jennifer Lee.
---
And Cary Fukunaga will direct the 25th JAMES BOND movie, which will again star Daniel Craig. Robert Wade and Neal Purvis are writing a new script, with filming shifted back to the spring. Fans have noted that Fukunaga has previously directed potential future Bond contenders like Jamie Bell, Michael Fassbender and Idris Elba.
---
<< NEWER NEWS

Summer TV Roundup
Trust, Barry, Looming Tower, Rise,
Roseanne, Will & Grace, etc...

---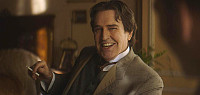 Rupert, the Happy Prince
Chatting with the actor-filmmaker
about his Wilde passion project...
---
STAGE: F**king Men at the King's Head

SCREEN: Spring TV Roundup - Assassination of Versace, McMafia, Everything Sucks, This Is Us 2...

INTERVIEW: I, Tonya's Margot Robbie, Allison Janney, Craig Gillespie & Steven Rogers...

SCREEN: Winter TV Roundup - Stranger Things, The Crown, This Is Us, Will & Grace, The Deuce, Black Mirror...

SCREEN: Autumn TV Roundup - Game of Thrones, Top of the Lake, The Orville, etc
---
AND MORE >>