dir-scr Ana Lily Amirpour
prd Ana Lily Amirpour, Justin Begnaud, Sina Sayyah
with Sheila Vand, Arash Marandi, Marshall Manesh, Mozhan Marno, Dominic Rains, Rome Shadanloo, Milad Eghbali, Reza Sixo Safai, Ray Haratian, Pej Vahdat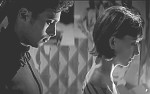 release US 21.Nov.14,
UK 22.May.15
14/US 1h41

---
SUNDANCE FILM FEST
LONDON FILM FEST
ABU DHABI FILM FEST

With her feature debut, British-born Iranian-American filmmaker Ana Lily Amirpour has taken the cinema world by storm, as journalists race to call her the next Tarantino or Jarmusch. But the fact is that her voice is so original that it takes the breath away. And this self-described "Iranian vampire spaghetti Western" is not just a blast of fresh air, it's also ridiculously entertaining.

A girl (Vand) wanders the streets of Bad City, a run-down industrial town in Iran that's occupied by small-time drug dealers like Saeed (Rains) and has-been prostitutes like Atti (Marno). But Arash (Marandi) is trying to play by the rules, saving up to buy a vintage T-bird and looking cool in James Dean-style jeans, T-shirt and sunglasses. Then Saeed seizes the car to pay the debts of Arash's junkie dad (Manesh). Unknown to Arash, the lone girl he has befriended in the street is actually a vampire who has just "taken care" of Saeed.

With lushly shaded black and white cinematography (by Lyle Vincent), the film strikes a sassy, sexy tone from the opening shot, making Bad City look like a vintage West Coast any-town (it was filmed in Central California). The dialog may be in Persian, but the attitude is classic-era Hollywood. Amirpour fills scenes with feisty energy and emotion, allowing the meandering plot to blur cleverly into the background as this girl and boy find each other against the odds.

Their relationship is so offbeat that it continually catches us off guard, cracking through a variety of expectations to find the raw humanity of the characters. Vand and Marandi are terrific in these central roles, not just creating a creeping sense of pungent chemistry between them but also digging deep to reveal things through glances and physicality. Both of these young people yearn for a better life, and both have the odds stacked against them, driven to desperation just to survive.

This of course creates a striking sense of irony in their relationship, and Amirpour delights in flipping the balance between men and women, retirees and children, creating gorgeous moody scenes when we least expect them, then diving into some heart-stopping violence or gentle comedy. It's so perfectly balanced and expertly formed that we want to watch it again the moment it ends. And wait impatiently to see what Amirpour gets up to next.
15 themes, violence, sexuality
---
9.Apr.15

R E V I E W B Y R I C H C L I N E
Girlhood


Bande de Filles MUST

SEE
dir-scr Celine Sciamma
prd Benedicte Couvreur
with Karidja Toure, Assa Sylla, Lindsay Karamoh, Marietou Toure, Idrissa Diabate, Simina Soumare, Dielika Coulibaly, Cyril Mendy, Djibril Gueye, Binta Diop, Chance N'Guessan, Rabah Nait Oufella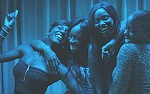 release Fr 22.Oct.14,
US 30.Jan.15, UK 8.May.15
14/France 1h53

---
CANNES FILM FEST
VENICE FILM FEST
TORONTO FILM FEST

SUNDANCE FILM FEST

Building on her gender-challenging Water Lilies and Tomboy, writer-director Sciamma creates another fascinating character who continually jolts us out of our expectations. This film is stunningly well-made, peppered with unforgettable goosebump moments even as it cleverly refuses to explain all of the issues it raises.

In a Paris housing estate, 16-year-old Marieme (Karidja Toure) is unaware that her rebellion is jeopardising her future. When told she can't attend high school, but will study a vocation instead, she feels lost. Which makes her vulnerable to three girls (Sylla, Karamoh and Marietou Toure) looking for a fourth to make up their gang. With them, Marieme finally feels like she belongs somewhere, rescued from her troubled home-life with her controlling big brother (Mendy) and clingy younger sister (Soumare). And sometimes being in a gang means standing up for your friends against the odds.

Marieme is a remarkable character, unsure of herself but discovering her inner strength, beautifully portrayed by Toure with a straightening of the back, a tilt of the head, a steely narrowing of the eyes. When she contrives to get her sister out of the flat so she can face her brother's wrath, it's an act of selfless bravery more moving than most war movies. When she and her pals steal glamorous dresses, rent a hotel room and sing along with Rihanna, "Shine bright tonight, you and I are beautiful like diamonds in the sky", their need for validation is so vivid that it rattles us to the core.

Marieme adopts the name Vic, for Victory, only occasionally believing she deserves it. Yes, Sciamma's raw filmmaking reveal the characters' souls, including those who exert power with their fists. But this isn't a film about menace and violence, it's about finding strength to stand up for ourselves, even if we know we're different than everyone around us, and possibly unacceptable to them. Because the alternative, at least for Vic, is unthinkable.

Sciamma is an artist who never spells everything out, letting the audience discover her films by interpreting it according to our own experiences. This makes her films often frighteningly involving, as we identify with characters we may not be able to explain clearly. There are just enough details here to reveal that Vic has more identity issues than anyone quite understands. And watching her struggle with how to move forward is painful, tough and ultimately wrenching. Even if the subject matter wasn't so urgent, this is gorgeous filmmaking.
15 themes, language, violence
---
17.Feb.15

R E V I E W B Y R I C H C L I N E
Land of Storms


Viharsarok
dir Adam Csaszi
prd Eszter Gyarfas
scr Ivan Szabo, Adam Csaszi
with Andras Suto, Adam Varga, Sebastian Urzendowsky, Eniko Borcsok, Lajos Otto Horvath, Zita Teby, Uwe Lauer, Kristof Horvath, Gabor Szabo, Szabolcs Fabian, Gabor Harsay, Gyula Hajdu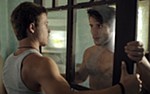 release Hun 20.Mar.14,
US 10.Mar.15, UK 13.Apr.15
14/Hungary 1h45

---
BERLIN FILM FEST
IRIS PRIZE FEST

Based on a true story, this introspective Hungarian drama digs deeply into some very big themes. It's so sharply acted and cleverly directed that it doesn't need to explain anything, avoiding obvious dialog and situations to let emotions tell the story. And the characters' feelings are bracingly involving.

After a locker-room fight with Bernard (Urzendowsky), his best pal on a German football team, Szabi (Suto) returns to rural Hungary to fix up the farmhouse his grandparents left him. There he meets Aron (Varga), who runs with the local thugs and helps Szabi with the repairs. But the villagers suspect their relationship isn't platonic. Aron's mother (Borcsok) and his gang violently threaten Szabi, while Szabi's dad (Horvath) wants him to go back to Germany. Then Bernard arrives to patch up their friendship, and even he begins to wonder what's up with Aron.

The film is beautifully shot to capture internal feelings that often contradict these guys' actions. Both Szabi and Aron are under intense pressure to abide by the rules of their parents, society and church, so they have little chance of living their own lives. In this place, homophobia is more than just a threat: it's a violent reality. All choices lead to dead ends, so the film sometimes drags as Szabi and Aron work up the strength to be true to themselves and each other.

This is such a harsh environment that even moments of joy and tenderness are tinged with potential tragedy. At the centre, Suto has superb presence as a young man trying to make his own decisions and find some happiness. His performance is understated, realistic and likeable as he tries to do the right thing against the odds. Opposite him, Varga is less predictable, a nice guy forced into a brutal role, while Urzendowsky's role offers a glimmer of hope, simply because Bernard has accepted who he is. The chemistry between these three is mercurial and fascinating.

The key struggle here is to be true to yourself while existing within society. For Szabi and Aron, this will mean burning bridges with their loved ones. So it's no wonder they feel like they've let everyone down. Indeed, the bigotry has even infected them! Which leaves the question hovering: is there no compassion here? While the film is moving and shockingly resonant, it's also a stark look at both hate-filled Christianity and close-minded traditionalism.
18 themes, language, violence, sexuality
---
26.Apr.15

R E V I E W B Y R I C H C L I N E
Samba


dir-scr Olivier Nakache, Eric Toledano
prd Nicolas Duval-Adassovsky, Laurent Zeitoun, Yann Zenou
with Omar Sy, Charlotte Gainsbourg, Tahar Rahim, Izia Higelin, Issaka Sawadogo, Youngar Fall, Helene Vincent, Christiane Millet, Jacqueline Jehanneuf, Liya Kebede, Clotilde Mollet, Sabine Pakora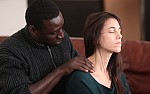 release Fr 15.Oct.14,
UK 1.May.15
14/France 2h00

---
TORONTO FILM FEST

With effortlessly natural filmmaking, this drama never feels weighed down by its serious themes. Instead, the script and performances are packed with bright humour, lively characters and unpredictable situations that keep it thoroughly engaging even if it's at least a half hour too long. But since the focus is on deepening the people and their interrelationships, it never really drags.

An immigrant from Senegal, Samba (Sy) has just earned a job as a chef when his resident status is jeopardised. His charity lawyer Manu (Higelin) isn't hopeful, but he strikes a spark with her assistant Alice (Gainsbourg). Ordered to leave France, Samba goes into hiding with his legal-resident Uncle Lamouna (Fall), finding work illicitly alongside fast-talking Brazilian immigrant Wilson (Rahim). Samba also keeps in touch with Alice, who is doing charity work as part of her recovery after a workplace burnout.

Samba and Alice are immediately attracted to each other, but while their meandering romance is part of the film's texture, it's never the main story. What's more important is the way they get past the social structures that would normally keep them apart, and the film's most intriguing sequence is a colourful party attended by both immigrant workers and their clients, who are officially trying to maintain a distance from each other.

Sy is such a charmer that he can't help but make Samba irresistible. Even when he does something without thinking, he's easy to forgive: his expressive face lights up the screen and leaves all of the other actors looking a but hypnotised. Even the charismatic Rahim, in one of his more energetically entertaining roles, struggles to steal focus. By contrast, Gainsbourg is riveting as a woman struggling with her own personal issues, wanting to take the plunge into a new life but holding back.

The script indulges in a bit too much symbolism (such as Samba's lucky football t-shirt), unnecessarily layering metaphors into a story already bristling with important, urgent themes. Thankfully, because it's so loose and free-form, the film never gets preachy, merely presenting the various aspects of the immigration issue through well-rounded characters and situations that are realistic to a point. A late conclusion to a dangling subplot feels somewhat cursory and contrived, especially since it offers the path to an easy ending. But it also leaves us happy to have taken this journey with a group of people who are essentially just doing the best they can.
15 themes, language, violence
---
24.Mar.15


< < F O R E I G N > >
See also: SHADOWS FILM FESTIVAL

© 2015 by Rich Cline, Shadows on the Wall


HOME | REVIEWS | NEWS | FESTIVAL | AWARDS | Q&A | ABOUT | TALKBACK