14 Dec:



SPIDER-MAN: INTO THE SPIDER-VERSE

AQUAMAN

MORTAL ENGINES


LIZZIE

THE HOUSE THAT JACK BUILT

FREE SOLO

IT'S A WONDERFUL LIFE
21 Dec:


1985
* MARY POPPINS RETURNS


28 Dec:
* BUMBLEBEE

---
4 Jan:


THE FAVOURITE


LIFE ITSELF


RBG
11 Jan:



COLETTE


MONSTERS AND MEN


STAN & OLLIE


THE FRONT RUNNER
* THE UPSIDE
18 Jan:


BEAUTIFUL BOY


MARY QUEEN OF SCOTS


25 Jan:


DESTROYER
* VICE

---
Feb-Apr

A PRIVATE WAR


BURNING (Kor)


CAN YOU EVER FORGIVE ME?


CAPERNAUM (Leb)



GREEN BOOK


BORDER (Swe)


BOY ERASED


IF BEALE STREET COULD TALK
* ON THE BASIS OF SEX


MEKTOUB, MY LOVE: CANTO UNO (Fr)


BEING FRANK: THE CHRIS SIEVEY STORY


FOXTROT (Isr)


GIRL (Bel)
* OUT OF BLUE


RAY & LIZ


SAUVAGE (Fr)


THE WHITE CROW


EIGHTH GRADE


THE SISTERS BROTHERS

---
C O M I N G U P . . .

• ALL IS TRUE. WELCOME TO MARWEN.
• MALE SHORTS INTERNATIONAL VOL 2. DUMPLIN'. BLINDSPOTTING. PRIVATE LIFE. PAPILLON. POLINA. THE 12TH MAN. SGT WILL GARNER. HALE COUNTY THIS MORNING, THIS EVENING. THE OTHER SIDE OF THE WIND. THEY'LL LOVE ME WHEN I'M DEAD. THE LONG DUMB ROAD. WHAT HAUNTS US. CALIBRE. 22 JULY. JUST FRIENDS. FALSE CONFESSIONS.
* Thessaloniki. LFF. Raindance. Flare: CONVERSATIONS WITH GAY ELDERS. MY DAYS OF MERCY.
• GLASS. HOLMES & WATSON. THE MULE.

---
N O U K R E L E A S E D A T E . . .


ANYTHING


BENJAMIN


THE BREAKER UPPERERS


EATEN BY LIONS
* EIGHTH GRADE


HEAVY TRIP (Fin)


HAPPY NEW YEAR, COLIN BURSTEAD


HARD PAINT (Br)


JUST CHARLIE


THE MAN WHO KILLED HITLER AND THEN THE BIGFOOT


MAPPLETHORPE
* PADRE (It)


SHADOW (Chn)


SHELTER (Isr)


THE SONG OF SWAY LAKE


SUMMER '03


SUPPORT THE GIRLS


VOX LUX


WE THE ANIMALS

* films I've seen, reviews en route

---
See also:
SHADOWS FILM FEST
DUMPLIN'

dir Anne Fletcher; with Jennifer Aniston, Danielle Macdonald, Harold Perrineau, Odeya Rush, Dove Cameron, Bex Taylor-Klaus, Luke Benward, Sam Pancake 18/US
release US/UK 7.Dec.18
Netflix is heavily marketing this on the fact that it features new Dolly Parton songs, but what I'm looking forward to is seeing Danielle Macdonald in a lead role again (after her awesome debut in Patti Cake$). And Aniston is always good in dramatic roles, especially when they have a comical angle to them. So this story about a rebellion among beauty pageant contestants could have some nice edges to it.

WELCOME TO MARWEN

dir Robert Zemeckis; with Steve Carell, Diane Kruger, Leslie Mann, Janelle Monae, Gwendoline Christie, Merritt Wever, Matt O'Leary, Eiza Gonzalez 18/US
release US 21.Dec.18, UK 1.Jan.19
Based on a documentary, this feature seems ideally suited to the skills of Zemeckis, who always likes to push barriers with technology. It's the story of a man who built a model town to help focus after a trauma - and this movie will bring his fantastical stories about the tiny people in it to life. The imagery looks stunning, and the cast is refreshing - actors who are good at keeping drama grounded.

GLASS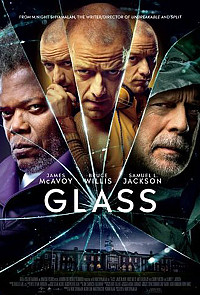 dir M Night Shyamalan; with Samuel L Jackson, Bruce Willis, James McAvoy, Anya Taylor-Joy, Sarah Paulson, Spencer Treat Clark, Luke Kirby, Adam David Thompson 19/US
release US/UK 18.Jan.19
Shyamalan merges the characters from Unbreakable and Split, who live in the same offbeat superhero universe. There isn't an obvious connection between them, but the idea is so tantalising that the film is pretty unmissable. Not only is this one of Jackson's more interesting characters, but Willis is always great in more understated roles and McAvoy is always amazing.

ALITA: BATTLE ANGEL
dir Robert Rodriguez; with Rosa Salazar, Michelle Rodriguez, Jennifer Connelly, Mahershala Ali, Christoph Waltz, Eiza Gonzalez, Casper Van Dien, Jackie Earle Haley, Ed Skrein 19/US
release UK 6.Feb.19, US 14.Feb.19
Not quite sure what to make of this one. It looks a little too much like Ghost in the Shell, with its plot about a robotic girl with a questionable past in some sort of future landscape. But the visuals are impressive in the trailer - clearly producer James Cameron has put his mark here. And the cast has some terrific names in it that add some intrigue.

THE LEGO MOVIE 2: THE SECOND PART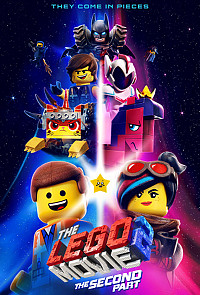 dir Mike Mitchell, Trisha Gum; with Chris Pratt, Elizabeth Banks, Margot Robbie, Tiffany Haddish, Channing Tatum, Jonah Hill, Nick Offerman, Charlie Day, Will Arnett, Alison Brie 19/NZ
release US/UK 8.Feb.19
Is it too much to hope that lightning strikes twice? The first Lego Movie was such an unexpected joy, that it's fairly impossible to think that the filmmakers will be able to manufacture the same light balance of silliness and character comedy without pushing it too much in one way or another. New directors are a bit of a concern, but we'll give them a chance.

FIGHTING WITH MY FAMILY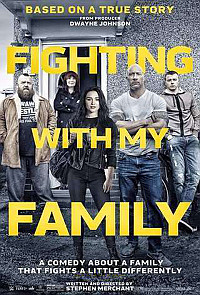 dir Stephen Merchant; with Florence Pugh, Dwayne Johnson, Vince Vaughn, Lena Headey, Jack Lowden, Nick Frost, Stephen Merchant 19/UK
release US 14.Feb.19, UK 1.Mar.19
The frankly awesome Florence Pugh leads the eclectic cast of this true-life comedy adventure about a family trying to get into the WWE. There's star power in The Rock (back in the wrestling world) and Vince Vaughn, comedy gold with Nick Frost and Stephen Merchant (who also writes and directs), beefcake with Jack Lowden, and even some Game of Thrones wattage with Lena Headey. It looks energetic and enjoyably scrappy.

SERENITY
dir-scr Steven Knight; with Anne Hathaway, Matthew McConaughey, Diane Lane, Jason Clarke, Djimon Hounsou, Jeremy Strong, Garion Dowds, Kenneth Fok 19/US
release US 25.Jan.19; UK 1.Mar.19
This looks like a bit of pulp, but the presence of Knight as writer-director adds some interest, as do recently minted actors Hathaway and McConaughey. The plot may be about a woman who begs her loner exhusband for help when her violent new man kidnaps their son, but we can be fairly sure that Knight will inject the film with deeper themes. Let's hope for some moral complexity along with the thrills.

THE CURRENT WAR

dir Alfonso Gomez-Rejon; with Benedict Cumberbatch, Nicholas Hoult, Michael Shannon, Tom Holland, Katherine Waterston, Tuppence Middleton, Matthew Macfadyen, Tom Bell 17/UK
release US/UK tbc
The beefy cast makes this look interesting, and perhaps far more gripping than would be expected for a movie about scientists battling to be the one to standardise the lightbulb. Cumberbatch, Hoult and Shannon play Edison, Tesla and Westinghouse, respectively, with added oomph from the terrific Holland, Waterston, Middleton, et al. And Gomez-Rejon (Me and Earl and the Dying Girl) is an intriguing choice as director. Alas, since it's a Weinstein production it's been pulled from the release schedule.

---
Also on my want-to-see list...

Winter:
AQUAMAN

ISN'T IT ROMANTIC

Spring:
CAPTAIN MARVEL

DUMBO

EVERYBODY KNOWS

GLORIA BELL

THE INFORMER

SHAZAM

AVENGERS: ENDGAME

Summer:
TOY STORY 4

THE LION KING

No UK release date:
FUTURE WORLD

KRYSTAL

THE MAN WHO KILLED DON QUIXOTE