D I R E C T O R

David Lynch
(The Straight Story)
---
2. Sam Mendes (American Beauty)
3. Patricia Rozema (Mansfield Park)
4. Ang Lee (Ride With the Devil)
5. Lynne Ramsay (Ratcatcher)
6. Pedro Almodóvar (All About My Mother)
7. Anthony Minghella (The Talented Mr Ripley)
8. Carlos Saura (Tango)
9. Paul Thomas Anderson (Magnolia)
10. Kimberly Peirce (Boys Don't Cry)


W R I T E R

Bill Condon
(Gods and Monsters)
---
2. Alexander Payne, Jim Taylor (Election)
3. Charlie Kaufman (Being John Malkovich)
4. Alan Ball (American Beauty)
5. Oliver Parker (An Ideal Husband)
6. Pedro Almodóvar (All About My Mother)
7. Richard Curtis (Notting Hill)
8. Patricia Rozema (Mansfield Park)
9. Atom Egoyan (Felicia's Journey)
10. Wes Anderson, Owen Wilson (Rushmore)


A C T R E S S

Cecilia Roth
(All About My Mother)
---
2. Hilary Swank (Boys Don't Cry)
3. Cate Blanchett (An Ideal Husband,
The Talented Mr Ripley, Pushing Tin)
4. Angelina Jolie (The Bone Collector,
Playing by Heart, Pushing Tin)
5. Gina McKee (Notting Hill, Croupier)
6. Annette Bening (American Beauty)
7. Julianne Moore (An Ideal Husband, Magnolia,
The End of the Affair, Cookie's Fortune)
8. Emily Watson (Angela's Ashes, Cradle Will Rock)
9. Frances O'Connor (Mansfield Park)
10. Samantha Morton (Dreaming of Joseph Lees)


A C T O R

Richard Farnsworth
(The Straight Story)
---
2. Kevin Spacey (American Beauty)
3. Ian McKellen (Gods and Monsters, Apt Pupil)
4. Jim Broadbent (Topsy-Turvy)
5. Ray Winstone (The War Zone, Final Cut, Fanny & Elvis)
6. Rupert Everett (An Ideal Husband,
A Midsummer Night's Dream, Inspector Gadget)
7. Bob Hoskins (Felicia's Journey)
8. Brendan Fraser (Gods and Monsters,
Blast from the Past, The Mummy)
9. Haley Joel Osment (The Sixth Sense)
10. Edward Norton (Fight Club, American History X)


S U P P O R T I N G
A C T R E S S

Toni Collette
(The Sixth Sense, 8½ Women)
---
2. Allison Janney (American Beauty, The Imposters,
Drop Dead Gorgeous, 10 Things I Hate About You)
3. Sissy Spacek (The Straight Story, Blast from the Past)
4. Joan Cusack (Runaway Bride, Arlington Road,
Cradle Will Rock)
5. Lynn Redgrave (Gods and Monsters)
6. Bonnie Hunt (The Green Mile)
7. Maggie Smith (Tea with Mussolini)
8. Catherine Keener (Being John Malkovich,
Simpatico, 8mm)
9. Courtney Love (Man on the Moon)
10. Shirley Henderson (Topsy-Turvy)


S U P P O R T I N G
A C T O R

Jude Law
(Talented Mr Ripley, Final Cut, eXistenZ)
---
2. Joaquin Phoenix (Return to Paradise, 8mm)
3. James Woods (Another Day in Paradise,
True Crime, The General's Daughter)
4. Wes Bentley (American Beauty)
5. William H Macy (Magnolia, Mystery Men,
A Civil Action, Happy Texas)
6. Robert Duvall (A Civil Action)
7. Bill Murray (Rushmore, Cradle Will Rock)
8. Chris Cooper (American Beauty, October Sky)
9. Kevin McKidd (Topsy-Turvy, Bedrooms and Hallways,
The Acid House, Hideous Kinky)
10. Tony Shalhoub (A Civil Action, The Impostors)

B E S T O F T H E 1 9 9 0 s

Boogie Nights
(Paul Thomas Anderson, 1997)
---
2. GoodFellas (Martin Scorsese, 1990)
3. All About My Mother (Pedro Almodovar,
1999)
4. Being John Malkovich (Spike Jonze, 1999)
5. Pulp Fiction (Quentin Tarantino, 1995)
6. Fargo (Joel Coen, 1996)
7. The Silence of the Lambs (Jonathan Demme, 1991)
8. Schindler's List (Steven Spielberg, 1993)
9. Gods and Monsters (Bill Condon, 1999)
10. The Piano (Jane Campon, 1993)
11. Shall We Dance? (Masayuki Suo, 1997)
12. Trainspotting (Danny Boyle, 1996)
13. Groundhog Day (Harold Ramis, 1993)
14. American Beauty (Sam Mendes, 1999)
15. The Truman Show (Peter Weir, 1998)
16. Lock, Stock and Two Smoking Barrels
(Guy Ritchie, 1998)
17. Cinema Paradiso (Guiseppe Tornatore, 1990)
18. The Shawshank Redemption (Frank Darabont, 1995)
19. Dead Man Walking (Tim Robbins, 1996)
20. The Player (Robert Altman, 1991)


T V S E R I E S

The Sopranos
(C4)
---
2. Frasier (C4)
3. ER (C4/Sky)
4. Friends (C4/Sky)
5. The X-Files (BBC/Sky)
6. Ally McBeal (C4)
7. The Simpsons (BBC/Sky)
8. Seinfeld (BBC/Sky)
9. Dinnerladies (BBC)
10. Queer as Folk (C4)
11. Cold Feet (ITV)
12. Family Guy (Sky)
13. Lexx (SF)
14. Spin City (C4)
15. The Vicar of Dibley (BBC)


W O R S T F I L M

Parting Shots
(Michael Winner)
---
2. The Theory of Flight (Paul Greengrass)
3. Wild Wild West (Barry Sonnenfeld)
4. 8mm (Joel Schumacher)
5. Random Hearts (Sydney Pollack)
6. 8½ Women (Peter Greenaway)
7. Forces of Nature (Bronwen Hughes)
8. The Legend of 1900 (Guiseppe Tornatore)
9. Sweet Angel Mine (Curtis Radclyffe)
10. Heart (Charles McDougall)

B E S T S I N G L E

Tender
(Blur)
---
2. Scar Tissue (Red Hot Chili Peppers)
3. Strong (Robbie Williams)
4. Turn (Travis)
5. We're Going to Miss You (James)
6. Coffee & TV (Blur)
7. She's the One (Robbie Williams)
8. Beautiful Stranger (Madonna)
9. Pumping on the Stereo (Supergrass)
10. Let Forever Be (Chemical Brothers)
11. Road Rage (Catatonia)
12. Rhythm and Blues Alibi (Gomez)
13. You Get What You Give (New Radicals)
14. The Great Beyond (REM)
15. New Day (Wyclef Jean & Bono)
16. I Try (Macy Gray)
17. Just Looking (Stereophonics)
18. Driftwood (Travis)
19. Lotus (REM)
20. Baby One More Time (Britney Spears)
21. Profit in Peace (Ocean Colour Scene)
22. Dead from the Waist Down (Catatonia)
23. My Love Is Your Love (Whitney Houston)
24. Kiss Me (Sixpence None the Richer)
25. Blue (Da Ba Dee) (Eiffel 65)

S H A D O W S R E A D E R A W A R D S 1 9 9 9

Don't blame me if you didn't vote...
---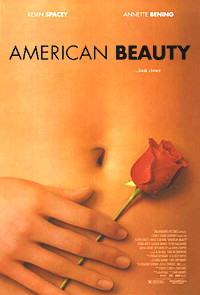 BEST FILM: American Beauty
2. All About My Mother
3. Being John Malkovich and The Matrix (tie)


DIRECTOR: Sam Mendes (American Beauty)
2. Pedro Almodovar (All About My Mother)
3. M Night Shyamalan (Sixth Sense)

WRITER: Alan Ball (American Beauty)
2. Alexander Payne, Jim Taylor (Election)
3. Charlie Kaufman (Being John Malkovich)

ACTRESS: Annette Bening (American Beauty)
2. Cecilia Roth (All About My Mother)
3. Cate Blanchett (An Ideal Husband)

ACTOR: Kevin Spacey (American Beauty)
2. Russell Crowe (The Insider)
3. Richard Farnsworth (Straight Story)

SUPPORTING ACTRESS: Toni Collette (The Sixth Sense)
2. Sissy Spacek (Straight Story)
3. Angelina Jolie (Girl Interrupted)

SUPPORTING ACTOR: Jude Law (Talented Mr Ripley)
2. Christopher Plummer (The Insider)
3. Wes Bentley (American Beauty)

CINEMATOGRAPHY: Conrad Hall (American Beauty)
2. John Seale (Talented Mr Ripley)
3. Frederick Elmes (Ride With the Devil)

MUSIC: Gabriel Yared (Talented Mr Ripley)
2. Thomas Newman (American Beauty)
3. John Williams (The Phantom Menace)

SPECIAL EFFECTS: The Matrix

WORST FILM: The Matrix

MOST OVERRATED: The Phantom Menace and The Blair Witch Project; Tom Hanks in The Green Mile
MOST UNDERRATED: October Sky and Eyes Wide Shut; Eddie Murphy in Bowfinger
BEST NEW FACES: Franka Potente and Haley Joel Osment
SHOULD RETIRE: Sylvester Stallone and Kevin Costner
BEST ACTION SEQUENCE: Obi-Wan and Qui-Gonn vs Darth Maul (The Phantom Menace)
MOST MISCAST: Kelsey Grammer as the voice of Stinky Pete (Toy Story 2)
BEST ONE SCENE PLAYER WHO YOU WANTED TO SEE AN ENTIRE FILM ABOUT: Alan Cumming (Eyes Wide Shut)
FILM WITH THE MOST COMPLEX PLOT THAT WAS ACTUALLY EXPLAINED CLEARLY: The Matrix

FAVORITE ALIEN: Enrico Colantoni as Mathesar (Galaxy Quest)
BEST VILLAIN: Ray Park as Darth Maul (The Phantom Menace)
BEST NAME FOR A VILLAIN: Casanova Frankenstein (Mystery Men)

MOST VERSATILE ACTOR: Mike Myers (three roles in Austin Powers 2)
BEST AND WORST (BUT MOSTLY WORST) USE OF SADOMASOCHISM: The General's Daughter
BEST TV SHOW RUINED: The Wild Wild West
BEST LIVING FILMMAKER THAT NO ONE TALKS ABOUT: Claude Chabrol
BEST USE OF BOOBS: Ashley Judd (runner up: Denise Richards)
THE PUT YOUR CLOTHES BACK ON AWARD: Anne Heche (Psycho)
OVERUSED CONCEPT: religious thriller (Stigmata, Stir of Echoes, End of Days)

WORST PRONUNCIATION OF A RUSSIAN FILM TITLE: The hyper-obsequious announcer of Moviefone, who pronounces Onegin as "WON-gin."

SADDEST DEPARTURE: Janet Maslin, head film critic of The New York Times for over a decade, who left her job this year and was succeeded by Elvis Somebody, the hopelessly talentless critic who hardly speaks English and cannot decide whether he is a pretentious intellectual wannabe or just a bumbling oaf. We miss you, Janet.
1998
< SHADOWS AWARDS >
2000
---
© 2000 by Rich Cline, Shadows on the Wall

HOME | REVIEWS | NEWS | FESTIVAL | AWARDS | Q&A | ABOUT | TALKBACK