---
B E S T F I L M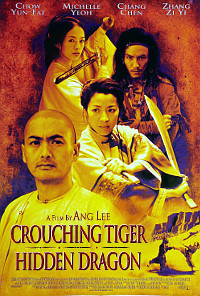 Crouching Tiger,
Hidden Dragon
(Ang Lee)
---
Ang Lee audaciously combines Chinese Wuxia storytelling with epic romance, adventure and nonstop action - all with a feminist twist and Lee's usual attention to detail. A stunning, exhiliarating, standout film in a year when most moviemakers played it rather safe.
---
2 Memento (Christopher Nolan)
3 Traffic (Steven Soderbergh)
4 Open Your Eyes
(Alejandro Amenabar)
5 High Fidelity (Stephen Frears)
6 Long Night's Journey Into Day
(Deborah Hoffmann, Frances Reid)
7 Wonderland
(Michael Winterbottom)
8 Almost Famous (Cameron Crowe)
9 Himalaya (Eric Valli)
10 Chuck & Buck (Miguel Arteta)

---
11 American Psycho (Marry Harron)
12 Chicken Run (Peter Lord,
Nick Park)
13 Sweet and Lowdown
(Woody Allen)
14 Erin Brockovich
(Steven Soderbergh)
15 The Dish (Rob Sitch)
16 Billy Elliot (Stephen Daldry)
17 Thirteen Days (Roger Donaldson)
18 Rollercoaster (Scott Smith)
19 When the Sky Falls
(John Mackenzie)
20 Dancer in the Dark
(Lars von Trier)

---
21 Girlfight (Karyn Kusama)
22 Galaxy Quest (Dean Parisot)
23 The Gift (Sam Raimi)
24 No Place to Go (Oskar Roehler)
25 Liberty Heights (Barry Levinson)
26 State and Main (David Mamet)
27 Songcatcher (Maggie Greenwald)
28 The Big Tease (Kevin Allen)
29 The Contender (Rod Lurie)
30 Together (Lukas Moodysson)



---
See also:
READER CHOICE AWARDS: 2000


---
SHADOWS HALL OF FAME
1999
< SHADOWS AWARDS >
2001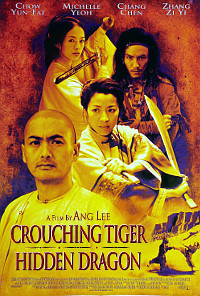 D I R E C T O R

Ang Lee
(Crouching Tiger,
Hidden Dragon)
---
2 Steven Soderbergh
(Traffic, Erin Brockovich)
3 Christopher Nolan (Memento)
4 Wong Kar-Wai (In the Mood for Love)
5 Mary Harron (American Psycho)
6 Alejandro Amenabar (Open Your Eyes)
7 Scott Smith (Rollercoaster)
8 Patrice Leconte (Widow of Saint-Pierre, Girl on the Bridge)
9 Terence Davies (The House of Mirth)
10 Roger Donaldson (Thirteen Days)


W R I T E R

Woody Allen
(Sweet and Lowdown,
Small Time Crooks)
---
2 Alejandro Amenabar, Mateo Gil
(Open Your Eyes)
3 Mike White (Chuck & Buck)
4 Stephen Gaghan (Traffic)
5 Christopher Nolan (Memento)
6 David Self (Thirteen Days)
7 Terence Davies (The House of Mirth)
8 Cameron Crowe (Almost Famous)
9 DV DeVincentis, Steve Pink, John Cusack,
Scott Rosenberg (High Fidelity)
10 Susannah Grant (Erin Brockovich)


A C T R E S S

Joan Allen
(The Contender, When the Sky Falls)
---
2 Gillian Anderson (House of Mirth)
3 Julia Roberts (Erin Brockovich)
4 Cate Blanchett (The Gift, The Man Who Cried)
5 Gina McKee (Wonderland,
There's Only One Jimmy Grimble)
6 Ellen Burstyn (Requiem for a Dream)
7 Helen Hunt (What Women Want,
Cast Away, Pay it Forward)
8 Janet McTeer (Tumbleweeds, Songcatcher)
9 Hannelore Elsner (No Place to Go)
10 Lena Endre (Faithless)


A C T O R

Christian Bale
(American Psycho)
---
2 Eric Bana (Chopper)
3 Sean Penn (Sweet and Lowdown,
Hurlyburly, Up at the Villa)
4 Billy Crudup (Jesus' Son, Almost Famous)
5 Philip Seymour Hoffman (Flawless,
State and Main, Almost Famous)
6 Michael Douglas (Wonder Boys, Traffic)
7 Peter Mullan (The Claim, Miss Julie,
Ordinary Decent Criminal)
8 Daniel Auteuil (Sade, Widow of Saint-Pierre,
Girl on the Bridge, The Escort)
9 Thure Lindhardt (A Place Nearby)
10 Tom Hanks (Cast Away)


S U P P O R T I N G
A C T R E S S

Frances McDormand
(Almost Famous, Wonder Boys)
---
2 Stockard Channing (Isn't She Great)
3 Catherine Zeta-Jones (Traffic, High Fidelity)
4 Salma Hayek (Traffic, Time Code)
5 Harriet Sansom Harris (Memento, Nurse Betty)
6 Lupe Ontiveros (Chuck & Buck)
7 Samantha Morton (Jesus' Son, Sweet and Lowdown)
8 Chloe Sevigny (American Psycho)
9 Jane Adams (Songcatcher)
10 Bonnie Hunt (Return to Me)


S U P P O R T I N G
A C T O R

Albert Finney
(Erin Brockovich, Traffic)
---
2 Bruce Greenwood (Thirteen Days)
3 Eddie Izzard (Shadow of the Vampire, Circus)
4 Gary Lewis (Billy Elliot)
5 Benicio Del Toro (Traffic, Way of the Gun, Snatch)
6 Robert Downey Jr (Wonder Boys)
7 Nathan Lane (Love's Labour's Lost, Isn't She Great)
8 Jack Black (High Fidelity, Jesus' Son)
9 Joaquin Phoenix (Gladiator, Quills)
10 Chete Lara (Open Your Eyes)


W O R S T F I L M

Agnes Browne
(Anjelica Huston)
---
2 Flawless (Joel Schumacher)
3 Supernova (Walter Hill)
4 Honest (David A Stewart)
5 Rancid Aluminium (Ed Thomas)
6 Breakfast of Champions (Alan Rudolph)
7 The Next Best Thing (John Schlesinger)
8 Nasty Neighbours (Debbie Isitt)
9 A Monkey's Tale (Jean-Francois Languionie)
10 Pokemon, The First Movie (Kunihiko Yuyama)


B E S T T V S E R I E S

ER
(Sky)
---
2 The Sopranos (C4)
3 Frasier (C4)
4 The West Wing (Sky)
5 Cold Feet (ITV)
6 The X-Files (Sky)
7 The Simpsons (Sky)
8 Longitude (C4)
9 Friends (Sky)
10 Ally McBeal (C4)
11 North Square (C4)
12 Sex and the City (C4)
13 Everybody Loves Raymond (CBS)
14 Big Brother (C4)
15 Neanderthal (C4)


B E S T S I N G L E

Natural Blues
(Moby)
---
2 Babylon (David Gray)
3 Take a Look Around (Limp Bizkit)
4 Stan (Eminem and Dido)
5 Pure Shores (All Saints)
6 Shackles (Praise You) (Mary Mary)
7 Groovejet (Spiller)
8 Yellow (Coldplay)
9 On a Night Like This (Kylie Minogue)
10 Porcelain (Moby)
---
11 Music (Madonna)
12 Sky (Sonique)
13 Stuck in the Middle (U2)
14 I'm Outta Love (Anastacia)
15 It Feels So Good (Sonique)
16 I Turn to You (Melanie C)
17 Spinning Around (Kylie Minogue)
18 Sunrise (Bird of Prey) (Fatboy Slim)
19 Kids (Kylie Minogue and Robbie Williams)
20 Don't Tell Me (Madonna)
21 Supreme (Robbie Williams)
22 Song for the Lovers (Richard Ashcroft)
23 Better Man (Robbie Williams)
24 Coming Around (Travis)
25 All the Small Things (Blink 182)

S H A D O W S R E A D E R A W A R D S 2 0 0 0

Don't blame me if you didn't vote...
---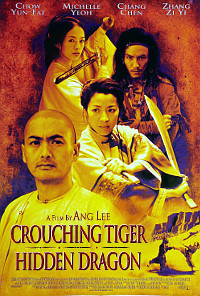 BEST FILM: Crouching Tiger, Hidden Dragon
2 Gladiator
3 Traffic
4 Chicken Run
5 You Can Count On Me
---
DIRECTOR (tie):
Ang Lee (Crouching Tiger, Hidden Dragon)
and Steven Soderbergh (Traffic, Erin Brockovich)
3 Darren Aronofsky (Requiem for a Dream)
4 Cameron Crowe (Almost Famous)
5 Christopher Nolan (Memento)
---
WRITER: Doug Wright (Quills)
2 DV Vincentis, Steve Pink, John Cusack,
Scott Rosenberg (High Fidelity)
3 Steven Gaghan (Traffic)
4 Kenneth Lonergan (You Can Count On Me)
5 Lee Hall (Billy Elliot)
---
ACTRESS: Julia Roberts (Erin Brockovich)
2 Ellen Burstyn (Requiem for a Dream)
3 Laura Linney (You Can Count On Me)
4 Bjork (Dancer in the Dark)
5 Juliette Binoche (Chocolat)
---
ACTOR: Russell Crowe (Gladiator)
2 (tie) Tom Hanks (Cast Away)
and Geoffrey Rush (Quills)
4 John Cusack (High Fidelity)
5 Mark Ruffalo (You Can Count On Me)
---
SUPPORTING ACTRESS:
Frances McDormand (Almost Famous, Wonder Boys)
2 Judi Dench (Chocolat)
3 Zhang Ziyi (Crouching Tiger)
4 Kate Winslet (Quills)
5 Elaine May (Small Time Crooks)
---
SUPPORTING ACTOR:
Joaquin Phoenix (The Yards, Gladiator)
2 Willem Dafoe (Shadow of the Vampire)
3 Benicio Del Toro (Traffic)
4 Fred Willard (Best in Show)
5 Johnny Depp (Chocolat)
---
CINEMATOGRAPHY: Peter Pau (Crouching Tiger)
2 John Mathieson (Gladiator)
3 Matthew Libatique (Requiem for a Dream)
---
MUSIC: Hans Zimmer, Lisa Gerrard (Gladiator)
2 Tan Dun (Crouching Tiger)
3 Clint Mansell (Requiem for a Dream)
---
SPECIAL EFFECTS: Crouching Tiger, Hidden Dragon
2 Cast Away
3 Gladiator


NEW FACE: Jamie Bell (Billy Elliot)
2 Heath Ledger (The Patriot)
3 Kate Hudson (Almost Famous)
---
WORST FILM: Eye of the Beholder
2 Agnes Browne
3 Battlefield Earth
---
MOST OVERRATED: Gladiator
2 Traffic
3 Cast Away
MOST UNDERRATED: American Psycho
2 Almost Famous
3 Wonder Boys
---
BEST ON-SCREEN CHEMISTRY:
Johnny Depp and Juliette Binoche (Chocolat)
also: Russell Crowe and Connie Nielsen (Gladiator),
Ben Stiller and Jinxy (Meet the Parents)
WORST ON-SCREEN CHEMISTRY:
Harrison Ford and Michelle Pfeiffer (What Lies Beneath)
also: Ben Affleck and Gwyneth Paltrow (Bounce)
---
BEST VILLAIN: Jason Isaacs (The Patriot)
also: Gary Oldman (The Contender)
WORST VILLAIN: Mickey Rourke (Get Carter)
---
BEST BOOK-TO-MOVIE: High Fidelity
WORST BOOK-TO-MOVIE: Left Behind
---
SHOULD RETIRE: Arnold Schwartzenegger
also: Sean Connery, Disney's animation department,
Jack Nicholson, Oliver Stone
---
BEST ENSEMBLE: Best In Show
also: Almost Famous, Meet the Parents,
Requiem for a Dream, State and Main
---
IT'S ABOUT TIME THE WORLD NOTICED: Russell Crowe
BEST BUDDY MOVIE: Shanghai Noon
BEST SCENE: any with Jack Black in High Fidelity
BEST MOTHER ROLE, EVER:
Frances McDormand (Almost Famous)
BEST VISUAL EFFECTS: Rebecca Romijn-Stamos (X-Men)
BEST WHITE TRASH: Sordid Lives
BEST USE OF AN URN: Meet The Parents
MOST ENTERTAINING CAMEO: Mike Tyson (Black & White)
BEST CAR CHASE: Charlie's Angels' Indy Light chase that starts at the California Speedway in Fontana and ends up at the Vincent Thomas Bridge in Long Beach
IT LOOKED GOOD ON PAPER AWARD:
How the Grinch Stole Christmas
THE NEW LOVE OF MY LIFE:
Bridget Moynahan (Coyote Ugly)
SEXIEST CHEERLEADER: Kirsten Dunst (Bring It On)
MOVIE CHARACTER I WISH I WERE: Wolverine (X-Men)
IT'S STILL HILARIOUS: This Is Spinal Tap

1999
< SHADOWS AWARDS >
2001
---
© 2001 by Rich Cline, Shadows on the Wall

HOME | REVIEWS | NEWS | FESTIVAL | AWARDS | Q&A | ABOUT | TALKBACK