dir Jean-Loup Felicioli, Alain Gagnol
scr Alain Gagnol
prd Jacques-Remy Girerd voices Dominique Blanc, Bruno Salomone, Bernadette Lafont, Jean Benguigui, Oriane Zani, Bernard Bouillon, Jacques Ramade, Jean-Pierre Yvars, Patrick Ridremont, Patrick Descamps, Yves Barbaut, Line Wible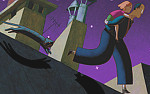 release Fr 15.Dec.10,
US Apr.11 sfiff, UK 6.Apr.12
10/France 1h09

---
BERLIN FILM FEST
CANNES FILM FEST


With a fresh visual style that mimics expressionist paintings, this animated adventure completely breaks free from the formula American studios are locked into. It tells a lively story that's packed with terrific characters and a real sense of suspense.

Zoe (Zani) is a shy girl whose cat Dino brings her lizards it catches on the roof, but even this doesn't get the attention of her single mother Jeanne (Blanc), an overworked police detective. What she doesn't know is that Dino switches his allegiance at night to Nico (Salomone), an acrobatic cat burglar who prowls the roofs and ledges of Paris. Meanwhile, Zoe's mother is looking for the Victor (Benguigui), the gangster who killed her husband. And when Zoe and Nico finally meet, they must team up to escape the tenacious Victor and his goons.

The animation is like an imaginative child's storybook come to life, with imagery that looks like it was drawn with coloured pencils and chalk. Bright colours and an attention to detail make every shot utterly magical, all accompanied by Serge Besset's fantastic score, which like the images themselves continually references noir classics. The textures are simply beautiful, as is the design of the characters and settings and the way it's directed with kinetic energy and wit by Felicioli and Gagnol.

More important is the fact that the characters are full of spiky attitude; even the minor characters overflow with personality. Victor's gang members are hilarious, as is Zoe's cranky nanny (Lafont) and a hilariously yappy little dog. And through each scene, Dino purrs and stretches, observing everything while providing the connective tissue between the film's various plot threads. Then when Zoe winds up at the centre of the action, the stakes get much higher.

The twisty, fast-paced story takes some seriously scary turns, as Zoe and Nico get into one terrible situation after another, and neither Jeanne nor her partner Lucas (Bouillon) will listen to anything they say. But we can understand Jeanne's single-mindedness, as she's tormented by the demonic spectre of her husband's killer. And as the events continue, there are all sorts of surprises in store for the characters and for us as viewers.
PG themes, some violence
---
27.Jan.12

R E V I E W B Y R I C H C L I N E
In Darkness


dir Agnieszka Holland
scr David F Shamoon
prd Leander Carell, Wojciech Danowski, Marc-Daniel Dichant, Eric Jordan, Patrick Knippel, Juliusz Machulski, Steffen Reuter, Paul Stephens
with Robert Wieckiewicz, Benno Furmann, Michal Zurawski, Kinga Preis, Agnieszka Grochowska, Krzysztof Skonieczny, Maria Schrader, Herbert Knaup, Julia Kijowska, Marcin Bosak, Jerzy Walczak, Zofia Pieczynska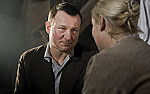 release Pol 15.Sep.11,
US 10.Feb.12, UK 16.Mar.12
11/Poland 2h23

---
TORONTO FILM FEST

Based on the true story of Polish Jews who hid in the sewers of Lvov for 14 months, this film can't help but grip us tightly for nearly two and a half hours. Fortunately, the filmmakers deepen the characters and situations beyond movie conventions.

Poldek (Wirckiewicz) works in the Lvov sewers with his young sidekick Szczepek (Skonieczny). When the Nazis begin to systematically clear out the Jewish ghetto, either murdering them or shipping them off to the camps, a handful of Jews escape into the sewers, where Poldek and Szczepek agree to help them for a price. But as the months go on, Poldek becomes increasingly involved in their lives, causing stress with his wife (Preis) back home and making him very nervous around his soldier pal Bortnik (Zurawski).

Poldek is a terrific character: a true hero who doesn't believe he's anything of the sort. He may always demand cash from "his Jews", but he's also willing to risk his life to make sure they're safe. And key events include killing a Nazi to protect the group leader (Furmann), whom Poldek also helps to break into the concentration camp. The lengths he goes to to ensure their survival surprise even him.

Director Holland vividly captures the squalid conditions underground, while unflinchingly portraying the street-level horrors inflicted by the invading Germans. Amid all of this nastiness there are moments of real tenderness and compassion, even as the situation seems increasingly hopeless. Sometimes the scenes begin to feel repetitive, with the constant panicking in the face of imminent danger and claustrophobia. But the cast and the script ground each scene in raw humanity.

What makes the film so powerful is the way every character is fully rounded. The Nazis are portrayed as cruelly obedient rather than pure evil, while the story's protagonists are feisty, stubborn and selfish. And the interaction between characters feels truthful and urgent. This is a beautifully written and directed film that takes us into a situation we couldn't imagine. And it leaves us wondering what we might have done whichever side of the situation we may have found ourselves.
15 themes, language, violence, sexuality
---
24.Jan.12

R E V I E W B Y R I C H C L I N E
Michael


dir-scr Markus Schleinzer
prd Nikolaus Geyrhalter, Markus Glaser, Michael Kitzberger, Wolfgang Widerhofer
with Michael Fuith, David Rauchenberger, Gisela Salcher, Christine Kain, Ursula Strauss, Victor Tremmel, Margot Vuga, Samuel Jung, Simon Jaritz, Florian Eisner, David Oberkogler, Martin Schwehla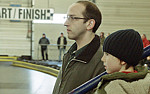 release US 15.Feb.12,
UK 2.Mar.12
11/Austria 1h36

---
CANNES FILM FEST
TORONTO FILM FEST

BERLIN FILM FEST

This story of a pedophile kidnapper is told in such a matter-of-fact way that it chills us to the bone. It's so impeccably shot and acted that it continually elicits our sympathies in ways we really don't want it to.

Michael (Fuith) is a nerdy insurance office worker who's hoping for a promotion. Privately, he keeps to himself, spinning stories to maintain some distance from his colleagues and family. But he has a very dark secret: there's a young boy (Rauchenberger) locked in his basement. In between unseen sexual assaults, Michael tries to create a normal home life for Wolfgang, cooking dinner, watching TV and taking him on outings. But Wolfgang grows increasingly annoyed at his imprisonment. Then one day Michael's hit by a car and wakes up in hospital.

This is only the first event that changes the dynamic between the man and child, as both are emboldened by their time apart. But this isn't a film about plot or action: it's about the mundane details of this horrifying situation, focussing on the loneliness both characters endure for very different reasons. The sexual abuse is only hinted at, sometimes with shocking force, but even this is presented as an element in the power struggle between the two. As horrific as the situation is, writer-director Schleinzer refuses to sensationalise it.

And this stark sense of realism quietly erodes our own confidence as viewers. Especially when we begin to understand Michael's dark impulses and self-doubt, or when we see glimpses of the startlingly cheerful, needy boy in him. With Wolfgang, it's the opposite, as we watch the defiance grow inside him, standing up verbally and then physically to Michael. And both actors give beautifully understated performances.

Through all of this, writer-director Schleinzer forces us to make the logical leaps in the story; by dropping hints and foreshadowing future twists of fate, we begin to think like both Michael and Wolfgang. Normality takes on a different meaning for these two characters. And the film's most haunting element is in the final act, as Michael's friends and family so understandably fail to see what's really been going on all this time.
18 strong themes, language, sexuality
---
12.Jan.12

R E V I E W B Y R I C H C L I N E
3


dir-scr Tom Tykwer
prd Stefan Arndt
with Sophie Rois, Sebastian Schipper, Devid Striesow, Angela Winkler, Winnie Bowe, Annedore Kleist, Alexander Horbe, Corinna Kirschoff, Carina Weise, Christina Grosse, Hannes Wegener, Marita Hueber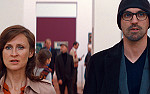 release Ger 23.Dec.10,
US 16.Sep.11
10/Germany 1h59

---
VENICE FILM FEST
TORONTO FILM FEST

This artful, perhaps over-stylised film boldly questions what society considers normal, blurring lines of sexuality between three people who are't quite sure what they want. And writer-director Tykwer refuses to take the easy way out.

Hanna (Rois) takes her job and her relationship with Simon (Schipper) a bit too seriously, not noticing that Simon is struggling with his mother's death and his own testicular cancer. Before he tells Hanna, their friend Hilde (Winkler) steals Simon's thunder by announcing that she has terminal cancer. Meanwhile, Hanna's distracted because a chance encounter with a colleague, Adam (Striesow), livens up her life, leading to more unexpected meetings and eventually into bed. Then at the gym, Simon meets Adam, and they have a surprising physical connection as well.

Tykwer takes an internalised approach, letting us see events through Hanna and Simon's eyes in ways that continually catch us off guard. The story slips and slides with split-screen montages and impressionistic explorations of mortality that have a dark emotional kick even as the film remains lively and energetic. It's impossible to see Hanna or Simon as the villain, because we understand their actions in complex ways. This provides moments of farce and even Hitchcockian suspense, as some plot turns and encounters are heart-stopping.

Shot in widescreen, the film looks terrific even as Tykwer's approach is strongly character-based. He highlights the emotional depth of each scene, even if it's thrown away with flippant dialog or impulsive actions. And this is beautifully played by the cast, as flickers of magical realism and dark fantasy add to the internalised perspective (for example, Simon constantly imagines his own death). This isn't a film about being gay or bisexual: it's about connecting with other people.

The film's point is perhaps that as humans we respond to needs for companionship and understanding in ways that are satisfying even if they might be inappropriate. So the question is whether they are natural, or indeed whether anything that's honest can be unnatural. The script constantly reveals surprising details, including the fact that Adam has both a boyfriend and son. But it's what's going on inside these three people that keeps us gripped, as we identify with their imperfect decisions and their indefinable yearning.
15 themes, language, sexuality, medical grisliness
---
19.Nov.11


< < F O R E I G N > >
See also: SHADOWS FILM FESTIVAL

© 2012 by Rich Cline, Shadows on the Wall


HOME | REVIEWS | NEWS | FESTIVAL | AWARDS | Q&A | ABOUT | TALKBACK