SHADOWS ON THE WALL | REVIEWS | NEWS | FESTIVAL | AWARDS | Q&A | ABOUT | TALKBACK

Shadows off the beaten path
Indies, foreigns, docs, videos, revivals and shorts...
On this page: BOMBAY BEACH | CORMAN'S WORLD
GIRL MODEL | POSITION AMONG THE STARS
< < D O C S > >
last update 15.Feb.12
See also: SHADOWS FILM FESTIVAL

R E V I E W B Y R I C H C L I N E
Bombay Beach


MUST

SEE
dir Alma Har'el
prd Alma Har'el, Boaz Yakin
with Benny Parrish, CeeJay Thompson, Dorran "Red" Forgy, Mike Parrish, Pamela Parrish, Michael Parrish Jr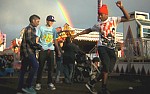 release US 14.Oct.11,
UK 3.Feb.12
11/US 1h20

---
BERLIN FILM FEST

This startling documentary explores a part of America few even want to admit exists: a place designed as a paradise that has instead become an almost apocalyptic wasteland populated by people who have fallen out of society.

Bombay Beach is a community on the edge of the Salton Sea, just a two-hour drive from Los Angeles. But instead of a seaside holiday destination, it's now a collection of falling-down buildings and misfit residents living in the parched desert on the edge of a saltwater lake that's surrounded by dead fish. Instead of approaching this journalistically, filmmaker Har'el explores the lives of three residents through beautifully shot and edited fly-on-the-wall footage.

Benny is the hyperactive 10-year-old of Mike and Pamela, who have a history of imprisonment on weapons charges. Even though they keep Benny on a variety of intense prescription medications, he's a lively kid who struggles to focus at school and dreams of being a firefighter. Red is long past retirement, enjoying his redneck, chain-smoking, drop-out life in Slab City, where old RVs and caravans go to die. But his severe health issues threaten to change all of this. And CeeJay is a teen football player who moved from South Central L.A. to get away from the violence and improve his chances at being spotted by an NFL scout.

With a Herzogian affection for society's outcasts, Har'el continually finds the most positive, everyday aspects of these people's lives. Benny's playful curiosity and warm family life makes up for what will clearly be a very difficult road ahead. Red's wry humour and salty friends make his waning years enjoyable. And CeeJay finds real hope in this desolate place, as well as the girlfriend he steals from a swaggering jerk.

The film is shot and edited with a sense of artistry that continually catches us off guard, mixing the surreal beauty of the landscape with nasty realism. Plus a gorgeous musical score that includes a couple of plaintive Bob Dylan songs. This is a side of America that we rarely see on screen: these aren't working class poor, they're completely off the grid. And while the film probably would have been more powerful if it focussed solely on Red's or CeeJay's story, the portrait it paints of life at the end of the world is hauntingly important.
15 themes, language, grisly images
---
8.Dec.11

R E V I E W B Y R I C H C L I N E
Corman's World: Exploits of a Hollywood Rebel


dir Alex Stapleton
scr Alex Stapleton, Gregory Locklear
prd Mickey Barold, Stone Douglass, Izabela Frank, Jeff Frey, Alex Stapleton
with Roger Corman, Jack Nicholson, Ron Howard, Martin Scorsese, David Carradine, Peter Bogdanovich, William Shatner, Bruce Dern, Peter Fonda, Jonathan Demme, John Sayles, Joe Dante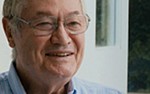 release US 16.Nov.11,
UK 21.Feb.12
11/US 1h35

---
SUNDANCE FILM FEST
CANNES FILM FEST

An essential documentary for movie fans, this exploration of the work of iconic filmmaker Roger Corman revels in the joy of exploitation movies made on a minuscule budget with lashings of gore, explosions and nudity. It's a glowing portrait of a man who changed filmmaking forever.

Corman's 400 films have tapped into youth culture in ways that studios never could. This documentary traces his career with interviews and clips, but also explores his impact on the industry at large. Clearly, he's not only an important filmmaker, but he's also a genuinely nice man (at one point, Nicholson breaks down and cries while talking about him). We also get glimpses behind-the-scenes on 2010's hilarious-looking Dinoshark, proving that his filmmaking methods haven't changed much in nearly 60 years. And we discover that his favourite filmmakers include Bergman, Fellini and Truffaut, whose films he distributed in America.

The film also journeys through Corman's career, starting with his attempts to get into Hollywood before leaving the system to make 1954's Monster From the Ocean Floor. Without attending film school, Corman taught himself the craft through quantity, not quality. And along the way he discovered actors like Nicholson and Shatner and filmmakers like Scorsese and Bogdanovich. Not to mention inspiring everyone else.

Snappy and entertaining, the doc is packed with clips of Corman's fabulously over-the-top movies, notable for the rebellious attitude that has connected with audiences alienated by studio product. Along the way, he made a lot of forgettable bombs, but there were also classics, huge hits and even groundbreaking films like the shocking 1962 integration drama The Intruder or the controversial 1967 drugs drama The Trip. And he's still unequaled in combining serious subtext with crowd-pleasing mayhem.

This is a remarkably thorough documentary, not only exploring Corman's career but also the shifts and changes in the movie business over the past 60 years. From the social connection of the 60s, to the exploitation formula studios co-opted for blockbusters from Jaws and Star Wars onwards. When he accepted his life achievement Oscar in 2009, he said, "The finest films being are done by filmmakers who have the courage to take a chance." And he should know.
15 themes, language, violence, nudity
---
13.Feb.12

R E V I E W B Y R I C H C L I N E
Girl Model


dir-prd David Redmond, A Sabin
with Nadya Vall, Ashley Arbaugh, Rachel Blais, Tigran Cheburasha, Madlen, Messiah, Maria Plotnikova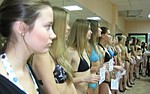 release UK 10.Feb.12
11/US 1h18

---
TORONTO FILM FEST

This documentary takes a remarkably frank look at the fashion business, using the unusual perspective of a young Russian seeking work in Japan. And along the way it reveals unsettling truths about the global modelling industry.

In Siberia, hundreds of thin young women gather in swimsuits to audition to become a model. But the scout, Ashley, isn't looking for just any model: she needs to be suited for the Japanese market. Ashley settles on 13-year-old Nadya, and takes her to Tokyo to go on a series of casting calls. But Nadya's experience is nothing like she or her family imagined it would be.

The film is shot and edited with minimal fuss, observing scenes with a sometimes uncomfortable intimacy. In Siberia, the filmmakers follow Nadya to her house. She considers herself a "grey mouse", just an ordinary girl, but her lively agent Tigran encourages her to go for it. And even though Nadya is clearly worried about travelling so far from home, her family supports sees it as an opportunity, as Nadya will earn a substantial fee that will help finish building work on the house.

A former soldier, Tigran idealistically notes that, for these girls, modelling may provide the only way out of a dead-end situation in Siberia, helping them grow into poised, responsible women. But Ashley is a cynical ex-model who understands the harsh realities. She observes that the industry changes minute-by-minute, and that it's based on nothing more than an obsession with youth. She also talks about her own experiences as a model in a cruel business. Watching her video diaries from a decade earlier chillingly echoes Nadya's story.

Ashley admits that scouting is an addiction: the stimulation of new places and discovering extraordinary new girls. By contrast, Nadya is in Japan on her own with no money, and it's genuinely distressing to watch her try to cope with uncertainty and homesickness. should she go in debt rather than stay for "other work"?

By taking an off-centre approach, the filmmakers reveal some terrifying truths about a global industry that makes a fortune by exploiting anyone they can. Surviving, let alone succeeding, requires an incredibly thick skin and a tenacious desire to remain grounded in what's real rather than the promises everyone makes. Ashley and Nadya, and no doubt thousands of other girls, have learned this the hard way.
PG themes
---
30.Jan.12

R E V I E W B Y R I C H C L I N E
Position Among the Stars


MUST

SEE Stand van de Sterren
dir Leonard Retel Helmrich
prd Hetty Naaijkens-Retel Helmrich
scr Leonard Retel Helmrich, Hetty Naaijkens-Retel Helmrich
with Rumidjah Sjamsudin, Bakti Becker, Sri, Tari Untari, Dwi Komarisah, Bagus Nur Alam, Andan, Asmani, Tumisah, Gere, Neng, Linda Budiarti, Anjelita Budiarti, Aryadi Eka Putra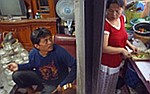 release Ned 3.Mar.11,
US 16.Sep.11, UK 17.Feb.12
11/Netherlands 1h29

---
SUNDANCE FILM FEST

The third in director Helmrich's trilogy about the changes in Indonesian society, his parents' homeland, following The Eye of the Day (2001) and Shape of the Moon (2004), this documentary bristles with real life as it explores the pressures both within and upon the extended Sjamsudin family.

Bakti asks his 71-year-old mother Rumidjah to return from the countryside to Jakarta to look after his 17-year-old niece Tari, who's too modern-minded for him to take care of. Generation gaps seem to be widening, and they needs Tari to get into a good university to try and lift the whole family from its slum-dwelling life. But she's a modern teen, more interested in going out with her friends. Meanwhile, Bakti's wife Sri is getting fed up with his aimless approach to life.

Each of these generations has grown up in a very different Indonesian society, and the family is an odd mix of Muslim and Christian traditions. Bakti is only interested in breeding fighting fish, which he thinks will provide income through betting on battles ("I will fry your fish," says Sri, brandishing a spatula and not joking). And all Tari thinks about is getting a new mobile phone and going to the mall.

In other words, these complex people pretty much face the same issues as everyone on earth, with the added religious shifts taking place around them. This gives the sumptuous, artful cinematography an intimate fly-on-the-wall tone, as we observe this lively family's earthy humour, gurgling conflicts and wrenching emotions. The film captures the warmth and everyday buzz of activity along with squalid conditions in which rats are as big as cats (cockroaches are the size of rats) and officials periodically spray the streets for Dengue fever.

Helmrich assembles this with strongly engaging narrative drive as the stakes get higher and higher. Along the way, he highlights huge issues in a matter-of-fact way that never preaches: Grandma might be cantankerous and pushy, but her experiences with both political and religious realities make her the only one whose feet seem to be on the ground. Which says rather a lot about us in the audience, actually.
12 themes, language, some violence

5.Feb.12


< < D O C S > >
See also: SHADOWS FILM FESTIVAL

© 2012 by Rich Cline, Shadows on the Wall


HOME | REVIEWS | NEWS | FESTIVAL | AWARDS | Q&A | ABOUT | TALKBACK