---
SUNDANCE FILM FEST

This lively documentary tells the story of the fashion world's most influential photographers. Most people have never heard of him, and he doesn't mind at all. And as it digs deeper, the film becomes a remarkable exploration of the true meaning of success.

Bill Cunningham is a pure photojournalist with a passion for fashion. At 80, he's been riding his bicycle around Manhattan for 50 years snapping photos of street fashion: where catwalk meets consumer. His iconic pages in The New York Times are watched by the fashion industry for trends that no one else has noticed. But Cunningham lives in an overcrowded one-room studio in Carnegie Hall. He has no appetite for celebrity, fine food or clothes, romance or money, and is happiest when he spots a particularly colourful person on the street.

The film explores Cunningham's work through the people who know him best. But they don't know much about his private life, so director Press gets increasingly close to Cunningham himself as he interacts with old pals like his neighbour Sherman, his patient editor Kurdewan and his Parisian mentor Piaggi. Finally, Press asks questions point-blank to fill in the gaps, revealing a wildly successful man who's neither rich nor famous. And he prefers it that way.

Cunningham is a terrific on-screen presence, endlessly optimistic about everything he encounters, unable to make a distinction between the very wealthy and the poorest people on the street. Wintour comments that everyone watches who he photographs, as he has no interest in the stars: he's looking at the clothes. So when he snaps a picture of a catwalk model, everyone knows that he's seen something special. Or maybe he's just noticing that a designer has stolen someone else's idea.

The film is edited together in a fast-paced way that allows the filmmakers to include all kinds of material. This makes the doc feel rather a lot longer than it actually is, but the cheerful tone and warm, thorough approach hold our interest. As does the way the filmmaker slices through the eccentric, artistic personalities to make some pointed comments about politics, commercialism and society. But best of all are Cunningham's own frank observations: "Fashion is the armour we need to survive everyday life."
12 themes, some language
---
23.Jan.12

R E V I E W B Y R I C H C L I N E
How to Re-Establish a Vodka Empire


dir-scr Daniel Edelstyn
prd Daniel Edelstyn, Christopher Hird, Hilary Powell
with Daniel Edelstyn, Hilary Powell, Conrad Asquith, Anthony Styles, Francois Guesnet, Bob Brown, Richard Huntington, Andy Kuzyk, Ian Visneski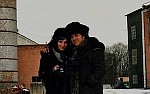 release UK 16.Mar.12
11/UK 1h15

---


Like a less-gimmicky, more goofy Morgan Spurlock, Edelstyn puts himself at the centre of this documentary telling two stories: of his grandparents' journey across Europe and his own discovery of an old family business and his work to revive it. It's an engaging, personal story full of moving details.

It all starts when Edelstyn finds a box of manuscripts and letters by his Ukrainian grandmother. Lost for 100 years, they outline how the family's wealthy life ended with the 1917 Russian Revolution. Then he travels to Ukraine to find out more about his family's sugar factory, which is now closed. But the locals reveal that there was another factory, a still-working vodka distillery. As he decides to revive the business and import the vodka into Britain, Phis artist partner owell discovers that she's pregnant.

And to tell the story, Edelstyn uses combines a variety of film styles, from archive footage and photos to wacky re-enactments of historical events in which they play his grandparents. Getting friends to play his ancestors and various extras, he inventively recreates events unsung miniatures, animation and lots of green screen spliced in with real footage from both the past and present. And he finds interesting parallels between this story a young woman during the 1917 revolution and his own journey.

Edenstyn assembles this with sharp wit that plays on Russian cinema and culture. As he travels into rural Ukraine, he encounters real Slavic hospitality, including rather a lot of vodka-shot drinking, and he meets meets a very old woman who remembers his grandmother. But he also discovers that the recent closure of the sugar factory has drained the life out of the village. So relaunching the family vodka in the name of Granny Maroussia is a way to redress history.

This is a thoroughly intriguing film that entertains us with its inventive approach while exploring the ethical and historical implications. And as we follow him through the red tape in present-day Ukraine, we also see Granny Maroussia navigating the bureaucracy of her time. What emerges is a fairly standard story of European migration in the 20th century made much more personal by the way it echoes in Edelstyn's life, leading to births, deaths and the launch of Zorokovich 1917 Vodka in the UK.
12 themes, language
---
20.Oct.11

R E V I E W B Y R I C H C L I N E
Khodorkovsky


dir-scr-prd Cyril Tuschi
with Mikhail Khodorkovsky, Leonid Nevzlin, Dmitry Gololobov, Maxim Valetsky, Mikhail Brudno, Ben Aris, Anton Drel, Marina Khodorkovskaya, Pavel Khodorkovsky, Lena Khodorkovskaya, Aleksey Kondaurov, Christian Michel
voices Jean-Marc Barr, Harvey Friedman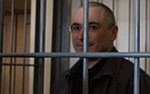 release Ger 17.Nov.11,
US 30.Nov.11, UK 2.Mar.12
11/Germany 1h51

---
BERLIN FILM FEST

This thorough documentary outlines a shocking political situation in Russia, making a very strong case against the current government's dirty politics and then backing that up with the facts. No wonder it was banned there. It's an important film, even if it suffers from information overload.

Far ahead of his time, Mikhail Khodorkovsky was the richest people in the world, but when he endorsed Vladimir Putin's opponent in an election he found himself charged with tax evasion and sentenced to eight years in a Siberian prison. Meanwhile, Putin's cronies took over his oil empire. Most of Khodorkovsky's colleagues fled the country to escape the sudden crack-down, and none of them really knows why he was arrested, aside from the fact that he accused the government of corruption.

The doc is assembled with a first-person narration from the perspective of filmmaker Tuschi as he investigates the case Michael Moore-style with his slightly goofy camera crew. Asking questions and digging into the story, he's met with evasion from politicians and hushed facts from insiders. Accompanying this are animated illustrative sequences and comments from Khodorkovsky's family, outlining his life and career with plenty of detail. And everything's illustrated with a remarkable array of photos, TV clips and startling footage from inside government meetings.

Despite a whiff of pretension, Tuschi's film maintains a lively pace, with a growing sense of impending doom as the stakes get higher and dark facts are revealed, such as a link to Alexander Litvinenko's murder by radiation in London in 2006. There are also connections with George Bush Sr and other officials. And as the narrative continues, the story becomes so densely layered that we're not sure we can cope with one more morsel of information.

Fortunately, Tuschi maintains a sense of dry wit that makes several sequences blackly funny (including an interview with Nina Kravets, "DJ and dentist"). And the filmmaker's tenacity is rewarded when he gets a short interview with Khodorkovsky himself during a later trial, at which his sentence was extended by six years. In the end, the film paints a picture of a nation still untouched by the rule of law. But the filmmaker could probably have said this in half the time.
15 themes, violence, language
---
2.Feb.12

R E V I E W B Y R I C H C L I N E
A Man's Story


dir Varon Bonicos
prd Alastair Clark, Rachel Robey
with Ozwald Boateng, Giorgio Armani, Jamie Foxx, Will Smith, Laurence Fishburne, Forest Whitaker, Paul Bettany, Gavin Rossdale, Spike Lee, Richard Branson, Andrew Young, Prince Charles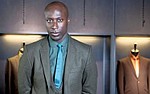 release UK 9.Mar.12
11/UK 1h43


By following British designer Ozwald Boateng over 12 years, filmmaker Bonicos vividly captures his subject's personality on screen while recounting his rather astounding life story. But the film remains oddly dry and superficial.

Inspired by Armani, Boateng emerged from his childhood in riot-torn 1981 Brixton to become the first black tailor on Saville Row. As the creative director of Givenchy, his influence spread out through the fashion world, even as he juggled his work with his own label and two strained marriages. By 2005, he was at the centre of the Oscar red carpet, teaching American men to stop dressing like boys and reinventing the suit with shape and colour. He was awarded an OBE from the Queen in 2006.

Narrated by the director, the film follows Boateng through the highs and lows of his career, both his triumphant, groundbreaking shows and the shattering moment when his entire collection was stolen. The cameras capture hilarious moments, such as an icy event in Russia featuring vodka, chocolate and cheese, when he made a rather striking entrance into Red Square, where people aren't used to seeing 6'4" black men. And yet we never feel like we properly get under the surface either of the designer or the fashion industry

Boateng emerges as a very cool dude who combines intelligence, charisma and stunning good looks to get pretty much whatever he wants. And it seems almost accidental that the film captures Boateng's darker side. He admits that he neglected his family in a strangely offhanded, unapologetic way, and there are eerie references to both Mugabe and Gaddafi as the film traces his humanitarian work in Africa. But Bonicos lets these things just slide by.

Fortunately, he adds artful/wacky touches (one sequence is shot under water) to the interviews, archive footage and behind-the-scenes sequences. But a lack of depth makes the doc feel overlong and repetitive. So it's a bit deflating that the most revealing thing Bonicos finds about Boateng is that he isn't hugely introspective. Indeed only thing Boateng gets excited about is conquering the world with his work, enthusing that "it's all about the experience". So while the film's lively and informative, perhaps another editor could have found the real story hidden in the overabundant material.
15 themes, language
---
2.Nov.11


< < D O C S > >
See also: SHADOWS FILM FESTIVAL

© 2012 by Rich Cline, Shadows on the Wall


HOME | REVIEWS | NEWS | FESTIVAL | AWARDS | Q&A | ABOUT | TALKBACK