dir-scr Michael R Roskam
prd Bart Van Langendonck
with Matthias Schoenaerts, Jeroen Perceval, Jeanne Dandoy, Tibo Vandenborre, Barbara Sarafian, Frank Lamers, Sam Louwyck, Erico Salamone, Philippe Grand'Henry, Robin Valvekens, Baudoin Wolwertz, David Murgia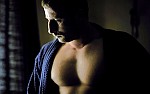 release Bel 2.Feb.11,
US 17.Feb.12, UK 25.Jan.12
11/Belgium 2h04

---
BERLIN FILM FEST

Stirring internalised emotion into a slow-building dark thriller, this Belgian drama gets under the skin as it follows its central character through a shattering experience. The film's focus wobbles sometimes along the way, trying too hard to broaden the narrative, but Schoenaerts' presence is riveting.

Jacky (Schoenaerts) is a hulking young cattle farmer who's underestimated by everyone. Caught up in the murky world of beef-doping gangs, he injects more muscle-building hormones into himself than his bulls. But there's a reason for this, dating back 20 years to a horrific incident that he's forced to confront when his long-lost childhood pal Diederik (Perceval) appears for negotiations with a rival gang leader (Louwyck). And when a drug-enforcement cop is killed, two detectives (Vandenborre and Sarafian) show up to solve the crime. Which makes everyone nervous.

When the film focusses on Jacky, it's thoroughly engaging. His quiet demeanour reveals a man who is fiercely intelligent but uneducated, and increasingly frazzled by the stronger hormones he's taking. Indeed, he sometimes completely loses it, either breaking down emotionally or lashing out with physical violence. And all of this is complicated when he encounters Lucia (Dandoy), a woman who knows his past. So it's frustrating when writer-director Roskam abandons Jacky to fill in other aspects of the story, which weakens the film's momentum.

This isn't to say that the chain of events isn't interesting. It cleverly captures the tug of war between long-established industries and capitalistic pressure to over-achieve. Farmers indulge in increasingly illicit activities to stay competitive, which puts them at odds with each other. And all of this takes place on the fractious border between Belgium's two linguistic groups, Wallonia and Flanders, which adds ethnic tension to every encounter.

As the intensity grows, the film spends less time with Jacky so it can cover the complexities of the naggingly incomprehensible plot. So we bide our time trying to disentangle the story strands while waiting to be reunited with the dangerously flawed hero we're really interested in. Watching him disintegrate before our eyes is shocking, which is a credit both to both Schoenaerts' beautifully full-on performance and Roskam's skilfully intimate direction. If only he had simplified the story, it might have also been heartbreaking.
15 themes, language, violence
---
21.Nov.12

R E V I E W B Y R I C H C L I N E
Dragon: Wu Xia


dir-prd Peter Ho-sun Chan
dir Oi Wah Lam
with Donnie Yen, Takeshi Kaneshiro, Wei Tang, Yu Wang, Kara Hui, Wu Jiang, Yu Kang, Li Xiao Ran, Kenji Tanigaki, Yan Hua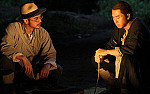 release Chn 4.Jul.11,
UK Jun.12 eiff, US 30.Nov.12
11/China 1h54

---
CANNES FILM FEST


A fascinating combination of wuxia action and police procedural, this riveting, well-made film holds our attention right from the start by combining eye-catching fight choreography along with a fascinating investigative plot. It's also beautifully shot and acted.

In a peaceful village in 1917 Yunan province, two ruthless killers attack a stationery shop run by mild-mannered family man Jin-xi (Yen). And he manages to defend himself through a series of accidental moves. But was it dumb luck? Big-city detective Xu (Kaneshiro) isn't so sure, and arrives to piece together what really happened. He determines that Jin-xi is actually an unusually skilled master fighter, perhaps even the nation's most-wanted criminal, commander of the notorious Demon gang. If this is true, will Jin-xi allow his tranquil new life to be disrupted?

As Xu investigates the opening assault, director Chan deconstructs the scene in a way that's both fascinating and thrilling. So we're immediately gripped to this story in which a lot more is happening than meets the eye, as Jin-xi's past comes back with a vengeance and Xu concocts a dangerous plan to get them through this alive. And events progress with a series of shocking twists, turns and revelations as the plot builds to a stunning confrontation.

Chan stages the action with inventive choreography, then inexplicably shoots in close-up with rapid-fire editing so we can't quite see the context of what's happening. As a result, it's in the quiet drama that the film works best. Jin-xi's life with his wife Ayu (Tang) is genuinely happy, so upending it like this is hugely emotional. And Xu is a Sam Spade-style detective who wears Western clothing, has his own messy personal issues and gets too involved with the people he should be investigating.

All of this deepens our involvement in the story and characters, which makes the boiling tension almost unbearable as the Demon master (Wang) comes to reclaim Jin-xi in a freaky face-off. The film looks amazing, with excellent effects and some gorgeous animated sequences. But it's the character-based approach that draws us into the fascinating journey Jin-xi and Xu are taking, forcing both of them to realise a key truth: if you are truly good, you will have little choice but to do the right thing.
15 themes, violence
---
28.Jun.12 eiff

R E V I E W B Y R I C H C L I N E
Love Crime


Crime d'Amour
dir Alain Corneau
scr Alain Corneau, Natalie Carter
prd Said Ben Said, Alexander Emmert
with Ludivine Sagnier, Kristin Scott Thomas, Patrick Mille, Guillaume Marquet, Julien Rochefort, Marie Guillard, Gerald Laroche, Olivier Rabourdin, Mike Powers, Matthew Gonder, Jean-Pierre Leclerc, Stephane Roquet

release Fr 18.Aug.10,
US 2.Sep.11, UK 14.Dec.12
10/France 1h46

---
BERLIN FILM FEST
TORONTO FILM FEST
---
See also:



Sleek and sexy, this luridly nutty thriller doesn't hang together in any believable way, but it has such a fierce sense of drive that we can't take our eyes off the screen. And terrific performances from ace divas Segnier and Scott Thomas make it even more entertaining.

At a corporate office in Paris, Isabelle (Sagnier) is the efficient assistant to Christine (Scott Thomas), an executive who promises a promotion but steals Isabelle's latest great idea instead. So Isabelle gets even by seducing Christine's boyfriend (Mille) while on a business trip. But this only pushes the manipulative manoeuvring to the next level, as both women work to keep the upper hand in a situation that's spiralling out of control. Meanwhile, Isabelle is quietly up to something else that might give her the ultimate victory.

Director Corneau shoots the film in a silky, overlit style, using long insinuating takes and witty editing. This lets Scott Thomas and Sagnier give marvellously suggestive performances, playing on their characters' ambitions to develop a terrifically twisted chemistry between them. The film is a series of arch confrontations, often in important business meetings where one of the women gazumps the other. Every word and gesture is designed to bring the other one down a notch, and they're not much nicer to the men around them.

These two actresses are so good at portraying these mind games that the film is terrific trashy fun. Each of them dissolves into emotional hysterics at some point, but are they really upset or just play-acting for effect? Smiling cruelty knows no bounds. And while the plot departs the realm of plausibility, the film is so compellingly well made and acted that we love wallowing in every nasty twist and turn.

As Isabelle's elaborate plan is revealed to us, the cast and crew gleefully make the most of the double-whammy noir storyline. And as the relentless viciousness cranks up, the script even plays around with the idea of the teacher being smarter than the student. Yes, it's pure rubbish, but it's nasty, classy rubbish. And now we want to see Brian DePalma's no doubt even more histrionic remake Passion.
15 themes, language, violence, sexuality, drugs
---
25.Oct.12

R E V I E W B Y R I C H C L I N E
Yossi


dir Eytan Fox
scr Itay Segal
prd Moshe Edery, Amir Harel
with Ohad Knoller, Oz Zehavi, Lior Ashkenazi, Orly Silbersatz, Meir Golan, Shlomi Ben Attar, Amir Jerassi, Ola Schur-Selektar, Raffi Tavor, Shlomo Sadan, Gil Desiano, Keren Ann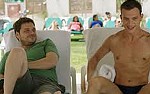 release US Apr.12 tff,
Isr 17.May.12, UK 30.Nov.12
12/Israel 1h24

---
See also:
YOSSI & JAGGER (2002)


A decade after the acclaimed war romance Yossi & Jagger, director Fox and actor Knoller find Yossi still stunned from his experiences. Yes, this sequel is a bit dreary, but it's also full of scenes that challenge viewers by confronting gay stereotypes and finding hope in unexpected places.

Since leaving the army, 34-year-old Yossi (Knoller) has become a cardiologist in Tel Aviv. His only real friend is fellow doctor Moti (Ashkenazi), while another colleague Nina (Schur-Selektar) has a quiet crush on him. Neither knows that he's gay, still hiding from the world after his boyfriend Lior was killed in battle. Then one day Lior's mother (Silbersatz) turns up, stirring something like life in Yossi, who decides to visit Lior's favourite place. Along the way he picks up four young soldiers (Zehavi, Golan, Attar and Jerassi), and one of them sparks something even stronger.

Like Yossi himself, the film moves at a melancholic pace. Even after 10 years, he still can't seem to kick start his life. And he's still terrified of the part of himself that loved Lior. But he can't escape it. Knoller beautifully underplays the character, letting us see this shattered man's soul even as Yossi hides his emotions. His interaction with Zehavi's Tom is played perfectly, as Tom's youthful optimism reflects changes in society that Yossi seems to have missed.

Notably, the filmmakers never overstate these seismic shifts in public opinion. Many gay-themed movies revel in big-city liberties, but the raw truth is more tentative: even though Yossi lives in Israel's most tolerant city, he can't escape the bitter discrimination in the military. By contrast, Tom is out and open, unafraid to express his feelings and intrigued by the challenge of coaxing Yossi out of his shell. As they get together, there's just the right zing of sexual intrigue.

What makes this film important isn't its attitude toward sexuality, which is sometimes harsh in its jagged realism. Instead, this is a moving, universal story of a man who's been unable to get past a tragedy, appearing successful but not actually living his life. And a chance encounter with who he might have been changes all of that. Hopefully Fox and Knoller will revisit Yossi in another 10 years.
15 themes, language, nudity
---
3.Nov.12


< < F O R E I G N > >
See also: SHADOWS FILM FESTIVAL

© 2012 by Rich Cline, Shadows on the Wall


HOME | REVIEWS | NEWS | FESTIVAL | AWARDS | Q&A | ABOUT | TALKBACK