dir-scr Hirokazu Kore-eda
prd Kentaro Koike, Hijiri Taguchi
with Koki Maeda, Ohshiro Maeda, Ryoga Hayashi, Seinosuke Nagayoshi, Kyara Uchida, Kanna Hashimoto, Rento Isobe, Nene Ohtsuka, Jo Odagiri, Isao Hashizume, Kirin Kiki, Yui Natsukawa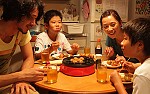 release Jpn 11.Jun.11,
US 11.May.12, UK 8.Feb.13
11/Japan 2h08

---
TORONTO FILM FEST

A delightful exploration of childhood, this film may feel meandering but it has a clear-eyed complexity that catches us off-guard. Beautifully shot and edited, it's so full of life that we never want these kids' adventure to end.

After his parents separate, thoughtful schoolboy Koichi (Koki Maeda) moves south to Kagoshima with his mother (Ohtsuka), while his cheeky little brother Ryu (Koki's real brother Ohshiro) goes north to Fukuoka with their slacker-musician father (Odagiri). Kagoshima sits under a cloud of volcanic ash, and Koichi can't understand why no one is panicking about the eruption. Or maybe it could help reunite his family. So Koichi and Ryu hatch an elaborate plan to meet at the mid-point where bullet trains cross, where their wishes will be granted. But they're not wishing for the same thing.

Kore-eda observes everything from the boys' perspectives, focussing on their school friendships and the internalised emotions they don't quite understand and certainly can't express. Tiny annoyances of everyday life, from having to walk uphill to school to having the least exciting homeroom teacher, mingle in Koichi's mind along with bigger questions about how much he's willing to risk to get his family back together. He talks to Ryu regularly on the phone, but both boys also have new routines and new friends.

Kore-eda films this beautifully, never becoming distracted by a driving plot and instead letting each boy's experience develop organically. He also gets such disarmingly natural performances from his young cast that we often feel like we're watching a fly-on-the-wall doc. And as Koichi and Ryu travel toward each other accompanied by their friends, the film becomes thoroughly charming even when it wanders off-topic. Although scenes with the parents and grandparents (Hashizume and Kiki) are just as involving.

Even with such a simple plot, the film is utterly gripping as it traces the various inter-relationships and internal odysseys, each of which deepens along with the kids' converging journeys. And the brotherly rivalry doesn't end just because they haven't seen each other for six months. Along the way, each actor is able to bring a sharp sense of personality to his or her character, which gives the film an unusually satisfying depth. And the film's final scenes are simply exquisite.
PG themes, some language
---
7.Feb.13

R E V I E W B Y R I C H C L I N E
The King of Pigs


dir-scr Yeon Sang-ho
prd Cho Young-kag
voices Yang Ik-june, Oh Jeong-se, Kim Hye-na, Kim Kkobbi, Park Hee-von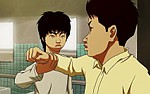 release Kor 3.Nov.11,
UK 25.Jan.13
11/Korea 1h37

---
CANNES FILM FEST


An animated movie for adults, this drama about bullying is provocative and moving, even if it turns overwrought and preachy in the final act. But it's made with passion to vividly tell its story through situations that are wrenching and disturbing.

Young businessman Kyung-min (Oh) is devastated after the violent death of his wife. Just then he gets a call telling him how to get in touch with old friend Jong-suk (Yang), a failed writer who takes out his frustration by beating his wife. When Kyung-min and Jong-suk finally meet up after all these years, they reminisce about being "pigs", the lowest in the hierarchy at their middle school. And they remember another student, Chul (Kim Hye-na), who taught them that the only way to survive was to fight back against the "dogs".

Even with the simple, artful animation, the film is grim from the opening shot, throwing us into the darkly violent lives of Kyung-min and Jong-suk before flashing back to the even more horrific bullying they suffered as young boys (voiced by Kim Kkobbi and Park). Filmmaker Yeon animates the story in a cinematic style, using small camera movements to focus in on characters and the pointed interaction between them. The plot drags a bit as it builds to its surprising two-prong ending, but it holds our interest with the emotional intensity of each situation.

The film sharply catches the helplessness of being bullied by privileged kids who will never have the same worries as you have, something that continues throughout life in various forms. So Chul's willingness to stand up to injustice is both hopeful and scary, especially as he explains that you can only win by turning as evil as your tormenters. And everything feels even more dangerous since this is a Lord of the Flies-style story in which adults are never around at the key moments: we rarely see parents or teachers.

There are several scenes in this film that are very hard to watch, even though they're animated. The violence is relentlessly brutal. And even more difficult is the internal turmoil the characters go through. As older men, Kyung-min and Jong-suk wish they still had a Chul in their life to stand up for them and help them channel their darker impulses. So even when things get overly melodramatic, the strong themes still resonate.
15 themes, language, language
---
22.Jan.13

R E V I E W B Y R I C H C L I N E
Lore


dir Cate Shortland
scr Cate Shortland, Robin Mukherjee
prd Benny Drechsel, Karsten Stoter, Liz Watts, Paul Welsh
with Saskia Rosendahl, Kai Malina, Nele Trebs, Andre Frid, Mika Seidel, Nick Leander Holaschke, Ursina Lardi, Hans-Jochen Wagner, Eva Maria Hagen, Antonia Holfelder, Philip Wiegratz, Jan Peter Heyne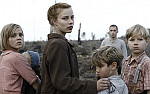 release Ger 1.Nov.12,
US 8.Feb.13, UK 22.Feb.13
12/Germany 1h49

---
TORONTO FILM FEST


Beautifully shot and edited to bring out the inner moods of the characters and situations, this dark post-WWII odyssey gets under the skin even if the plot is a bit thin and episodic. It's a provocative, challenging film that uses a notorious historical period to tell an eerily timeless story.

After burning everything that connects them to the Nazis, a family flees into the night. Teen Lore (Rosendahl) stares in dawning horror as her world falls apart. And when father (Wagner) disappears and mother (Lardi) is arrested, Lore has to take charge of her four young siblings (Trebs, Frid, Seidel and infant Holaschke). Neighbours shun them because of their ties to the just-fallen Fuhrer. As they try to make it to Hamburg, where their grandmother (Hagen) lives, they encounter unspeakable horrors. And a young Jewish man, Thomas (Malina), seems to be following them.

Australian director-cowriter Shortland vividly captures the intense emotions of a teen who doesn't quite understand the full ramifications of the situation. Lore must overcome her pampered childhood and confront endlessly grim realities, with much of the menace coming from predatory men. This adds an unnerving wrinkle to the intriguing connection between Thomas and Lore, partly because they're close in age but also because Lore has been conditioned to despise Jews, even though she knows they need him to survive.

The actors all underplay their roles, cranking up the emotion in moments of harrowing jeopardy. Even the very young children are startlingly realistic, and the script and direction are tellingly detailed. So the smallest scenes are layered with meaning, such as when the twins perform a Hitler Youth song for a scary old woman who gives them a bit of help.

The sumptuous visual textures throw us right into the scenes so we experience everything with Lore. At times the photography seems almost too artful and sensuous for such a horrific situation, but there's a sense that it's capturing a glimpse of the beauty that remains even in humanity's worst moments. And the film really grabs hold of us both in brief moments of tenderness and in the way Lore's life and attitudes will never be the same.
12 themes, language
---
15.Nov.12

R E V I E W B Y R I C H C L I N E
Midnight's Children


dir Deepa Mehta
scr Salman Rushdie
prd David Hamilton
with Satya Bhabha, Shahana Goswami, Seema Biswas, Siddharth, Ronit Roy, Shriya Saran, Kulbhushan Kharbanda, Anita Majumdar, Rahul Bose, Samrat Chakrabarti, Rajat Kapoor, Shabana Azmi


release US 26.Oct.12,
Can 2.Nov.12, UK 26.Dec.12
12/Canada 2h26

---
TORONTO FILM FEST


It's usually risky to let novelists adapt their own work for the big screen, and this film shows why. It's packed with moments that are involving, but Rushdie's bloated script fills in way too much detail while indulging in constant literary touches that are fascinating but distracting.

Born at the stroke of midnight as India gained independence in 1947, Saleem (Bhabha) was swapped at birth with Shiva (Siddharth). So Saleem grew up in privilege with wealthy Pakistani parents (Goswami and Roy), while Shiva lived in poverty with a minstrel dad (Chakrabarti). Over the years, their lives intersect at key moments in the history of India, Pakistan and Bangladesh. Saleem also discovers that he has the magical ability to connect all of the children born at the same time, including Parvati (Saran), whose life becomes intertwined with both Saleem's and Shiva's.

In some ways, this is like a South Asian Forrest Gump, echoing history through the offbeat life of a central character. The story leaps ahead by decades following battles for independence both on national scales and within the characters themselves. It's a huge novel that has been turned into a dense, overlong movie, jumping abruptly from scene to scene without letting us sink into the characters or situations. So there's no real sense of background or depth, despite Rushdie's literary, metaphor-filled narration.

That said, the gifted Mehta directs with an attention to the smells, sounds and textures of the settings, including some wonderfully quirky touches. Combined with the epic history lesson, these things make the film intriguing, even though we never engage with the characters. The cast is fine in roles that are strangely simplistic, but they struggle with dialog that's far too wordy and ironic for its own good.

In the end, the film is worth seeing for the lush production values and the potent themes that fill each scene. These include explorations of personal responsibility and difficult roads to redemption. There's also a fatalism ("Let the rich be poor and the poor be rich") and cynicism ("Survival is an act of life") that underly every sequence. But as the film ripples through eras of peace, dark confusion, hopeful joy and grim violence, its ultimate idea that "the truth has been less glorious than the promise at birth" isn't hugely revelatory.
12 themes, language, violence
---
14.Oct.12 lff


< < F O R E I G N > >
See also: SHADOWS FILM FESTIVAL

© 2013 by Rich Cline, Shadows on the Wall


HOME | REVIEWS | NEWS | FESTIVAL | AWARDS | Q&A | ABOUT | TALKBACK