SHADOWS ON THE WALL | REVIEWS | NEWS | FESTIVAL | AWARDS | Q&A | ABOUT | TALKBACK

Shadows off the beaten path
Indies, foreigns, docs, videos, revivals and shorts...
On this page: THE GOSPEL ACCORDING TO MATTHEW
Flamenco Trilogy: BLOOD WEDDING | CARMEN | LOVE THE MAGICIAN
< < R E V I V A L S > >
last update 29.Apr.12
See also: SHADOWS FILM FESTIVAL

R E V I E W B Y R I C H C L I N E
The Gospel According to Matthew


MUST

SEE Il Vangelo Secondo Matteo
dir-scr Pier Paolo Pasolini
prd Alfredo Bini
with Enrique Irazoqui, Margherita Caruso, Susanna Pasolini, Marcello Morante, Mario Socrate, Otello Sestili, Settimio Di Porto, Giacomo Morante, Ferruccio Nuzzo, Rodolfo Wilcock, Alessandro Clerici, Amerigo Bevilacqua
release 2.Oct.64,
US 17.Feb.66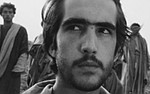 reissue UK 26.Mar.12 dvd
64/Italy 2h17

---
VENICE FILM FEST

Commissioned by the Pope (rather ironic considering Pasolini's sexuality and political views), this faithful, definitive retelling of the gospel is infused with earthy passion. Like no version of this story before or since, it has the ability to seriously unnerve us.

Starting with the annunciation to young Mary (Caruso), we follow the story through the birth and early work of Jesus (Irazoqui), who calls people to follow him on challenging mission. His followers include fishermen Peter (Di Porto) and John (Morante), tax collector Matthew (Nuzzo) and the hot-headed Judas Iscariot (Sestili), sent to be sheep among wolves and proclaim the coming of God's kingdom. Indeed, he so rattled the power base that they conspired to execute him. But he is defiant even in death.

Stylish black and white cinematography, epic production design and a cast of coarse non-actors bring the story to life with unusual power. In remaining faithful to the story, Pasolini cuts to the heart of the true Christian message in ways we rarely hear anymore. Unsurprisingly, he emphasises Jesus' political message, which drives a wedge through society by demanding fair treatment for everyone.

By focussing on the cast members' expressive faces, Pasolini grounds the well-known story in gritty ways that catch us off guard, mainly because it so sharply shows the social and political context: Jesus' ministry is only to the poor and sick. The miracles never rely on movie trickery, and are revealed as daring statements against the class system. So as Jesus and his disciples walk through the countryside, we can feel the growing danger: the religious leaders are terrified of him.

Shot on a grand scale, with expansive landscapes and a massive cast, the film also has rather astounding musical choices that include a range of classical composers, a Congolese chant and Odetta's iconic version of Motherless Child. By sticking so closely to the biblical account, the film is both fast-paced and talky, as it's packed with Jesus' bold sermons. But the settings and raw emotions expand it considerably, as does the righteous anger in Jesus' voice, which casts him as a strident Gandhi-like figure. Powerful, provocative and essential cinema.
U themes, violence, some disturbing scenes
---
3.Apr.12

R E V I E W B Y R I C H C L I N E
Blood Wedding


MUST

SEE Bodas de Sangre
dir Carlos Saura
prd Emiliano Piedra
scr Antonio Artero, Antonio Gades, Carlos Saura
with Antonio Gades, Cristina Hoyos, Juan Antonio Jimenez, Pilar Cardenas, Carmen Villena, Jose Merce, Gomez de Jerez, Marisol, Pepe Blanco, El Guito, Lario Diaz, Enrique Esteve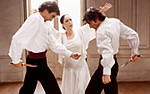 release Sp 9.Mar.81,
US 25.Oct.81
reissue UK 23.Apr.12
81/Spain 1h08

---
TORONTO FILM FEST

This first part of Saura's Flamenco Trilogy centres on a dance production of the Lorca play, inventively merging strands about the performers with the play's tragic plot. This allows the film to work on a variety of levels that each pack their own emotional punch.

We open as the company arrives at the theatre and begins, each with his or her rituals, the transformation into flamenco dancers, singers and guitarists. They apply make-up, practice their performances, chatter in the dressing room and then put-on a powerfully emotional dress rehearsal of Bodas de Sangre. It's the story of a reluctant bride (Hoyos) who's in love with a man (Gades) who isn't her arranged husband-to-be (Jimenez), which leads the two men into a duel.

The opening scenes are filled with backstage banter and details that are so realistic that it's almost like watching a vintage reality TV show. Although it's a particularly well-shot one, catching the expressive faces of the company along with their determination and humour. In a voiceover interviews, Gades describes how he started dancing, then leads the dancers in the energetic rehearsal of the play's tricky choreography.

Assembled with passion and skill, the film works on both levels: we see performers telling a story using all of the physicality and musicality at their disposal, while the Lorca drama itself unfolds with quietly devastating power. A fiery variation on traditional ballet, flamenco is explosive and urgent, as the dancers seem to be throwing themselves at each other while also working in unison. And Saura films these scenes in long takes that let us experience the dancers' full-bodied energy.

Expressed through dance and music, this stylised depiction of Lorca's play is lucid and involving. These are such astoundingly gifted dancers and musicians, so watching them is utterly engulfing, especially as the play takes a very dark turn, including an astounding, completely silent knife fight. And having the chance to be so close to them is a gift. It also makes this not only a beautiful film but also essential viewing as well. Especially for anyone who wants to see how powerfully dance can work on a cinema screen.
U themes, some violence
---
20.Apr.12

R E V I E W B Y R I C H C L I N E
Carmen


MUST

SEE
dir Carlos Saura
prd Emiliano Piedra
scr Carlos Saura, Antonio Gades
with Antonio Gades, Laura del Sol, Paco de Lucia, Pepa Flores, Cristina Hoyos, Juan Antonio Jimenez, Jose Yepes, Sebastian Moreno, Gomez de Jerez, Manolo Sevilla, Antonio Solera, Manuel Rodriguez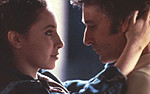 release 6.May.83,
US 20.Oct.83
reissue UK 23.Apr.12
83/Spain 1h42

---
TORONTO FILM FEST

The second in Saura's Flamenco Trilogy is another backstage look at a dance company. It's more dramatised than the doc-style Blood Wedding, and inventively draws us into the passionate story of the company as it begins to live out the production they're mounting.

Antonio (Gades) is staging a flamenco dance performance of Carmen, based on the Bizet opera and Merimee's source novel, but is having trouble casting the lead role. As the company practices the steps and guitar licks, he listens to audition tapes and visits dance schools with his colleague Paco (de Lucia). And he finally finds the perfect spiky Carmen (del Sol), although there's a lot of work to do before she's ready for the stage. Then their off-stage relationship begins to parallel the opera.

Saura gives the film an offhanded charm, catching the witty camaraderie between members of the company (the birthday party is fabulous) as well as a strong sense of artistic drive. No one on screen ever seems to be acting, even in dialog-based scenes that give us insight into the characters. Not only do we see the production coming together, overcoming various obstacles, but we see the performers developing their own dynamic on and off stage. And the way the story layers blur together is thrilling.

There's a wonderful tension between Carmen and the more experienced Cristina (Hoyos), who is clearly annoyed that she's too old to play the role (tellingly, Hoyos played the bride in Blood Wedding). And del Sol plays Carmen with fiery defiance that wonderfully contradicts her hunger to learn from the experts. Meanwhile, Gades is both encouraging and demanding, clearly loving every minute of putting this show together.

Saura again directs the film so imaginatively yet unobtrusively that we feel like we're right in the middle of each scene, soaking up the power of the performances. The dance scenes are fantastic, blending the beauty of movement with much darker passions, especially in the production's moments of startling violence. And when Gades and del Sol click into character, their scenes as Jose and Carmen overflow with raw sexuality. A transcendent, timeless film.
PG themes, language, nudity, some violence
---
22.Apr.12

R E V I E W B Y R I C H C L I N E
Love, the Magician


El Amor Brujo
dir Carlos Saura
prd Emiliano Piedra
scr Carlos Saura, Antonio Gades
with Antonio Gades, Cristina Hoyos, Laura del Sol, Juan Antonio Jimenez, Emma Penella, La Polaca, Gomez de Jerez, Enrique Ortega, Diego Pantoja, Giovana, Mari Campano, Candy Roman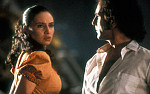 release Sp 23.Mar.86,
US 23.Dec.86
reissue UK 23.Apr.12
86/Spain 1h39

---
TORONTO FILM FEST

The final part of Saura's Flamenco Trilogy further shifts the line between stage and reality, as the action takes place on an elaborate 360-degree film set. Once again, it's a darkly emotional story that gives insight into the characters through music and dance.

In a dusty gypsy village, two fathers (Ortega and Pantoja) agree to marry their children Jose and Candela. Which is a recipe for disaster because another boy, Carmelo, is in love with Candela. As the wedding day arrives, Carmelo (Gades) is annoyed that he's losing Candela (Hoyos) forever. But Jose (Jimenez) is also conflicted, since he's pursuing the feisty Lucia (del Sol). When a fight breaks out, Jose is killed and Carmelo wrongly charged. Four years later, Carmelo returns, longing for Candela. But she has lost her mind, and dances with Jose's ghost every evening.

The idea is that the mysterious twists and turns of love cause all kinds of trouble, especially when jealousy rears its ugly head. Even though we know it's a film within the film, the literal setting makes this episode in the trilogy much more earthy and raw, placing the rhythmic physicality of flamenco in an intriguing everyday context rather than on a stage or in a rehearsal room.

Indeed, there's no reference to the mechanics of the dance: no rehearsals, coaching, trying things out. In this film, the movement comes straight from the characters. And they never break that fourth wall. Along the way there are moments of magical realism, as the whole village freezes for Candela to express her passion. And her ghostly madness is like a growing storm that gets more dangerous as she struggles to know what's real. So the whole village holds an elaborate, astounding seance to free her.

Watching all three films back-to-back is fascinating, as the four lead actor-dancers play on variations of relationships. Each film features a fateful flick-knife fight, and recurring parties and weddings are terrific places for big emotional conflict. Saura's deceptively simple direction draws out the passion and life in each story, vividly revealing the humour and pain through the gorgeously full-bodied performances of the entire company.
U themes, violence
---
23.Apr.12


< < R E V I V A L S > >
See also: SHADOWS FILM FESTIVAL

© 2012 by Rich Cline, Shadows on the Wall


HOME | REVIEWS | NEWS | FESTIVAL | AWARDS| Q&A | ABOUT | TALKBACK