---
All My Friends Hate Me
Review by Rich Cline |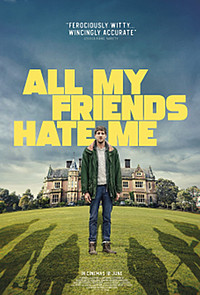 dir Andrew Gaynord
prd Tom Palmer
scr Tom Palmer, Tom Stourton
with Tom Stourton, Charly Clive, Antonia Clarke, Joshua McGuire, Graham Dickson, Dustin Demri-Burns, Georgina Campbell, Christopher Fairbank, Kieran Hodgson
release US 11.Mar.22,
UK 10.Jun.22
21/UK 1h33

---

---
Is it streaming?

---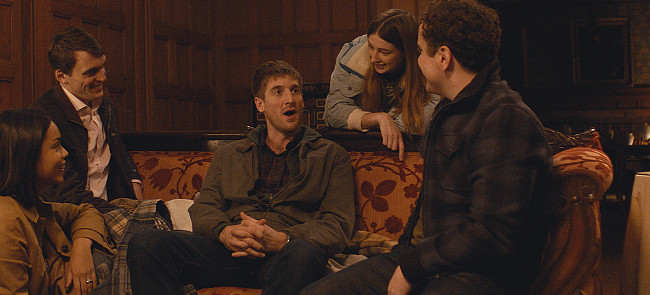 Bracingly well-observed, this almost unimaginably bleak British comedy zeroes in on that point in life when we question our identity and purpose. Spinning a friends' reunion into what feels like a nightmare, the film maintains offhanded chirpiness while gnawing at the foundations of the lead character's life. Thankfully, it balances this brutal honesty with plenty of absurd nuttiness, so it keeps us laughing nervously all the way through.
---
On his way to his 31st birthday weekend in the countryside, Pete (Stourton) has a couple of disarming experiences that leave him off-balance when he reunites with his closest friends. It doesn't help that his girlfriend Sonia (Clive) is arriving later, making him nervous that his ex Claire (Clarke) is there. Sparky pals George, Archie and Fig (McGuire, Dickson and Campbell) distract him with various antics, although the presence of live-wire local Harry (Demri-Burns) shifts the dynamic between them so severely that Pete begins to think everyone is out to get him.
---
Director Gaynord uses sunny, breezy storytelling, while adding tiny disturbing details that make us begin to doubt what is actually happening here. Hints of an outside menace, random insults and long-standing resentments abound, but it's tricky to know if they're real or imagined. Is Pete paranoid, or is he genuinely the target of a vicious campaign against him? All of this is eating away at his sense of who he is now, after abandoning his party-boy ways to work with refugee children and make himself a better person.

The cast is excellent, maintaining authentic characters whose motives are hard to read. At the centre, Stourton is hugely likeable as Pete, even when his jokes land badly or when he awkwardly overreacts to a comment. His internal confusion is easy to identify with. Clive and Clarke are terrific as the inscrutable women in his life, spiralling around him without revealing what they're thinking. McGuire, Dickson and Campbell get strong scenes all their own, while Demri-Burns steals the show as the literal party-crasher.

Because we experience all of this through Pete's perspective, we're never quite sure exactly what's going on here. He's rattled by crazy things that happen and almost everything that's said to him, which is understandable through his eyes. We can also readily sympathise with his insecurity, wondering whether the people closest to him can see him for who he is rather than who he used to be. And of course the nagging thought is that maybe he hasn't changed as much as he hoped he did.
| | | |
| --- | --- | --- |
| | themes, language, violence | 11.May.22 |
---
Boonie Bears: Back to Earth
Review by Rich Cline |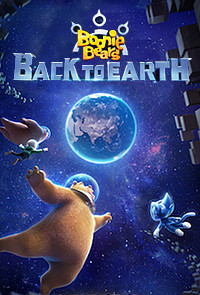 dir Huida Lin
scr Qin Wan, Yun Xu, Lin Jiang
prd Daisy Shang, Tianfu Xu, Hongfen Jiao
voices Joseph S Lambert, Kieran Katarey, Sara Secora, Olivia Seaton-Hill, Christopher Price, Maxx Rinehart, Siobhan Lumsden, Barbara Quesada, Ruth Urquhart, Chris Boike, Nicola Vincent, Manuel Zaldivar
release Chn 1.Feb.22,
UK 27.May.22
22/China Fantawild 1h37

---
See also: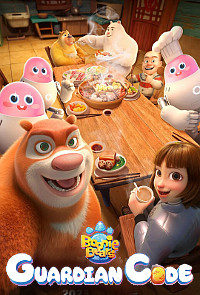 ---
Is it streaming?

---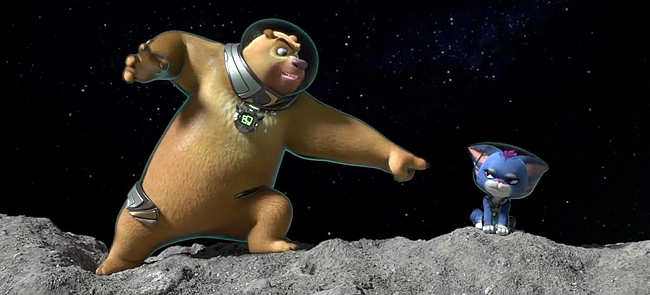 While this franchise has been going strong in China for a decade, this eighth Boonie Bears movie is the first to get a UK release. It's a high-energy action comedy, animated to a first-rate standard with colourful characters and whizzy thrills, all infused with a silly slapstick sensibility. Despite its relatively brief running time, the film has an impressive epic sweep, even if it's all a bit nuts.
---
Clumsy bear Bramble (Lambert) is working in a wilderness park when a UFO crashes into the woods nearby. Inadvertently bonding with the ship's computer, he meets its tetchy pilot, alien cat Avi (Secora). With ruthless soldiers after them, Bramble needs to help Avi find some sort of necklace gadget in order to get home. Meanwhile, a pair of ambitious arms dealers (Seaton-Hill and Price) are after Avi's tech, and they trick Bramble's bear buddy Briar (Katarey) and friends Vick and Tiki (both Rinehart) into joining their army. But now the whole world is in jeopardy.
---
Constructed with a rapid-fire stream of chases, battles and comical set-pieces, the film also includes a wacky interlude on the moon and a big musical number performed by the villains and their minions. Along the way, there are several moments in which all seems desperately lost, especially when the full force of evil power is unleashed leading into the action-packed final act. All of this is impressively animated to maintain both an enormous scale and the smaller character details. So it's good fun to just go with it.

Without the weight of star casting, the enjoyably unaffected voice work creates some nice relationships. Ice-cream obsessed Bramble is easily manipulated by this devious blue kitten. But of course they become friends, and Bramble begins to discover the power inside himself. Making him sympathetic, Avi reveals that he's searching for his parents, who were lost while seeking a new planetary home. And the baddies are both extremely brutal and fully ridiculous.

Even if they're played with a heightened sense of corny comedy, some of the action sequences are rather violently destructive, especially in the Transformers vs Godzilla finale. And while the characters have some nice textures to them, the film's themes are a little under-developed. At least there's a throwaway environmental note that Earth is the only home we have. Or perhaps more important is the reminder that, when you haven't a clue how to help someone who's hurting, maybe a hug will do.
| | | |
| --- | --- | --- |
| | themes, violence | 23.May.22 |
---
Good Luck to You, Leo Grande
Review by Rich Cline |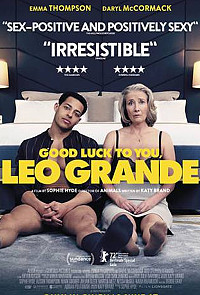 dir Sophie Hyde
scr Katy Brand
prd Debbie Gray, Adrian Politowski
with Emma Thompson, Daryl McCormack, Isabella Laughland, Les Mabaleka, Lennie Beare, Carina Lopes, Charlotte Ware
release UK/US 17.Jun.22
22/UK Lionsgate 1h37

---
SUNDANCE FILM FEST
BERLIN FILM FEST

---
Is it streaming?

---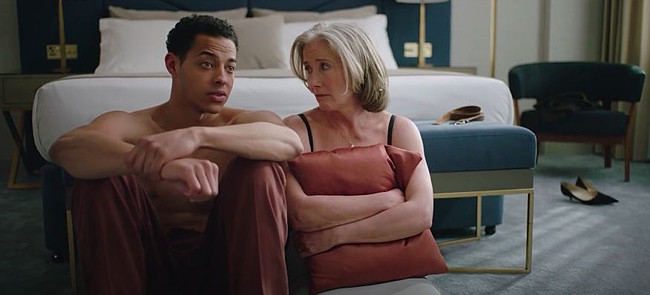 If you can get into this film's theatrical vibe, there are several very strong themes woven through the narrative that make it deeply involving. Essentially three scenes featuring two people in a room, the stagey set-up is echoed in the heightened dialog, which pointedly takes on several big issues. The observations are insightful and sharply important, as are the bravely transparent performances from the two lead actors.
---
In a London hotel room, retired teacher Nancy (Thompson) waits nervously for Leo (McCormack), a much younger escort she has hired. She awkwardly confesses that she's never been with a man other than her late husband, and that it's time for her to get her life moving forward. Leo is charm personified, patiently helping her relax, which is nearly impossible for an over-thinker like Nancy. And after the first meeting goes well, she arranges to see him again, deepening the connection while also testing some firm boundaries. Then a third encounter takes things even further.
---
It's rare for a film to so wholeheartedly embrace positivity about sexuality, openly discussing issues most people are terrified to bring up. Especially notable are discussions of age and experience, and how each person's sexuality is distinct. While a middle-aged woman and 20-something man are very different indeed, they share common insecurities about their bodies, life choices and relationships. All of this emerges through the deliberate discussions and wonderfully textured performances.

Thompson is perfect for this role, a woman who is still sexy at a certain age, but struggles to see it. Her perfomance adds a lovely inner light to Nancy's journey toward loving her own body. And her interaction with Leo sparks and spirals in wonderfully engaging directions. McCormack also gets a chance to drop Leo's mask from time to time, revealing undercurrents that are powerfully involving. So even if the script is carefully structured to parallel their journeys, the acting brings details to sometimes startling life.

At the centre of this film is a celebration of the body we are born in and the scars that we have earned over the course of our lives. Some of this may feel a bit obvious or belaboured in dialog that pings pointedly back and forth, but it's the subtler details that linger more strongly, whether in a sideways glance or tenuous touch. Most important is the way the film refuses to shy away from the realities of the human body, especially as it ages and continues to radiate the lived-in beauty that's rarely shown on the screen.
| | | |
| --- | --- | --- |
| | themes, language, sexuality | 7.Jun.22 slf |
---

< < I N D I E S > >
See also: SHADOWS FILM FESTIVAL

© 2022 by Rich Cline, Shadows on the Wall


HOME | REVIEWS | NEWS | FESTIVAL | AWARDS | Q&A | ABOUT | TALKBACK