---
Azor
Review by Rich Cline |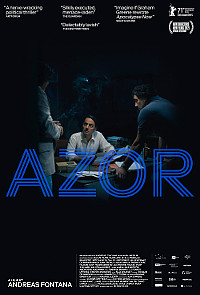 dir Andreas Fontana
prd David Epiney, Eugenia Mumenthaler
with Fabrizio Rongione, Stephanie Cleau, Carmen Iriondo, Juan Trench, Ignacio Vila, Pablo Torre Nilson, Elli Medeiros, Gilles Privat, Juan Pablo Geretto, Alexandre Trocki, Yvain Juillard, Agustina Munoz
release US 10.Sep.21,
UK 4.Feb.22
21/Argentina 1h40

---
BERLIN FILM FEST

---
Is it streaming?

---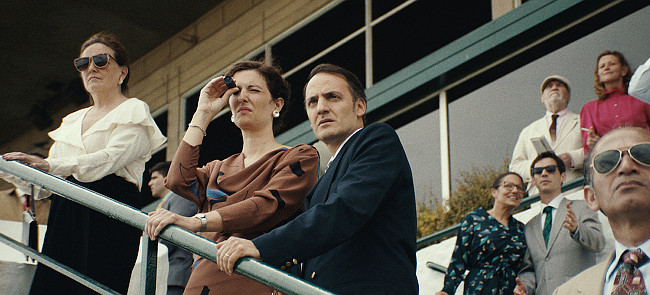 Set in 1980 at the height of Argentina's Dirty War, this dark mystery unfolds enticingly due to clever, ambitious filmmaking touches that open up the story and themes. Writer-director Andreas Fontana creates a dryly churning atmosphere that draws the audience into its deeply unsettling realities. It's an understated, slow-burn thriller that never breaks out into action, remaining internalised and gnawingly nasty. And where it goes is viscerally haunting.
---
Travelling from Geneva to Buenos Aires, private banker Yvan (Rongione) and his wife Ines (Cleu) are looking for his local partner Keys, who has gone missing. They are also travelling around the country to assure Yvan's old money clients that he has everything under control. But they begin to hear whispers that the wealthy are under threat from the military government, with children disappearing and assets seized. There are also rumours about Keys' depravity, even though most clients speak of him as a close friend. And there's clearly a bigger story here.
---
Spanish, French and English swirl through the dialog (the title means "hush" in a family dialect), while corners of the frame are filled with telling details about the brutal ruling junta, from reports about currency devaluation to young people detained in the streets. Everyone speaks in muted tones about the murderous military regime, and Yvan realises that his clients are deeply entangled with it, some having gone over to the dark side themselves. The question is how far Yvan is willing to go.

Each performance has a staggering sense of depth, as if we are watching people who have deep secrets that guide their every word and action. And they're so rich that they feel untouchable. Rongione is terrific at the centre as a brilliant man on a voyage into a seriously evil world. And this extends to his relationship with Ines, whom Cleu plays as fiercely intelligent, never missing a thing, ready to give Yvan a nudge with a vicious verbal jab. The supporting cast members play a fascinating range of characters, each with his or her own rippling impact.

The film is expertly shot and edited to reveal telling details in each scene, with dialog that drops continual bombs. The imagery and themes echo Conrad's classic Heart of Darkness as Yvan voyages into true horror. This is an astonishingly sure-footed depiction of the point where politicians and bankers collide and collude, encircled by the super-rich class they are determined to join. It's about a sinister battle, based on greed, that undermines the foundations of society.
| | | |
| --- | --- | --- |
| | themes, language | 31.Jan.22 |
---
Bringing Him Back Mía y Moi
Review by Rich Cline |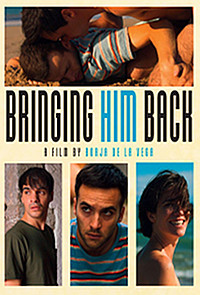 dir-scr Borja de la Vega
prd Toni Espinosa
with Bruna Cusi, Ricardo Gomez, Eneko Sagardoy, Joe Manjon
release Sp 21.May.21,
US 18.Jan.22, UK 4.Feb.22
21/Spain 1h43

---
Is it streaming?

---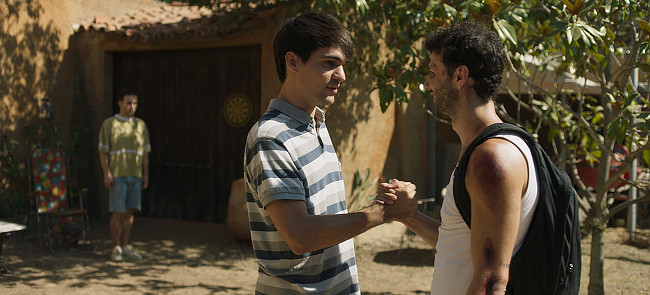 Gently observational, this Spanish drama subtly unpicks its characters' emotions as they grapple with big issues like grief, mental illness and challenging relationships. Writer-director Borja de la Vega creates a remarkably engaging dynamic between these four people, nicely highlighting various textures in their personalities while making terrific use of the isolated countryside settings. It's somewhat talky and rambling, only rarely sparking to life, but finds some strong resonance.
---
Engulfed in grief following his mother's death, Moi (Gomez) travels to his family's old farmhouse with his boyfriend Biel (Sagardov) to spend time with his sister Mia (Cusi). While Biel struggles to get through Moi's dazed barrier, Mia silently worries that Moi isn't taking his meds. But they get a chance to relax and quietly connect on a nearby beach they enjoyed as children. Then Mia's ex-boyfriend Miken (Manjon) arrives, throwing off the fragile balance between them. He also hones in on each person's weakness and creates an atmosphere in which anything might happen.
---
Clever details fill each scene, from the ladder Mia climbs to get a phone signal to her attempt to tell a silly joke to cheer up Moi. So happy moments break through the sombre atmosphere. Then Mikel arrives like a tornado, saying things others are afraid to say, which includes teasing Mia and Moi about their histories with mental illness. With his constant insinuation, he preys on each of the others in specific ways. Through all of this, de la Vega uses nudity as a plot point, as well as to highlight vulnerability and resilience.

While Gomez has the unflashy role as the sullen Moi, the actor finds glimmers of spark inside. Much more bubbly, Sagardov's sexually fluid Biel is trying to keep everyone's spirits up, even as he can't escape his concern for Moi's state of mind. And Cusi's Mia is more outgoing and straightforward, speaking matter-of-factly even as she understands Moi's haunted reactions. And then there's Manjon's bullish Mikel, who arrives battered from a road accident and projects macho energy in every direction.

The story never quite shifts into full speed, coasting along through scenes that bristle with raw emotion. This is a film about the unexpected, indefinable nature of human connections, as each person is surprised by their interaction with the others, bringing up old feelings and finding new ones. All four of these characters are stuck in the past, trying to move forward based on the way the world used to be. Then after some uneven pacing, the film takes a couple of dark, sometimes shocking turns in the final act.
| | | |
| --- | --- | --- |
| | themes, language, violence, sexuality | 31.Jan.22 |
Gehraiyaan
Review by Rich Cline |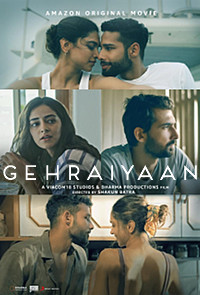 dir Shakun Batra
scr Ayesha DeVitre, Sumit Roy, Shakun Batra
prd Hiroo Yash Johar, Karan Johar, Apoorva Mehta, Shakun Batra
with Deepika Padukone, Siddhant Chaturvedi, Ananya Panday, Dhairya Karwa, Naseeruddin Shah, Rajat Kapoor, Anaaya Anand, Pavleen Gujral, Imran Chappar, Arzoo, Vedansh, Natasha Rastogi, Shataf Figar
release Ind/US/UK 11.Feb.22
22/India 2h28





---
Now streaming...

---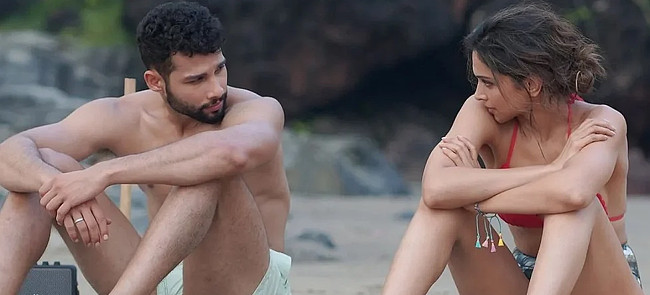 Set in lavish locations like a massive yacht and gorgeous waterfront villa, this Indian drama takes a picturesque journey through a tangled romance that includes comedy and dark suspense. Emotions begin gurgling under the surface from the start, as the camera observes details in the complex interaction between the characters. Along with first-rate production values, he plot takes several mayor twists and turns over the film's epic running time.
---
At 30, yoga teacher Alisha (Padukone) feels that both her career and relationship with Karan (Karwa) are getting stale. Then they take a getaway to reunite with her cousin Tia (Panday) and meet her wealthy fiance Zain (Chaturvedi). Alisha is surprised to find common ground with Zain, and they begin gently flirting with each other. Later, they chat by text message and begin a secret romance. So when Karan proposes, Alisha has to make a big decision. But all four of these people are making choices that will change the trajectories of their lives.
---
The film's extended length allows the screenwriters to add several themes and subplots, exploring the strained financial gap between the two couples, which accentuates Karan's struggling-writer reality, plus Alisha's tortured relationship with her father (Shah), which boils over in intense confrontations that reveal secrets from her past. Meanwhile, Zain is hiding his increasingly serious legal and financial worries, and is becoming desperate to find a way out. All of these strands are tightly entangled in the script, leading to a series of startling resolutions.

Performances are grounded and naturalistic, never playing up the emotions that run through their interaction. Padukone and Chaturvedi manage to keep Alisha and Zain sympathetic, even though they are constantly lying to their friends and partners. But their connection feels very real, and adds a layer of engagement into various situations as they struggle with their inner demons. Panday and Karwa are also excellent as Tia and Karan, genuinely nice people caught up in their partners' various messes.

Because it goes on so long, the film makes an intriguing premise feel somewhat overwrought, stretching out the big dramatic moments. This is a story about people who get in over their heads, both by staying in a relationship for the wrong reason and by allowing that inner moral compass to shift perilously. A slippery slope of transgressions adds a strongly cautionary angle to the script, almost shifting it into a melodramatic thriller in the hugely emotive final act. Thankfully, there's an extended cathartic epilogue.
| | | |
| --- | --- | --- |
| | themes, language, violence | 10.Feb.22 |
---

< < F O R E I G N > >
See also: SHADOWS FILM FESTIVAL

© 2022 by Rich Cline, Shadows on the Wall


HOME | REVIEWS | NEWS | FESTIVAL | AWARDS | Q&A | ABOUT | TALKBACK