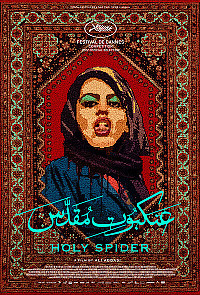 dir Ali Abbasi
scr Ali Abbasi, Afshin Kamran Bahrami
prd Ali Abbasi, Sol Bondy, Jacob Jarek
with Mehdi Bajestani, Zar Amir Ebrahimi, Arash Ashtiani, Forouzan Jamshidnejad, Mesbah Taleb, Alice Rahimi, Sara Fazilat, Ariane Naziri, Sina Parvaneh, Nima Akbarpour, Firouz Agheli, Farhad Faghih Habibi
release UK Oct.22 lff,
Den 13.Oct.22, US 28.Oct.22
22/Denmark 1h56

---
CANNES FILM FEST
TORONTO FILM FEST

---
Is it streaming?

---
Taking a clear-eyed look at the injustice that pervades a strictly Islamic society, gifted Iranian-Danish filmmaker Ali Abbasi unflinchingly recounts the true story of a serial killer and the people who stopped him. Shot in Jordan for obvious reasons, the film's unnerving authenticity is both horrific and instantly gripping. And since the murderer believes he's doing God's will, the narrative carries a devastating and urgently provocative thematic kick.
---
Heading to Iran's holiest city Mashhad, Rahimi (Amir Ebrahimi) quickly faces criticism as a woman travelling alone, plus gossipy rumours about her past. She's been assigned to cover the murders of prostitutes by the so-called Spider Killer (Bajestani), who claims to be "waging jihad against vice". Police detective Rostami (Parvaneh) has no leads, and doesn't seem interested in looking for them. And religious leaders are equally apathetic. Alongside local reporter Sharifi (Ashtiani), Rahimi is horrified by the details as she rather easily tracks down the killer. But the system seems to be conspiring against her.
---
Opening with the quote, "Every man shall meet what he wishes to avoid", the film is instantly insinuating, creating empathy for desperate women who are being heartlessly killed. Abbasi's confident, eye-catching direction draws out naturalistic humour and churning suspense. This adds a chill to parallel scenes featuring murderer Saeed, a war veteran and family man who believes his brutal actions are justified. He's also seen repeatedly strangling women with their headscarves, hammering in the repercussions of official inaction.

Most characters are unable to disentangle concepts of faith, morality, truth and justice. As Saeed, Bajestani finds nuance without being sympathetic. It's a bold performance that reveals Saeed's vile soul, especially in complex scenes with Jamshidnejad and Taleb as his wife and teen son, both excellent. Meanwhile, Amir Ebrahimi gives Rahimi an inspiring tenacity that balances her prickly personality, revealing years of enduring aggressive sexism. So her intrepid actions take on extra layers of heart-stopping resonance.

Rampant hypocrisy and misogyny infuse this narrative, and Abbasi squarely faces up to both grisly murders and ideological collisions. In Saeed's astonishing trial, the public sees the 16 female victims and Rahimi herself as the villains. So while the violence is hideous, the pervasive self-righteous dominance is even more disturbing. The police and religious leaders believe the killer is cleaning the streets for them. And because they all relish their power over women in varying degrees, Abbasi, unlike the Iranian system, refuses to let the men off lightly.
| | | |
| --- | --- | --- |
| | themes, language, violence, sexuality | 1.Dec.22 |
---
Mascarpone Maschile Singolare
Review by Rich Cline |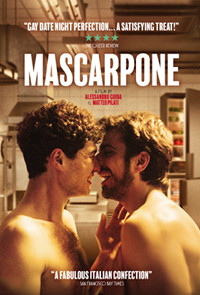 dir Alessandro Guida, Matteo Pilati
prd Matteo Pilati
scr Giuseppe Paterno Raddusa, Matteo Pilati, Alessandro Guida
with Giancarlo Commare, Eduardo Valdarnini, Gianmarco Saurino, Michela Giraud, Lorenzo Adorni, Carlo Calderone, Barbara Chichiarelli, Vittorio Magazzu, Alberto Paradossi, Manuela Sparta, Fabio Fappiano, Samuele Picchi
release It 4.Jun.21,
US Apr.22 blff, UK 28.Nov.22
21/Italy 1h41

---
Is it streaming?

---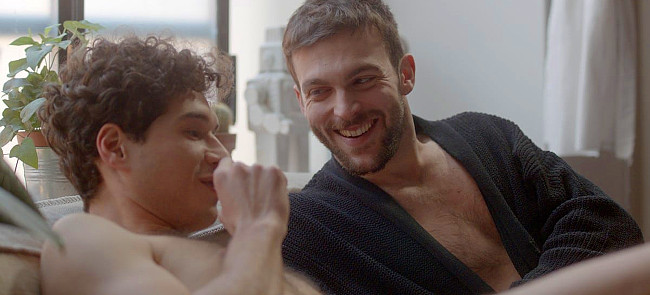 While it often feels like a romantic comedy, this engaging Italian film explores darker undercurrents in relationships, highlighting the dangers of losing your sense of identity to someone you love. Filmmakers Alessandro Guida and Matteo Pilati take a refreshingly open-handed approach to sex and sexuality, grounding the characters and situations in earthy honesty and sharp wit. So even if the plot feels a little contrived, it's thoroughly involving.
---
At 30, unemployed architect Antonio (Commare) finds his perfect life in Rome abruptly coming to an end when his husband Lorenzo (Calderone) breaks up with him for another man (Fappiano). Emotionally and economically adrift, he rents an overpriced room from friendly oddball Denis (Valdarnini) and gets a job in a bakery owned by the handsome Luca (Saurino), who introduces him to casual sex and encourages him to get out and meet more guys. Antonio also enrols in pastry school to study something he loves. And he sparks with Thomas (Adorni), whom he meets online
---
Having been in this serious relationship with Luca since he was young, Antonio is new to this app-based world of quick hookups. He experiences quite a range of connections along the way, from anonymous lusty encounters to situations that turn too serious too fast. This allows the filmmakers to create a tone that's both sweet and sexy while delving deeper into Antonio's internal journey. So even if the film is somewhat coy about sex, it digs deeper into his complex feelings for both Luca and Thomas.

Commare is seriously adorable as Antonio, especially as his wide-eyed naivete begins to give way to confidence. Even when he gets a bit cocky, he's still likeable, so it's easy to root for him as he makes his way through various encounters. His chemistry has terrific textures that are specific with Saurino, Valdarnini and Adorni, each of whom is able to add layers of interest to his character. Playing things a bit more broadly, Giraud (as Antonio's oldest friend) offers some amusing moments of her own.

In a moment of lucidity, Denis advises Antonio that as he grows up he should give up on his childish expectations and set his own rules for moving forward with life. But Antonio needs to learn to take advantage of opportunities, rather than running from challenges. And the film is a reminder that true romance is only possible when you don't have to give up who you are to be with someone.
| | | |
| --- | --- | --- |
| | themes, language, sexuality | 9.Dec.22 |
---
Rimini
Review by Rich Cline |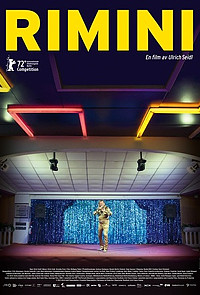 dir Ulrich Seidl
scr Ulrich Seidl, Veronika Franz
prd Philippe Bober, Michel Merkt, Ulrich Seidl
with Michael Thomas, Tessa Gottlicher, Hans-Michael Rehberg, Inge Maux, Claudia Martini, Georg Friedrich, Rudolf Haberleitner, Moumen Abd El Rahman, Rosa Schmidl, Daniele Georg Van, Giuseppe Galliano, Amelia Velatovac
release Aut 8.Apr.22,
UK 9.Dec.22
22/Austria 1h54

---
BERLIN FILM FEST

---
Is it streaming?

---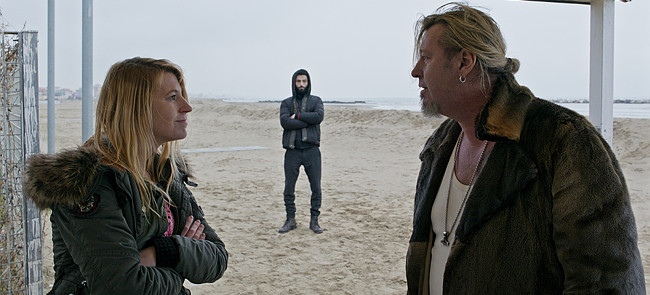 Set in off-season at an Italian seaside resort town, this is another pitch-black comedy from Austrian filmmaker Ulrich Seidl. His usual unblinking approach creates a character study that's impossible to look away from, with settings and people that have almost unnervingly documentary-style authenticity. But after the almost affectionate opening half, the film shifts into a much darker exploration of the shifting world, and how someone always has to pay.
---
After his mother dies, louche lounge singer Richie (Thomas) returns home from Italy to Austria to be with his senile father (Rehberg) and brother Ewald (Friedrich). Back in wintry seaside Rimini, he entertains small audiences of tourists with his musical act and earns extra cash satisfying lonely women, including his long-time regular client Annie (Martini). He also rents out his house to superfan Emmi (Maux). Then Richie's long-ignored daughter Tessa (Gottlicher) turns up demanding 18 years of back child support. But Richie is broke, so he turns to embezzlement and blackmail to find the cash.
---
Sets are wonderfully designed with riotous visual flourishes, wonderfully echoing the posters and cutouts on Richie's childhood bedroom walls with his home in Rimini, where the cutouts are of a younger Richie. The crumbling locations themselves offer witty architectural commentary on Richie's faded glory, something that's also echoed in the riotously awful pastiche songs he croons. While these ideas are easy to connect, the more provocative underlying racial issues are trickier to unearth but have a nagging intensity.

With a staggeringly committed performance, Thomas is hilarious as a middle-aged man whose ridiculous swagger still works its magic on his ageing audience. There's something oddly endearing about a pathetic man who's oblivious to his own flaws, even as he indulges in the unthinking racism that was passed down to him from his Nazi father. And the variety of characters around him is so strikingly realistic that none seem to be actors at all.

While this is a lacerating portrait of a has-been artist living on the fumes of his moderate success, Seidl has much bigger issues to explore around the edges, where North African and Middle Eastern refugees crouch in doorways or look on from a distance. Even Tessa's Arab boyfriend (El Rahman) remains silent, lurking intently in the background with his crew of fellow migrants. Yes, there's a growing sense that this is actually a film about how Europe has abused and ignored the world around it for far too long.
| | | |
| --- | --- | --- |
| | themes, language, sexuality | 12.Dec.22 |
---

< < F O R E I G N > >
See also: SHADOWS FILM FESTIVAL

© 2022 by Rich Cline, Shadows on the Wall


HOME | REVIEWS | NEWS | FESTIVAL | AWARDS | Q&A | ABOUT | TALKBACK