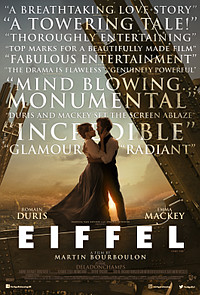 dir Martin Bourboulon
scr Caroline Bongrand
prd Vanessa van Zuylen
with Romain Duris, Emma Mackey, Pierre Deladonchamps, Armande Boulanger, Bruno Raffaelli, Alexandre Steiger, Andranic Manet, Philippe Herisson, Stephane Boucher, Jeremy Lopez, Damien Zanoly, Sophie Fougere
release Fr 13.Oct.21,
US 3.Jun.22, UK 12.Aug.22
21/France Pathe 1h48





---
Is it streaming?

---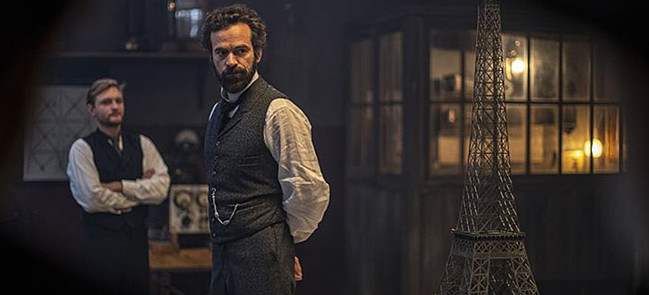 This "freely inspired" biopic about the famed architect and engineer Gustave Eiffel takes a rather Hollywood-style approach to the story, injecting lots of rather corny melodrama while simplifying real-life events. Director Martin Bourboulon deploys a brisk and energetic pace, which keeps the film entertaining even as it leaves niggling questions unanswered, and even though the central romantic storyline feels profoundly fictional, distracting from more intriguing things going on.
---
In the mid-1880s, the widowed Gustave (Duris) is celebrated for his iconic bridges and the Statue of Liberty's internal structure. So he's encouraged to join a project to build a tower for Paris' 1889 World's Fair. Initially dubious, he takes the job when he discovers that his long-lost love Adrienne (Mackey) is now married to project manager Antoine (Deladonchamps), who notices the longing glances between them. As the project moves forward, the team faces worker revolts and public protests against this planned eyesore. And Adrienne finds it difficult to resist rekindling her romance with Gustave.
---
While the sets and effects impressively recreate the construction of the iconic tower using Matias Boucard's striking widescreen cinematography, the drama is oddly shot in close-up, which pushes the interaction out of context. The narrative frequently flickers back to Gustave and Adrienne's earlier steamy romance in Bordeaux, as they plot a future together but are cruelly thwarted. In the later period, Gustave briefly grapples with his grown daughter Claire (Boulanger) and her engagement to Gustave's rookie engineer Adolphe (Manet). But this plot thread never quite develops, and the politics are also left to simmer off-screen.

Duris is as charming as ever in the lead role, making Gustave likeable even with his tetchy tendencies as a boss and deliberately illicit romantic moves. Gustave's engineering genius is rendered through intriguing explanations and lots of architectural sketches, while his epic love story with Adrienne is lusty but never very deep. Mackey gives Adrienne a nice sense of rebellious intelligence that generates strong chemistry. And in a rather thankless role, Deladonchamps is terrific as the wronged husband.

By taking such an old fashioned approach, Bourboulon essentially sidesteps the central facts of Gustave's story, opting instead for something shamelessly sentimentalised. He also skims over the resonant political themes. So it's a watchable and often engaging movie that centres on a sexy, sudsy romance. Meanwhile, the film offers a tantalising glimpse into the much more fascinating tale of how this great monument came to be built, and the complex man who gave the tower its name.
| | | |
| --- | --- | --- |
| | themes, language, violence, sexuality | 26.May.22 |
---
Major
Review by Rich Cline |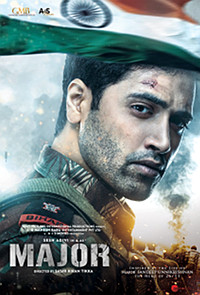 dir Sashi Kiran Tikka
scr Adivi Sesh
prd Mahesh Babu, Anurag Reddy, Sharath Chandra
with Adivi Sesh, Saiee Manjrekar, Prakash Raj, Revathi, Sobhita Dhulipala, Murli Sharma, Andre Mathews, Bjorn Seiz, Bagria Azzy, Vinay Nallakadi
release Ind/UK 3.Jun.22
22/India Sony 2h10

---
Is it streaming?

---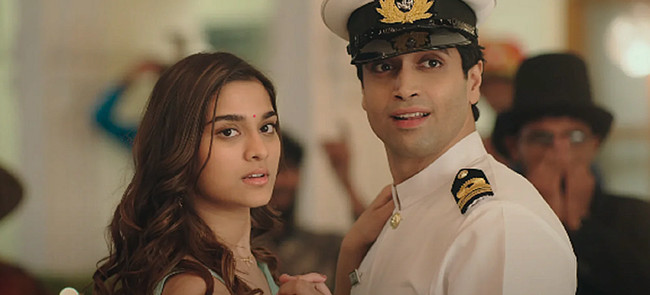 A powerful true story from India is turned into a full-on action romance epic, compete with edgy violence, sudsy sentiment and lots of heroic flag waving. It's framed as a biopic about Sandeep Unnikrishnan, a dedicated military officer who saved many lives during the 2008 terrorist attack in Mumbai. A more nuanced approach might have given the film a more involving kick, but it does get the blood pumping.
---
An obsessive fan of Arnold Schwarzenegger's Commando, Sandeep (Sesh) is determined to become a soldier from an early age, despite resistance from his adoring mother and father (Revathi and Raj). As a teen, he woos classmate Isha (Manjrekar), who understands that she'll always come second to his service to his country. In the army, Major Sandeep eventually becomes a trainer in India's elite special ops force, responding when Pakistani gunmen launch a massacre in a large Mumbai hotel. Never one to follow rules, Sandeep puts himself in danger to rescue hostages and stop the killers.
---
Produced to a high standard, the film has a driving pace that never lets up, even as it circles around within Sandeep's life story. Sometimes the cuts feel a little abrupt, such as shifting to recount his wedding day right in the middle of a gunfight. But at least this allows filmmaker Tikka to vary the tone and find emotional notes amid the horrific attack. While the love story is very soapy, the action is gritty, sometimes downright nasty with several terrifying shootouts and one particularly gritty fistfight.

Through all of this, Sandeep is given a saintly glow, with a surging score accompanying each beefy closeup. Sesh gives the role some depth with his sheer charisma, some strong internalised feelings and a couple of surprisingly dark moments too. Watching him actually become a commando and begin strutting like a movie star is good fun. His chemistry with Manjrekar's smart-feisty Isha is enjoyably prickly, and scenes with Revathi and Raj are also nicely played to bring out moving details. Meanwhile, Sharma has some strong moments as his flustered commanding officer.

Even if the earnest tone is a bit overpowering, there's plenty in this film to hold the interest, from the magnetic performances to the painstaking, often harrowing recreation of this tragic series of events. Several sequences are staged in ways that leave us gasping for breath, displaying a range of genuine heroism from small acts of kindness to enormous armed stand-offs. So it's almost forgivable that the film's chest-pounding patriotism ends up undermining the deeper meanings.
| | | |
| --- | --- | --- |
| | themes, language, violence | 30.May.22 |
---
Neptune Frost
Review by Rich Cline |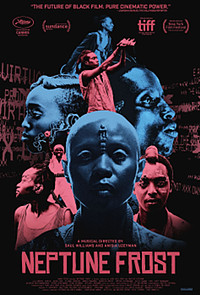 dir Saul Williams, Anisia Uzeyman
scr Saul Williams
prd Ezra Miller, Stephen Hendel, Saul Williams
with Cheryl Isheja, Elvis "Bobo" Ngabo, Bertrand "Kaya Free" Ninteretse, Eliane Umuhire, Dorcy Rugamba, Rebecca Mucyo, Eric "1Key" Ngangare, Tresor Niyongabo, Natasha Muziramakenga, Cecile Kayirebwa, Diogene "Atome" Ntarindwa, King Kivumbi
release UK Oct.21 lff,
US 3.Jun.22
21/Rwanda 1h45

---
CANNES FILM FEST
TORONTO FILM FEST

SUNDANCE FILM FEST
---
Now streaming...

---
Gritty and stylised, this sci-fi musical ripples with African culture and history. An otherworldly atmosphere is evoked in both naturalistic and colourfully glowing imagery by cinematographer Anisia Uzeyman, who directs alongside her partner, writer-composer Saul Williams. The filmmakers' dreamy approach to narrative is rather enigmatic, but the rallying cry for a less binary world is powerful. And the way the film takes on capitalist exploitation is provocatively urgent.
---
An intersex child born just before the war, Neptune (both Isheja and Ngabo) is raised as a boy in a deeply religious society. Facing abuse, Neptune flees into the countryside. Meanwhile, Matalusa (Kaya Free) has escaped a violent existence in the mines. Joining mythical figures along the way, their shared dreams lead them to a community built with computer technology that's only possible because of minerals from Rwanda's mines. Here Neptune hacks into the internet, generating global support as they find freedom to be themselves. But can they stop the Authority before it finds them?
---
Rhythmic music fills scenes as miners hack away at stones, students stand up to oppressive police or outcasts hold a nighttime rave. Rapping, chanting and singing abound, while the playful dialog has its own layered lyricism. Most scenes have surreal touches that add parallel narrative ideas, with inventive photography that's often dazzling. And even with such a fantastical style, the film's most notable element is its deep sense of emotion, with soaringly blissful moments alongside heart-stopping ones.

Performances are visceral and complex, as characters bristle against even the most basic stereotypes to revel in their multi-layered fabulousness. With the continually shifting imagery, it isn't easy to keep track of the actors or plot, but the yearning is powerfully felt. Vivid characters with names like Memory, Innocent and Psychology (Umuhire, Rugamba and Niyongabo) add to the sense that this is a parable. And also that there are multiple ways to tell any story.

This is a poetic film you experience rather than simply watch, as it revels in the possibilities if Africans can transcend their historical limitations. The enemy here is the old guard, those in political power who continually put a stop to progress and liberation, which is something anyone in the rest of the world can easily identify with as well. This is a defiant rallying cry for younger generations to stop living in doubt, crush their desperation and take their rightful place leading humanity into a fairer, more promising future.
| | | |
| --- | --- | --- |
| | themes, language, violence | 3.Jun.22 |
---

< < F O R E I G N > >
See also: SHADOWS FILM FESTIVAL

© 2022 by Rich Cline, Shadows on the Wall


HOME | REVIEWS | NEWS | FESTIVAL | AWARDS | Q&A | ABOUT | TALKBACK