---
The Carnival Gualeguaychú: El País del Carnaval
Review by Rich Cline |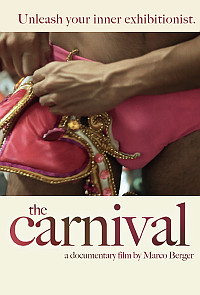 dir Marco Berger
scr-prd Marco Berger, Martin Farina
with Vilmar Paiva, Franco Heiler, Gaston Re, Julieta Tramanzoli, Roman Heiler, Sebastian Gomez, Adriano Farina, Matias Damian Arbelo, Juan Fiorovic, Blas Fiorovic, Gonzalo Fiorovic, Julieta Fiorovic
release Arg Mar.21 baff,
US 21.Sep.21, UK 27.Sep.21
21/Argentina 1h18

---
Now streaming...

---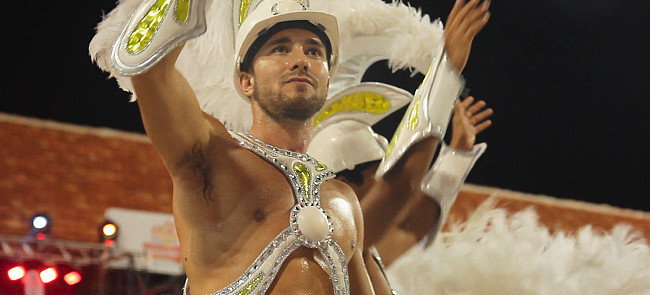 Argentine filmmakers Marco Berger and Martin Farina continues to explore masculinity from intriguing, provocative angles with this documentary about the infamous Carnaval celebrations in the city of Gualeguaychu. As in their previous doc Fulboy, the imagery is overtly homoerotic while the men are straight, or at least claim to be, because that's what's expected of them. And the film pulses with musical rhythms that echo through their bodies.
---
Cameras follow two guys as they lounge around with friends discussing family, work and sex. They're also preparing to march in Carnaval parade events, joining a crowd of fit young people wearing elaborately decorated outfits that reveal a lot of glitter-sprinkled skin. They tease each other relentlessly, revelling in colourful displays of physicality while flirting with both the girls and each other. They also head into a riverfront field for a massive picnic rave that features some very dirty dancing. And as the parade kicks off, they feel like rock stars.
---
These guys have an easy physicality, hanging around in various states of undress while chatting about their personal issues. Camera angles are knowingly voyeuristic to capture the gaze of men keeping a subtle eye on men around them. They are also thoroughly relaxed with cameras present, lowering their guard to reveal personalities and interests. With deliberate visual angles and telling moments of physical contact, the fly-on-the-wall approach also catches some drama, most notably in discussions about work and family, plus conversations about girlfriends and relationships.

The self-confident Franco likes Julieta, whose hot actor boyfriend Gaston (who played the title role in Berger's The Blond One) is in town, while Vilmar has to watch from the sideline because his drunken antics have bumped him from the dance crew. Their chats circle to dig deeper into a local small-town culture where most girls want to get married and have children, while guys want to keep partying. And there are also references to racial divisions between native Americans, those with European ancestry and the mestizos.

But the main topic here is masculinity, as the film joyfully explores how young men interact in a culture where machismo tries to obscure insecurities. They speak about how women love looking at gorgeous, scantily clad men, while the other men are more suspicious and sometimes curious about who might be gay. These guys have such an easy charm that it's entertaining to spend time with them, and what they reveal about their deeper sexuality is fascinating.
| | | |
| --- | --- | --- |
| | themes, language, nudity | 26.Sep.21 |
---
Flee
Review by Rich Cline |

MUST

SEE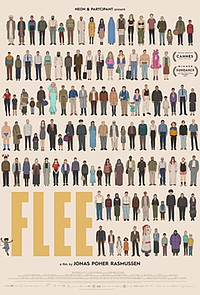 dir-scr Jonas Poher Rasmussen
prd Signe Byrge Sorensen, Natalie Farrey, Monica Hellstrom
voices Rashid Aitouganov, Daniel Karimyar, Farhan Karimyar, Fardin Mijdzadeh, Milad Eskandari, Belal Faiz, Elaha Faiz, Zahra Mehrwarz, Sadia Faiz, Georg Jagunov, Navid Nazir, Hafiz Hojmark
release US Jan.21 sff,
Den 17.Jun.21, UK Oct.21 lff
21/Denmark 1h23

SUNDANCE FILM FEST
CANNES FILM FEST
TORONTO FILM FEST

---
Now streaming...

---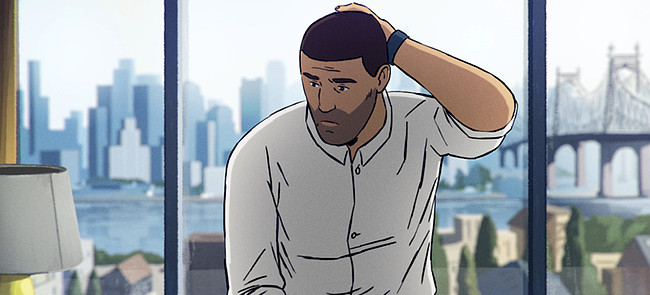 Bracingly cinematic, this documentary traces an Afghan refugee's staggeringly involving story. Because much of his journey wasn't captured on film, and since he prefers to remain anonymous, his story is gorgeously animated by director Jonas Poher Rasmussen in a range of hand-drawn styles. But it's so detailed and skilfully put together that it's hugely involving on a range of levels, both in the bigger themes and the darker emotions.
---
As the Soviet Union pulls out of Afghanistan in the mid-1980s, the US-backed Mujahideen terrorists brutally seize power. Amin is a preteen at the time, youngest of five children, and his father simply disappears while his older brother flees to Sweden to avoid military service. Amin, his mother and other siblings escape to Moscow, where they are brutalised by police before hiring human traffickers to get them to Sweden as well. But things don't go smoothly, and Amin ends up in Copenhagen instead, where he finally has to come to terms with his homosexuality.
---
The narrative is framed as Amin is coaxed by a persistent friend into telling his story on tape, recounting events he has never spoken of to anyone, including a web of lies that saved his life. In these sequences, we also meet his boyfriend Kasper, who struggles with Amin's current dedication to the queer refugee cause, travelling the world as an in-demand speaker. They want to get married and set up home with their cat, but Amin needs to deal with his own issues first, and Kasper will need to be patient with him.

It's fascinating to hear Amin describe his childhood in affluent Kabul, where there wasn't even a word for being gay. Even on arrival in Denmark, he thought someone could treat him for it. Meanwhile, the family's ordeal veers from boredom (they become addicted to badly dubbed Mexican soaps while stuck in their Moscow flat) to outright terror. Rasmussen illustrates several sequences with actual news footage of events Amin is recounting. And the animation is gorgeous, line-based artwork that's augmented with colour and texture.

The characters' eyes are particularly expressive, with a glassiness that brings emotional resonance to various situations. This style of documentary filmmaking has an uncanny ability to pull the viewer deep into real-life events (see also 2008's landmark Waltz With Bashir), putting us in the middle of situations that have been vividly described by survivors but never actually seen on-screen from this perspective. This is engaging, moving and vitally important cinema.
| | | |
| --- | --- | --- |
| | themes, language violence | 21.Sep.21 lff |
---
Pier Kids
Review by Rich Cline |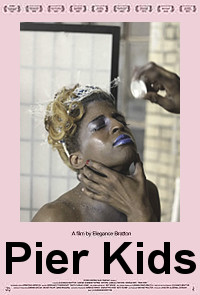 dir-scr Elegance Bratton
prd Chester Algernal Gordon
with Krystal LaBeija, Desean Irby, Jusheem "Casper" Thorne, Basheem Anthony, Aniyah Balenciaga, Lisa Barker, Trevon Bellrana, Daniella Carter, Tamara Farley, Joelle Dixon, Terrel Dixon, Antoine Dixon
release US 2.Aug.21,
UK 8.Oct.21
19/US 1h24





---
Now streaming...

---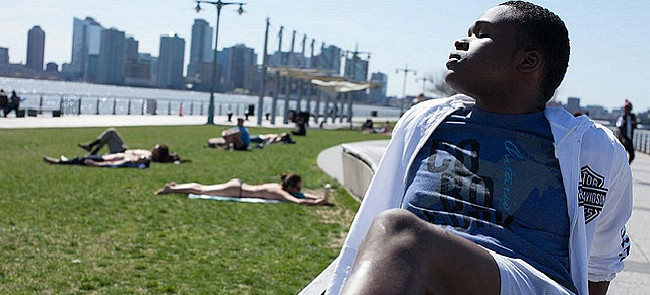 Exploring the plight of queer people of colour, this pointed documentary opens with the fact that more than half of America's 2 million homeless youth are LGBTQ, and nearly half of these are non-white. Filmmaker Elegance Bratton focusses on young people over the course of five years starting in 2011. By developing a rapport with his subjects, Bratton's unfiltered footage is powerfully revealing, never sensationalising the realities of their lives.
---
Among young people living on the Chelsea Piers in Manhattan, 23-year-old Krystal is a trans woman who was thrown out of her home. Desean recounts a similar background as a gay man, leading to his struggle to survive on the streets as a sex worker who knows he'd get more help if he was HIV positive. And lively Casper is a bisexual skater dude who understands his situation with remarkable clarity. Police are a constant presence, challenging them, and sometimes taking them into custody, which feels like double-barrelled discrimination because they're both Black and gay.
---
Because he has actually lived through this situation himself, Bratton's approach has unusual intimacy, isolating people with the camera in busy locations. This allows them to share stories and feelings with a frankness others don't allow them to have without judgement. Much of this is harrowing to hear, as these young people have been rejected by their families, forcing them to form new bonds with people like them. This makes the fact that society is so brutal toward them hard to watch.

While it's somewhat disjointed, the filmmaking allows sparky personalities to emerge, which makes everyone remarkably sympathetic. The camera captures everyday moments in the life of a homeless person, from discussing options to simply having fun together to throwing lavish voguing balls in reclaimed spaces. It's fascinating to follow them over the years, as their appearances shift and they grow in confidence, able to articulate the bigger issues affecting their community. And of course not all of them survive these five years.

A central irony here is that these queer people are homeless on the same streets where the original gay equality marches took place, earning freedoms they can't enjoy themselves. One astonishing scene features Krystal's aunt misgendering her while preaching about love for all, then later her brothers actually demonstrate unconditional love. Society has failed these people on multiple levels, from family members to law enforcement to city officials. But while parts of this film are decidedly grim, there's also a lovely sense of hope.
| | | |
| --- | --- | --- |
| | themes, language | 4.Oct.21 |
---

< < D O C S > >
See also: SHADOWS FILM FESTIVAL

© 2021 by Rich Cline, Shadows on the Wall


HOME | REVIEWS | NEWS | FESTIVAL | AWARDS | Q&A | ABOUT | TALKBACK