---
The Lawyer Advokatas
Review by Rich Cline |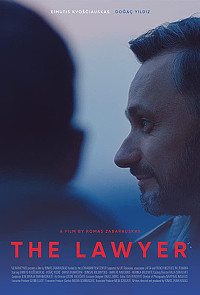 dir-scr-prd Romas Zabarauskas
with Eimutis Kvosciauskas, Dogac Yildiz, Darya Ekamasova, Denisas Kolomyckis, Danilas Pavilionis, Neringa Bulotaite, Jelena Stupljanin, Naglis Bierancas, Simonas Mozura, Aiste Dirziute, Clotilde Rigaud, Aiste Gramantaite
release UK Mar.20 flare
20/Lithuania 1h37

---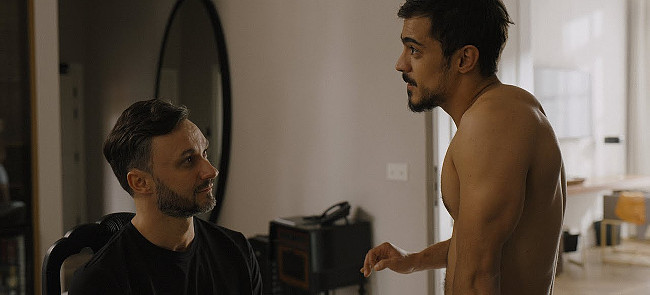 Set in Vilnius, Lithuania, this soft-spoken topical romance explores the nature of attraction with a collection of realistic characters and situations. Filmmaker Romas Zabarauskas never pushes things over the top, maintaining a tight sense of realism while digging into some provocative themes with honest complexity. At its heart, this is a properly touching love story, and as the story develops it works its way deeply under the skin.
---
In search of love, or at least sex, 40-ish corporate lawyer Marius (Kvosciauskas) is seeing bisexual trans art student Pranas (Pavilionis), although they don't really click. So Marius goes to a webcam site, where he spots performer Ali (Yikdiz), a Syrian refugee in Belgrade. Meanwhile, Marius' mother (Bulotaite) informs him that his father died, dredging up mixed emotions about unresolved issues. Sorting through his feelings, he finds a listening ear in his wealthy client Darya (Ekamasova). But Ali provides an even more important connection, so Marius decides to take a trip to Belgrade.
---
The film's fresh dialog blends humour, insight and darker emotions in a variety of conversations, such as Marius' thoughtful discussion with his friends about why a gay man would aspire to a hetero-normative relationship. And each discussion digs deeper into the themes. When they finally meet, Ali has to teach Marius that it's possible to connect with a man without rushing into bed. This kind of pointed but unflashy writing and directing encourages the audience to lean into the story, which makes it involving on unexpected layers.

Performances are equally understated, creating a vivid sense of authenticity. At the centre, Kvosciauskas quietly reveals how Marius is grappling with his feelings. It's a delicate performance, with a lot going on under the surface as Marius finds himself in a variety of unexpected situations. He's a warm, likeable man, so his interaction with each of the other characters has real depth. Scenes with Ekamasova's colourful Darya have a terrific kick to them, while his chemistry with Yildiz's intelligent, engaged, almost too-dishy Ali is earthy and real.

This is a remarkably sensitive film that touches on universal emotions as well as societal issues both within the gay community and in the wider world. Ali's story adds another important angle to the film's larger story, as well as a beautifully personal perspective on the issue of why people become refugees and how difficult it is to offer genuine help. And even more intriguing is the way the film gently and astutely explores issues of masculinity and the unexpected aspects of falling in love.
| | | |
| --- | --- | --- |
| | themes, language | 23.Mar.20 |
---
The Perfect Candidate
Review by Rich Cline |

MUST

SEE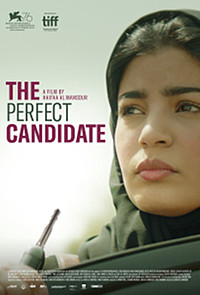 dir Haifaa Al MansourZahrani
scr Haifaa Al-Mansour, Brad Niemann
prd Roman Paul, Gerhard Meixner, Haifaa Al Mansour, Brad Niemann
with Mila Al Zahrani, Dhay, Nora Al Awadh, Khalid Abdulraheem, Shafi Alharthy, Tarek Ahmed Al Khaldi, Khadeeja Mua'th, Nojoud Ahmed, Hamad Almuzainy, Rakan Abdulrahman, Bandar Alkhudair, Ahmad Alsulaimy, Reem Fahad
release US Jan.20 sff,
UK 27.Mar.20
19/Saudi Arabia 1h44

---
VENICE FILM FEST
TORONTO FILM FEST

SUNDANCE FILM FEST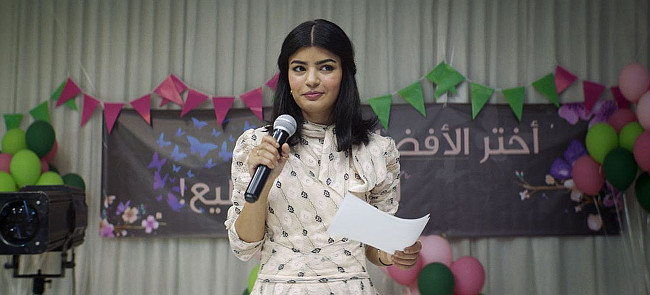 Bristling with life, humour and astute political observations, this terrific drama feels almost like groundbreaking filmmaker Haifaa Al Mansour's sequel to her 2012 debut Wadjda. It's another riveting, engaging story of a young woman determined not to let her gender define her or limit her potential. Mansour's snappy, entertaining approach pulls the audience in instantly, combining vivid characters with an insightful, complex depiction of everyday Saudi culture.
---
Wearing a full niqab, Maryam (Zahrani) is a young doctor at the only emergency room in the area. Frustrated that no one takes her seriously, she asks her photographer sister Selma (Dhay) to loan her the money to attend a conference in Dubai to help her find a better job. When their musician father (Abdulrahim) takes a three-week trip for Eid, Maryam finds herself trapped: she needs his permission to travel to Dubai. As she tries to sort this out, she inadvertently becomes the first female candidate for her city council.
---
Pointedly, the first time we see Maryam she's driving a car, which she can only do since 2017. At her work, deeply bigoted male patients don't want her to touch them, even if she's the only one who can help them. So it's unsurprising that she bucks the system, doing something no woman has ever done, something Mansour knows only too well. Indeed, she packs the film with superb details, such as how men are unable to recognise Maryam under that niqab. And they're taken aback when she defiantly removes it.

Zahrani bristles with intelligence and passion as the feisty Maryam begins to get a taste for self-determination. As her sisters, Dhay and Awadh have lovely camaraderie, reminiscing about their late mother and sometimes supporting each other. Abdulrahim finds strong textures as their father, as the film crosscuts to his tour. He knows Maryam is a lion, and is nervous that others are seeing this too now. And Khaldi is charming as a young guy who connects with Maryam unexpectedly.

Mansour's witty touches include researching YouTube for American campaign videos, although Maryam must cover herself entirely in hers. And as she mobilises others in her campaign, it's clear that she's capable of anything, including persuading fearful women to vote. Saudi Arabia may be changing slowly, but change is definitely coming. Note that the law has changed again: Saudi women no longer require a man's permission to travel.
| | | |
| --- | --- | --- |
| | some themes | 27.Mar.20 |
---
System Crasher Systemsprenger
Review by Rich Cline |

MUST

SEE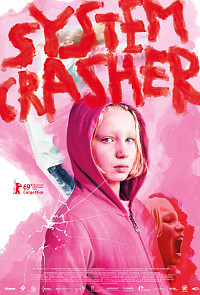 dir-scr Nora Fingscheidt
prd Peter Hartwig, Jakob Weydemann, Jonas Weydemann
with Helena Zengel, Albrecht Schuch, Gabriela Maria Schmeide, Lisa Hagmeister, Melanie Straub, Victoria Trautt-Mansdorff, Maryam Zaree, Tedros Teclebrhan, Matthias Brenner, Louis von Klipstein, Barbara Philipp, Amelle Schwerk
release Ger 19.Sep.19,
US 21.Feb.20, UK 27.Mar.20
19/Germany 2h05

---
BERLIN FILM FEST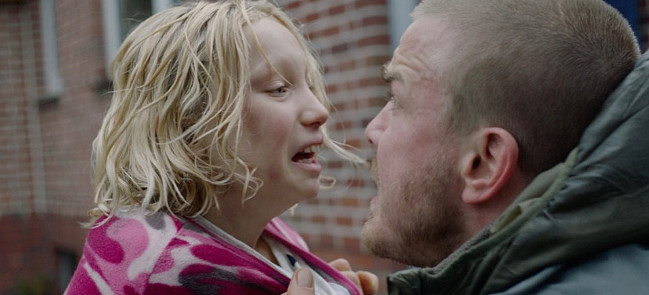 A tearaway child is the subject of this wildly energetic German drama. Writer-director Nora Fingscheidt takes a bracing documentary-style approach, capturing the freak-outs alongside sweet emotional moments. It's a remarkable depiction of the way the system struggles to cope with children who don't fit in, leading to scenes that are both hopeful and heart-stopping. And as the story develops, it takes a number of surprising, wrenching turns.
---
At age 9, Benni (Zengel) is whip-smart, foul-mouthed and often out of control. She wants to be a teacher, but is violently disruptive in class, where her teachers are at their wits' end. Furious about being expelled from yet another school and group home, she launches screaming attacks on any kid who teases her, but her social worker Mrs Bafane (Schmeide) remains patiently understanding, as does new school escort Micha (Schuch), who usually works with aggressive teen boys and suggests a new tack. Although Micha worries that he's losing his professional objectivity with Benni.
---
There's a terrific range of characters here, a large number of adults and children who all feel strikingly authentic. So each moment bristles with real-life energy, which makes the film a sustained gut-punch over two fast-paced hours. A sequence in which Benni hitchhikes to see her overwhelmed mother (Hagmeister) cycles through unease, humour, joy, fear and flat-out horror. Her rage is so uncontrollable that it's terrifying to watch, so it's understandable that doctors are considering drugs and in-patient lockdown.

A natural performer, Zengel makes Benni remarkably likeable, adding plenty of charm in between her manic outbursts. Her range of emotion is astonishing, traversing great distances within a single scene. Through her eyes, most grown-ups around her are inexplicable, and the actors play them as complex and caring, even if many have no idea how to help this screaming, threatening little girl. This gives her connection with Schuch's concerned Micha an unexpected kick, especially since he has his own anger-management issues.

A riveting story, this is also an often harrowing exploration of a social care system pushed to the brink by a child who seems unable to live in civilised society. Benni is fully aware that her flip-outs are preventing her from having a life with her mother, and the film never offers a simplistic solution. Watching caring adults try to get through to her reveals the importance of compassion in this kind of work, and how understanding is far more effective than constraint.
| | | |
| --- | --- | --- |
| | themes, sexuality, violence | 26.Mar.20 |
---

< < F O R E I G N > >
See also: SHADOWS FILM FESTIVAL

© 2020 by Rich Cline, Shadows on the Wall


HOME | REVIEWS | NEWS | FESTIVAL | AWARDS | Q&A | ABOUT | TALKBACK