dir Pablo Trapero
scr Pablo Trapero, Esteban Student, Julian Loyola
prd Agustin Almodovar, Pedro Almodovar, Esther Garcia, Matias Mosteirin, Hugo Sigman, Pablo Trapero
with Guillermo Francella, Peter Lanzani, Lili Popovich, Stefania Koessl, Gaston Cocchiarale, Giselle Motta, Franco Masini, Antonia Bengoechea, Fernando Miro, Juan Cruz Marquez de la Serna, Raymond E Lee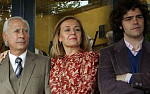 release Arg 12.Aug.15,
US 18.Mar.16, UK 16.Sep.16
15/Argentina El Deseo 1h50

---
VENICE FILM FEST
TORONTO FILM FEST

Expertly written and directed, this is the true story of a seemingly innocuous family in 1980s Argentina that turned out to be involved in a series of hideous crimes. Filmmaker Pablo Trapero recounts these events with unnerving realism, aided by such natural performances that the cast don't seem to be acting at all.

In 1982, Argentina is just beginning the transition from oppressive dictatorship to democracy. But Arquimedes Puccio (Francella) is still set in his ways, using abduction to earn a living from ransom payments. Eldest son Maguila (Cocchiarale) escapes his grip by fleeing to New Zealand, so he ropes his rugby star son Alex (Lanzani) into the family business. Wife Epifania (Popovich) and the younger children (Motta, Masini and Bengoechea) remain wilfully ignorant about the noisy hostages being held in the upstairs bathroom. Then when Alex gets serious with his girlfriend Monica (Koessl), he wants out too.

The film opens with a teasing a glimpse of the 1985 police raid that ended the family's crime spree. The way everything unfolds will feel somewhat rushed for audiences unfamiliar with the Puccio family, although Trapero keeps the events lucid and involving. This is mainly because he centres on the tense father-son relationship, as Arquimedes belittles Alex at every turn, right to the bitter and twisted climax.

This makes Alex the film's protagonist, a sympathetic young man whose misdeeds can be understood in context. It's a complex approach for a film about such notorious crimes, and Lanzani plays the role beautifully. Francella is a superb counterpoint, a seemingly innocuous old man who can turn into a vicious monster in the blink of an eye. Of the other characters, only Masini's Guille seems to have a conscience, fleeing the moment he figures out what's happening.

By contrast, the women and girls all seem rather oblivious, despite a few suspicions. Trapero punches the irony of this, filling scenes with loud renditions of buoyant pop songs like the Kinks' Sunny Afternoon and cross-cutting passionate sex with a wailing victim. This gives the movie a sense of scale and a hefty thematic weight, making it more than just a bit of Argentina's history. This is about the fallout from an immoral government teaching its citizens how to operate. And it's a lesson we don't seem to have learned at all.
15 themes, language, violence, sexuality
---
17.Aug.16

R E V I E W B Y R I C H C L I N E
Mirzya


dir Rakeysh Omprakash Mehra
scr Gulzar
prd PS Bharathi, Rohit Khattar, Rakeysh Omprakash Mehra, Rajiv Tandon
with Harshvardhan Kapoor, Saiyami Kher, Anuj Choudhry, Art Malik, Om Puri, Anjali Patil, KK Raina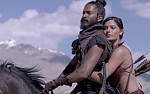 release Ind/UK/US 7.Oct.16
16/India Cinestaan 2h12

---


Infused with music and history, this bold Bollywood epic parallels a modern story of forbidden love against a mythological romance. The settings and design work are stunning, with frequent cutaways to elaborately choreographed songs. So even if it all feels somewhat corny for Western audiences, the grand scale keeps it entertaining.

When he was 9, Monesh (Kapoor) committed a crime and went on the run, adopted by a blacksmith (Puri) whose daughter (Patil) loves him not so secretly. Decades later, Monesh is hiding as Adil, stable manager for Prince Karan (Choudhry), who is preparing to marry his girlfriend Suchitra (Kher), daughter of the police commissioner (Malik). But Suchitra was Monesh's best friend as a child, and he can only conceal his identity under his sexy-scruffy beard for so long. When Suchitra works it out, she begins to doubt whether she should marry the prince after all.

This central story is crosscut with music video-style Bollywood numbers every few minutes, showing crowds of colourfully (and barely) clad dancers singing and writhing along with the energetic songs. And there's a third element: a parallel legend about the great warrior Mirzya and his forbidden love (also played by Kapoor and Choudhry) pursued by an army of horse-riding archers. This historical plot thread is shot in stylish slow-motion, making the most of spectacular Rajasthan locations and lots of whizzy horse action. It also gives away every single plot point in the main story.

Kapoor, Kher and Choudhry are so dazzlingly beautiful that we enjoy every twist in their romantic tussle. Especially since the story encompasses visual spectacles from lavish parties and energetic polo matches to a nighttime safari violently disrupted by a (digital) lioness. Through each sequence, these three super-fit people exchange lusty glances while everyone else suspects something is up. Despite these heightened situations, performances are refreshingly internalised, which helps the audience identify with characters they could never remotely hope to be. And Malik adds a jolt of texture to his conflicted antagonist.

Where all of this is heading is fairly clear from the start, mainly because of the sumptuous historical cutaways, which have the tone of a Shakespearean epic crossed with Xena: Warrior Princess. Director Mehra makes expert use of the settings in each of the film's elements, filling the screen with colour-soaked imagery, heaving emotions and dark drama. Western viewers will find the story rather fragmented and obvious, but the grand spectacle and the gorgeous people and places make it well worth a look.
15 themes, violence
---
29.Sep.16

R E V I E W B Y R I C H C L I N E
Problemski Hotel


dir Manu Riche
scr Steve Hawes
prd Emmy Oost
with Tarek Halaby, Evgenia Brendes, Gokhan Girginol, Lydia Indjova, Gorges Ocloo, Pieter Verelst, Carlo Ferrante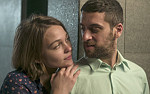 release Bel Oct.15 ffg,
UK Sep.16 rff
15/Belgium 1h50

---


With an absurdist style, this dark Belgian comedy explores the limbo of life as a refugee, waiting to learn whether you will go forward or back. The film's characters are strikingly realistic, combining lively humour with some very bleak emotions. And director Manu Riche makes the most of a clever location to dig into the emotions of people in this precarious situation.

In an abandoned Brussels office block, disparate people are seeking asylum after fleeing from violence in Eastern Europe, the Middle East and Africa. Bipul (Halaby) is a young guy with no memory of who he his, where he's from or even which of his many languages is his mother tongue. As an interpreter, he offers assistance to his friend Mahsun (Girginol) and others as they navigate the convoluted European bureaucracy. He also strikes up a romance with Russian refugee Lidia (Brendes), who plans to flee to London once her pregnant friend Martina (Indjova) gives birth.

The events take place in the lead-up to Christmas, which provides a series of running gags that link story strands together. Carols play from the speakers as a group of men led by a young social worker (Verelst) try to find a room with a high enough ceiling for the massive donated Christmas tree. Amid this, personal dramas unfold involving the search for EU citizens as spouses, an attempted suicide and a Muslim wife trying to escape from both her husband and her burka.

Performances from the largely non-actor cast bracingly natural. Dialog in various languages consists mainly of random snippets that reveal telling character details but cleverly refuse to push plotlines forward. Indeed, these people are in a purgatory, staring out at the mist-enshrouded city with little hope that things will go their way. At the centre, Halaby is a superbly engaging figure: thoughtful and generous, searching for his own identity even as he understands the pointlessness of it all.

Indeed, Riche builds a powerful sense of the aimlessness in a system that strips vulnerable people of any proper sense of security. They've abandoned friends, families and careers in a desperate attempt to survive, and now they're facing rejection in a country that has work and food to spare. So as Mahsun tries to figure out how to find a local wife, he understands that he needs to adjust his thinking (don't hit her and help with the washing). But the best advise is to pretend he's spinning a Hula Hoop, and to "keep it going, keep it going".
15 themes, language, violence
---
21.Sep.16 rff

R E V I E W B Y R I C H C L I N E
Under the Shadow


MUST

SEE
dir-scr Babak Anvari
prd Emily Leo, Oliver Roskill, Lucan Toh
with Narges Rashidi, Avin Manshadi, Bobby Naderi, Arash Marandi, Aram Ghasemy, Soussan Farrokhnia, Ray Haratian, Hamidreza Djavadan, Behi Djanati Atai, Bijan Daneshmand, Nabil Koni, Karam Rashayda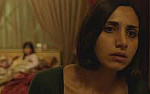 release UK 30.Sep.16,
US 7.Oct.16
16/Iran 1h24


SUNDANCE FILM FEST


A rare horror movie with both original ideas and a socio-political point, this deeply unnerving film undergirds its terror with a dose of bold realism. Set in a place of intense stress, there's a malevolent force preying on people's fear and anxiety. The movie may feel too low-key for some horror fans, but few movies can rattle us to the core like this one does.

During the Iran-Iraq war in the 1980s, Shideh (Rashidi) is trying to get back into medical school, but her past as a revolutionary has disqualified her. And her life gets more difficult when her husband Iraj (Naderi) is sent to the front, leaving her alone with their daughter Dorsa (Manshadi) as bombs fall in Tehran. Oddly, Dorsa is more terrified of mythical djinn than bombs, rejecting Shideh's assurances that they aren't real. Then strange things begin happening in their building, and the bizarreness escalates after an unexploded missile crashes into a neighbour's flat.

The film is beautifully shot, with clever touches that bring out the details of life in 1980s Tehran, as everyday activities are interrupted by the war. The depiction of a young woman whose future has been blocked is strikingly vivid, from the blatant or quietly cutting insults to her bootleg Jane Fonda workout video. It's not surprising that she refuses to run home to get help, because all the issues these people face are honest and easy to identify with. And writer-director Anvari keeps the tone almost unnervingly truthful.

Rashidi is terrific in the central role as a woman whose life is so stressful that a few hallucinations wouldn't be surprising. Shideh is dealing with grief over her recently deceased mother, the derailment of her career, the absence of her husband and her terrified daughter. Rashidi plays Shideh with an impressive even keel, even as everybody around her talks like a crazy person. And Manshadi gives a remarkably authentic performance as a young girl who senses something is up.

Anvari directs the film in the style of a typical Iranian kitchen sink drama, but with something increasingly terrifying happening to this already beleaguered mother and daughter. By avoiding the usual histrionics, and making expert use of some classic genre cliches, Anvari creates one of the most inventively frightening horror movies in recent memory. And at the same time, he is making haunting comments about both Iran's social structure and its more recent history.
12 themes, language, violence
---
28.Aug.16


< < F O R E I G N > >
See also: SHADOWS FILM FESTIVAL

© 2016 by Rich Cline, Shadows on the Wall


HOME | REVIEWS | NEWS | FESTIVAL | AWARDS | Q&A | ABOUT | TALKBACK