CANNES FILM FEST
TORONTO FILM FEST


This documentary springs from the iconic book revered by film fans, a riveting transcript of a conversation between two filmmakers, as Alfred Hithcock discusses his films title-by-title with Francois Truffaut. This gives documentarian Kent Jones the chance to explore, with a range of present-day filmmakers, the impact of both the book and the indelible work of Hitchcock and Truffaut.

In 1962 when he sat down with Truffaut, Hitchcock was already known around the world as the master of suspense, upending the very idea of what a movie could be. The younger critic-turned-filmmaker Truffaut was already acclaimed, and with his French New Wave colleagues had already championed Hitchcock as a filmmaker who needed to be taken seriously. With his book, Truffaut intended to prove that Hitchcock was far more than a light entertainer. And indeed, their transcribed dialog transformed the perception of cinema and how movies are made.

In documenting both the book and the two filmmakers, this movie is a treasure trove of cinema history. In is work with Cahiers du Cinema, Truffaut was part of the movement that first declared cinema as an art. And through interviews and clips, Jones explores why Hitchcock's films never seem to age. That's because he was such a rigorous director who used a pure, audience-focussed approach to have maximum impact. It also intriguingly contextualises Hitchcock's unique approach to actors as just another tool in his arsenal. And his willingness to break rules to tell an entertaining story.

In addition to the filmmaker interviews and classic movie clips, the film also features extensive behind-the-scenes footage and stills. Fans will also love hearing audio tapes of the conversations that would become the book. Jones' structure is a bit meandering, and sometimes gets lost in the interviewees' gushing admiration (with an over-emphasis on Vertigo and Psycho), but it's packed with fascinating sideroads and telling observations that make the documentary an essential companion piece to an already essential book.

Hitchcock was a masterful innovator whose tricks are mimicked by most filmmakers working today. His command of the emotional impact of space in the frame is still unequalled, plus a virtuoso use of pacing, colour and sound. And with his much less constructed style, Truffaut's work carries an equally potent punch, tapping into raw emotions. Basically, this is a must-see movie for anyone who loves Hitchcock and Truffaut. And also for anyone who wonders why critics and filmmakers love them so much.
PG themes, some violence
---
27.Feb.16

R E V I E W B Y R I C H C L I N E
Mavis!


dir-scr Jessica Edwards
prd Jessica Edwards, Rachel Mills
with Mavis Staples, Bob Dylan, Bonnie Raitt, Yvonne Staples, Al Bell, Levon Helm, Jeff Tweedy, Greg Kot, Gene Barge, Marty Stuart, Sharon Jones, Julian Bond, Chuck D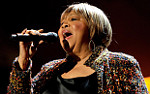 release US Mar.15 sxsw,
UK 19.Feb.16
15/US 1h21


While this documentary feels rather straightforward and unambitious, it's profiling a woman who is seriously engaging. The irrepressible Mavis Staples has had a distinct impact on American pop music through every wave of the past 60 years, infusing gospel themes of empowerment and hope into blues, rock, country and folk genres. So even if the film rarely cracks the surface, she holds the attention.

Born and raised in Chicago, Mavis began her career as the teen lead vocalist in The Staples Singers. Her father Pops was an innovator, blending sounds and styles to continually shake up the pop charts, inspiring several generations of musicians, including Bob Dylan, who once proposed to Mavis. And her distinctive voice still carries real power, especially since she refuses to sing pointless pop music. Infused with bigger themes, the Staples' music has addressed civil rights, corruption and faith, something that continues in Mavis' performances today.

Filmmaker Edwards never tries to liven things up with flashy filmmaking, preferring to take a direct line through the story while making the most of the amazing archival footage and recordings. From the family's earliest tracks to Mavis' current appearances, these performances are full of passion. And with never-seen footage, the film cleverly puts the music into a strong historical context, from the group's collaborations with Martin Luther King Jr to Mavis' later recordings with Prince.

Most interesting is the exploration of how Pops led his family to break out of gospel and R&B into the mainstream. Their the triumphant No 1 single I'll Take You There is a perfect demonstration of the collision of genres, as is and their more controversial hit Let's Do It Again. It's also telling that they recorded an early cover of Dylan's A Hard Rain's a-Gonna Fall and notably performed The Weight with The Band in The Last Waltz. And the film also traces Mavis' constant trouble with record labels, suggesting that some of her best recordings still languish on storeroom shelves.

There's the sense that everything in this film was approved by Mavis, as it takes her position in every conflict. Edwards never follows-up on Mavis' casual comment about never marrying so she could dedicate herself to her career. And all of the interviews come from her friends and family. This leaves the film feeling rather thin. But by putting Mavis' story on-screen without any flourishes, it's a movie her fans will love. And it'll earn her some new fans too.
PG themes, language
---
12.Jan.16

R E V I E W B Y R I C H C L I N E
Peter De Rome: Grandfather of Gay Porn


dir Ethan Reid
prd Alex Main
with Peter De Rome, Julian Clary, Wakefield Poole, Rupert Smith, Brian Robinson, Robert Alvarez, John Russell Taylor, Kristen Bjorn, Emanuel Xavier, Topher Campbell, Lord Harrison, Jake Genesis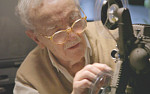 release US Jun.15 fff,
UK 14.Mar.16
14/UK 1h37

---
See also:




Shot shortly before his death in 2014, a week before his 90th birthday, this film traces iconic filmmaker Peter de Rome's life and work in his own words. With a wealth of clips and stills, this documentary is fairly straightforward and unambitious. But it's also a vitally important film about both cinema and gay history.

During a happy English childhood, Peter was introduced to sex by a family friend at just 11 and never felt any guilt about the string of boyfriends he had from them on. He worked as a film publicist in London and New York, where his gay life took off and he started making his own experimental short movies. He was involved in the civil rights movement in the South, plus key events in gay history in both America and Europe. But as a filmmaker, he stuck to porn and never tried to move into the mainstream.

Filmmaker Reid puts de Rome front and centre, revealing a cheeky, unassuming man who you would never guess made some of the most notorious porn movies. Reid also accompanies him to locations from his films in Britain, Manhattan and Fire Island, then to London to present his work at the British Film Institute in 2012. With a wide range of friends and and experts offering comments, Reid explores why de Rome's films are so distinctive: mainly because he had far greater ambitions than just titillating the audience.

Intriguingly, the documentary traces De Rome's story in parallel with gay history, adding context through interviews with historians and filmmakers. In the 1950s and 1960s, making porn was defiant, letting filmmakers express themselves without censorship. Significantly, de Rome's movies were the first chance gay audiences had to see their sexuality depicted as a happy lifestyle. He believed that arousal was more important than depicting the sex act, and he never thought anyone would would find deeper meanings in them.

The film also includes some superb details, such as how de Rome shot the final appearance of Greta Garbo in cinema, and how John Gielgud once wrote a gay porn script for him. It's also important to note that he was filming gay sex at a time when it was illegal. And the impact of Aids on his work adds a potent kick. De Rome's films are hard to describe as pornography. They're artful explorations of male eroticism, which is why they're in the BFI Archive and now available from mainstream UK outlets.
18 themes, language, strong sexuality
---
4.Mar.16


< < D O C S > >
See also: SHADOWS FILM FESTIVAL

© 2016 by Rich Cline, Shadows on the Wall


HOME | REVIEWS | NEWS | FESTIVAL | AWARDS | Q&A | ABOUT | TALKBACK