dir-scr Leos Carax
prd Martine Marignac, Albert Prevost, Maurice Tinchant
with Denis Lavant, Edith Scob, Kylie Minogue, Eva Mendes, Elise Lhomeau, Jeanne Disson, Michel Piccoli, Geoffrey Carey, Leos Carax, Nastya Golubeva Carax, Reda Oumouzoune, Zlata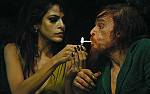 release Fr 29.Jun.12,
UK 28.Sep.12
12/France 1h55



• TOP 5 FILM
• BEST ACTOR
DENIS LAVANT
---
CANNES FILM FEST

With this wilfully strange odyssey, Carax makes some strikingly resonant observations about modern society. As he subverts movie structure, poking fun at the artificiality of both films and everyday life, he also deliberately provokes the audience to respond. You'll either love or hate it; there's no middle ground.

Oscar (Lavant) heads to work in a white stretch limousine driven by his assistant Celine (Scob), who informs him that he has nine appointments today. For the first one, Oscar dresses as a scabby homeless woman and begs for coins on the street. Then it's back to his limo, which is kitted out with costumes, elaborate make-up and props for seemingly any scenario. But as Oscar moves from job to job, he begins to crack. Maybe the raw emotions are getting to him. Or perhaps he's exhausted because he can't live his own life.

Carax slices through the concept of filmmaking, peeling away layers of artificiality as actors (playing actors) pretend to have life-long relationships, assault each other violently or have moments of tender compassion. But more than this, he implies that in Western society, our interaction with each other is a fundamentally shallow. The truth is that we are actually someone very different behind whatever exterior we put on in any given situation. And we only live through others' experiences (Facebook updates?).

These are heavy themes for a film to tackle in such an audaciously ridiculous style, as Carax pushes scenes far beyond what we expect, building wonderfully uncomfortable moments build the understated, layered performances. Levant is terrific in every scenario, often nearly unrecognisable under heavy make-up. And yet he makes sure that we can see Oscar in there, even when he reprises the freaky one-eyed sewer-dwelling leprechaun from Carax's segment of the monster-movie triptych Tokyo!

Along the way, Carax weaves in a variety of film genres, creating scenes that are hilarious, sigh-inducing, thoughtful, terrifying, hyper-violent, absurd and darkly emotional. There's even a musical moment. Each gives one of the costars some uniquely amazing screen time, with particularly punchy scenes for Minogue and Lhomeau, plus a seriously odd sequence for Mendes. And in the end, Carax can't resist giving us a big wink that sends us out of the cinema with a perplexed smile.
18 themes, language, violence, strong nudity
---
26.Jul.12

R E V I E W B Y R I C H C L I N E
The Hunt


Jagten
dir Thomas Vinterberg
scr Thomas Vinterberg, Tobias Lindholm
prd Sisse Graum Jorgensen, Morten Kaufmann, Thomas Vinterberg
with Mads Mikkelsen, Thomas Bo Larsen, Annika Wedderkopp, Lasse Fogelstrom, Lars Ranthe, Alexandra Rapaport, Susse Wold, Anne Louise Hassing, Sebastian Bull Sarning, Bjarne Henriksen, Daniel Engstrup, Troels Thorsen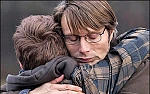 release UK 30.Nov.12,
Den 10.Jan.13
12/Denmark Zentropa 1h55

---
CANNES FILM FEST


This provocative, difficult film won three prizes at Cannes, including best actor for Mikkelsen. With its askance approach to the hot potato topic of child abuse, this is not the kind of film you can just ignore. Especially since it's actually about collective paranoia.

Lucas (Mikkelsen) is a much-loved kindergarten teacher getting over a messy divorce and still fighting his ex for contact with his teen son Marcus (Fogelstrom). A member of a hunting club, Lucas lives near his best friend Theo (Larsen), whose young daughter Klara (Wedderkopp) latches on to Lucas as a rare person who understands her. But when Lucas rebuffs her crush, she lashes out with a random lie that the headmistress (Wold) understands to be abuse. And a series of mistakes escalates the situation until Lucas becomes a pariah.

The way the script creates a perfect storm for these allegations is a bit contrived, especially since Lucas seems intent on not defending himself. He's understandably stunned that anyone could think such a thing about him, from the headmistress to Theo to his girlfriend (Rapaport). But by never flatly denying it, he allows Klara's lie to grow to epic proportions. Of course, people tend to believe that young children aren't capable of this kind of untruth. And even after the truth is known, the suspicions remain.

Mikkelsen's performance is beautifully understated, reflecting Lucas' pragmatic approach to protecting those around him. The supporting cast members deliver wonderfully conflicted performances, some a bit more melodramatic than others depending on their role in the story. And Mikkelsen's chemistry with each one is packed with telling details that create a believable dynamic even if we doubt the plot itself.

Filmmaker Vinterberg isn't actually saying anything about child abuse other than that it's a social taboo as potent as, say, terrorism. As a community, we band together to fight these things against all reason; when something like this is involved, the mere hint of potential evil is all it takes for us to lose faith even in a loved and trusted neighbour. And the facts are irrelevant once we've made up our minds. This might be rather obvious thematically, but it's something that desperately needs to be said.
18 themes, language, violence
---
25.Sep.12 lff

R E V I E W B Y R I C H C L I N E
Sister


L'Enfant d'en Haut
dir Ursula Meier
prd Ruth Waldburger
scr Antoine Jaccoud, Ursula Meier, Gilles Taurand
with Kacey Mottet Klein, Lea Seydoux, Martin Compston, Gillian Anderson, Yann Tregouet, Jean-Francois Stevenin, Gabin Lefebvre, Magne-Havard Brekke, Simon Guelat, Mike Winter, Calvin Oberson, Eugenia Ferreira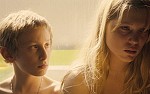 release US 5.Oct.12,
UK 26.Oct.12
12/Switzerland 1h40

---
BERLIN FILM FEST


This riveting, low-key drama has all kinds of dark corners but never feels bleak due to its honest approach to characters who are just trying to do the best they can. And as we get more involved in their life, the film becomes quietly moving.

In a spectacular corner of the Swiss Alps, Simon (Klein) spends winter days atop the ski runs, stealing whatever he can. By selling goggles, gloves and skis, he supports his sister Louise (Seydoux), who's usually off with yet another boyfriend. She is clearly annoyed that she has to take care of him, but she needs the cash as well as the food he sneaks out of people's rucksacks. Meanwhile, Simon enters into a ski-selling agreement with a chef (Compston) and befriends a foreign woman (Anderson) who seems like the ideal mother.

Klein and Seydoux create a fascinating connection that includes rivalry, resentment and deep camaraderie. The more we learn about them, the more their interaction means, especially as Simon's sharp intelligence contrasts with Louise's self-involved approach to life. But neither actor ever plays these things simplistically. And the underlying themes are just as complex. Simon reasons that rich skiers don't really care when stuff goes missing ("They just buy more"), while he and Louise need these things to survive.

Director Meier captures this delicate balance beautifully, maintaining focus on Simon's perspective, which lets Klein create a character who's seriously irresistible. This also makes the understated, internalised tone thoroughly engaging. These people may have a difficult life, but they enjoy it however they can. And Agnes Godard's cinematography spectacularly captures both their inner life and the grandeur of the Alpine setting, which sits in striking contrast around their grim block of flats.

As the story goes on, the side characters and situations sometimes feel contrived, but Meier and her cowriters make striking observations in every scene. And the final shot is simply perfect. This is a raw, tender story about a complicated relationship that has never been particularly easy. But Meier finds glimpses of hope within the yearning desperation, reminding us that sometimes a personal connection is deeper than anything we can define.
15 themes, language, some violence
---
28.Sep.12 lff

R E V I E W B Y R I C H C L I N E
Zaytoun


dir Eran Riklis
scr Nader Rizq
prd Frederick A Ritzenberg, Gareth Unwin
with Abdallah El Akal, Stephen Dorff, Alice Taglioni, Tarik Kopty, Mira Awad, Adham Abu Aqel, Ashraf Farah, Morad Hassan, Osamah Khoury, Nidal Badarneh, Loai Nofi, Jony Arbid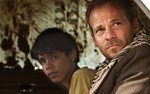 release UK Oct.12 lff
12/Israel 1h47

---
TORONTO FILM FEST


Lively characters and a series of offbeat events make this movie watchable, except that we never believe anything that happens. The script feels contrived to tell a heartwarming story using a series of corny touches. So there isn't much tension. And no insight into the thorny political situation.

As war rages in 1982 Beirut, Palestinian teen Fahed (El Akal) refuses to stay in his refugee camp, skipping school and military training to run around the decimated city with his pals. But the violence is getting closer to home, and when his father and best friend are killed, he decides to make a pilgrimage back to his Palestinian home to plant his late mother's olive tree. To do this, he links up with the enemy, downed Israeli pilot Yoni (Dorff), and they head out on a dangerous road trip south.

The script isn't terribly subtle. For example, we know that Yoni's wife is pregnant so we can see his paternal instincts kicking in. Meanwhile, Fahed won't go anywhere without the olive tree or his beloved football (his friends call him Zico, after his Brazilian footballer idol. And both cause rather far-fetched problems as the duo faces marauding militias, dangerous checkpoints and both literal and figurative minefields. But everything is so carefully constructed that we never doubt what will happen. Neither the violence nor their bonding are surprising.

Riklis tells the story with a nice visual sensibility that recreates bombed-out Beirut City of God-style, with a whizzy sense of childish adventure amid the constant threat of death. This may not be realistic, but it helps us see things through the mischievous, curious Fahed's eyes. So as the story progresses his deeply ingrained hatred of Israel is tempered by his growing friendship with Yoni.

Both actors are fine, although neither really breaks the surface of his character. At least El Akal has the kinetic energy to engage our attention; Dorff is a stony, uncharismatic presence even when he's trying to generate emotion. So as the story takes one improbable turn after another, leaping from set-piece to set-piece without much connective logic, we just feel like we're being manipulated. And that we're only seeing half of the picture.
15 themes, language, violence
---
28.Sep.12 lff


< < F O R E I G N > >
See also: SHADOWS FILM FESTIVAL

© 2012 by Rich Cline, Shadows on the Wall


HOME | REVIEWS | NEWS | FESTIVAL | AWARDS | Q&A | ABOUT | TALKBACK