SHADOWS ON THE WALL | REVIEWS | NEWS | FESTIVAL | AWARDS | Q&A | ABOUT | TALKBACK

Shadows off the beaten path
Indies, foreigns, docs, videos, revivals and shorts...
On this page: THE GIRL WITH THE DRAGON TATTOO
I KILLED MY MOTHER | LOURDES | VINCERE
< < F O R E I G N > >
last update 27.Mar.10
See also: SHADOWS FILM FESTIVAL

R E V I E W B Y R I C H C L I N E
The Girl With the Dragon Tattoo


Män Som Hatar Kvinnor
dir Niels Arden Oplev
prd Søren Stærmose
scr Nikolaj Arcel; Rasmus Heisterberg
with Michael Nyqvist, Noomi Rapace, Lena Endre, Peter Haber, Sven-Bertil Taube, Peter Andersson, Ingvar Hirdwall, Marika Lagercrantz, Bjorn Granath, Ewa Froling, Michalis Koutsogiannakis, Annika Hallin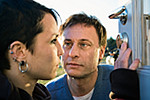 release Swe 27.Feb.09,
UK 12.Mar.10, US 19.Mar.10
09/Sweden 2h32

---

Noomi Rapace
SPECIAL
INTERVIEW
>>

• THE GIRL WHO PLAYED WITH FIRE (2009)
• THE GIRL WHO KICKED THE HORNETS' NEST (2009)
• THE GIRL WITH THE DRAGON TATTOO (2011)


Even without reading the book, you get the sense that the filmmakers have been almost unnaturally faithful to the first in Stieg Larsson's trilogy of Millennium novels. It's over-long and almost pathologically detailed, but it's also an extremely effective and well-made thriller.

Mikael Blomkvist (Nyqvist) is a journalist who has just lost a libel case. He has six months before he has to report to prison, and the wealthy Henrik Vanger (Taube) hires him to look into an old family mystery involving the disappearance of a 16-year-old girl nearly four decades earlier. What Mikael doesn't know is that a shadowy young woman, Lisbeth (Rapace), is following his every move. But soon they start working together to unravel a scandal that gets creepier with each discovery.

The original title literally translates as "Men Who Hate Women", and indeed, this is a film about extreme cruelty against women, from Lisbeth's terrible past (glimpsed in flashback) to her hideous encounters with her parole officer (Andersson). Not to mention the horrifically violent murders the investigation uncovers, which are linked to both racism and religious fundamentalism but ultimately boil down to vicious machismo.

Oplev directs the film with a slick, sinister, meticulous style that pulls us in from the beginning. The suggestive camerawork constantly sends chills down our spines as it catches details in the settings and characters. But even more interesting is the sharply well-played interpersonal drama between Mikael and Lisbeth, which develops unexpectedly and turns into a dark romance about two broken people who find each other in the middle of a seriously terrifying situation.

Of course, there's also a strong sense of vengeance threading through this tale, as Lisbeth gets even with the men who have brutally abused her, all while prying open this increasingly ugly 40-year-old murder case. The result is a film that's spikey and scary and often surprisingly funny. And even at two and a half gloomy hours of relatively standard potboiling detective work, it's constantly thrilling to watch. And yes, she has a pretty cool dragon tattoo.
18 themes, language, strong violence, sexuality
---
17.Feb.10

R E V I E W B Y R I C H C L I N E
I Killed My Mother


J'ai Tué Ma Mére MUST

SEE
dir-scr-prd Xavier Dolan
with Xavier Dolan, Anne Dorval, Francois Arnaud, Suzanne Clement, Patricia Tulasne, Pierre Chagnon, Niels Schneider, Monique Spaziani, Pascale Audrey, Mariflore Veronneau, Manuel Tadros, Johanne-Marie Tremblay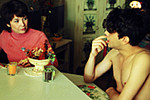 release Can 5.Jun.09,
US Nov.09 afi,
UK Mar.10 llgff
09/Canada 1h36

---
CANNES FILM FEST
TORONTO FILM FEST


This is a seriously impressive filmmaking debut for 20-year-old Dolan, who pokes and prods the whole idea of a mother-son relationship in a way we have rarely seen on screen. It's an involving, provocative story that really gets under our skin.

Hubert (Dolan) is a surly 16-year-old who has a volatile relationship with his mother Chantale (Dorval). They clearly love each other, but are so similarly stubborn and touchy that they drive each other crazy. This causes problems for Hubert at school and alienates him from his mother as he refuses to share anything about his life with her, including his friendship with Antonin (Arnaud). In desperation, she sends him to spend some time with his father (Chagnon), but they decide he'd be better off in boarding school.

The heart of this film is the relationship between Hubert and Chantale, which is portrayed as a complex, twisty blend of affection and anger, often tinged with black humour. It's such a strikingly original cinematic approach that it really catches us off guard, mainly because the characters have a recognisably realistic mixture of kindness and bitterness, with fundamental misunderstandings affecting every moment of their interaction.

This is written, directed and performed with bracing honesty that's utterly unselfconscious. Dolan and Dorval have a raw, brittle chemistry that feels so authentic we almost feel like we're intruding on them sometimes. This is much more than a love-hate relationship, and the scenes between Dorval and Arnaud also have a relaxed openness that remains even as we learn more about their strong, prickly bond.

What's most remarkable about the film is the way Dolan's filmmaking is never remotely pretentious. Even though it's clearly autobiographical and marked with literary and philosophical musings, it has a natural flow to it that carries us along, drawing us deeper into the interaction and revealing raw, honest truths about the way we relate to each other. The film is packed with heart-stopping scenes that are brilliantly written and played, and together create a vivid portrait of how difficult it is sometimes to let our loved ones know how we really feel about them.
15 themes, language, brief sexuality and violence
---
7.Feb.10 llgff

R E V I E W B Y R I C H C L I N E
Lourdes


dir-scr Jessica Hausner
prd Philippe Bober, Martin Gschlacht, Susanne Marian
with Sylvie Testud, Lea Seydoux, Gilette Barbier, Gerhard Liebmann, Bruno Todeschini, Elina Lowensohn, Katharina Flicker, Linde Prelog, Heidi Baratta, Jacques Pratoussy, Walter Benn, Hubert Kramar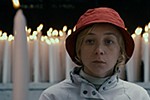 release Aut 11.Sep.09,
US Jan.09 sff, UK 26.Mar.10
09/Austria 1h36

---
VENICE FILM FEST
TORONTO FILM FEST

SUNDANCE FILM FEST

This off-centre film looks like a paean to devotion with its stately images of pilgrims seeking healing at a holy Catholic site. And yet Hausner quietly and cleverly undermines this with a searing undercurrent about the mindlessness of organised religion.

Christine (Testud) is a prisoner of her body due to MS, and travels to Lourdes with a tour group of people hoping for a miracle. Accompanied by a team of nurses and assistants, they visit the famed grotto, are bathed in the sacred waters, attend services and are blessed by priests. Her nurse (Seydoux) has other things on her mind, and her roommate (Barbier) is a little too helpful. And then the unexpected happens: Christine moves. But the pilgrims question why she's the one who was chosen when clearly others are more needy and deserving.

Hausner films this in strikingly still takes with minimal dialog, letting the fine cast develop the characters through subtle, extremely realistic expressions and interaction. As always, Testud is remarkable in the role, as the sceptical Christine is even more stunned at her own transformation than everyone else is. In her eyes, and her whole body, we see her tentatively grappling for faith, even as she clearly doesn't want to look a gift horse in the mouth, as it were.

And this echoes the film's central theme, which develops organically and so subtly that some viewers might miss it. Everyone on this pilgrimage sees their religion through their narrow perspective, which leaves them open to suggestion, rumour, personal bitterness and, most tellingly, the ability to blithely explain away any theological concept that's troublesome (like why an omnipotent God doesn't just cure everyone). Even the logistics at Lourdes are mired in human systems that seek to disprove any supposed miracle.

In other words, Hausner is suggesting that faith is something simplistic and superficial. But actually her perspective is a bit simplistic and superficial too. As she astutely points out the gaping holes in organised religion, she forgets to acknowledge that there are people out there who have a genuine, non-superficial faith. So in many ways the movie begins to feel almost like a fantastical thriller rather than a very black satire.
U themes
---
26.Jan.10

R E V I E W B Y R I C H C L I N E
Vincere


dir-scr Marco Bellocchio
prd Mario Gianani
with Giovanna Mezzogiorno, Filippo Timi, Fausto Russo Alesi, Michela Cescon, Pier Giorgio Bellocchio, Corrado Invernizzi, Paolo Pierobon, Fabrizio Costella Bruno Cariello, Francesca Picozza, Simona Nobili, Vanessa Scalera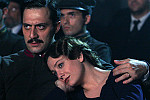 release It 20.May.09,
US 19.Mar.10, UK 14.May.10
09/Italy Rai 2h08

---
TORONTO FILM FEST
CANNES FILM FEST


This skilfully made film tells a terrific story but is rather too densely packed to appeal to audiences unfamiliar with (or uninterested in) Italian history. Although it gives the wonderful Mezzogiorno yet another vivid role.

In 1914 Milan, fiery socialist journalist Benito Mussolini (Timi) meets and marries Ida Dalser (Mezzogiorno), who gives up her life to support her husband, and soon gives birth to a son (Costella and later Timi). But during the Great War, Benito disappears and then resurfaces with a new wife Rachele (Cescon) and a team of goons who forcibly keep Ida away, eventually locking her away in a mental institution and sidelining her son. But as Benito shifts into fascism and rises to enormous power, she refuses to give up without a fight.

The title comes from the soldiers' chant, "Win!" Which pretty much defines Mussolini's attitude in life, as he arrogantly pursued power at any cost, including his first wife and child, not to mention his idealism and principles. And in some ways this is the film's main problem, as it offers a self-aware, one-sided portrait of this giant historical figure as a brutal leader blinded by his relentless cruelty. Timi also plays him this way, which makes it feel like a rather superficial portrait.

But then the film isn't about him. And Mezzogiorno is an astonishing bundle of love and fury who carries us through the disjointed timeline and somewhat repetitive structure. Through her eyes, the historical milestones take on new meaning and side characters develop into intriguingly helpful and/or sinister figures in her wrenching life story. By the end, Mezzogiorno's performance is so powerful that we feel like we've endured decades of horror with her.

Filmmaker Bellocchio assembles this with a galloping pace that sometimes loses us. Much of it is cleverly shot in the style of a 1920s film, which makes it feel instantly recognisable and eerily evocative, especially as events are punctuated with black and white recreations of news and propaganda clips that blur fiction with reality. And all of this beautifully highlights Ida's gruelling life story, which leaves us pretty shattered too. Not just at the personal tragedy of Ida and her son, but of Italy's too.
15 themes, violence, sexuality
---
2.Feb.10


< < F O R E I G N > >
See also: SHADOWS FILM FESTIVAL

© 2010 by Rich Cline, Shadows on the Wall


HOME | REVIEWS | NEWS | FESTIVAL | AWARDS | Q&A | ABOUT | TALKBACK