Kids + Money

dir-scr Lauren Greenfield
with Matthew Underwood
08/US 32m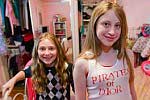 By just letting 12- to 17-year-olds talk to the camera about their attitudes to money, filmmaker Greenwood creates one of the most unsettling half hours in the cinema, almost as scary as all of the doom-and-gloom global warming docs. It's also expertly shot and edited. These American young people fully believe that they should have all they money they want without working for it, and that they are worthy of fame without doing anything to earn it. You could it Paris Hilton syndrome. Style is everything as they define life through fashion, cars and the stuff they own, and have absolutely no sense of perspective about their lives or the world around them. They manipulate their parents into giving them whatever they want; even the poorer kids are greedy materialists. At the other extreme is Underwood, a 17-year-old actor (from Zoey 101) who pays his mother a salary to do everything for him. These kids are all full of personality and extremely aware of how to work the camera, and Greenfield merely allows us to watch them expose their hideously ugly souls. If this is the future of society, it won't be global warming that kills off mankind.
23.Oct.08 lff

R E V I E W S B Y R I C H C L I N E

Boys on Film 1: Hard Love
Peccadillo presents this first-ever collection of gay-themed short films, many of which have been presented at film festivals around the world (several were reviewed over the past few years in Shadows). They plan to continue this series, giving short filmmakers a badly needed outlet.
release UK 9.Mar.09 dvd • 09/UK Peccadillo 2h28 • 18 themes, language, sexuality, violence • 28.Feb.09
---
BOYS ON FILM >
VOL 2
Cowboy Forever

dir-scr Jean Baptiste Erreca
with Govinda Machado de Figueiredo, Jones Carlos Fialho de Araujo, Ronald Rosa, Palativa Flower, Raica, Leandro Rumao de Lima
06/France 27m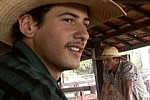 Presented doc-style, but clearly part fictionalised, this film is beautifully shot and edited, with a gorgeous sense of the Brazilian landscapes where the story takes place. Govinda is a cattle driver who notes in the narration that his name means "friend of a cow". The story starts when a new guy named Jones joins his team; they're the only two bachelors in the group, so bond instantly. Jones takes Govinda to visit his friend Ronald, an activist who introduces to the gay world. From here the story takes on an "will he or won't he" vibe, as we wonder about Govinda, who is not only a virgin but had never met a gay man before. But the film is relaxed and unhurried, warmly observing these likeable characters without pushing any message beyond friendship and tolerance. There's a lovely sense of searching as Govinda and Jones talk about what love an attraction mean. And even in such an isolated setting, filmmaker Erreca reveals real hopefulness. A gorgeous little film.
Gay Zombie

dir-scr Michael Sim
with Brad Bilanin, Ryan Carlberg, Robbie Laughlin, Craig Olsen, Andrew Miller, Robin McDonald, Paul Hicks, Michael Foley
07/US 20m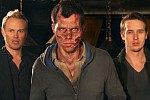 This silly satirical short is full of extremely funny dialog. The clever premise has the young zombie Miles (Bilanin) in therapy because he can't cope with being undead. Or being gay. While in a West Hollywood bar, he meets two goofy guys (Carlberg and Laughlin), and they become friends, as if being a zombie isn't that much different from being a vegetarian. When they decide to give Miles a makeover ("you have what we call problematic skin") and take him to a yoga class, things start to get very strange. Essentially, filmmaker Sim is poking playful fun at the gay subculture in an extremely deadpan way. The humour is so dry that it can't help but keep us giggling, even if the plot doesn't really go anywhere very interesting.
Mirror Mirror

dir John Winter
scr John Trigg
with Roy Billing
08/Australia 10m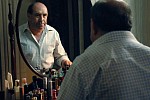 This quiet, thoughtful short is an emotional examination of ageing, centring on a middle-aged man (Billing) packing up a woman's jewellery, clothing and makeup as if his wife has died. Then we see a reflection of her in a mirror, and we realise that he is actually giving up his alter ego: a drag queen. As he talks to himself, the feelings are extremely intense. "Let's go back to that little town and pretend", he says before jealousy kicks in ("You're nothing without me") followed by a recognition of the ravages of time ("You were perfect, that's the problem") and ultimately the powerful sadness of a final farewell. It's beautifully shot and performed, and is a stage of life we rarely see played so effectively on screen.
Scarred

dir-scr Damien Rea
with Chris Anderson, David Durham, Lara Cazalet, Dan Styles, Stephen Hill
06/UK 10m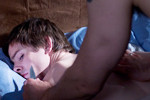 Eerie and suggestive, but rather slight, this short film is an intriguing look at someone coming to terms with a violent incident in their past. It centred on a young guy (Anderson) who is haunted by the events that left him with a scar on his face. And it comes to a head when he meets Joe (Durham), who triggers even more detailed memories. The film is slick and creepy, skilfully shot and edited, and the cast is extremely effective as well. But in the end, it's also a bit vague and nightmarish, a successful experiment in creating a mood on screen even if there's never quite enough detail for us to really get involved in the drama.
Serene Hunter

dir-scr Jason Bushman
with Eric Debets, Jonathan Stringat, Jason Bushman, Flannan Obé, Thibaut Chassigneux-Laqueille
07/France 13m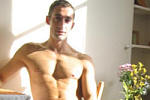 Beautifully shot and edited, with extremely strong acting, this inventive French short centres on Luc (Debets), a cheerful Parisian who follows cute guys around town and surfs the chatrooms, indulging in random liaisons until he meets Sebastian (Stringat). They quickly move in together, but his American ex (Bushman) shows up to complicate things. The film has a refreshing frankness about relationships and sex, and writer-director Bushman subtly shifts the tone along with Luc's moods--from bright and breezy to thoughtful and subdued. And it's a pretty remarkable feat to accomplish all of this in 13 minutes.
Summer

dir-scr Hong Khaou
with Peter Peralta, Jay Brown
06/UK 9m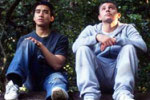 Light and effortless, this simple, extremely well-shot British short gently examines some serious issues without getting bogged down in elaborate plotting or gimmicky twists. It merely follows two friends (Peralta and Brown) as they walk through Hampstead Heath teasing each other and talking about girls and sex. Their conversation is increasingly cheeky, dipping into innuendo and suggestion as we realise they are skirting around the serious issue that one is attracted to the other. The two actors beautifully capture the camaraderie, vulnerability and embarrassment of the situation. And Khaou shows real promise as a filmmaker with his honest, never remotely sentimentalised approach.

See also: SPRING (2011)

Also on
B O Y S
O N F I L M
P A R T 1:



---
BOYS ON FILM >
VOL 2
---


< < S H O R T S > >
If you have an film you want me to review - just ASK

© 2009 by Rich Cline, Shadows on the Wall


HOME | REVIEWS | NEWS | FESTIVAL | AWARDS | Q&A | ABOUT | TALKBACK