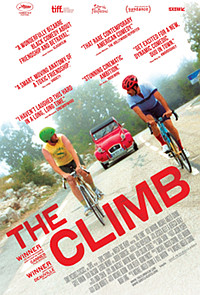 dir Michael Angelo Covino
scr Michael Angelo Covino, Kyle Marvin
prd Noah Lang, Michael Angelo Covino, Kyle Marvin
with Kyle Marvin, Michael Angelo Covino, Gayle Rankin, Talia Balsam, George Wendt, Judith Godreche, Daniella Covino, Eden Malyn, Kris Avedisian, Sondra James, Todd Barry, Meredith Holzman
release UK 23.Oct.20,
US 13.Nov.20
19/US Sony 1h38




---
CANNES FILM FEST
TORONTO FILM FEST

SUNDANCE FILM FEST
---
Is it streaming?

---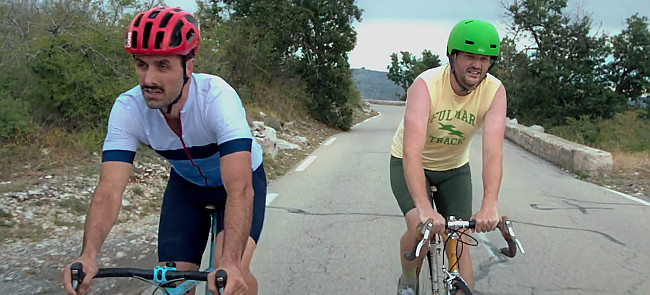 Dryly hilarious touches add a stream of laugh-out-loud moments to this gentle comedy about a messy friendship between two men. The story unfolds in short chapters over a span of many years, notably exploring times when their bond is strongly tested. It's a strikingly well-made film, beautifully shot in long takes that allow underlying feelings to simmer. And the loose, offhanded approach includes moments we rarely see in the movies.
---
While teaching his best friend Kyle (Marvin) how to cycle on a mountain road, Mike (Covino) confesses that he had a fling with Kyle's fiancee Ava (Godreche), which rather strains the whole best man thing. Years later, a moment of grief brings them briefly back together. Then as Kyle reunites with his sparky ex Marissa (Rankin), his mother Suzi (Balsam) orchestrates another reunion, leading to a skiing holiday for Kyle, Marissa and Mike that might not be a great idea. But no matter how hard they try, they can't keep out of each others' lives.
---
The film's opening 9-minute shot sets the scene perfectly, highlighting the rhythms of this friendship. As a director, Covino holds shots longer than expected, pushing scenes into amusingly awkward places. He also injects superb moments of musicality, such as a basement pole dance to Shawn Mullins' Lullaby. The humour is a skilful mix of subtle gags and broad silliness, and it sits alongside some astonishingly serious twists over a long-term friendship.

The gliding camerawork allows each actor to find strikingly realistic edges. At the centre, Marvin and Covino have a refreshing improvisational style as these men grapple with what they have in common and what pushes them apart. Importantly, they're likeable and sympathetic, even when they're being idiots. Side characters are superbly rounded, as actors evoke complex inner lives that feed into the bigger picture. And in the only other significant role, Rankin finds ways to generate her own terrific impact.

This is a knowing consideration of how friendships develop even when people are separated from each other by time, space and moral failings. These two guys may sometimes write each other off, but they can't deny that there's still a strong link between them. Mike knows that he's been a bad friend, and Suzi urges him to think about Kyle for a change. "I don't deserve you," Mike admits after crossing yet another boundary in their friendship. So where this story goes is surprising, rude, funny and quietly moving.
| | | |
| --- | --- | --- |
| | themes, language, sexuality, violence | 19.Oct.20 |
R E A D E R R E V I E W S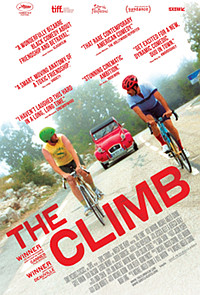 Still waiting for your comments ... don't be shy.