---
Little Monsters
Review by Rich Cline |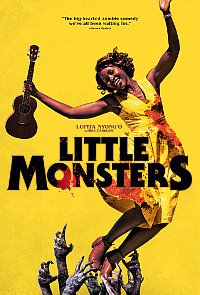 dir-scr Abe Forsythe
prd Jessica Calder, Keith Calder, Steve Hutensky, Jodi Matterson, Bruna Papandrea
with Lupita Nyong'o, Alexander England, Josh Gad, Diesel La Torraca, Kat Stewart, Nadia Townsend, Charlie Whitley, Ava Caryofyllis, Marshall Napier, Jason Chong, Stephen Peacocke, Felix Williamson
release US 11.Oct.19,
UK 15.Nov.19
19/Australia 1h34

---
SUNDANCE FILM FEST

---
Is it streaming?

---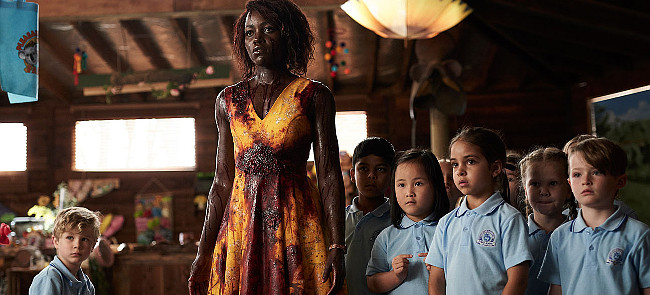 Aussie filmmaker Abe Forsythe manages to find a new take on the zombie genre. With a contained Australian setting, he adds a buoyant sense of humour that takes over the entire movie. It's so disarmingly funny, that the audience is genuinely taken aback by how horrifically violent it gets. And even more impressive is how he also generates some properly sweet moments as well.
---
Failed rocker Dave (England) has left his girlfriend (Townsend) because she wants children, moving in with his sister Tess (Stewart), although he struggles to grade his rough language for her 5-year-old son Felix (La Torraca). Then he meets Felix's teacher Audrey (Nyong'o) and volunteers to chaperone the class on a field trip to a petting farm. There, they run into celebrity children's entertainer Teddy McGiggle (Gad), which delights the kids. And as a zombie horde escapes from a US military experiment next door, Audrey does her best to keep the kids from realising what's happening.
---
A brisk pace keeps everything moving, as this disparate group of grown-ups and children get trapped in a gift shop, taking frantic missions into the chaos. It's clear that the blustering American soldiers (led by Napier) have no idea how to contain their breached experiment, and Teddy is a liability, so it's up to Audrey and Dave to not only find a way out but make sure that the children remain un-traumatised. Cue several fantastic sing-songs in between the terrifying violence.

Nyong'o is a gift to a movie like this, able to be sunny and funny while layering in much darker emotions. She also sings, dances and plays the ukelele like a pro! And her rom-com connection with the scrappy Hemsworth-like England is surprisingly engaging. He somehow manages to make it convincing when this self-centred loser begins to transform into a more honest, sensitive young man. La Torraca is a gifted young actor in his own right, and Gad has a lot of fun with the panicky Teddy.

There's nothing remotely deep going on in here: this is a purely entertaining movie that merely wants to make the audience laugh, flinch and then sigh. And Forsythe shows considerable skill at all three, keeping the witty comical touches going from start to finish, stirring in some genuinely frightening moments with full-on gore, and then finding proper emotional resonance in a series of final twists and turns. It's a terrific little film that deserves to become a cult favourite.
| | | |
| --- | --- | --- |
| | themes, language, violence, sexuality | 12.Aug.19 |
---
Monsoon
Review by Rich Cline |

MUST

SEE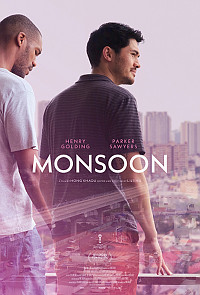 dir-scr Hong Khaou
prd Tracy O'Riordan
with Henry Golding, Parker Sawyers, David Tran, Molly Harris, Edouard Leo, Nguyen Myan, Lamou Vissay
release UK 25.Sep.20,
US 13.Nov.20
19/UK BBC 1h26

---


---
Is it streaming?

---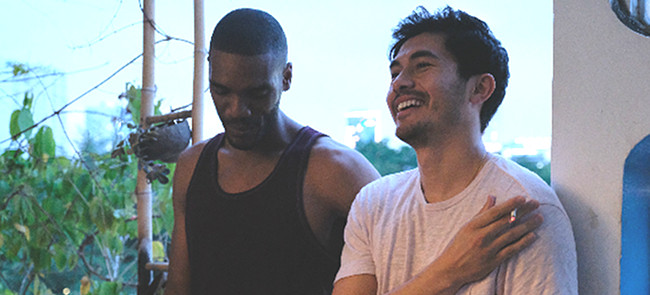 Director Hong Khaou continues on from the delicate beauty of Lilting with this gentle, finely crafted exploration of personal history and identity. Set in Vietnam, it also centres around a death, but this time as a window into the past as the central character quietly allows his lost connection with his roots to wash over him and change him. It's a stunner of a film packed with moving moments.
---
Travelling from London to Saigon, Kit (Golding) wants to discover where he lived until age 6, when his parents fled as refugees. He reconnects with family friend Lee (Tran). And on a phone app he meets American expat Louis (Sawyers) for a flirty hookup. Kit also takes a side trip to Hanoi, where his parents were born, wondering if that might be a place to scatter their ashes. There he meets up with artist Linh (Harris), who introduces him to Vietnam's growing youth art scene and the ancient art of lotus tea.
---
The narrative is full of nods to people who feel like outsiders due to nationality, sexuality or the choices parents made for them. Kit is piecing together the mystery of his past, making new discoveries about himself, his family and the nation where he was born. His odyssey is largely silent and observational, with witty and sometimes wryly sarcastic conversations along the way. And it's fascinating to watch Kit begin to feel at home in this strange but familiar place.

In a textured role, Golding shines as a young man who decides to be open to whatever life throws at him. As a result, Kit is very easy to identify with, so his journey touches on themes that resonate vividly. His scenes with Sawyers are terrific, shifting effortlessly from chitchat and hot sex to something deeper and remarkably tender. That this central romance becomes the heart of the film is a lovely touch. And Tran is also terrific as the quietly thoughtful Lee, understanding what reconnecting with Kit means on perhaps too many levels.

Cinematographer Benjamin Cracun's camera often uses wide shots to place Kit in a larger landscape, which makes great use of locations and also offers an intriguing sense of perspective. And John Cummings' textured score is remarkably fresh, also catching inner moods. Khaou is a filmmaker who is expert at making it look like nothing at all is happening on-screen, but under the surface the world is churning. That he so elegantly pulls us into this story is a real skill, putting us into Kit's shoes and showing us ourselves at every step.
| | | |
| --- | --- | --- |
| | themes, language | 4.Oct.19 lff |
---
Rialto
Review by Rich Cline |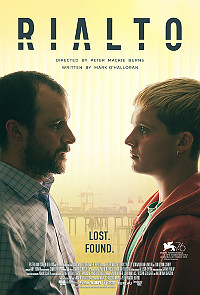 dir Peter Mackie Burns
scr Mark O'Halloran
prd Valentina Brazzini, Tristan Goligher, Alan Maher, John Wallace
with Tom Vaughan-Lawlor, Tom Glynn-Carney, Monica Dolan, Sophie Jo Wasson, Scott Graham, Michael Smiley, Eileen Walsh, Deirdre Donnelly, Deirdre Molloy, Kervin Soobrayen, Alexandra Smith, Ger Ryan
release US 18.Sep.20,
UK 2.Oct.20
19/Ireland 1h30

---
VENICE FILM FEST

---
Is it streaming?

---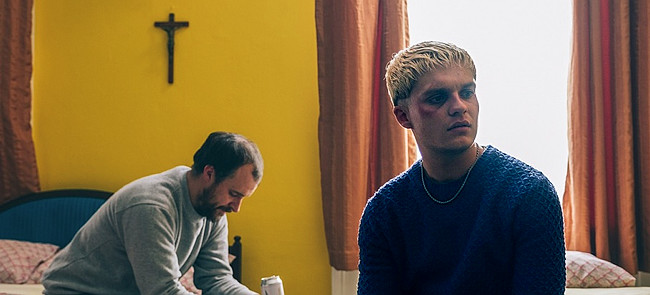 Dark and very moody, this Irish drama excavates the life of a married man in his 40s who is grappling with issues relating to his job, family and sexuality. It's a little too mumbly and mopey to engage properly, and perhaps too deliberately pointed as well (it's based on the stage play Trade). But it's so intimately directed by Peter Mackie Burns that it can't help but be moving.
---
Working in an office at the Dublin docks, Colm (Vaughan-Lawlor) has had past issues with alcohol and secretly struggles with his sexuality. When he hires 19-year-old rentboy Jay (Glynn-Carney), he's too frightened to do anything, so Jay robs him then blackmails him. Back at home, his wife Claire (Dolan) and teen kids (Wasson and Graham) know something's not right. And this is before he's made redundant in a company merger. While trying to sort himself out, Colm is increasingly drawn to Jay, feeling that he's the only person he can be honest with.
---
The obvious problem is that, while Colm is opening up emotionally, for Jay this is only about money. And right from the start he tells Colm about his girlfriend and infant daughter. So the film basically watches as Colm finds himself less and less connected with the world around him, spiralling into the deep depression that has probably been part of his life all along. All of his wallowing is indeed wrenching to watch, and his heightened clashes with the people around him begin to feel melodramatic as a result.

Performances are earthy and emotional, played largely in a barely audible near whisper. Eyes are almost always brimming with tears of sadness, frustration or rage. These heightened levels of feeling are realistic, and beautifully acted by the entire cast without even a hint of the usual repression that goes with films about men fighting with that closet door in middle age. It definitely helps that Vaughan-Lawlor is likeable and sympathetic, even when he makes some very bad decisions.

The script's openhanded sensibility never pushes a message. This makes it provocative, challenging stereotypes and preconceptions while allowing the characters space to breathe as individuals. This is very heavy stuff, and in many ways its themes feel more like they belong in a movie from the 1980s. But writer O'Halloran and director Burns give it a specific truthfulness. It's a vivid depiction of how impossible it is to truly love someone if you hate yourself.
| | | |
| --- | --- | --- |
| | themes, language, violence, sexuality | 20.Sep.19 lff |
---

< < I N D I E S > >
See also: SHADOWS FILM FESTIVAL

© 2019 by Rich Cline, Shadows on the Wall


HOME | REVIEWS | NEWS | FESTIVAL | AWARDS | Q&A | ABOUT | TALKBACK