dir-scr Jeremy Saulnier
prd Neil Kopp, Victor Moyers, Anish Savjani
with Anton Yelchin, Imogen Poots, Alia Shawkat, Joe Cole, Callum Turner, Patrick Stewart, Mark Webber, Eric Edelstein, Macon Blair, Kai Lennox, David W Thompson, Taylor Tunes
release US 15.Apr.16, UK 13.May.16
15/US 1h34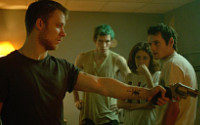 Nobody leaves: Edelstein, Turner, Shawkat and Yelchin


---
CANNES FILM FEST
TORONTO FILM FEST

SUNDANCE FILM FEST
R E V I E W B Y R I C H C L I N E

A bracingly original horror thriller, this offbeat film starts as a deranged little comedy before dragging the audience down a freaky rabbit hole. It's startlingly effective simply because writer-director Jeremy Saulnier takes a character-based approach that stubbornly refuses to indulge in cliches, so it's impossible to guess where it might go next.

Pat, Sam, Reece and Tiger (Yelchin, Shawkat, Cole and Turner) are a scruffy punk band driving between gigs in the Pacific Northwest, far from their East Coast home. And the tour isn't going very well. When one concert is cancelled, the organiser (Thompson) sends them to a remote Oregon bar owned by Darcy (Stewart). They eventually win over the audience, but as they leave they witness the aftermath of a murder. Locked in their dressing room with the victim's friend Amber (Poots) and a burly bodyguard (Edelstein), they struggle to understand what could happen next.

Saulnier cleverly subverts expectations at every turn, peppering the story with all kinds of red herrings, wildly unpredictable characters and sudden bursts of violence and emotion. In other words, even as the situation spirals into a full-on nightmare, he keeps it unnervingly grounded in real-life, which means that the audience can identify with even the smaller side characters. And some of these people are seriously terrifying. There isn't a moment in the film in which we're not trying to figure out how we would get out of this ourselves.

With his vulnerable physicality and expressive face, Yelchin is a superb focal character. Right from the start, as he reveals his gently rebellious personality and artistic soul, he earns the audience's sympathy. But then everyone around him is equally complex and compelling. Poots offers a bundle of surprises and some sharply hilarious moments of pitch-black humour. Blair's hapless club manager brings surprising textures to his role. And Stewart steals the show as the callously methodical boss whose solution to the problem is, well, final.

The film's sharp point of view helps makes everything that happens both disorienting and involving. We may not quite understand what's meant by a basement drug lab or red shoelaces, but the implications are enormous enough to send shivers down the spine. And the grotesque violence is never portrayed for entertainment: it's deeply horrific, with a real sense that it will be a miracle if anyone on-screen survives until the end. So when the jarring final sequence comes, it leaves us thoroughly shaken.
| | | |
| --- | --- | --- |
| | themes, violence, language | 15.Jan.16 |