dir Athina Rachel Tsangari
scr Efthymis Filippou, Athina Rachel Tsangari
prd Maria Hatzakou, Christos V Konstantakopoulos
with Yiorgos Kendros, Panos Koronis, Vangelis Mourikis, Makis Papadimitriou, Yorgos Pirpassopoulos, Sakis Rouvas, Giannis Drakopoulos, Kostas Filippoglou, Nikos Orphanos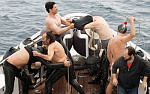 release Gr 26.Nov.15,
US 27.May.16, UK 22.Jul.16
15/Greece 1h39

---
TORONTO FILM FEST


A wickedly funny comedy about masculinity, this Greek movie is packed with clever insights, playful dialog and rather outrageous situations. Its characters are all vivid examples of the modern man denying he's in the grip of self-doubt about his identity. And the film's vivid, hilarious combination of camaraderie and competition is seriously clever.

Six men on a boating holiday the Aegean Sea are playing a game to see who is the best, evaluating each other on every aspect of their lives: physical, mental, emotional, economic. It's clear that natural leader Yorgos (Koronis) and the seriously fit Christos (Rouvas) have the edge. Dimitris (Papadimitriou) worries that his weight will give him a low score, and his brother Yannis (Pirpassopoulos) feels inadequate because he hasn't fathered kids with his wife, who's Christos' ex. Meanwhile, the Doctor (Kendros) is feeling his age, while Josef (Mourikis) is determined not to feel his.

Director-cowriter Tsangari tells this story beautifully, from the gorgeous scenery in isolated coves to the micro-world inside the boat. This closed-off setting continues even after they return to Athens, as they stay on-board to complete the competition, their game spreading to infect the boat's three-man crew (Drakopoulos, Filippoglou and Orphanos). The camerawork is fluid and observant, catching witty details in every shot of these men both interacting and hiding away on their own.

Each of the characters is realistic, underplayed by the fine actors to reveal the various personal arcs. Not a lot actually happens plot-wise, which may frustrate audiences who need to be guided through a movie. But there's plenty going on in each man's eyes. The most likeable character is Yorgos, played by Koronis with an offhanded authority. The most sympathetic is the token loser Dimitris, and Papadimitriou plays him as a guy who has always tried a bit too hard to fit in. And Rouvas' preening Christos is a fascinating contradiction.

The movie is a fiendishly clever deconstruction of male bravado, as these guys test each other on everything from their blood chemistry to how long it takes to assemble an Ikea flatpack. Clearly, all of this is a parody of how men relate to each other everywhere, trying to live up to perceived expectations and to avoid being the low man on the totem pole. All of this may be a little forced and obvious, but the film's wry humour and sparky characters make it both entertaining and memorable.
18 themes, language, violence, nudity
---
6.Jul.16

R E V I E W B Y R I C H C L I N E
Desire Will Set You Free


dir-scr Yony Leyser
prd Paula Alamillo Rodriguez, Sonja Klumper
with Yony Leyser, Tim-Fabian Hoffman, Chloe Griffin, Amber Benson, Anton Andreew, Max Appenroth, Til Schindler, Joe Grainger, Onur Akkilic, Nina Hagen, Peaches, Blixa Bargeld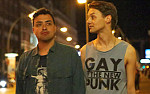 release Ger 5.May.16,
UK Jul.16 eeff
15/Germany 1h32

---


A colourful slice of life in gay Berlin, this film is fresh and original in the way it approaches its characters, even if there isn't much resonance underneath the lively surface. Everyone in the film is obsessed with sex, but has no clue how to find happiness. The answer seems to be as simple as finding others who share your challenges.

Ezra (Leyser) and his anarchic best pal Cathrine (Griffin) head into the venerable gay neighbourhood in Schoneberg for a night out. While Ezra looks for love, Cathrine stirs up the boys in the bar. Ezra meets Sasha (Hoffman) and wonders how he'll know if there's something real developing between them, especially since Sasha works as a rentboy. But then, Cathrine probably isn't the best person to ask, as her open relationship with Jayne (Benson) is a bit wobbly.

The film has a very loose, 1980s slacker-comedy vibe that's goofy and fun, drifting from nightclubs to a variety of impromptu parties. Despite the characters' obsession with sexuality and physicality, the film is never very sexy. Whether it's unintentional or not, writer-director-actor Leyser also captures a sense of paper-thin bravado in the strong opinions of not-quite-mature 20-somethings who think they have all the answers. This makes it a bit difficult to sympathise with them. And it's even trickier when the narrative shifts completely from Ezra to Sasha about halfway through.

Ezra's longing for something serious makes him both recognisable and likeable, and Leyser plays him as a playful guy with slightly cocky edges. None of the other characters has any real depth. Even Sasha's much more pointed journey feels strangely simplistic, although his encounter with a crowd of especially lively trans men and women is beautiful. And Griffin's Cathrine seems to be little more than a poser, but the script never breaks through her surface attitude.

The film is a riot of loudly expressed political opinions and defiant expressions of free love, including a spot of skinny dipping and a glitter-coated love-fest in the park. The parties are shot with a doc-style realism that's clever and entertaining. And the nightclub scenes are populated with real bands and performers. Most intriguing is how the film quietly explores the idea that, while sex is easy to find, it's more important and much trickier to give and receive love, happiness and respect.
15 themes, language, sexuality, drugs
---
12.Jun.16

R E V I E W B Y R I C H C L I N E
Liebmann


dir-scr Jules Herrmann
prd Jules Herrmann, Roswitha Ester, Torsten Reglin
with Godehard Giese, Adeline Moreau, Fabien Ara, Bettina Grahs, Alain Denizart, Denise Lecocq, Morgane Delamotte, Red Vaughan Tremmel, Ashley McLellan, Richard Comte, Jean-Philippe Feiss, Jean-Brice Godet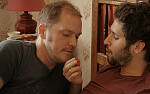 release Ger Feb.16 bff,
US 15.Aug.16, UK 22.Aug.16
16/Germany 1h22

---
BERLIN FILM FEST

Artful and ambitious, this is a nicely understated exploration of a man who is afraid to live his life. He has moved far from home, but still can't escape his past or be true to himself. The film's easy pace and naturalistic style are livened up with quirky touches and engaging dark humour.

Without telling anyone, Antek Liebmann (Giese) Germany for a new life in rural France, where he is welcomed by new landlord Antoine (Denizart) and his wife Giselle (Lecocq). He also befriends next-door neighbour Genevieve (Moreau) and her attention-seeking daughter Morgaine (Delamotte), finding it difficult to resist their attempts to socialise. Meanwhile, he takes a job at a second-hand shop and has a spark of attraction with smiley customer Sebastian (Ara), but tries to remain aloof. Then Antek's sister (grahs) turns up, reminding him that he needs to deal with his past.

Writer-director Herrmann gives the film an artful style, using graphics to introduce the story's chapters, as well as black and white and colour-washed scenes. The entire film has a stillness to it that brings the audience into Antek's perspective. This means that we vividly feel every moment of annoyance or fear. We also understand that he prefers his solitude, although we won't learn until much later what is pushing him to withdraw from the world.

Giese nicely underplays the title role as a guy trying to escape from other people. Even his surname (which means "love man") taunts him about his nature. It's intriguing that he'd rather not learn French, because not knowing it helps with his isolation, but he can't help but pick it up with such persistent neighbours. All of the performances are earthy and realistic, gently revealing details in each scene. When Antek finally lets himself feel some happiness, the unexpected arrival of his sister shakes him to the core. It also finally offers a complex depiction of Antek's past.

There's an earthy honesty to this film that cuts through its bigger themes, so even though it's touching astutely on an important issue, it feels relaxed and light. There are several subtle emotional kicks alongside more playful scenes like a fit of giggles or a midnight swim. So it's a bit of a shock when the story's final scenes turn dark and creepy, delving deep into Antek's soul in an inventively visual way. This final sequence may be elusive, bit it's also genuinely chilling.
12 strong themes
---
15.Aug.16

R E V I E W B Y R I C H C L I N E
Summertime


La Belle Saison
dir Catherine Corsini
prd Elisabeth Perez
scr Catherine Corsini, Laurette Polmanss
with Cecile De France, Izia Higelin, Noemie Lvovsky, Jean-Henri Compere, Kevin Azais, Benjamin Bellecour, Laetitia Dosch, Loulou Hanssen, Sarah Suco, Calypso Valois, Nathalie Beder, Bruno Podalydes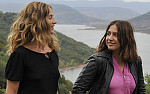 release Fr 19.Aug.15,
US Mar.16 miff, UK 15.Jul.16
15/France 1h45

---
TORONTO FILM FEST


An earthy honesty infuses this complex romantic drama set amid the women's rights movement of the early 1970s. But while the politics are strong, it's the intensely personal story and engaging characters that make the film so involving. And it's beautifully directed by Catherine Corsini, drawing out big emotions without even a hint of sentimentality.

Escaping the claustrophobic atmosphere in her rural hometown, Delphine (Higelin) heads to Paris in the spring of 1971 and meets a group of activists led by the charismatic Carole (De France), to whom she's immediately attracted. Carole feels the same, and says as much to her boyfriend (Bellecour). But just as their romance begins, Delphine is called home to help her mother (Lvovsky) run the family farm when her father (Compere) is hospitalised. Unable to bear the separation, Carole decides to join Delphine. But can they hide their relationship from the family and neighbours?

Filmmaker Corsini beautifully creates the period culture, subtly highlighting the sharp difference between free-thinking Parisian society and the tradition-bound countryside. In her hometown, Delphine is being pressured to find a husband to help run the farm, with attention focussing on her neighbour friend Antoine (Azais), who isn't as clueless as she thinks he is. Meanwhile, Carole's free-spirited personality, which attracted Delphine in the city, is proving to be a bit dangerous here.

The acting is bracingly truthful. Corsini coaxes superbly naturalistic performances that bring out the important themes without ever making them pushy. Higelin and De France have intense chemistry together, blending warm attraction with snappy humour. They're both hugely likeable, curious women trying to live honestly within the constraints of their circumstances. Lvovsky also shines as a woman struggling against the truth that's dawning in front of her.

The film is beautifully shot, never fussy about the period details while gorgeously capturing the rhythms of life on a farm. But it's the way Corsini depicts the internal journey of these characters that has the most impact. Without ever getting strident about it, this is a story about women standing up to a culture that essentially says they aren't qualified to make decisions about their own lives. Like Carole, the film is never anti-men, it's pro-women. And it makes its point with a lyrical resonance.
15 themes, language, sexuality
---
26.Mar.16 flare


< < F O R E I G N > >
See also: SHADOWS FILM FESTIVAL

© 2016 by Rich Cline, Shadows on the Wall


HOME | REVIEWS | NEWS | FESTIVAL | AWARDS | Q&A | ABOUT | TALKBACK