dir Miguel Gomes
scr Miguel Gomes, Mariana Ricardo, Telmo Churro
prd Sandro Aguilar, Thomas Ordonneau, Luis Urbano
with Crista Alfaiate, Adriano Luz, Miguel Gomes, Maria Rueff, Bruno Bravo, Rogerio Samora, Diogo Doria, Fernanda Loureiro, Cristina Carvalhal, Carlos Loureiro, Sabrina Lopes, Margarida Rabaca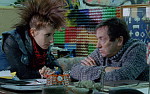 release Por 27.Aug.15,
US 4.Dec.15, UK 22.Apr.16
15/Portugal 2h05

---
CANNES FILM FEST
TORONTO FILM FEST


With this powerful, bittersweet collage, inventive filmmaker Miguel Gomes adapts classic Arabian Nights tales into stories that take on Europe's brutal economic austerity programmes. Yes, it's extremely pointed, and more than a little angry, with jagged political satire aimed at callous government policies and heartless actions by international banks. It's also fiendishly clever.

The film opens with a glimpse at Portugal's pain, as centuries of tradition crumble under the weight of austerity. So a filmmaker (Gomes himself) and his crew prepare to depict this situation using stories told by Scheherazade (Alfaiate) to bamboozle her husband. Condescending politicians are tricked by the local population into lifting oppressive rules. A rooster bemoans the fact that the people ignore its warnings of impending danger, including a fireman who sparks incendiary jealousy. And three people recount their personal misfortunes to the only person who will listen.

Gomes skilfully combines genres from documentary to melodrama to fantasy, all with a fable-like tone that vividly echoes the deeper themes. This is a jab at officials who simply don't care about the suffering they inflict on an increasingly hopeless population. And the wide variety of characters is played by lively actors who inject plenty of edgy wit. Although stories are narrated in voiceover, which is somewhat exhausting to read in subtitles.

The various elements sometimes jostle for attention, and some get lost in the shuffle as under-explored asides. But every moment is absolutely mesmerising, bursting with meaning and resonance. In addition to his rage at oppressive policies, Gomes uses both surrealism and hilariously punchy comedy to depict the generosity of these once-noble people contrasted with greedy politicians and bankers who simply don't care that they are destroying a once-great culture.

Gomes playfully juxtaposes earthy realism with frivolity, staging each element with a cheeky wink. For example, a group of suited politicians ride camels along the coast, getting off on people whose lives they've crushed. And a group of children re-enact a twisted love triangle using text messages. Each segment is infused with personal pain, sometimes very specifically recounted. Characters introducing themselves by saying what they used to do for a living is just one element that adds a moving, emotional kick. And it will be interesting to see where this goes in the next two volumes.
15 themes, language, innuendo
---
17.Apr.16

R E V I E W B Y R I C H C L I N E
Arabian Nights: Volume Two, The Desolate One


As Mil e Uma Noites: Volume Dois, O Desolado
dir Miguel Gomes
scr Miguel Gomes, Mariana Ricardo, Telmo Churro
prd Sandro Aguilar, Thomas Ordonneau, Luis Urbano
with Crista Alfaiate, Chico Chapas, Luisa Cruz, Pedro Caldas, Goncalo Waddington, Joana de Verona, Joao Pedro Benard, Teresa Madruga, Margarida Carpinteiro, Carla Maciel, Gracinda Nave, Mariana Martins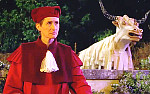 release Por 24.Sep.15,
US 11.Dec.15, UK 29.Apr.16
15/Portugal 2h11

---
CANNES FILM FEST
TORONTO FILM FEST


Miguel Gomes continues his inventive exploration of Portugal's devastating government-imposed austerity with three stories that are witty, surreal and very pointed. It's darker and murkier than Volume 1, but it cleverly depicts an issue easy for anyone to identify with, revealing deeper truths about how the greed of bankers and politicians makes everyone's life worse.

The first tale is about Simao (Chapas), a middle-aged man on the run from the police and their droneswho becomes a folk hero for standing up to authorities. Then there's a judge (Cruz) presiding over the messy trial of tenants who illegally sold their landlord's furniture to survive. She's increasingly frustrated at the spiralling chain of crimes committed due to economic hardship. Finally, the stray dog Dixie arrives in a grim housing estate, livening up the couple (Benard and Madrugada) that adopts him and find their only joy in goddiping about their neighbours.

The stories are narrated by Scheherazade (Alfaiate), which requires a lot of subtitle reading for those who don't speak Portuguese. But Gomes directs it so imaginatively that it's unusually gripping, even if the pacing feels painfully slow and random at times. And it's packed with bracing insight. For example, refusing to accept being rude or stupid as an excuse, the judge declares herself sickened by "this endless list of misery and guilt"

With only three segments, each tale sometimes begins to feel long and repetitive, making its essentially simple point over and over again. But there is a sense of importance due to the invested performances from the entire cast, who mix the absurd logic of each parable with striking realism to bring the situations to life. And the extended adventures of the intrepid dog Dixie have a disarming charm (lesson: a cute dog always helps).

Gomes' observations are potent, as he explores the idea that true evil is selfishness, the inability of someone born lucky to identify with the problems of others. And how can law and order survive when there's no real justice, opportunity or equality? The lack of these things triggers a collapse in the fabric of society: when you're poor and need to eat, it's irrelevant that stealing is illegal. These stories aren't as moving or as witty as in the first film. But they're just as vital.
15 themes, language, nudity
---
23.Apr.16

R E V I E W B Y R I C H C L I N E
Arabian Nights: Volume Three, The Enchanted One


As Mil e Uma Noites: Volume Três, O Encantado
dir Miguel Gomes
scr Miguel Gomes, Mariana Ricardo, Telmo Churro
prd Sandro Aguilar, Thomas Ordonneau, Luis Urbano
with Crista Alfaiate, Americo Silva, Amar Bounachada, Lionel Franc, Carloto Cotta, Elvis Barrientos, Herves Diasnas, Jing Jing Guo, Chico Chapas, Ze Luis, Pedro Ribeiro, Quiterio, Alves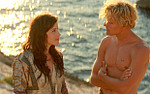 release Por 8.Oct.15,
US 18.Dec.15, UK 6.May.16
15/Portugal 2h05

---
CANNES FILM FEST
TORONTO FILM FEST


The third chapter of Miguel Gomes' inventive exploration of government austerity in Portugal takes a different approach. This time, there's a linear aspect to Scheherazade's stories, which describe present-day events in a documentary style while maintaining a surreal fairy-tale sensibility. And it ends on a note of striking beauty.

Scheherazade (Alfaiate) imagines a world she can't explore because she's held hostage by her husband, the king (Bounachada). So she escapes to explore the ancient sea around Baghdad, where local hero Lionel (Franc) recovers treasure from a sunken ship, and the sexy-dim Paddleman (Cotta) fathers 200 children and tries to seduce her, as does the cheeky thief Elvis (Barrientos). Then her father, the Grand-Vizier (Silva), advises her to tell stories from her hopes and fears. She returns to the king and recounts tales of Portuguese men who trap and train chaffinches for competition.

More than half of the film centres on these bird-keepers and their individual stories, carrying on a tradition that started after WWI when returning soldiers introduced chaffinches to Portugal. Today this is a way for them to maintain their dignity in a society that has little else for them to do. These men are presented subtly, allowing us to see their distinct personalities, quirks and passions.

Unlike the first two films, this one uses extensive on-screen text blocks instead of voiceover. In the opening story of Scheherazade yearning to understand the world and her place in it, there's a sensual sense of physicality and a varied musicality. This includes everything from classic pop to Portuguese death metal, plus a moment when Alfaiate breaks out a rendition of Perfidia. The mixture of old and new settings is often amusing, as are the sharp attitudes of the spiky characters.

The film crisscrosses between the ancient times and present-day Portugal in ways that don't always make much sense, but are cleverly shot and edited with colourful flourishes. This adds intriguing angles to the central idea of an old world changed by new construction, ideas and technology. Taken as one epic film, the three volumes are a yearning cry to the happiness humanity has lost through commercialisation and ruthless economic policies. And in the end it's strikingly moving.
15 themes, language, nudity
---
2.May.16

R E V I E W B Y R I C H C L I N E
Ma Ma


dir-scr Julio Medem
prd Penelope Cruz, Julio Medem
with Penelope Cruz, Luis Tosar, Asier Etxeandia, Teo Planell, Anna Jimenez, Alex Brendemuhl, Monica Sagrera, Silvia Abascal, Javier Martos, Anabel Maurin, Virginia Avila, Miguel Mota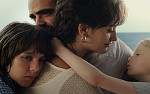 release Sp 11.Sep.15,
US 20.May.16, UK 24.Jun.16
15/Spain 1h51

---
TORONTO FILM FEST

Inventive Spanish filmmaker Julio Medem takes on some very dark themes in this drama without ever letting the film tip into murky sentimentality. Thanks to buoyant performances from Penelope Cruz and Luis Tosar, he manages to maintain a light, hopeful tone, even while grappling with things as intense as illness and death.

Magda (Cruz) understands that her marriage to the philandering Raul (Brendemuhl) is over, so turns her attention to her energetic teen son Dani (Planell), who has attracted the attention of top football scout Arturo (Tosar). Then Arturo's daughter is killed in a car crash that leaves his wife in a precarious coma. And no one knows that Magda is dealing with advanced breast cancer. But while Dani spends the summer with his aunt (Sagrera), Magda and Arturo help each other get through their crises. And just as hope blossoms, there's more news.

While the chain of events in this story feels brutally tough, Medem remains remarkably optimistic. He seems to be saying that there are always reasons to maintain a spirit of joy, even amid the bleakest turn of events. And the characters face what life throws at them with dry humour and honest emotion. With its askance approach to both love and death, this film definitely isn't tracing the usual movie character trajectory, especially as Medem mixes comedy and tragedy without even a hint of sentimentality. But the narrative is recognisably honest, as are the characters' reactions.

Cruz is radiant as the matter-of-fact Magda, who faces the truth straight-on, defying the odds while seeing the very best in the people around her. Her relationships are vivid and powerful, most notably the complex journey she takes with the superb Tosar's likeable Arturo. The young Planell has terrific presence as Dani, as does the likeable Etxeandia as Magda's doctor and increasingly close friend Julian. Magda relies on all three for different reasons, which feeds in to the plot in unexpected ways.

Medem also stirs in Magda's dreams, using symbolic imagery that's sometimes idealistic and sometimes terrifying. It's a clever way to depict her range of emotions. The script's somewhat godlike, fatalistic approach sometimes seems pushy, especially in the odd framing story involving Julian's adoptive Russian daughter (Jimenez). But Cruz and Tosar are such compelling actors that they bring out layers of meaning in every scene. This is the kind of movie that will carry a strong, uplifting kick for those who have faced these kinds of major issues.
12 themes, language
---
5.May.16


< < F O R E I G N > >
See also: SHADOWS FILM FESTIVAL

© 2016 by Rich Cline, Shadows on the Wall


HOME | REVIEWS | NEWS | FESTIVAL | AWARDS | Q&A | ABOUT | TALKBACK