dir Maneesh Sharma
scr Habib Faisal; prd Aditya Chopra
with Shah Rukh Khan, Deepika Amin, Yogendra Tiku, Shriya Pilgaonkar, Waluscha de Sousa, Chandru Bhojwani, Sayani Gupta, Zachary Coffin, James Richard Marshall, Connor Williams, June Smith, Lee Nicholas Harris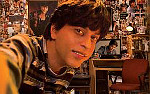 release India/UK/US 15.Apr.16
16/India Yash Raj 2h22


Being a Bollywood movie, this film is far bigger and longer than most rather simple action thrillers. It also boasts impressive make-up and effects work, as megastar Shah Rukh Khan plays two roles: a 48-year-old actor and his 28-year-old superfan. These remarkably distinct performances give the film some edge that holds the interest even when things turn rather corny.

In Delhi, young Gaurav (Khan) is the self-proclaimed biggest fan of movie star Aryan (also Khan). With his energetic impression, Gaurav has won his local talent competition three years in a row. And now he's travelling to Mumbai to meet his idol. But he gets lost in the swarm of adoring followers, so he takes drastic action to get noticed. This brings him face-to-face with Aryan, but it's not the joyful experience he was hoping for. So over the next year, Gaurav plots globe-hopping revenge on Aryan, determined that their names will forever be linked.

Along the way, the movie shifts from lively, sweet fanboy comedy into a rather violent thriller, and Gaurav turns from a geeky dork living with his parents (Amin and Tiku) into something of a Bond villain, complete with a complicated masterplan that gets increasingly nasty. Scenes are punctuated with massive chase scenes (mainly on foot through the crowded streets and vertiginous rooftops of London, Dubrovnik, Mumbai or Delhi), the odd shootout and a couple of vicious fistfights. Plus of course some musical numbers.

Khan gives a full-on performance as Gaurav, an unhinged young man who gradually loses the audience's sympathy before the film's intermission, then goes full psycho in the final act. Khan's youthful physicality is uncannily augmented by Oscar-winning make-up artist Greg Cannon. As Aryan, Khan plays a creakier version of himself who's also an action hero off-screen. The elaborate chases and fights between Khan and Khan are very impressive, even with their comical Jackie Chan-style choreography. Other characters are less detailed, including parents, women and various bodyguards.

Director Sharma and writer Faisal keep the pace brisk and engaging for nearly two and a half hours without deepening the characters or the themes at all. Everything skims along the surface with entertaining energy but very little resonance. There are some intriguing comments in here about the nature of celebrity-fan interaction, but that's sidelined for the more histrionic machinations of the plot. So some preachy comments at the end feel very cheesy. But the nutty mayhem is so relentless that we don't mind much.
15 themes, violence
---
12.Apr.16

R E V I E W B Y R I C H C L I N E
Four Moons


Cuatro Lunas
dir-scr Sergio Tovar Velarde
prd Edgar Barron
with Cesar Ramos, Gustavo Egelhaaf, Gabriel Santoyo, Antonio Velazquez, Alejandro de la Madrid, Alonso Echanove, Alejandro Belmonte, Hugo Catalan, Sebastian Rivera, Karina Gidi, Juan Manuel Bernal, Monica Dionne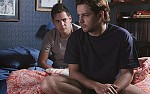 release Mex Mar.14 giff,
US 21.Nov.14, UK 25.Apr.16
14/Mexico 1h50


In four separate strands set at four stages of life (or four phases of the moon), this smart, moving Mexican drama explores sexuality with startling honesty. It may feel a little over-sculpted, and the production values rather simplistic, but the strong script and open-handed performances make it memorable.

In Mexico City, pre-teen Mauricio (Santoyo) is beginning to realise that he's more interested in his friend Oliver (Rivera) than the girls, but neither he nor his parents (Bernal and Gidi) are prepared for what happens. In his early 20s, Fito (Ramos) is surprised when his old pal Leo (Egelhaaf) looks him up. While both are straight they are unable to resist their mutual attraction, but Leo is terrified of admitting it to anyone. In their 30s, Hugo and Andres (Velazquez and de la Mardid) have been together for 10 years. When Hugo falls for another man (Catalan), Andres sets out to save the relationship. And retired poet Joaquin (Echanove) is preparing to receive a life-achievement award as he secretly prowls a sauna in pursuit of a muscled escort (Belmonte).

In several ways, these four stories feel like alternate-reality scenes from the same life, so the thematic connections are very strong. Linking everything together is a powerful longing for affection and attachment, the need to use our most natural urges to create a positive future, and the fear of rejection. So even when the plotlines turn a bit soapy, the depth of feeling keeps us engaged. And while the acting is sometimes uneven, the entire cast sharply conveys the inner lives of the characters.

The strongest strand is Fito and Leo's, as it touches on a wide range of issues. Most vivid is Leo's crippling fear, which is echoed in how Fito's mother (Dionne) reacts. Watching these characters grapple with themselves is very moving, augmented by sharp, sensitive performances. The other standout is Santoyo, who gives an unnervingly raw performance as a young boy discovering something about himself that he knows will cause problems.

By comparison, the other two strands feel more straightforward. Hugo and Andres' interaction is packed with melodrama that doesn't quite represent a couple that's been together for a decade, and their reaction is a bit preachy. And while Echanove's character feels somewhat underdeveloped, his interaction with Belmonte is fascinating and telling. But then everything about the film is revelatory, touching on big issues with an often wrenching transparency.
15 themes, language, sexuality
---
6.Jan.15

R E V I E W B Y R I C H C L I N E
I Promise You Anarchy


Te Prometo Anarquía
dir-scr Julio Hernandez Cordon
prd Julio Hernandez Cordon, Maximiliano Cruz, Sandra Gomez
with Diego Calva, Eduardo Martinez Pena, Sarah Minter, Martha Claudia Moreno, Gabriel Casanova Miralda, Shvasti Calderon Rivera, Milkman, Diego Escamilla Corona, Erwin Jonathan Mora Alvarado, Juan Pablo Escalante, Daniel Adrian Mejia Aguirre, Mario Alberto Sanchez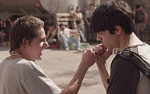 release Mex Nov.15 cff,
UK Mar.16 flare, US Mar.16 miff
15/Mexico 1h28

---
TORONTO FILM FEST


Earthy and realistic, this drama centres on a group of young skaters roaming the streets of Mexico City. The film has an artful lyricism to it, finding beauty in some very, very dark situations. With limber filmmaking that focuses on characters over narrative, filmmaker Julio Hernandez Cordon is clearly a fan of Gus Van Sant's work. And he also adds his own distinct political/cultural touch.

Escaping from their boring middle-class homes, teens hang out with their skateboards in the streets. Miguel (Calva) is in love with his pal Johnny (Pena), so he of course clashes about Johnny's girlfriend Adri (Rivera). The three hang out together, with Johnny going back and forth between the others' beds and Miguel borrowing their clothes. To make some cash, they're selling their friends' blood to a paramedic (Miralda). Although the presence of an armed thug (Milkman) makes everyone nervous. And when things go wrong, Miguel and Johnny realise they're in over their heads.

Filmmaker Cordon takes a low-key, meandering approach to this startlingly edgy story, following these chatty characters around as they try to find money, even though they don't really need it. Their physicality is relaxed as they skate, roughhouse, crack jokes, recite beat poetry, lounge around together and work out ways to subvert the system. These aren't poor kids in a state of desperation; they just see the world without much sense of context or hope.

The cast is so naturalistic that the film often feels voyeuristic. The actors bring out remarkable complexity in the characters, sharply playing the camaraderie, jealousy and most importantly the desires they hide. Calva beautifully underplays Miguel, revealing his inner currents as a gay man in a bigoted macho culture. Pena's Johnny is a fast-talking, thoughtless guy who lives in complete denial, simply taking what he can.

By keeping everything so raw and simple, Cordon allows underlying emotions to emerge powerfully, from giddy silliness to wrenching fear. This is a fascinating look at disaffected youth and their attitudes toward things like sexuality and earning a living. Miguel's journey has some hope in it, but others aren't quite as lucky. It's rare to see a film explore how teens in a relatively affluent lifestyle drift without ambition. And it's even rarer to see this kind of story set in Latin America.
15 themes, language, drugs, sexuality
---
24.Mar.16

R E V I E W B Y R I C H C L I N E
Mustang


MUST

SEE
dir Deniz Gamze Erguven
prd Charles Gillibert
scr Deniz Gamze Erguven, Alice Winocour
with Gunes Nezihe Sensoy, Doga Zeynep Doguslu, Tugba Sunguroglu, Elit Iscan, Ilayda Akdogan, Nihal Koldas, Ayberk Pekcan, Bahar Kerimoglu, Burak Yigit, Suzanne Marrot, Erol Afsin, Serife Kara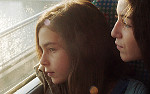 release Tur 23.Oct.15,
US 20.Nov.15, UK 13.May.16
15/Turkey 1h37

---
CANNES FILM FEST
VENICE FILM FEST
TORONTO FILM FEST

For her feature debut, Turkish filmmaker Deniz Gamze Erguyen perceptively observes five spirited sisters who feel trapped in a culture in which a teen girl's only job is to be a suitable bride. It's a strikingly engaging film, beautifully shot and edited, and played with youthful energy by a naturalistic cast.

After their open-minded parents die suddenly, Sonay, Selma, Ece, Nur and Lale (Akdogan, Sunguroglu, Iscan, Doguslu and Sensoy) go to live with their grandmother (Koldas), who sees them as wild, uncontrollable sluts. Uncle Erol (Pekcan) takes them to a doctor to make sure they're virgins, and bars are installed on the windows to keep them from sneaking out. But they have already tasted independence, so they resist being pushed into marriage to a stranger. Not to mention being taught to cook, clean, sew and wear shapeless clothes. Then one by one they're married off.

The story is told through the eyes of Lale, the youngest, who watches as her older sisters are groomed for suitors, knowing her turn is coming. Lale is a tomboy who hates the fact that "the house has become a wife factory" and tries to keep her sisters from being separated. These are normal, playful, hilarious and, most tellingly, innocent teens; Erguyen captures their closeness in a tangle of long hair and tanned limbs. But for the adults in this culture, a smart, strong-minded girl is dangerous.

Performances are so earthy that the film often feels like a documentary. The bright young actresses infuse their characters with attitude that's apparent in every glance. Sensoy's Lale watches everything that happens with great interest, and her opinions are clear in her expressions and through Erguven's perceptive direction. Intriguingly, the adults are portrayed as concerned guardians from an older generation whose zealous control crosses the line. The one likeable adult is a gay local (Yigit) who secretly drives the girls to football matches.

The film is packed with potent moments, such as when Selma sarcastically claims to have "slept with the whole world" only because no one believes she's a virgin. Or the shocking reaction when Ece defiantly has sex with her boyfriend. Or a striking turn of events when their prison becomes a refuge. Every act of rebellion, small or large, is a direct reaction to their harshly restrictive culture. And Erguyen and her cast capture the situation in a way that's both engaging and terrifyingly urgent.
12 themes, language
---
5.Feb.16


< < F O R E I G N > >
See also: SHADOWS FILM FESTIVAL

© 2016 by Rich Cline, Shadows on the Wall


HOME | REVIEWS | NEWS | FESTIVAL | AWARDS | Q&A | ABOUT | TALKBACK