dir Jacques Audiard
prd Pascal Caucheteux
scr Jacques Audiard, Thomas Bidegain, Noe Debre
with Jesuthasan Antonythasan, Kalieaswari Srinivasan, Claudine Vinasithamby, Vincent Rottiers, Faouzi Bensaidi, Marc Zinga, Bass Dhem, Franck Falise, Josephine de Meaux, Jean-Baptiste Pouilloux, Nathan Anthonypillai, Vasanth Selvam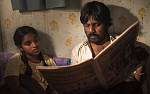 release Fr 26.Aug.15,
UK 8.Apr.16, US 13.May.16
15/France 1h55

---
CANNES FILM FEST
TORONTO FILM FEST


With a powerfully topical subject, this drama both grapples with big issues and gives in to some oddly slanted politics that seem to convey a rather lopsided message. It's strikingly well-made, with a solid cast and a sometimes startling realism. But filmmaker Jacques Audiard seems to get caught up in both the violence and the unrealistic dreams of refugees.

As Sri Lanka's civil war winds, Tamil freedom fighter Sivadhasan (Antonythasan) flees the country, using the passport of a dead man named Dheepan and enlisting strangers Yalini and Illayaal (Srinivasan and Vinasithamby) to play his wife and 9-year-old daughter. This makes it easier for them to claim asylum as refugees in France, eventually finding a home as the caretaker at a grim housing estate in a Paris suburb. But the rampant racism and organised drug trade continually challenge Dheepan's efforts to live a peaceful life. And he's eventually forced to take violent action himself.

As they struggle to start over in this foreign place, these three people are only held together by the pretence they share, so they bond almost reluctantly. The goons living around them are total losers, happy to wallow in their loud music, cheap drugs and junk-strewn buildings. Sivadhasan finds one sympathetic neighbour (Dhem), Yalini gets a job with thugs (Rottiers and Bensaidi) in the most violent block, and Illayaal quickly becomes fluent in French.

With skilful direction, Audiard finds complexity in Sivadhasan's efforts to create a family with two people he doesn't know at all. Antonythasan and Srinivasan beautifully play the complex, messy relationship between these two people who are only pretending to be a couple but secretly hope they may become one. But the film's primary interest is in the way Sivadhasan seems unable to avoid conflict, from being on the losing side in Sri Lanka to being an outsider in the middle of a Parisian drug gang war.

Essentially, this means that the film becomes a story about a man attempting to build a new life while unable to escape from his old one. This means that the film's final section is harrowingly intense, as grisly violence builds and then erupts around him. It echoes the brutal climax of Taxi Driver with its mix of horror and emotion, which is powerful. But everything feels oddly muddled by an awkward and rather oddly propagandised epilog hinting that refugees would be better off if they went to England instead.
15 themes, language, violence
---
15.Oct.15

R E V I E W B Y R I C H C L I N E
Disorder


Maryland
dir Alice Winocour
prd Emilie Tisne
scr Alice Winocour, Jean-Stephane Bron
with Matthias Schoenaerts, Diane Kruger, Paul Hamy, Zaid Errougui-Demonsant, Percy Kemp, Victor Pontecorvo, Michael Dauber, Franck Torrecillas, Chems Eddine, Philippe Haddad, Jean-Louis Coulloc'h, Hubert Rollet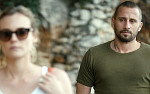 release Bel 30.Sep.15,
US Oct.15 piff, UK 25.Mar.16
15/Belgium 1h41

---
CANNES FILM FEST
TORONTO FILM FEST

Skilfully echoing the perspective of a man who's afflicted with post-traumatic stress disorder, this thriller will be disorienting to audiences seeking a clear-eyed narrative. And that's precisely the point. This is a film that wrong-foots the audience right along with the central character, creating a creepy atmosphere in which everything makes us jump.

Even though he's on tranquillisers and struggling to sleep, army man Vincent (Schoenaerts) is hoping to be sent back to battle. But his doctor and pals understand that's not going to happen. Working security at a lavish state party, Vincent's friend Denis (Hamy) gets him a job babysitting Jessie and Ali (Kruger and Errougui-Demonsant), the wife and young son of a Lebanese businessman (Kemp) living outside Brussels. But Vincent sees danger everywhere, and when they are brutally attacked, he goes into a siege mentality, hunting down the intruders to protect this endangered woman and child.

Filmmaker Winocour writers, shoots and edits the film so that events unfold through the filter of Vincent's addled nerves. It's tricky to know whether a threat is real or imagined, so his decision to be safe rather than sorry seems rather sensible to us. But not so much to those around him. This is a fiendishly clever approach to an important topic, making it intensely personal rather than political. Clearly this man should not be sent back to the front. On the other hand, he might be able to cope better there than at home.

Schoenaerts gives yet another performance that combines his striking beefiness with a fragile inner life. His unsettled physicality is at once comforting and frightening, and yet it's impossible to escape the thought that we'd trust him with our lives. His interaction with Kruger is riveting, as she packs every scene with realistic reactions to what she sees written all over his face. And most intriguingly, the hint of attraction between them plays out in a way that's uneasy and unexpected.

In the end, this is a gripping blend of edge-of-the-seat thriller and dark psychological drama. Each scene is deeply unnerving, but also emotionally resonant because the characters are so vividly played. And what the film has to say about the fallout of warfare is unusually sensitive and observant, never going for the obvious flare-up or big action-movie climax while locating the real drama behind Vincent's shell-shocked eyes where it has the strongest impact.
15 themes, language, violence
---
16.Dec.15

R E V I E W B Y R I C H C L I N E
Marguerite


MUST

SEE
dir-scr Xavier Giannoli
prd Olivier Delbosc, Marc Missonnier
with Catherine Frot, Andre Marcon, Michel Fau, Christa Theret, Denis Mpunga, Sylvain Dieuaide, Aubert Fenoy, Sophia Leboutte, Theo Cholbi, Astrid Whettnall, Vincent Schmitt, Christian Pereira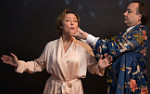 release Fr 16.Sep.15,
US 11.Mar.16, UK 18.Mar.16
15/France Fidelete 2h09

---
VENICE FILM FEST
---
See also:



Loosely based on the true story of Florence Foster Jenkins, this is a sumptuously produced period comedy-drama about the nature of art and celebrity. Writer-director Xavier Giannoli packs every scene with wit and energy, drawing on remarkable performances from the entire cast, especially the magnificent Catherine Frot in the title role.

In 1920, Baroness Marguerite Dumont (Frot) is known for lavish fundraising events in her mansion outside Paris. These are the only events at which she sings, blissfully unaware that she can't carry a tune. Her husband Georges (Marcon) reluctantly supports her efforts, but her house staff adores her. Then she meets a young writer Lucien (Dieuaide) and his artist friend Kyrill (Fenoy), who encourage her to perform in public. Obviously, this is a cruel joke, but is it on her or her audience? Then Lucien helps her hire diva performer Atos (Fau) as a teacher.

Beautifully directed with a fine sense of energy and momentum, the film recreates the period with energy and wit, packing scenes with characters who bristle with life. Everyone wants to tell Marguerite the truth, but they simply can't bear to break her heart. But while people laugh about how she sings "divinely off-key", her husband and her staff make sure she only gets positive reinforcement. And there's a clever contrast in the young Hazel (Theret), a singer with genuine talent struggling to find an audience while people flock to hear Marguerite.

Frot is radiant as a woman who is told by everyone around her that she's a beautiful singer. She brings out so many textures that Marguerite becomes irresistibly sympathetic, hinting that she's more self-aware and less fragile than people think, a free-spirited (albeit untalented) artist. No wonder everyone loves her too much to tell her the truth. Marguerite shines above the cynics around her, and Frot leaves her fine supporting cast in the dust. Although the hilariously preening Fau is simply divine.

Giannoli draws out several larger themes along the way, including a pointed look at Europe between the wars, class consciousness and the issue of artistic censorship. This gives the audience something to chew on while Frot lights up the screen. The plot sometimes gets a bit silly, and it goes on at least a half hour too long, but it's involving and consistently entertaining. As Marguerite's butler observes, "Perfection is not about doing a great and beautiful deed, it's doing what one does with greatness and beauty."
15 themes, language, sexuality
---
12.Mar.16

R E V I E W B Y R I C H C L I N E
Son of Saul


MUST

SEE Saul Fia
dir Laszlo Nemes
scr Laszlo Nemes, Clara Royer
prd Gabor Rajna, Gabor Sipos
with Geza Rohrig, Levente Molnar, Urs Rechn, Kamil Dobrowolski, Juli Jakab, Jerzy Walczak, Sandor Zsoter, Istvan Pion, Uwe Lauer, Christian Harting, Marcin Czarnik, Marton Agh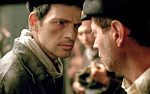 release Hun 11.Jun.15,
US 18.Dec.15, UK 29.Apr.16
15/Hungary 1h47



• TOP 5 FILM
• BEST ACTOR:
GEZA ROHRIG
CANNES FILM FEST
TORONTO FILM FEST
LONDON FILM FEST

Set over two days at Auschwitz in 1944, this visually striking dramatic thriller is an unusually intimate exploration of life in a Nazi death camp. It's directed with focussed rigour by first-time filmmaker Laszlo Nemes to put the audience uncomfortably close to the horror as it follows a man on a seemingly impossible quest.

A Jewish sonderkommando forced to work under threat of death, Saul (Rohrig) is unnerved to find a young boy alive amid the bodies as he cleans out the gas chamber. After the child dies, the doctor (Zsoter) is ordered to find out why he survived, but Saul decides he needs to give him a proper burial and embarks on an odyssey to steal the body and find a rabbi to make sure the boy is properly laid to rest. But Saul is continually distracted by an uprising his fellow prisoners are plotting.

Cinematographer Matyas Erdely shoots the film in close-up, with the camera circling around Saul's head like a fly. In bracingly long takes, piles of bodies in the background are blurred into numbing inevitability as Saul continually moves forward obeying orders, carrying out his own private mission and engaging in unwanted actions to throw others off his scent. This is a man who knows how to play the system, but his attempts to keep his emotions at bay have finally failed him.

Rohrig delivers a startlingly empathetic performance, conveying Saul's compassion with a hint of understandable madness. His interaction with a wide range of side characters reveals a man who is an innate survivor, someone who hasn't given up on life even in this hellish, hopeless place. Rohrig's expressive, yearning face is riveting, giving the audience a window into how a person could survive being right at the epicentre of one of the vilest events in human history.

Of course, little in this film is easy to watch. But it's assembled with such impressive authenticity that we are unable to look away. Nemes' inventive approach conveys layers of humanity through each scene, from the German officers who snidely refer to prisoners as "swine" to the machismo of the prisoners who are planning to fight back. It's a remarkably complex film that ends on a note that combines wrenching sadness with a vague idea of hope and resilience. And it's such an original work of art that it reminds us that there's no end to what we can learn from history.
15 themes, language, violence
---
29.Feb.16


< < F O R E I G N > >
See also: SHADOWS FILM FESTIVAL

© 2016 by Rich Cline, Shadows on the Wall


HOME | REVIEWS | NEWS | FESTIVAL | AWARDS | Q&A | ABOUT | TALKBACK