SHADOWS ON THE WALL | REVIEWS | NEWS | FESTIVAL | AWARDS | Q&A | ABOUT | TALKBACK

Shadows off the beaten path
Indies, foreigns, docs, videos, revivals and shorts...
On this page: THE EROTIC FILMS OF PETER DE ROME
FRAGMENTS: THE INCOMPLETE FILMS OF PETER DE ROME

See also: SHADOWS FILM FESTIVAL
R E V I E W S B Y R I C H C L I N E
The Erotic Films of Peter de Rome


dir Peter de Rome
with Tom Yourk, Jonny Robinson, Bill Abney, Barry Lowe, Joe Leone, Richard Perez, Derek Turner, Lee L'Ecuyer, David Lejeune, Robert Rikas, Paul Eden, Andreas Voutsinas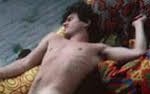 release US Feb.73,
UK 26.Mar.12
73/US BFI 1h38

---
See also:




Available for the first time in the UK, this collection of late-60s and early 70s short films by the British-born, New York-based underground artist shows remarkable filmmaking skill. Shot on 8mm stock with just musical soundtracks (de Rome originally used iconic tracks without permission, so this release has more generic compositions), these films are artful explorations of male sexuality. De Rome carefully set up his scenes and directed them inventively with wit and style to create powerful moods. His central theme is seduction, rather than sex, and the films nearly explode with lusty yearning...

---
Double Exposure (69/US 7m)
In Fire Island, a young man (Yourk) is seduced by a naked man standing in the window of a huge beach house. A witty cut removes his clothes as he ascends the stairs, and suddenly the perspective is reversed. A sexy ode to youthful narcissism.
---
Hot Pants (71/US 6m)
A young black guy (Robinson with his face out of the frame) dances for the camera in close-up until his jeans fall off and he gets himself excited without using his hands. Pure voyeurism.
---
The Second Coming (72/UK 14m)
On the streets of London, men mingle and lurk, watching each other and making vague contact, leading to a cat-and-mouse chase across Europe to Paris, Malaga and Marbella, where a rather profane crucifix hangs in the local church. Mysterious, intriguing, almost epic in its tone.
---
Daydreams From a Crosstown Bus (72/US 14m)
This is a proper porn film centring on the fantasy of a guy (Leone) who spots a man (Perez) from a bus window. He imagines taking a romantic stroll through Manhattan, cycling through Central Park, driving around town and having sex in a variety of locations. This includes making rather imaginative use of an opaque shower curtain.
---
Mumbo Jumbo (72/UK 16m)
Opens with an ad for Pantera, complete with breathless voiceover ("Pantera can cruise all day long with no sign of wear!") and then spliced with similarly lit shots of a naked man. Hilariously rude and suggestive, it moves on to other advertising images and sounds. A bit random and silly.
---
Green Thoughts (71/UK 9m)
In his flat, a man (Turner) thinks about nature, feeding the swans in the park, running through the trees and visiting a giant greenhouse, where he imagines a naked man among the foliage. Ethereal and introspective, beautifully shot and edited.
---
Underground (72/US 11m)
On the New York Subway, two men (L'Ecuyer and Lejeune) eye each other up through the crowd, then follow each other to a nearly empty carriage, where they get much more daring even though a passenger is asleep nearby. Shot daringly using guerrilla techniques, the film has a dangerous charge of energy as the next station approaches. Plus a witty punchline.
---
Prometheus (72/US 21m)
The camera follows a guy through crowded Manhattan streets to the Pan Am building, where he gets into the lift. Next thing he knows he's tied naked to the floor, and a Jesus lookalike brings in a biker to do whatever he wants to him. He doesn't exactly put up a fight. Then "Jesus" brings in a black man, a young guy in sandals and finally a man with a whip. Shot in close-up, the film mainly focusses on the ecstasy of the guy on the floor. Then a nice guy (also naked) shows up to rescue him, carrying him off like the crucified Christ. Outrageous.
18 themes, strong sexuality
---
20.Mar.12
Fragments: The Incomplete Films of Peter de Rome


dir Ethan Reid
prd David McGillivray
with Peter de Rome, Leee Black Childers, Maitland McDonagh, Carol Payne, Lord Harrison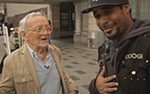 release UK 26.Mar.12
12/UK BFI 43m

---
See also:



---


Way ahead of his time, the unassuming British filmmaker Peter de Rome has made a name as a porn director, but there's clearly much more to him that that, as this insightful, engaging documentary shows.

De Rome has made more than a hundred films but has only finished around 30 of them. He never made them to be shown publicly, intending them to be seen only by his friends. But a wider viewership demanded them, so he compiled them into the collection The Erotic Films of Peter de Rome. The way he works is intriguing: de Rome approaches sexy men on the streets of New York and asks them if they want to be in his films. These mini-dramas generally turn into strip-teases and sometimes get more explicit than that.

In this doc, de Rome rummages through a box of film reels, taking about what he finds and letting us see these little adventures, which are sharply well-shot and edited. Meanwhile, he also takes us through old photographs to explore his own life. The film's narration is compiled from a lengthy interview with de Rome, who moved from England to America in 1956 to work with David O Selznik. When that project was delayed, he floundered in various jobs until hitting the streets in the 1960s with his Super 8 camera.

This structure also provides a memory-based narration of de Rome's filmography, including some notorious films that he later lost, including his break-out, the international award-winning Hot Pants. And his films document the period, with amazing footage of summer parties in Fire Island and some outrageously sexy London voyeurism Scopo. His central thesis is that sex is an integral part of life, and he proves this point proved in his attitude and his films.

Along the way, we also see de Rome's lively wit, as he chuckles about mischief he's gotten up to at the Apollo Theater (black men are an obsession). And he laughingly recounts crazy plots of films he never finished, including a "jail-bait" project proposed by William Burroughs and a group-sex romp outlined by John Gielgud. What emerges is a warm, affectionate portrait of a man who simply followed his instincts, using his gifts as a visual storyteller to entertain audiences over 50 years.
18 themes, explicit images
---
7.Mar.12


© 2012 by Rich Cline, Shadows on the Wall

HOME | REVIEWS | NEWS | FESTIVAL | AWARDS | Q&A | ABOUT | TALKBACK