dir-scr Aleksandr Sokurov
prd Els Vandevorst
with Louis-Do de Lencquesaing, Benjamin Utzerath, Vincent Nemeth, Johanna Korthals Altes, Catherine Limbert, Aleksandr Sokurov, Francois Smesny, Peter Lontzek, Andrey Chelpanov, Jean-Claude Caer, Eric Moreau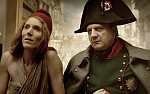 release Fr 11.Nov.15,
US 1.Apr.16, UK 11.Nov.16
15/France 1h28

---
VENICE FILM FEST
TORONTO FILM FEST


Russian filmmaker Aleksandr Sokurov takes a playfully experimental approach to this dramatic collage about the Louvre. Its through-line is much more abstract than his 2002 companion piece Russian Ark, about the Hermitage. But it has a compelling central narrative that explores the importance of art in European history. And it makes the Louvre an intriguingly tenacious character in the story.

The film centres around the Nazi occupation of Paris, when German officer Metternich (Utzerath) was placed in charge of the treasures of the Louvre, entering an uneasy working relationship with the museum's manager Jacques Jaujard (Lencquesaing), who had hidden the most priceless art in chateaux around the country. Intriguingly, Metternich let the art remain there, out of reach of top Nazi brass prone to grabbing things for themselves. While never fully trusting each other, these two men ended up making sure the Louvre would survive the war.

This story is told through a prism of cinema history, using everything from paintings and archival stills up to video-chat as Sokurov talks with a ship's pilot transporting a container of art across the stormy Atlantic. That metaphor is rather heavy-handed, but makes the point that these treasures are still both vulnerable and irreplaceable. Even less subtle is the ghost of Napoleon (Nemeth) reminding us that he turned the palace into a museum, plus the spirit of Marianne (Altes) echoing France's motto: liberty, equality, brotherhood.

Thankfully, the film isn't over-serious, wryly observing lucky mistakes, adding deadpan wit to dramatic scenes and letting irony echo through each set-piece. As a result, the film grapples with the impact and importance of art as the expression the history. So protecting it isn't merely a matter of making sure pretty things survive, but that our civilisation keeps moving forward. And while Sokurov is mainly talking about European history here, he also carefully notes that the Louvre contains art from around the world.

This is an intriguing combination of original filmmaking, educational storytelling and visceral commentary on culture. So even if some elements feel forced, and the overall approach too fragmented to properly grab the audience, the film is gripping and provocative, tackling big ideas in unexpected ways. It's also a remarkable account of both the history of the Louvre and how it survived occupation during the war. Of course, in human history larger collections of important art have been decimated. Buy perhaps the Louvre's survival offers a glimmer of hope for humanity.
U some themes
---
19.Sep.16

R E V I E W B Y R I C H C L I N E
Girls Lost


Pojkarna
dir-scr Alexandra-Therese Keining
prd Helena Wirenhed, Olle Wirenhed
with Tuva Jagell, Louise Nyvall, Wilma Holmen, Emrik Ohlander, Alexander Gustavsson, Vilgot Ostwald Vesterlund, Mandus Berg, Filip Vester, Olle Wirenhed, Anette Naas, Adam Dahlgren, Lars Varinger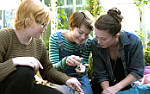 release Swe 19.Feb.16,
UK 4.Nov.16
15/Sweden 1h46

---
TORONTO FILM FEST


Gorgeously shot with a clever fairy-tale tinge to it, this Swedish teen drama explores the complex issue of gender identity from an offbeat angle that's both challenging and thoughtful. The plot kind of meanders off the rails along the way, but the themes and characters remain strongly resonant and vitally important.

At 14, Kim (Jagell) is fed up with being a school outcast with her pals Momo and Bella (Nyvall and Holmen). Bullied by Jesper (Vester), they dread each day of classes and spend all their free time together. Then a strange seed they find grows into a flower so gloopy that it must have magical properties. Sure enough, when they make juice from its berries they're temporarily transformed into boys (Ohlander, Gustavsson and Vesterlund), and discover newfound confidence around their classmates. And as Kim befriends Tony (Berg), she begins to think she prefers being male.

The issues the film grapples with are profound, as these young women on the cusp of adulthood explore the idea that gender is integral to self-identity, defines the connections within society and offers both strength and vulnerability. And also that it has little to do with the person you fall in love with. Indeed, the romantic complications in the story offer a continual range of twists and turns that defy categorisation as lesbian, gay or even trans.

Obviously, casting is vitally important in a film like this, and the six young actors playing the three central characters are terrific, capturing the inner feelings of teens who haven't quite figured out how to define themselves. As Kim, Jagell and Ohlander cleverly mirror each other with distinct male and female angles that continually blur the boundaries. They also reveal Kim's inner turmoil beautifully, bringing out moving textures in each relationship. Berg is another standout as a young guy who continually resists categorisation.

Based on a novel, the film kind of wobbles in its depiction of the kids' parents, who are either oblivious, preoccupied or literally asleep through all of this drama. And the soapier plot turns, which cause tension between the friends, are often rather melodramatic, especially when things begin to turn violent. This leaves the final act feeling a bit loose and unfocussed. But even if the story kind of peters to a halt, it remains such a brave, important depiction of sexuality that it's difficult to shake.
15 themes, language, violence
---
18.Mar.16

R E V I E W B Y R I C H C L I N E
La Noche


dir-scr Edgardo Castro
prd Edgardo Castro, Augustin Torre, Florencia de Mugica
with Edgardo Castro, Dolores Guadalupe Olivares, Luis Leiva, Willy Prociuk, Paula Ituriza, Federico Figari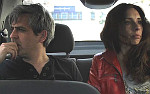 release Arg Apr.16 bafici,
UK Oct.16 lff
16/Argentina 2h15

---


An experimental drama set on the dark side of Buenos Aires, Edgardo Castro's debut film is audacious and challenging in just about every way. But while the lack of a proper narrative structure will leave many viewers lost, there's a raw honesty to the movie that carries an unexpected emotional punch. And he also has some important things to say about a generation of people whose lives have been derailed by a new economic and political reality.

By night, Martin (Castro) hangs out in seedy clubs, exchanging lines of coke with his trans friends, paying young men for sex in love hotels and hooking up with couples as well. Although everyone is generally far too wasted to do much of anything once they're naked. He and his trans friend Guada (Olivares) keep an eye out for each other, teaming up when they meet a cute man. Although with the amount of drugs and alcohol they consume, it's frankly miraculous that either Martin or Guada make it home every morning.

Clearly, there's little else to Martin's life, and he is lying to himself that it's enough. But Castro isn't terribly interested in life outside of this seedy scene. Where Martin works to fund this hedonism is never explained. And the whole film is shot in context-obscuring close-up in cramped hotel rooms and nightclub toilets. So it's never easy to see beyond whatever is right in front of the characters.

This approach makes everything so full-on that it's often hard to watch. This isn't because of the explicit imagery (and it's sometimes very frank), but because there is so little explanation to what's happening. Scenes seem to grind to a halt even before they begin, meetings between people who seem up for something meander around in circles, with pointless conversations and long periods of dull nothingness. This will be maddening to any viewer looking for a plot, but this is Castro's point.

Castro is an artist, not a filmmaker, and he plays Martin with a transparency that's shocking because there doesn't seem to be anything to him at all. And yet, Martin is taking a journey through these seemingly random, plodding scenes. He is digging deeper into who he is, vaguely realising that he's not actually connecting with the people he meets. And he's also beginning to see what's right around him. The final scene brings all of this into focus very gently, and perhaps too late. Because many audience members will have given up by then.
15 themes, language, sexuality
---
15.Oct.16 lff

R E V I E W B Y R I C H C L I N E
Toni Erdmann


MUST

SEE
dir-scr Maren Ade
prd Maren Ade, Jonas Dornbach, Janine Jackowski, Michel Merkt
with Peter Simonischek, Sandra Huller, Thomas Loibl, Trystan Putter, Michael Wittenborn, Ingrid Bisu, Vlad Ivanov, Hadewych Minis, Lucy Russell, Victoria Malektorovych, Irene Rindje, Alexandru Papadopol

release Ger 14.Jul.16,
US 25.Dec.16, UK 3.Feb.17
16/Germany 2h42


CANNES FILM FEST
TORONTO FILM FEST
LONDON FILM FEST


A riotously astute look at modern life, this German comedy holds attention by refusing to be predictable. As writer-director Maren Ade follows a father and daughter through a twisty series of events, she not only highlights some pungent issues facing Europe, but she more importantly digs deep inside to reveal the prankster in all of us. And to remind us that we need to laugh more.

Music teacher Winfried (Simonischek) is an irrepressible jokester. His students and family are used to his silliness, but strangers aren't sure what to do with him. When his daughter Ines (Huller), who works as a consultant in Bucharest, visits Germany, he senses that she's not happy. So Winfried travels to Romania to help her. There, he adopts the persona of lively consultant Toni Erdmann, worming his way into her life. She goes along with this, and enjoys the way it livens things up, but it's a deeper smile that Winfried is looking for.

This plays out in a lively mix of silly sarcasm and dark feelings. Winfried loves shaking people from their comfort zones. A middle-aged man who has never lost touch with the child inside him, he has maintained a warm relationship with his ex-wife (Rindje), Ines' mother. And in Bucharest, Winfried's larking around takes a series of amusing turns before a jaw-dropping birthday party that delivers an unexpected emotional gut-punch.

The performances are perfect. From the moment that Simonischek's face first fills the screen, with its shaggy grey hair and comedy fake teeth, it's clear that anything can happen. Huller's Ines has reacted to his pranks by becoming far too serious about everything. So her sleek, ordered life needs to be shaken up. The way "Toni" lurks in the background, pops up at pivotal moments and continually wrong-foots Ines is increasingly hilarious

But filmmaker Ade is slashing away at the surfaces. Ines may look like a high-flier, but she's actually just a scapegoat downsizing villain for her clients. Joining the European Union may have ignited a booming corporate culture in Romania, home to Europe's biggest shopping mall, but locals can't afford to shop there. So the film's deeper question is why we sacrifice our happiness to make other people wealthy. If life is so busy that it's dull, we must embrace the crazy moments. And the most remarkable thing about this film is that Ade says this while keeping the audience in a state of helpless laughter.
15 themes, language, sexuality, drugs
---
7.Oct.16 lff


< < F O R E I G N > >
See also: SHADOWS FILM FESTIVAL

© 2016 by Rich Cline, Shadows on the Wall


HOME | REVIEWS | NEWS | FESTIVAL | AWARDS | Q&A | ABOUT | TALKBACK