SHADOWS ON THE WALL | REVIEWS | NEWS | FESTIVAL | AWARDS | Q&A | ABOUT | TALKBACK

Shadows off the beaten path
Indies, foreigns, docs, videos, revivals and shorts...
On this page: THE HALLOW | SHELTER
SOFTLAD | THE WITCH
< < I N D I E S > >
last update 3.Nov.15
See also: SHADOWS FILM FESTIVAL

R E V I E W B Y R I C H C L I N E
The Hallow


dir Corin Hardy
scr Felipe Marino, Corin Hardy
prd Felipe Marino, Joe Neurauter
with Joseph Mawle, Bojana Novakovic, Michael McElhatton, Michael Smiley, Gary Lydon, Stuart Graham, Luc Walsh, Gerard Flatherty, Stephen Cromwell, Charlotte Williams, Conor Craig Stephens, Joss Wyre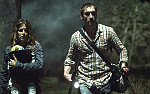 release US 6.Nov.15,
UK 13.Nov.15
15/Ireland Altitude 1h37

---
SUNDANCE FILM FEST



Fans of dark, grisly horror movies might find enough to enjoy in this rural freak-out, but those looking for originality or genuine suspense will be disappointed. Despite strong performances from the cast, the characters and situations are so under-developed that it's difficult to care what happens. And what happens is rather silly.

Adam and Clare (Mawle and Novakovic) move with their baby and dog to an ancient house in a dark, primeval Irish woods, and strange things start happening. Neighbour Colm (McElhatton) issues ominous warnings about this Englishman who has come to knock down trees for a development. And sure enough, a black oozing goo begins to seep in everywhere, causing chaos as it sprouts roots and vines. When things get scarier, Adam and Clare call the useless local cop (Smiley). So they have to fend for themselves. Is the woods defending itself or attacking all interlopers?

The idea is clever, and filmmaker Hardy creates a superbly unforgiving atmosphere in the menacing forest with its gloomy buildings, shimmering trees and creaky noises. So from the start, this is framed as a battle between the representatives of commercialisation and the earth itself. But this idea is abandoned as the story progresses, and the filmmakers decide instead to just go for the usual cheap jolts and creepy nastiness. And while they indulge in plenty of grisly violence, they flinch at letting the story ever become truly horrific.

Mawle and Novakovic are solid as a likeable, lusty couple who are enjoying the challenges of their new setting. In the early scenes, both actors hint at some subtext in the relationship, but this is quickly abandoned as what turns out to be a forest-dwelling army of Gollums begins to stalk them. So as things get increasingly gruesome, the film becomes less and less involving. And aside from some gross-out moments, it's also rather surprisingly dull.

Filmmaker Hardy certainly has skill when it comes to setting the tone, but he botches the action sequences, not only eliminating any true suspense but leaving it unclear what's taking place in the darkness. Constant cutaways seem designed to increase the mystery but only succeed in diffusing any tension. And the way the characters' relationship deteriorates so suddenly makes no sense at all. So in the end, even though there's a strong underlying theme here, the film struggles to say anything meaningful.
15 themes, language, violence
---
27.Oct.15

R E V I E W B Y R I C H C L I N E
Shelter


scr-dir Paul Bettany
prd Paul Bettany, Robert Ogden Barnum, Katie Mustard, Daniel Wagner
with Jennifer Connelly, Anthony Mackie, Bruce Altman, Steve Cirbus, Kevin Geer, Scott Johnsen, Alok Tewari, Andrew Polk, Rob Morgan, Kevin Hoffman, Jean Francois Ogoubiyi, Laurent Caillat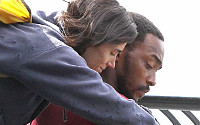 release US 13.Nov.15,
UK 27.Nov.15
15/UK 1h45

---
TORONTO FILM FEST


With his writing-directing debut, Paul Bettany creates a warmly emotional vibe that immediately gets under the skin, aided by a resonant performance from his wife Jennifer Connelly. So even if the plot is over-constructed, this is a beefy film about homelessness that smartly tackles big topics like social justice, racial prejudice and the nature of religion.

From Nigeria, Tahir (Mackie) has overstayed his US visa but won't be deported since he hasn't committed a crime. Busking and living on New York's streets, his life is a struggle. Then his path crosses with homeless junkie Hannah (Connelly). As respect grows into tenderness, Tahir struggles to balance Hannah's blatant opportunistic criminality with his desire to be a good Muslim. Over the coming weeks, he helps her through withdrawal and she nurses him through illness. And as they seek any safe haven available, Hannah's father (Altman) is looking for her.

While indulging in artfully emotive flourishes, Bettany captures life on the streets with an earthy offhandedness that quietly acknowledges each insult these people suffer. Their desperation sits in stark contrast to the flashy apartment blocks looking down on them. And things take an intriguing turn when they find a beautiful home unlocked. They move in while the owners are on holiday, setting up house as if this is their normal life ("I look like a zombie Goldilocks," Hannah says when she dresses for dinner).

Mackie brings an fierceness to Tahir, a man with a horrific past who has refused to lose his integrity despite the circumstances of his life. Connelly throws herself into Hannah's expressive physicality as a proud woman trying to regain dignity while begging for a spare change and cigarettes. Their dialog is honest and intelligent, forcing the audience to see the educated, fully formed people beneath the surface. And when someone reminds Hannah that "this is not a something-for-nothing town", the evil is almost too shocking.

This is a knowing look at people who have been crushed by life and are doing the best they can. So the film has an important kick, forcing us to see homeless people as people who have a story, rather than as slackers who drain the system (these two get virtually no help from the government). As Tahir and Hannah unpick each others' pasts, the plot is relentlessly, unnecessarily harsh, but there's urgency in the two central performances that can't be ignored.
18 themes, language, violence, sexuality, drugs
---
27.Oct.15

R E V I E W B Y R I C H C L I N E
SoftLad


dir-scr-prd Leon Lopez
with Jonny Labey, Daniel Brocklebank, Craig Stein, Suzanne Collins, Laura Ainsworth, Mya Collins, Bernadette Folley, Terry George, Ryan Morton, Megan Koriat, Neil Horncastle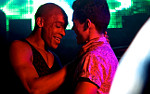 release UK 9.Nov.15
15/UK 1h24

---


Nicely shot and acted with a relaxed authenticity, This British drama introduces the characters already enmeshed in a messy situation that can't continue as it is. This adds some strong tension to a film that otherwise feels rather soapy with its over-egged themes and major plot bombshells. It also helps that the characters are likeable.

Everyone around 22-year-old David (Labey) is thrilled when he gets into a top dance company, including best pal Stacey (Ainsworth), who calls him "soft lad", and his sister Jane (Collins), brother-in-law Jules (Brocklebank) and dancer-wannabe niece Steph (Collins). The hitch is that David is secretly having an affair with the evasive Jules, which leaves him feeling like he's being used while risking his relationship with his sister. So David breaks it off turns to hunky stranger Sam (Stein), who introduces him to drugs and unsafe sex. Which of course Jules finds unbearable.

Yes, the bigger themes here signal themselves loudly, eliminating surprises in the twists and turns in the story. And the set-up also leaves Jules looking like a real lout: predatory with David, over-amorous with Jane, playacting the homophobe to maintain his cover. It's a challenging role for Brocklebank, who cleverly plays him as a dark-edged charmer and walks off with the film. Labey is solid in the central role as an earnest young man deeply in love with the wrong guy. His overpowering guilt leads to several big confrontations that give Collins the chance to shine.

The script is solid, with talky conversations that feel earthy and real, plus some real tension in the story. This makes the relationships believable, and helps overcome some uneven details as these people seem to swap loyalties a bit too easily (the way David shifts from Jules to Sam is only plausible because he's so young). But it also helps build a vivid sense of impending danger about the truth finally coming out. All of this may be extremely melodramatic, but the interaction and reactions build some superb complexity in each of these people.

Writer-director Lopez packs the film with intriguing questions. David's secret relationship with his brother-in-law is jeopardising his family bond. And he may not actually know what love is. Meanwhile, Jules is grappling with whether he truly loves Jane or just the idea of her. On the other hand, Lopez seems more interested in these big themes than in the characters themselves, so while the film is always engaging, it's also preachy when it should be moving.
15 themes, language, violence, drugs
---
14.Jun.15

R E V I E W B Y R I C H C L I N E
The Witch: A New-England Folktale


MUST

SEE
dir-scr Robert Eggers
prd Daniel Bekerman, Lars Knudsen, Jodi Redmond, Rodrigo Teixeira, Jay Van Hoy
with Anya Taylor-Joy, Ralph Ineson, Kate Dickie, Harvey Scrimshaw, Ellie Grainger, Lucas Dawson, Bathsheba Garnett, Sarah Stephens, Julian Richings, Wahab Chaudhry, Viv Moore, Jeff Smith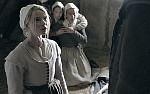 release US 26.Feb.16,
UK 11.Mar.16
15/Canada 1h30

---
SUNDANCE FILM FEST
TORONTO FILM FEST


Taking elements from historical accounts that would go on to become classic fairy tales, filmmaker Eggers creates a period movie that plays on our culture's deepest fears. It's also a strikingly well-made horror film, offering eerily realistic settings that are filled with character subtlety, unnerving details and plenty of big jolts. Although genre fans might find its arthouse pacing a bit dull.

In 1630s Massachusetts, a family is thrown out of the settlement after a clash with religious leaders. So William and Katherine (Ineson and Dickie) take their children to start a new life on their own. On the edge of the woods, Katherine gives birth to another son, added to teen daughter Thomasin (Taylor-Joy), preteen Caleb (Scrimshaw) and hyperactive twins Mercy and Jonas (Grainger and Dawson). Then the baby goes missing, and everyone starts to have strange thoughts about a witch living in the woods. Or maybe among them.

Because Eggers uses very old folktales to create this story, it feels like the ancestor of every exorcism or cabin-in-the-woods horror movie. Imagery is so classic that the atmosphere is almost oppressively creepy. This is partly because the period is so believable, with fiendishly clever costumes, sets, language and even farmyard animals that all collude to create an eerily primal atmosphere. And the inventive score would be better described as an oppressive atonal soundscape than music.

Performances are equally visceral, with the reliable Dickie investing plenty of emotional energy as the manically religious Katherine. Ineson brings an intriguing vulnerability to the woodsman William. Scrimshaw has some seriously insane scenes all his own, while Grainger and Dawson are marvellously nasty little brats. And Taylor-Joy ably holds the film's centre as the freaked-out Thomasin, who's struggling to express herself in a swelling storm of paranoia and biblical fervour, all of which is inexplicably aimed right at her.

Eggers' direction plays cleverly with dream imagery to create a horror movie that feels like it's directly targeting our subconscious. Right from the start, even the most innocuous-seeming scenes feel quietly unsettling. And the nightmarish atmosphere only builds from there, as the yawning shadows in the woods stretch out to engulf this family in horror, hitting them right where they're most vulnerable. We may like to feel like we're more sophisticated than these superstitious settlers, but terror this fundamental is hard to shake.
15 themes, violence, nudity
---
11.Oct.15


< < I N D I E S > >
See also: SHADOWS FILM FESTIVAL

© 2015 by Rich Cline, Shadows on the Wall


HOME | REVIEWS | NEWS | FESTIVAL | AWARDS | Q&A | ABOUT | TALKBACK