dir Alain Guiraudie
prd Sylvie Pialat
scr Alain Guiraudie, Laurent Lunetta
with Ludovic Berthillot, Hafsia Herzi, Jean Toscan, Pierre Laur, Francois Clavier, Luc Palun, Pascal Aubert, Bruno Valayer, Mauricette Gourdon, Georges Vaur, Jeanine Canezin, Jean-Pierre Rouane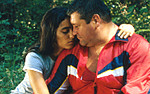 release Fr 15.Jul.09,
US 11.Apr.14, UK 23.Mar.15
09/France 1h33

---
CANNES FILM FEST

Following the success of Stranger by the Lake, Guiraudie's previous film gets a UK release. While it has the same strikingly realistic style and knowing approach to its milieu, this one's a pitch-black comedy that continually takes the audience aback with its boldly anarchic plot. It's also scruffy and meandering, and transgressive good fun.

Likeable 43-year-old tractor salesman Armand (Berthillot) is in trouble for encroaching on the territory of his colleague Daniel (Palun). And then Armand rescues Daniel's 16-year-old daughter Curly (Herzi) from a young gang of thugs. She immediately falls in love with Armand and starts following him around, even though he identifies himself as gay. But maybe the majority knows something he doesn't, so Armand considers giving it a go. Curly is legal after all. She's also a minor, so Daniel calls in the local cop (Clavier). And Armand and Curly go on the run.

From here the film spirals into a freewheeling farce as Daniel enlists the help of a friend (Toscan), client (Laur) and the boss (Aubert) to join the hunt, even as they secretly help Armand as well. In this rural community, the lines aren't drawn quite as clearly as expected, so the story takes a series of madcap twists and turns that are played oddly straight, as it were.

Guiraudie doesn't really worry about plot coherence, throwing in perplexing sequences that don't seem to fit in at all. But of course all of this plays into the central theme about social pressure and the gradient realities of sexuality and social conventions. At 43, Armand feels his biological clock ticking; at 16 Curly is only just discovering that she has one. Guiraudie keeps the tone offhanded, energetic and comical even as it remains dry and earthy.

One of the more striking running gags is how everyone is so apologetic for being unable to help Armand when he needs it. But the real problem is that these impulsive, petty-minded people just can't be bothered to try to understand each other, putting up barriers and waving guns around in the hopes that rule-breakers will toe the line. And all of the performances are so low-key and natural that we can't help but see ourselves in each one of them. Even if we don't want to.
18 themes, language, sexuality, violence
---
21.Mar.15

R E V I E W B Y R I C H C L I N E
Life of Riley


Aimer, Boire et Chanter
dir Alain Resnais
prd Jean-Louis Livi
scr Laurent Herbiet, Alex Reval, Jean-Marie Besset
with Sabine Azema, Hippolyte Girardot, Caroline Sihol, Michel Vuillermoz, Sandrine Kiberlain, Andre Dussollier, Alba Gaia Kraghede Bellugi, Gerard Lartigau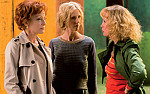 release Fr 26.Mar.14,
US 24.Oct.14, UK 6.Mar.15 14/France 1h48

---
BERLIN FILM FEST

Resnais' final film is his third based on an Alan Ayckbourn play. Shot conceptually on artificial sets intercut with scenes of Yorkshire, it's a strange mix of French actors and dialog with a very English story. But while it may be too mannered for mainstream audiences, the film is also a knowing exploration of human interaction, with surprising truths and sharp characters.

In rural Yorkshire, Kathryn and Colin (Azema and Girardot) are getting ready to put on an amateur theatre production when they learn that their old pal George Riley is dying of cancer. With their friends Tamara and Jack (Sihol and Vuillermoz), they decide to offer George a part in the play. But George's illness rekindles feelings both Kathryn and Tamara have for him, and it also confuses his ex Monica (Kiberlain), who has now moved in with a farmer (Dussollier). So while the women circle around George, the men become increasingly unsure where they stand.

We never see George, which forces us to understand his relationship with these lifelong friends through the way they interact with each other. The dialog is packed with astute, witty remarks that reveal true feelings beneath a veneer of repressed emotions and proper behaviour. All of this hints that George might not be ill at all, perhaps revelling in his status as the neighbourhood's recipient of good will and also in how he reveals fractures in the relationships around him.

The visual design is stilted. Sets are on a surreal stage intercut with cartoonish drawings and film footage of Yorkshire. But the grounded actors offer earthy performances that relish the spicy dialog. It gets a bit melodramatic, like a middle-aged version of a teen soap as the characters agonise over past relationships at the expense of present ones. But the characters are believable, if not always likeable. Azema, Sihol and Kiberlain give everything an underlying emotional resonance.

By contrast the men are hapless. Girardot and Vuillermoz, and to a lesser extent Dussolier, are fascinating as guys trying to make sense of their partners, even as they blissfully ignore problems they cause through their own obsessions. Yes, this is a complex story of old friends at a pivotal point that could send relationships into new directions. And Resnais' decision to set it on a stylised stage highlights Ayckbourn's clever idea that all of us are living in a play that we only think we're writing ourselves.
15 themes, language
---
20.Jan.15

R E V I E W B Y R I C H C L I N E
A Second Chance


En Chance Til
dir Susanne Bier
scr Anders Thomas Jensen
prd Sisse Graum Jorgensen
with Nikolaj Coster-Waldau, Maria Bonnevie, Ulrich Thomsen, Nikolaj Lie Kaas, Lykke May Andersen, Thomas Bo Larsen, Ewa Froling, Peter Haber, Bodil Jorgensen, Molly Blixt Egelind, Charlotte Fich, Ole Dupont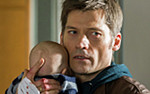 release Den 15.Jan.15,
UK 20.Mar.15,
US Mar.15 miff
14/Denmark Zentropa 1h42

---
TORONTO FILM FEST
LONDON FILM FEST


After Love Is All You Need and Serena (also in 2014), Bier returns to Denmark along with Game of Thrones star Coster-Waldau for a film that's reminiscent of her 2004 hit Brothers, also written by Jensen and costarring Thomsen and Kaas. Both this film and Brothers share a high-concept premise and morally compromised characters, as well as some plot contrivances and heightened melodrama.

Police officers Andreas and Simon (Coster-Waldau and Thomsen) are horrified when an imperilled infant is allowed to remain with his ex-con dad Tristan (Kaas) and junkie mum Sanne (Anderson). Andreas is especially unnerved since he has a son the same age back home with his emotionally unstable wife Anna (Bonnevie). When their baby dies suddenly, Andreas hatches an unthinkable idea to help Anna maintain her sanity: he swaps the boys. When the lowlife parents discover their dead child, Tristan comes up with an elaborate plan. But Sanne knows this isn't her son.

It's perhaps because Bier and Jensen set the plot up with too much painstaking detail that everything that happens next feels both inevitable and implausible. They seem to be suggesting that Andreas' action was what any loving husband would do. But there's simply no way that the audience can believe this, especially as everything becomes even more tangled.

That said, the film is extremely well directed and edited, with a proper sense of dread as the story wrenches itself through bigger issues and darker emotions than expected. This allows the actors to deliver sharply emotional performances that make up for lapses in the narrative. There are also strong social comments in the contrast between the homes of these two families, even if they are exaggerated for effect. And the layered acting creates the intriguing sense that events have left these people incapable of telling right from wrong.

As the drama shifts into a thriller, the film's heavy-handed approach completely undermines the suspense. This is a preposterous story shot in a gritty, realistic style, but surely a more heightened approach was needed to make it hold water. Even so, the smaller moral decisions linger in the mind, thanks to the intensity of the premise. So in the end the film is haunting and provocative, even if it feels like a concocted morality play.
15 themes, language, violence
---
25.Oct.14 adff

R E V I E W B Y R I C H C L I N E
Something Must Break


Nånting Måste Gå Sönder
dir Ester Martin Bergsmark
prd Anna-Maria Kantarius
scr Eli Leven, Ester Martin Bergsmark
with Saga Becker, Iggy Malmborg, Shima Niavarani, Mattias Ahlen, Daniel Nystrom, Emil Almen, Axel Petersen, Carl-Michael Edenborg, Viktor Friberg, Nour El-Refai, Saga Garde, Lynette Heinold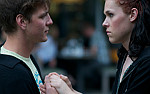 release Swe 28.Mar.14,
US Apr.14 tff, UK 3.Apr.15
14/Sweden 1h25

---



Beautifully shot and edited to get into the mind of its young central character, this Swedish drama explores how it feels to live outside the lines society has drawn for you. It's sometimes an overpoweringly dark drama, with relentlessly bleak undercurrents, but there's a spark of hope that maybe people can find ways to love and accept each other.

Sebastian (Becker) is a young androgynous guy who is tired of struggling to fit in. Taunted even by his friends, he yearns for affection but is usually beaten up instead. Then nice-guy Andreas (Malmborg) rescues him from an attacker, and they begin to hang out together, sometimes teaming up to make some illicit cash and also exploring the boundaries of their sexuality, which is a challenge since neither is gay. No, Sebastian identifies as a girl called Ellie. And Andreas can't cope with the thought that he's falling for a girl who's really a boy.

This is a bold approach to a tricky subject matter, and director Bergsmark shoots it in an unusually earthy, gritty style that focusses on the darker corners of society. Ellie lives in the reflection of hate-filled faces and the droning monotony of a dead-end job. Within this, the film captures interaction between the two young lead characters that's sexy and honest. Malmborg beautifully plays Andreas' understandable indecision, while Becker lets us feel Ellie's unbearable insecurity.

Both performances are remarkably internalised, subtle and emotive. These are young people with no real sense of responsibility because they have little chance of a promising future. Especially Ellie, as she has been cut off from her family at a too-early age. So the film finds glimmers of happiness in the strong chemistry between them, even with their gender problems and with the dangers from people around them.

Yes, the film doesn't miss a single one of the hazards: peer pressure, daily frustrations, threats of violence and thoughts of suicide. Ellie's helplessness in the middle of all of this is palpable, because she feels like she has to destroy herself to change from Sebastian to Ellie. And the fact is that neither Ellie nor Andreas has a clue what a happy ever after might look like for them, because they're living outside the rules of the majority. Yes, this is a powerful drama that leaves us with a lot to chew on.
18 themes, language, violence, sexuality
---
20.Mar.15


< < F O R E I G N > >
See also: SHADOWS FILM FESTIVAL

© 2015 by Rich Cline, Shadows on the Wall


HOME | REVIEWS | NEWS | FESTIVAL | AWARDS | Q&A | ABOUT | TALKBACK