dir-scr Stefan Haupt
prd Urs Frey, Ivan Madeo
with Matthias Hungerbuhler, Sven Schelker, Ernst Ostertag, Robi Rapp, Anatole Taubman, Marianne Sagebrecht, Stefan Witschi, Peter Jecklin, Antoine Monot Jr, Markus Merz, Babett Arens, Marie Leuenberger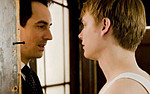 release US 21.Nov.14,
UK 12.Dec.14
14/Switzerland 1h42

---
BERLIN FILM FEST

An unusual documentary/drama hybrid, this film tells a terrific story with both first-hand reminiscences and a fully re-enacted narrative. Sometimes these dual strands seem to be interrupting each other, which somewhat weakens the emotional momentum. But the story has strong historical significance and present-day resonance.

In 1956 Zurich, school teacher Ernst (Hungerbuhler) quietly joins The Circle, a secret society of homosexuals that's expanding because Switzerland is one of the few countries in which it's not illegal to be gay. Ernst discovers that his headmaster Max (Jecklin) is also a member of The Circle, run by Rolf (Witschi) with a magazine edited by Gian (Monot). Then Ernst meets cross-dressing singer Robi (Schelker), and the two are instantly smitten. But in the wake of three rentboy-related murders, the local police commissioner (Merz) is pushing Rolf to reveal his mailing list.

As the cameras follow the real Ernst and Robi around their flat in present-day Zurich, they narrate the dramatised events, adding personal observations and memories as well as putting what happens into a strongly intimate context. Performances from the actors are relaxed and natural, even if the script and direction sometimes feel a bit simplistic. Hungerbuhler and Schelker create some nice chemistry on-screen, although director Haupt shies away from any positive depiction of physicality.

Indeed, the film's one sex scene is very grim, while Haupt averts the camera's gaze from any happier encounters. This effectively makes the film as timid as the characters themselves: they're not breaking any laws, but opt to remain closeted because coming out could jeopardise their standing in society (and sometimes a marriage and family as well). But this is an odd approach for a film that's otherwise bold about expressing gay culture as a series of lively parties at which people who are otherwise marginalised finally find acceptance.

Meanwhile, Ernst and Robi's story is a moving decades-long romance with significant high and low points. It's certainly not clear sailing: Robi wants to be a normal couple, involving his mother (the fabulous Sagebrecht) in every aspect of his life, while Ernst keeps his disapproving family at a distance. And the epilog sparks a wave of emotion as Ernst and Robi legally marry in 2003, an event they couldn't have imagined when they got together nearly 50 years earlier. Which reminds us of course that there are still many countries where people live in fear.
15 themes, language, violence, sexuality
---
5.Nov.14

R E V I E W B Y R I C H C L I N E
The Grandmaster


dir Wong Kar Wai
prd Wong Kar Wai, Jacky Pang Yee Wah
scr Wong Kar Wai, Zou Jingzhi, Xu Haofeng
with Tony Leung Chiu Wai, Zhang Ziyi, Zhang Jin, Song Hye-kyo, Wang Qingxiang, Chang Chen, Cung Le, Elvis Tsui, Zhao Benshan, Lo Hoi-pang, Lau Shun, Yuen Woo-ping

release Chn 8.Jan.13,
US 23.Aug.13, UK 5.Dec.14
13/China 2h02

---
BERLIN FILM FEST


Hong Kong's master filmmaker Wong Kar Wai tells a sweeping historical story in a completely new style, avoiding the usual blood-and-death Chinese action for something much more poetic and artful. The film traces an iconic man's life through a series of encounters that parallel Chinese history and society. So while the narrative is uneven, with thinly drawn characters, the film is utterly beautiful.

Northern master Gong Yutian (Wang) travels south in 1936 when he hears that Ip Man (Leung) may be the future of kung fu. Sure enough, Ip's skills lead to him becoming a grandmaster, something Gong's daughter Gong Er (Zhang Ziyi) feels is an insult to her family name. Then in 1938 the Japanese invade and the old world vanishes. Gong's heir Ma San (Zhang Jin) collaborates with the enemy, so Er vows revenge. She ends up working as a doctor in Hong Kong, where she reconnects with Ip, who's now a martial arts teacher.

The film is narrated by Ip and Er, which helps keep events clear, although neither character gets the chance to develop very deeply along the way. Leung is a cool, strong presence as Ip, while Zhang adds real energy and passion to her role. The contrast between is the heart of the film: the master who embraces the unexpected, sometimes harsh twists in life and the woman who clings to an old code of conduct in a fast-changing world.

Wong punctuates the story with fights from various schools, choreographed with artistry that makes every move strikingly lucid. Each battle is simply beautiful, lushly photographed by Philippe Le Sourd in a variety of stunningly designed locations with colourful side characters. The range of people, places and encounters, including several tragic events, adds a powerful soulfulness to the whole film.

Oddly, Wong races through the details of Ip's life, including his marriage to Yongcheng (Song), his children and even his later work as a trainer to a young Bruce Lee. There are only loose connections between historical moments, each of which brings a huge mood shift as if the old world is in birth pains while the new world is being born. And this is the film's central theme: exploring the contrast between the ways Yutian, Er and Ip weave the past, present and future together in their approach to their lives and their legacies.
15 themes, language, violence
---
18.Nov.14

R E V I E W B Y R I C H C L I N E
Stations of the Cross


Kreuzweg
dir Dietrich Bruggemann
prd Leif Alexis, Fabian Maubach
scr Anna Bruggemann, Dietrich Bruggemann
with Lea van Acken, Franziska Weisz, Florian Stetter, Lucie Aron, Moritz Knapp, Klaus Michael Kamp, Hanns Zischler, Birge Schade, Georg Wesch, Ramin Yazdani, Anna Bruggemann, Sven Taddicken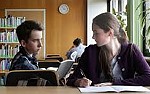 release Ger 20.Mar.14, US Oct.14 ciff, UK 28.Nov.14
14/Germany 1h47

---
BERLIN FILM FEST


While this film may feel indulgent due to its quirky structure and style, its story carries a real kick. The filmmakers are exploring the impact of religion on society through a harshly controlling offshoot of Roman Catholicism, but the themes expand to cover any ideology that essentially eliminates freedom of thought. Including unfettered capitalism.

At 14, Maria (van Acken) is preparing for her confirmation in her fundamentalist Catholic parish. Father Weber (Stetter) urges the teens to wage war with the sinful world's suggestive advertising and demonic rock music. Maria takes this to heart, even when her interest in Christian (Knapp) makes her lie to her devout mother (Weisz). Maria's intention is to sacrifice everything in order to help her baby brother, who at 4 still hasn't spoken his first words. And she feels like the only way to do this is to get closer and closer to God.

Director Bruggemann never lets the audience off the hook, shooting in just 14 long takes titled with the stations of the cross (Jesus is condemned to death, Jesus carries his cross, and so on). The camera only rarely moves in scenes that are both carefully choreographed and unnervingly realistic, depicting Maria's interaction with her priest, family, teachers and classmates as her path to sainthood. But this isn't played as satire: it's earthy and natural, harrowing and provocative.

With these extended one-shot scenes, the actors must remain remarkably committed. And there isn't a false moment, never a hint that anyone is winking to the camera. As Maria grows increasing frail and pale, van Acken becomes eerily beatific, even amid creepy advice from Stetter's smiling priest or Aron's caring au pair. As Maria's mother, Weisz has the most complex role as a woman determined to keep her family happy even as she continually shifts into cruel control-freak mode.

What's most interesting is how the film portrays both the priest's teachings and the mother's ravings as almost reasonable, expressions of concern for children at risk in a liberal-minded society. But with the best intentions they've been brainwashing Maria all her life, leading her to take drastic action in an effort to become the perfect girl everyone expects her to be. The filmmakers aren't just exploring issues surrounding radicalised religious beliefs, they're looking at ideologies and cultural pressures that have shaped us all since we were born. And thinking about these things is seriously chilling.
15 strong themes
---
21.Oct.14

R E V I E W B Y R I C H C L I N E
Winter Sleep


Kis Uykusu MUST

SEE
dir Nuri Bilge Ceylan
prd Zeynep Ozbatur Atakan
scr Ebru Ceylan, Nuri Bilge Ceylan
with Haluk Bilginer, Melisa Sozen, Demet Akbag, Ayberk Pekcan, Serhat Mustafa Kilic, Nejat Isler, Tamer Levent, Nadir Saribacak, Rabia Ozel, Emirhan Doruktutan, Ekrem Ilhan, Fatma Deniz Yildiz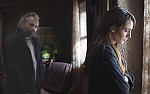 release Tur 13.Jun.14,
UK 21.Nov.14, US 19.Dec.14
14/Turkey 3h16

---
CANNES FILM FEST
TORONTO FILM FEST

ABU DHABI FILM FEST

The extra-long running time may put some viewers off, especially since the film is essentially made up of a series of issue-oriented conversations, but there's never a dull moment. As it explores justice and conscience in an increasingly economically divided world, the film is relevant, witty and startlingly moving.

Former stage actor Aydin (Bilginer) now runs a hotel in Anatolia with his young wife Nihal (Sozen) and his sardonic sister Necla (Akbag). He has no idea that the local villagers see him as a wealthy land owner who uses harsh loan collectors when tenants don't pay the rent. When a young boy (Doruktutan) throws a rock through his car window, and he meets the boy's on-the-edge father (Isler) and too-smiley imam uncle (Kilic), Aydin begins to understand his image. But this brings out home truths with Nihal and Necla that he's not ready for.

The setting is an amazing village in which the rocks and hills are incorporated into houses, adding a visual connection between the characters and the landscape. This adds a literally earthy dimension to every scene in the film, as people talk about things like "urban ugliness" and social change. Even in this corner of the world, there is a stark divide between the average people, who are struggling to make ends meet, and the wealthy who don't quite perceive the problem and just assume that everyone can live as easily as they do.

All of the characters are complex and intriguing, beautifully played by a natural cast. Kilic's imam insists that his family pays its debts, even though they don't have enough to survive. (Oblivious, Aydin writes his next newspaper column about shabby imams!) Nihal has started a charity to help underfunded schools, and is frustrated when Aydin offers "helpful" advice without realising that he's undermining her confidence and independence. Further provocative ideas come in a discussion about why we should resist an evil act aimed at us, when not resisting might actually help the aggressor feel regret.

These discussions overflow with biting wit and barely submerged emotion, as the acting beings out likeable characters who know how to push each others' buttons. Without ever being preachy, each challenges us to think about revenge, blame, retribution and forgiveness. Aydin may not care about the incident with the rock, but for the boy apologising is a life-or-death matter. Filmmaker Ceylon captures this in a way that's both strikingly picturesque and unnervingly intimate, encouraging us to look through each others' eyes.
15 themes, language, brief violence
---
17.Oct.14


< < F O R E I G N > >
See also: SHADOWS FILM FESTIVAL

© 2014 by Rich Cline, Shadows on the Wall


HOME | REVIEWS | NEWS | FESTIVAL | AWARDS | Q&A | ABOUT | TALKBACK