SHADOWS ON THE WALL | REVIEWS | NEWS | FESTIVAL | AWARDS | Q&A | ABOUT | TALKBACK

Shadows off the beaten path
Indies, foreigns, docs, videos, revivals and shorts...
On this page: EXPOSED | 1: LIFE ON THE LIMIT
AN OVERSIMPLIFICATION OF HER BEAUTY | VISITORS
< < D O C S > >
last update 5.Feb.14
See also: SHADOWS FILM FESTIVAL

R E V I E W B Y R I C H C L I N E
Exposed


dir-prd Beth B
with Rose Wood, World Famous Bob, Mat Fraser, Julie Atlas Muz, Bunny Love, Bambi The Mermaid, Dirty Martini, Tigger!, James Habacker, Eric Schaffer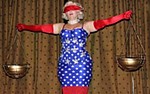 release US Nov.13 dnyc,
UK 10.Jan.14
13/US 1h17

---
BERLIN FILM FEST

With the tagline "Beyond Burlesque", this documentary explores a lively performance-art scene with unusual honesty. It's also eye-opening, as the artists confront us with big themes through stage routines that are both hilarious and profane.

Burlesque is not the same as striptease: it's a celebration of power without objectification. And the performers profiled in this film push the boundaries by playing with issues of gender, sexuality and disability. They call themselves freaks and outsiders who have found a place they belong, acknowledging that this requires an ego and a desire to be an exhibitionist. Even though their performances centre on nudity and sexuality, they are also remarkably innocent and honest. And finding acceptance from an audience gives them hope for society.

With a snappy pace, the film is assembled by simply interspersing clips of the performances with casual, candid backstage interviews. And what these artists have to say is just as important as the messages that fill their acts. All of them talk about the rejection they have experienced ("My parents can't accept that I want to be an artist," says Bunny Love. "They don't want to know") and how it has made them speak out ("I'm a punk," says Fraser, who wants to change the way disabled people are seen as asexual).

As these colourful, engaging people discuss their backgrounds, we see the roots of their performance pieces, which use comedy and shock-value to make political points. Rose Wood is a muscled man who has had breast enlargement simply to force people so see the human body differently. Bob is a curvy woman who identifies herself as a gay man. All of them comment on how society's idea of normal is an illusion, a fantasy. And that those who seem perfect on the outside are just as frightened as everyone else.

Most intriguing is the exploration of why people are so horrified by nudity. After watching a few of these performances, it no longer seems shocking. Instead, we vividly feel the family connections these performers have build between them as they playfully embrace their bodies and sexualities. And if society is so determined to sweep all of this under the rug, it's no wonder it comes out on-stage in all its raw, human glory. After all, the best way to convey a political message is to get the audience laughing.
18 themes, language, nudity
---
13.Nov.13

R E V I E W B Y R I C H C L I N E
1


aka 1: Life on the Limit
dir Paul Crowder
scr Mark Monroe
prd Michael Shevloff, Nigel Sinclair
narr Michael Fassbender
with Bernie Ecclestone, Max Mosley, Jackie Stewart, Niki Lauda, Mario Andretti, Emerson Fittipaldi, Jacky Ickx, Damon Hill, Michael Schumacher, Lewis Hamilton, Jenson Button, Nigel Mansell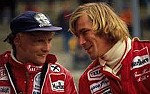 release US 1.Oct.13,
UK 10.Jan.14
13/UK 1h40

---


An entertaining sense of energy pervades this celebratory doc but leaves us feeling a bit uneasy since it's essentially a chronicle of drivers who have died in Formula One races. Yes, the film is like an extended In Memoriam clip-reel as it takes us through each fatality and the way officials have worked to make racing safer.

Europe had a long motor racing history before Formula One was established in 1950. But as technology progressed to allow lighter, faster cars, safety systems lagged behind. Without proper emergency precautions and guard-railings, crashes claimed the lives of iconic drivers like Jim Clark, Jochen Rindt, Roger Williamson, Francois Cevert and Peter Revson between 1968 and 1974 alone. While things improved over the years, it wasn't until champion Ayerton Senna's death in 1994 that the system was overhauled. And no driver has died in an F1 Grand Prix since.

Director-editor Crowder has an astonishing wealth of material, including interviews with virtually everyone in the sport, plus extensive archival film and stills. He assembles it viscerally, deploying a rumbling sound mix, raucous pop songs and whizzy visual effects. Yet while the film is thrilling, the subtler moments are what linger in the memory, such as a single-take of Senna taking a qualifying lap around the track in Monaco, shot from his helmet camera.

The film opens and closes at the 1996 Melbourne Grand Prix, a pivotal moment for safety issues. In between, Fassbender's quietly enthusiastic narration takes us through F1 history, showing key moments accompanied by commentary from the leading lights. It's a comprehensive approach that sparks our interest, even if this history is punctuated by a series of tragic deaths. So the celebratory champagne-popping is often cross-cut with shots of a grieving widow.

Crowder never quite makes sense of this paradox. He notes that F1 has contributed to safety of everyday cars, saving millions of lives. And he uses sound-bites in which drivers comment on known dangers, as well as their daredevil attitudes: if given the choice between a safe car and a fast one, they'd choose the fast one every time. But while we're glad things are much better today, the film inadvertently reminds us that big corporations are still essentially callous about human life.
12 themes, language, violence
---
7.Jan.14

R E V I E W B Y R I C H C L I N E
An Oversimplification of Her Beauty

dir-scr Terence Nance
prd Channelle Pearson, Andrew Corkin, James Bartlett, Terence Nance
with Terence Nance, Namik Minter, Chanelle Pearson, JC Cain, Vickie Washington, Alisa Becher, Rebecca Pinard, Arin Lawrence, Shante Cozier, Dexter Jones, Talibah Lateefah Newman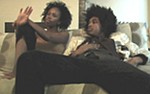 release US 12.Apr.13,
UK 7.Feb.14
12/US 1h24

---
SUNDANCE FILM FEST

This dense, swirling collage of a movie is actually a true story inventively and sharply observed. It's dryly funny and darkly emotive, bringing out thoughts and feelings we can too-easily identify with. And even if it's assembled in a vaguely academic way, it's grounded in personal experience.

Nance starts with his 2006 fictional short How Would You Feel?, which he interrupts using with the nonfiction movie An Oversimplification of Her Beauty, revealing that the earlier film was actually a true expression of romantic yearning. In it, Nance plays a young New Yorker so worn out by working and living that he keeps missing the chance to develop a relationship with the woman (Minter) he likes. and even when they begin to move in a positive direction, so many things come between them that their relationship remains elusive.

The film plays like a kaleidoscopic documentary, as Nance's knowing, wryly omniscient narration asks us to sympathise with him (we also hear from other characters this way). Real-life scenes are combined with strikingly inventive hand-drawn animation in various styles, bringing out strong feelings of desire, possibilities and connections. And as things start clicking together, the film pauses and shifts to the other strand, filling in gaps with clever explorations of how people are attracted to each other.

Telling touches include blanking/bleeping out all of the names. And there's a gorgeous sequence in which a courtship dance plays out while two people watch a movie in an empty cinema. All of this is skilfully shot and edited, with a witty, bittersweet tone that allows Nance to touch on everyday issues from both male and female perspectives. The voiceover narration is sometimes rather pushy, like a performance art monolog, but it's also thoughtful and revealing.

This is also an experimental collage without any traditional dramatic scenes. Yet it's still involving, especially in achingly beautiful segments like the exchange of jaggedly expressive letters. Nance is exploring the gap between reality and expectation, between how we feel and how others think we feel. Because emotions are, by definition, irrational. And it's the film's frankness in touching on profound, hard truths that really gets to us. Because it's easier to love a simplified version of your intended than the real thing.
12 themes, some strong imagery
---
27.Jan.14

R E V I E W B Y R I C H C L I N E
Visitors


dir-scr Godfrey Reggio
prd Mara Campione, Phoebe Greenberg, Jon Kane, Penny Mancuso, Godfrey Reggio, Lawrence Taub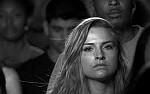 release US 31.Jan.14,
UK 4.Apr.14
12/US 1h27

---
TORONTO FILM FEST
Like being tied to your chair and forced to look at an art installation for 90 minutes, there's an element of torture to this film. But you also can't deny that the Philip Glass score is an exquisite accompaniment to the series of beautiful and delicate black and white tableaux that make up the movie.

The collection of images feels utterly random, from staring down with a gorilla to the rotating surface of the moon. There are a lot of time-lapse clouds racing past what look like abandoned 1950s office blocks, and a few scenes of raw natural beauty. But most of the movie is made up of extended super slow-motion portraits of people looking straight into the camera lens. Most of them are expressionless, but some let their faces drift through a variety of emotions. Many are alone, while others are part of a slow-moving crowd.

What all of this means is utterly unclear until a couple of carefully juxtaposed images at the very end. And even then we feel like it's all a bit obvious: the title kind of gives away the idea that we are looking at a species that is only visiting the earth for a few thousand years. Filmmaker Reggio also made Koyaanisqatsi (1982), Powaqqatsi (1988) and Naqoyqatsi (2002), so we know his interest in humans versus nature. Yes, the themes are deep.

It's the structure of the movie that makes it demanding. By showing us these barely moving images one after another, we feel like we're in an art gallery rather than a cinema, except that we're not free to move at our own pace. And Reggio's deliberately slow rhythms are likely to lull most moviegoers to sleep, simply because he doesn't state his intention early enough for us to play along with him. As each image appears, we have a moment of wonder followed by the question of how long we will have to look at it before the next shot.

That said, all of this is produced to an extremely high quality. The black and white photography is often bracingly crisp, with sharp textures and sometimes expressive faces to hold our attention briefly while Glass' lush score massages our ears. It's definitely an experiential kind of film. But it is far better suited as a museum piece to watch at your own speed.
U some themes
---
20.Jan.14


< < D O C S > >
See also: SHADOWS FILM FESTIVAL

© 2014 by Rich Cline, Shadows on the Wall


HOME | REVIEWS | NEWS | FESTIVAL | AWARDS | Q&A | ABOUT | TALKBACK