dir-scr Pablo Berger
prd Pablo Berger, Ibon Cormenzana, Jerome Vidal
with Maribel Verdu, Daniel Gimenez Cacho, Macarena Garcia, Sofia Oria, Sergio Dorado, Emilio Gavira, Angela Molina, Inma Cuesta, Pere Ponce, Jose Maria Pou, Ramon Barea, Alberto Martinez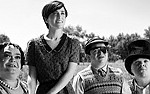 release Sp 28.Sep.12,
US 15.Mar.13, UK 12.Jul.13
12/Spain 1h44

---
TORONTO FILM FEST


This exquisite spin on the Snow White fairytale comes in the wake of two overwrought Hollywood versions. Bit it's most likely to be compared to The Artist, as another silent, black and white gem. This emotionally resonant film tells the story without any magical touches, transporting us into its world with vividly sympathetic characters.

In 1910 Seville, acclaimed bullfighter Antonio (Gimenez) is badly injured in the ring, causing his wife (Cuesta) to go into early labour. She dies in childbirth, and the now quadriplegic Antonio is unable to look after his daughter Carmen (Oria then Garcia), who is raised by her grandmother (Molina). Meanwhile Antonio marries his glamorous nurse Encarna (Verdu), who must get rid of Carmen to secure his fortune. Abandoned in the woods, Carmen is rescued by six dwarf bullfighters and named Blancanieves (Snow White). Unaware of her past, she becomes a sensation as the team's seventh member.

The film is beautifully shot (by Kiko de la Rica) and directed with precision to help us live the story along with Carmen. Alfonso de Vilallonga's emotional score adds to the mood,including lovely flamenco guitar riffs . The film plays on all of our senses, as we are pulled into the story by expressive, surprisingly subtle actors who bring out humour, suspense and moments of both wrenching sadness and surging joy. Garcia is terrific as Carmen, and we yearn with her to know her father better.

Meanwhile, Verdu plays Encarna's aggressive villainy perfectly, as a fame-hungry Real Housewife of Sevilla willing to do whatever it takes to be on the cover of a tabloid. So when Carmen steals focus is understandable. Less engaging is the bitter rivalry that comes up amongst the dwarfs, as Jesusin (Gavira) becomes jealous of Carmen's success. And the other lead dwarf, Rafita (Dorado), is so charming that it's impossible not to fall in love with him.

Director Berger sticks to the silent-movie aesthetic while letting the cast beautifully underplay their roles to draw us into the horror, tragedy, comedy and romance. After the scary intensity of the poisoned apple sequence, the film's delicate final scenes are so subtle and sweet that we almost can't bear to watch. But we can't look away either. This is a film to savour, and a version of Snow White that will speak to kids in relevant ways.
12 themes, violence
---
1.Jul.13

R E V I E W B Y R I C H C L I N E
Out in the Dark


dir Michael Mayer
scr Yael Shafrir, Michael Mayer
prd Michael Mayer, Lihu Roter
with Nicholas Jacob, Michael Aloni, Jameel Khoury, Alon Pdut, Loai Nofi, Khawlah Hag-Debsy, Maysa Daw, Alon Oleartchik, Chelli Goldenberg, Shimon Mimran, Majd Bitar, Michael Teplitzky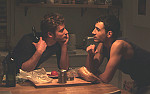 release US Jan.13 sbff,
UK Mar.13 llgff
12/Israel 1h36

---
TORONTO FILM FEST


The violent struggle between Israel and Palestine is highlighted in an unusual way in this gentle romantic drama. As the events get increasingly nasty, the film isn't easy to watch. And we begin to lose hope for a peaceful solution either for the society or the relationship between these two young men.

Palestinian Nimr (Jacob) sneaks through the fence to a gay nightclub where his friend Mustafa (Nofi) is performing. There Nimr meets Israeli lawyer Roy (Aloni), and there's an instant spark between them. A bright psychology student, Nimr is planning to continue his studies in America. But his brother Nabil (Knoury) has become a leader in the armed Palestinian struggle. So when Nimr starts a course in Tel Aviv, problems escalate. Meanwhile, Nimr and Roy develop a strong relationship, but visa issues pull them apart. And now Nimr has nowhere to turn.

This is an unusually tender romance, beautifully shot and played without overstating the strong themes. Roy's liberal parents (Oleartchik and Goldenberg) try to accept his sexuality but struggle with Nimr's ethnicity. Meanwhile, these two young guys are surrounded by casual homophobia on the streets and more vicious treatment from the Israeli secret police and militant Palestinians. And of course there are all kinds of political issues these two must overcome as well.

The script keeps the relationship gritty and authentic, with pungent dialog that digs beneath the surface to reveal the complexities of the characters and deepen the important themes. Even so, the filmmakers sometimes allow their righteous anger to seep in, railing against prejudice and discrimination in Israeli society. Sometimes the film is overwhelmed by the violent political atmosphere: Nimr is in a horrific situation, caught between his brutal brother and a ruthless, too-powerful Israeli agent (Pdut).

Even so, this thriller aspect is just as involving as the romance, even if it's not as emotionally resonant because the situation seems impossible to resolve. There's joy and agonising pain everywhere in this story, and each character is played with sensitivity by the strong cast. Through it all, filmmaker Mayer keeps us gripped to the story while maintaining the political, emotional and social balance. But a bit more hopefulness, even in such a terrible situation, couldn't hurt.
15 themes, language, violence
---
2.Mar.13

R E V I E W B Y R I C H C L I N E
Paradise: Faith


Paradies: Glaube
dir-prd Ulrich Seidl
scr Ulrich Seidl, Veronika Franz
with Maria Hofstatter, Nabil Saleh, Natalya Baranova, Rene Rupnik, Daniel Hoesl, Dieter Masur, Trude Masur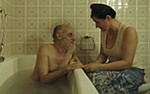 release US Feb.13 piff,
UK 5.Jul.13
12/Austria 1h53

---
VENICE FILM FEST

The middle of Seidl's Paradise trilogy, this is another offbeat and sometimes blackly comical story of a woman whose assured sense of her world is shaken to the core. This time it's the sister of the sex tourist from Love, and as the title suggests her her faith gets a real working over. The film is unsettling and deliberately provocative and, like Love, impossible to get out of your mind.

Anna (Hofstatter) is a devout Catholic who spends her holiday going door to door with a statue of Mary asking people if they want to pray to the Mother of God. By night, she talks to her crucifix as if Jesus is her boyfriend, so earnest that she adds whips and spiked belts to her worship. Then her estranged husband Nabil (Saleh) returns home for a reconciliation. A paraplegic Muslim, he tests everything she preaches. And he finally gets fed up with the dismissive, hypocritical way she treats him.

Poor Anna doesn't really have a chance here, so watching her struggle against her rigid belief system is both harrowing and blackly funny. Before Nabil's arrival, her life is a series of ordered rituals, including meetings of her prayer warrior team in her home, which is so clean that it looks like a church, complete with holy water in every room. But that's coming apart. And as if Nabil isn't enough, she's babysitting a very cranky cat.

Hofstatter plays Anna with an eerie precision, capturing her personality from the pinched-bun hairdo to the way she melts whenever she catches a glimpse of her handsome saviour. She has no idea that her devotion is misplaced: her religious disrespects the people she's reaching out to (she shows more compassion in her x-ray technician job). And Saleh is equally complex as her feisty husband. He's nowhere near as cruel as she is, but he has his moments.

As with Love, Seidl composes every shot impeccably, letting us explore the scene and take in the full extent of it. From Anna's self-flagellation to an al fresco orgy she stumbles across in a park, every moment is beautifully rendered to create a portrait of religion that chillingly echoes the situation in the wider world. And the more we think about the film, the harder it is to shake.
18 themes, language, violence, sexuality
---
6.Jun.13

R E V I E W B Y R I C H C L I N E
Renoir


dir Gilles Bourdos
prd Olivier Delbosc, Marc Missonnier
scr Gilles Bourdos, Jerome Tonnerre, Michel Spinosa
with Michel Bouquet, Vincent Rottiers, Christa Theret, Thomas Doret, Romane Bohringer, Michele Gleizer, Laurent Poitrenaux, Annelise Heimburger, Solene Rigot, Emmanuelle Lepoutre, Carlo Brandt, Thierry Hancisse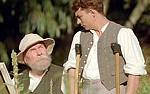 release Fr 2.Jan.13,
US 29.Mar.13, UK 14.Jun.13
12/France 1h51

---
CANNES FILM FEST

An exquisitely beautiful film, this true story about father and son artists makes up for its baggy plot with Mark Lee Ping-bing's sumptuous cinematography and Alexandre Desplat's lush score. But that doesn't mean that it's style over substance: there's plenty going on here to hold our interest even as we get lost in every gorgeous frame.

On the French Riviera in 1915, ageing painter Auguste Renoir (Bouquet) lives in isolated splendour, painting nude models in lush surroundings. His house is an oasis of beauty and art as war rages in Europe. Surly younger son Coco (Doret) lives at home, while eldest son Pierre (Poitrenaux) is an actor in Paris. But it's middle son Jean (Rottiers) who's on Auguste's mind: a 21-year-old who has been injured on the battlefield. And when he comes home to recover, he falls for his father's latest muse Andree (Theret).

The film is a riot of inter-relationships complicated by artistic temperaments. All of the actors are revelatory and naturalistic, dominated by Bouquet's marvellously understated turn as the raspy "old boss" whose arthritic joints are knotted in permanent pain, and yet he can't stop painting. Meanwhile Rottiers' Jean is just as vivid, longing to find his voice while being distracted by Theret's conniving Andree, who sparks an interest in filmmaking.

Writer-director Bourdos drenches the screen with rich colours, flooding the detailed settings with painterly sunlight. But he never losing the characters in the scenery. Each person on screen is feisty and carefully realised with sharp personalities that are witty, sexy and quietly yearning for beauty. This makes the film thoroughly intriguing, even if there's no central perspective for us to take.

As we watch events from everyone's point of view, the film has no real sense of direction or momentum, settling around this odd menage-a-trois as Andree tries to wrench young Jean away from both his father and his sense of duty to his country. In many ways, she's like the torch of inspiration passed from one generation to the next, but their struggle gets a bit melodramatic, especially when complicated by an important ex-muse (Bohringer). Still, it looks so beautiful - like Auguste's impressionist paintings crossed with Jean's sumptuous later film work - that we don't mind much.
15 themes, language, nudity
---
1.Mar.13


< < F O R E I G N > >
See also: SHADOWS FILM FESTIVAL

© 2013 by Rich Cline, Shadows on the Wall


HOME | REVIEWS | NEWS | FESTIVAL | AWARDS | Q&A | ABOUT | TALKBACK