dir Robert Hasfogel
scr Andre Schneider
prd Udo Lutz, Frank Christian Marx
with Frank Christian Marx, Udo Lutz, Alexandra Starnitzky, Sascia Haj, Marcel Schlutt, Dominik Djialieu, Andre Schneider, Marc Bluhm, Marcus Lachmann, Luise Schnittert, Ades Zabel, Stefan Kuschner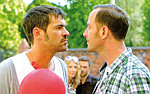 release Ger 6.Sep.12,
UK 10.Jun.13
12/Germany 1h23


Snappy and farcical, this German comedy has some smart things to say about relationships. And the cast is good enough to strike an effective balance between the zany antics and more intriguing interaction. But the film continually opts for goofy slapstick and sappy sentiment.

Everything was so positive when Ernst (Marx) moved from his small town to Berlin to take a dull job in a bank. His lively boyfriend Tobi (Lutz) can't resist tormenting him, teasing him at work and dragging him out to wacky nightclubs with his pals Steff and Leo (Haj and Schlutt). Then Ernst's best friend Uta (Starnitzky) returns to Berlin from America, and immediately gets on Tobi's and his friends' nerves with her aggressive diva behaviour. And it doesn't stop there, as she launches an all-out war to break them up.

The central theme here is how opposites attract, creating fireworks that might not be sustainable over time. Ernst and Tobi are continually having trouble because Ernest prefers quiet nights in while Tobi is a party animal. In addition, Steff is having a fling with one of her students (Djialieu) while Leo has an on-off boyfriend (Schneider). But Uta is the fly ion the ointment, clearly jealous that someone else has her best friend's attention and willing to do anything to have him to herself.

All of this is played in a snarky, comical way by a strong cast that manages to merge the comedy and drama. Although it's all a bit zany. The film has a cheesy, sexy tone with wacky flourishes that try to capture the idea that Ernst's ordered life has been hugely livened up by both the bustle of Berlin and Tobi's energy. Much of this comes across as just silly, such as a nutty pot-smoking incident, although there are some startlingly serious scenes as well.

As the story develops, the film becomes a nonsensical caper comedy in which Tobi and his friends launch an elaborate plan to get rid of the increasingly insane Uta. There are moments of truthfulness along the way, and some decent comedy too. But we never really doubt how it's going to end, so the over-the-top histrionics begin to feel rather annoying.
15 themes, language, sexuality
---
8.Jun.13

R E V I E W B Y R I C H C L I N E
Paradise: Love


Paradies: Liebe
dir Ulrich Seidl
scr Ulrich Seidl, Veronika Franz
prd Philippe Bober, Christine Ruppert, Ulrich Seidl
with Margarete Tiesel, Peter Kazungu, Inge Maux, Gabriel Nguma Mwarua, Dunja Sowinetz, Helen Brugat, Josphat Hamisi, Carlos Mukutani, Melanie Lenz, Maria Hofstatter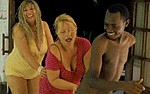 release US 26.Apr.13,
UK 14.Jun.13
12/Austria 2h01

---
CANNES FILM FEST

The irony in this film's title is almost painfully obvious very early on, as the blackly humorous tone lets us in on a cruel joke. This cleverly made film is often painful to watch since we understand from the start where it's heading, so we watch helplessly as the lead character is warped by her yearning for love.

Teresa (Tiesel) is a 50-year-old who works with mentally disabled people and has another challenge at home with her lazy teen daughter Meli (Lenz). So she drops Meli off with her sister (Hofstatter), and takes a holiday to Kenya, where she starts to think about sparking romance with a local beach boy. But they see white women as "sugar mamas", clients who pay their wages. Her first attempt with the frisky-cute Gabriel (Mwarua) goes badly, but she's persuaded to try again by nice-guy Munga (Kazungu). But is real love possible with this young man?

Seidl shoots the film in a matter-of-fact style, with formally composed camera angles that almost accidentally capture the tropical beauty and wildlife of Africa's coastline, as well as plenty of local colour. Each scene brings a jagged jolt of humour we see things through Teresa's curious eyes. She's fascinated but dubious of the advice she gets from another single tourist (Maux) on how to have fun with these boys.

Because of the comical approach, it's difficult to feel anything but derision toward Teresa, bravely played without self-consciousness by Tiesel as a woman whose naive hope quietly shifts into jaded assertiveness. And the boys are charming, smiling and friendly: Kazungu's Munga is so warmly hospitable that, even though we can see that this has nothing to do with love, we understand why she gets caught up in it.

The witty camera angles make it impossible for us to avoid seeing tourists through African eyes as pale, chubby cartoon characters. Virtually everything they do and say is ridiculous. Clearly, Seidl is asking us to laugh at these women as they attempt to look sexy. So as an exploration of the need for connection, the film sometimes feels like a series of humiliations. Although the portrait isn't completely unsympathetic, as there are moments of warmth and honesty. Yes, Teresa does know what's actually going on.
18 themes, language, nudity, some violence
---
4.Jun.13

R E V I E W B Y R I C H C L I N E
Shun Li and the Poet


Io Sono Li
dir-scr Andrea Segre
prd Francesco Bonsembiante, Francesca Feder, Nicola Rosada
with Zhao Tao, Rade Sherbedgia, Marco Paolini, Roberto Citran, Giuseppe Battiston, Giordano Bacci, Spartaco Mainardi, Zhong Cheng, Wang Yuan, Amleto Voltolina, Andrea Pennacchi, Xu Guo Qiang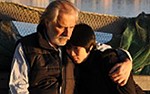 release It 23.Sep.11,
US 22.Jan.13, UK 21.Jun.13
11/Italy 1h32

---
VENICE FILM FEST


Writer-director Segre gives this sensitive story a nicely understated quality that forces us to identify with the central characters in ways that continually catch us off guard. It's a small story dealing with big issues, but Segre never gets heavy handed about them.

Shun Li (Zhao) is a young woman working in Italy to raise the cash to bring her 8-year-old son from China to join her. She has no say in her job, so must move from a clothing factory in Rome to manage a cafe in Chioggia, near Venice, where her customers are salty old fisherman. One of them is Bepi (Sherbedgia), a poem-writing Yugoslavian who finds common ground with her as another immigrant. But his friends (including Paolini and Citran) don't understand their relationship. And friendships with Italians are forbidden by her boss.

While the set-up suggests either a thriller or a romance, or maybe both, the film never goes down those roads. Instead, it centres on two people who discover someone they can talk to in a place where they feel essentially alone. Both Zhao and Sherbedgia play the roles with offhanded naturalism, giving us glimpses under the surface while leaving enough space for us to connect the dots. This may annoy some viewers who need to know whether they're in love or not, but actually that's not the relevant point.

And there's another telling angle here, as this is also a story about people who are unable to control their destinies. Shun Li is caught up in a nightmarish form of slavery in which she can't make any decisions on her own, while a distant boss can blackmail her into doing whatever he wants. And even after 30 years in Italy, Bepi is constantly reminded that he's a foreigner.

Segre shoots the film in an intriguingly unvarnished style, with hazy skies almost obscuring the majestic Alps that seem to tower over the picturesque town. And the steely sea doesn't look very friendly either, especially as it occasionally floods the cafe. But Shun Li is constantly reminded of her favourite poet, and quotes him in times of need. And this underlying exploration of life leaves us with a lot to chew on.
15 themes, language, violence
---
22.Apr.13

R E V I E W B Y R I C H C L I N E
Thérèse Desqueyroux


dir Claude Miller
prd Yves Marmion
scr Claude Miller, Natalie Carter
with Audrey Tautou, Gilles Lellouche, Anais Demoustier, Stanley Weber, Isabelle Sadoyan, Catherine Arditi, Jean-Claude Calon, Francis Perrin, Max Morel, Francoise Goubert, Alba Gaia Bellugi, Matilda Marty-Giraut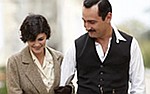 release Fr 21.Nov.12,
UK 7.Jun.13, US 27.Sep.13
12/France 1h50

---
CANNES FILM FEST
TORONTO FILM FEST

This skilful remake of the 1962 classic feels as pinched as the characters. It's exploring how the veneer of proper society obscures and ultimately crushes our personal yearnings. But the filmmakers seem to get stuck in that dark, bleak place where hope fades away. Which isn't very inspiring.

In the summer of 1922, teen pals Therese and Anne (Bellugi and Marty-Girault) are freely dreaming about their future. Six years later they understand that their lives have been mapped out for them. Therese (now Tautou) has been promised to marry Anne's swaggering brother Bernard (Lellouche), while Anne (now Demoustier) illicitly falls for lusty boatman Azevedo (Weber). Therese may be happy to now be Anne's sister, but she takes a severely matter-of-fact approach to her loveless marriage. And it slowly eats away at her.

Yes, this is a study in contrast between passionate romance and suitable marriage, complicated by class issues. And when Therese steps in to help solve the mess between Anne and Azevedo, it all gets rather messy. The filmmakers tell this story with far too much dialog: everyone speaks in rambling paragraphs when one well-chosen word would do. It may be fascinating to explore society, religion and sex in this setting, but the fact that everyone is so constrained makes it as frustrating for us as it is for them.

The actors capture this nicely, lowering the sheen of respectability to reveal internal fires raging inside. But this robs Tautou and Lellouche of their usual on-screen charm: both are tetchy, unlikeable people who seem to deserve each other. It would be much more engaging if we were longing for them to find happiness, but it seems like they prefer to wallow in the grim bleakness.

Along the way, the narrative takes several ghastly twists and turns, which add hint of soapiness: poison! murder! incarceration! inappropriate flirting! It may be expertly shot and edited, with a fine sense of the period and actors who can reveal spark through expression-free characters, but it's so relentlessly downbeat that it starts to feel plodding. At least it leaves us thinking about how we often can't understand our own motives for what we do. And only doing things because they're expected of us will leave us living someone else's life.
12 themes, sexuality
---
28.Mar.13


< < F O R E I G N > >
See also: SHADOWS FILM FESTIVAL

© 2013 by Rich Cline, Shadows on the Wall


HOME | REVIEWS | NEWS | FESTIVAL | AWARDS | Q&A | ABOUT | TALKBACK