dir Mikael Marcimain
prd Mimmi Spang
scr Marietta von Hausswolff von Baumgarten
with Sofia Karemyr, Pernilla August, Simon J Berger, David Dencik, Josefin Asplund, Sven Nordin, Ruth Vega Fernandez, Anders Beckman, Magnus Krepper, Kristoffer Joner, Hanna Ullerstam, Sverrir Gudnason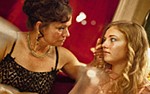 release Swe 9.Nov.12,
UK 16.Aug.13
12/Sweden 2h20

---
TORONTO FILM FEST

A slow-burning sense of intrigue infuses this true Swedish drama, which weaves together strands of personal drama, political scandal and police investigation. It's a finely crafted film, with big production values and a first-rate cast that's almost eerily natural. And what it has to say is chillingly important.

In the run-up to the 1976 general election, Sweden is trying to build an open social and political society. But government ministers are secretly supporting the high-class brothel run by Dagmar (August). Her latest recruits are 14-year-old tearaway Iris (Karemyr) and her pal Sonja (Asplund), who sneak out of their group home to attend parties and service increasingly high-powered clients. Meanwhile, a government minister (Dencik) and an undercover detective (Berger) are watching every move, realising that when this story breaks, there might not be a point in holding an election at all.

There are layers of irony throughout the film, as politicians hammer out their new utopian society by redefining women's rights while at the same time paying for sex with under-age girls who are forced into this work. Baumgarten's script takes its time setting up the characters and relationships, so we become intimately involved with them in each scene. And all of the actors are so raw and unaffected that we often feel like voyeurs.

Intriguingly, the film looks and feels like a companion piece to 2011's Tinker Tailor Soldier Spy, which isn't a surprise since Marcimain was second unit director on that film, and both movies were skilfully photographed by Hoyte Van Hoytema working in the same period with the same colour pallet. The 70s vibe is augmented by the prevailing attitudes of the time as well as lots of terrific music. And the editing is so confident that it's riveting from start to finish.

At the centre, August's charismatic Dagmar swirls and pounces, casually controlling every situation. She's the life of every party, and August's gliding presence is the beating heart of this film, the smiling face of evil in a culture in which anything goes. Although even in the world's most progressive society, there are lines that simply can't be crossed. And what the film so effortlessly captures is the enduring union of political power and sexual transgression.
18 themes, language, violence, strong sexuality
---
14.Aug.13

R E V I E W B Y R I C H C L I N E
Kon-Tiki


dir Joachim Ronning, Espen Sandberg
scr Petter Skavlan
prd Aage Aaberge, Jeremy Thomas
with Pal Hagen, Anders Baasmo Christiansen, Tobias Santelmann, Gustaf Skarsgard, Odd-Magnus Williamson, Jakob Oftebro, Agnes Kittelsen, Peter Wight, Kasper Ameberg Johnsen, Amund Hellum Noraker, Eilif Hellum Noraker, Elisabeth Matheson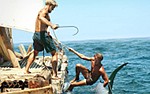 release Nor 24.Aug.13,
US 26.Apr.13
12/Norway Weinstein 1h58

---
TORONTO FILM FEST


The astonishing story of a man who risked his life to prove a scientific theory, this biopic has a strong sense of passion and tenacity that makes it utterly riveting. It's also a staggeringly well-made film, grounded both in the vivid characters and a skilful attention to detail.

Even as a child in 1920s Norway, Thor Heyerdahl was an adventurer. Living in Polynesia in 1937, Thor (Hagen) and his wife Liv (Kittelsen) spot connections between the islands and South America. After a decade of research, he still struggles to find anyone willing to consider his theory that it was the Incas who populated Polynesia, not Asia. So he sets out to prove it, building a traditional raft to recreate the journey from Peru. Assisted by engineer Herman (Christiansen), a daredevil crew (Santelmann, Williamson and Oftebro), and documentary cameraman Bengt (Skarsgard).

Directors Ronning and Sandberg beautifully recreate the period and settings, while keeping focus on the characters. We get a vivid sense of everything Heyerdahl was willing to sacrifice, including his family and his standing in the scientific community. And the detail in the storytelling is spectacular, as is Geir Hartly Andreassen's expansive cinematography, as the 5,000-mile journey is punctuated by terrifying storms and magnificent wildlife, including rather a lot of massive sharks.

The interaction between the crew-mates is sometimes rather melodramatic, as these men are all trying to prove something. But only Thor is given a proper back-story; the other guys just have a few key personality points, and most become interchangeable once their beards grow out. But every scene bristles with underlying intensity, both because of the relationships and the physical challenges. And the actors bring us into the story with introspective touches.

With a refreshingly low-key pace, the film features several stand-out set-pieces, including an outrageous sequence in which the guys catch a shark and then nearly become dinner. But the main drama comes from the give and take between these men, most of whom doubt Heyerdahl's unshakable faith when things don't go to plan. After 101 days at sea, these guys look pretty woolly, but they still have the air of intrepid Vikings exploring the unknown. And their eagerness to do something rather insane in the name of history is inspirational.
12 themes, suspense, violence
---
26.Aug.13

R E V I E W B Y R I C H C L I N E
Kuma


aka: The Second Wife
dir Umut Dag
scr Petra Ladinigg
prd Veit Heiduschka, Michael Katz
with Nihal G Koldas, Begum Akkaya, Vedat Erincin, Murathan Muslu, Alev Imak, Dilara Karabayir, Berk Kristal, Aydemir Gunduz, Abdulkadir Gumus, Merve Cervik, Ethem Saygieder, Aliye Esra Salebci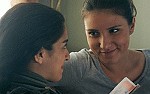 release Aut 27.Apr.12,
US Oct.12 ciff, UK 16.Aug.13
12/Austria 1h33

---
BERLIN FILM FEST
The premise of this sensitive drama is so chilling that it's not easy to watch. But events unfold in such a naturalistic way that we are drawn in emotionally. So even if it's rather over-packed, this is a vivid depiction of people trapped within their culture, out of view within Western Europe.

In a dusty Turkish village, 19-year-old Ayse (Akkaya) seems too tense before her marriage to the handsome Hasan (Muslu). Her new mother-in-law Fatma (Koldas) calms her, and after the event she goes home with her in-laws to Vienna. But the wedding was a red herring: Ayse is actually a second wife for Fatma's husband Mustafa (Erincin), and Fatma orchestrated this because she's dying of cancer and needs someone to care for her teen daughter (Karabayir) and young son (Gumus). On the other hand, her grown daughter Kezban (Imak) doesn't like this interloper.

The extended cast is sometimes bewildering, as we also meet aunts, uncles, cousins and neighbours. Koldas is terrific as Fatma, a tough woman who sees no reason to let her mortality upset the family. Even when Ayse gets pregnant, she holds everyone together. The younger children begin to see Ayse as a welcome friend. And Hasan is happy to have the pressure off him to find a wife (for obvious reasons that are revealed later).

Performances are naturalistic and transparent, especially when the plot takes some unexpected turns. Even if she's rather angelic, Akkaya beautifully plays Ayse's initial trepidation and lets us understand her various actions as she buckles down to make the best of the situation, even if what she chooses to do is sometimes dangerous. The other standout is Imak, as a woman understandably annoyed that her mother didn't think she was up to caring for the family herself, even though she has just had her own baby.

Sharply shot and edited, the film's individual scenes are very strong, carrying intense emotions. Although the script is overloaded with massive issues: fatal illness, a secret marriage, illicit romance, homosexuality. It's as if the screenwriter is trying to say everything about this subculture in one movie. But there are surprises along the way, including big jolts that reveal this hidden world in ways we never expect.
12 themes, language, violence, sexuality
---
6.Aug.13

R E V I E W B Y R I C H C L I N E
Una Noche


aka: One Night
dir-scr Lucy Mulloy
prd Maite Artieda, Daniel Mulloy, Lucy Mulloy, Sandy Perez Aguila, Yunior Santiago
with Anailin de la Rua de la Torre, Javier Nunez Florian, Dariel Arrechaga, Maria Adelaida Mendez Bonet, Greisy del Valle, Katia Caso Gonzalez, Lazaro Mario Padron Avila, Liuda Montes Lado, Yuleisy Viciedo Madrigal, Rolando Pena, Amarilis Caridad Pineda Martinez, Armando Yera Godoy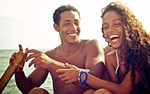 release UK Jun.13 eeff,
US 23.Aug.13
12/Cuba 1h27

---
BERLIN FILM FEST


Lively Latino rhythms and physicality infuse this fact-based drama about three young people dreaming of a better life north of Cuba. It's an engaging film that gets increasingly tense as it goes along. Although some of the plot points feel somewhat heavy-handed.

In Havana, teen Lila (de la Torre) is taunted by the mean girls, but her muscly twin brother Elio (Nunez Florian) sticks up for her. Then things start to change between them when Elio takes a job in a hotel and introduces her to his new colleague Raul (Arrechaga), whose father has moved to Florida. The bullied Raul feels lonely without his dad, while Elio is quietly struggling with his own sexuality. Together they plan to escape by sea to Florida, but organising this kind of trip is extremely complicated.

Intriguingly narrated by an older, wiser Lila, the film beautifully offers a balanced portrait of life in Cuba. We vividly feel the constant threat of tenacious police officers as they try to control the rampant black market and keep locals from mixing with tourists. The desperation to leave is understandable even if life isn't that bad for those who know their way around the system. But then, once you break a rule, you might as well break them all.

Through a series of mini-adventures, the cast is offhanded and natural, never forcing the melodrama. And there is some of that, as Lila worries that she's losing Elio, who's in love with Raul, who's lusting after Lila. Meanwhile their parents all have serious issues going on, and the police are after them. But their plan is so haphazard that we worry their journey will come to a tragic end: 90 miles never seemed so far.

Filmmaker Mulloy sometimes edits the film choppily, botching a chase scene, for example. But the movie is beautifully photographed, providing some dramatically eye-catching settings in a Havana we've never seen on screen before. And all the way through, the focus is on the characters. A statistic quoted on the radio is that more than 3,000 people every year try to make the 90-mile journey from Havana to Key West. Hope is a powerful thing.
18 themes, language, violence, strong sexuality
---
21.Aug.13


< < F O R E I G N > >
See also: SHADOWS FILM FESTIVAL

© 2013 by Rich Cline, Shadows on the Wall


HOME | REVIEWS | NEWS | FESTIVAL | AWARDS | Q&A | ABOUT | TALKBACK