dir Kaspar Heidelbach
scr Lothar Kurzawa
prd Doris J Heinze, Jorn Klamroth, Gerhard Schmidt
with Karoline Herfurth, Sebastian Urzendowsky, Axel Prahl, Robert Gallinowski, Julie Engelbrecht, Klara Manzel, Thomas Thieme, Johann von Bulow, August Zirner, Maria Happel, Franz Dinda, Leon Seidel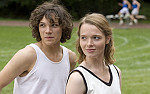 release Ger 10.Sep.09,
US 16.Sep.11, UK 12.Aug.13
09/Germany 1h40


Based on a true story from Nazi-era Germany, the events recounted in this film get deep under the skin as a portrayal of nightmarish real-life bigotry and the resilience required to stand up to it. And even if the filmmaking is somewhat unambitious, and the story has clearly been fictionalised, it's a powerful account that has relevance today.

After America threatens to boycott Hitler's 1936 Olympics if Jews are prevented from competing, the German sports minister (Thieme) is forced to allow his nation's Jewish high-jump champion Gretel Bergmann (Herfurth) to compete. But he also brings in the muscled, tomboyish farm girl Marie Ketteler (Urzendowsky) to keep Gretel from making the team. In fact, the whole system is rigged against Gretel from the start. And both she and Marie have secrets that bond them together unexpectedly while they attend the Olympic trials.

Herfurth gives a strong performance as a 17-year-old caught between her resistance to competing for her homeland, which has rejected her, and the importance of proving them wrong by winning an Olympic medal. Urzendowsky shines in the even more difficult role as the unusually masculine young woman with her nation's expectations on her shoulders. Together they find strong chemistry that pulls us in as they try to maintain their integrity in an unjust system.

But the film's tone is simplistic, focussing on melodramatic moral decisions rather than the characters. When the coach (Prahl) proves too sympathetic to Gretel, they bring in a more villainous one (Gallinowski), even giving him a cat to stroke at one point. And like Nazi Mean Girls, the other high-jumpers (Engelbrecht and Manzel) are vicious to her. A documentary epilogue adds a real-life kick, but it's the unusual friendship between Gretel and Marie that gives the film its heart and soul.

This personal approach adds a present-day hook beyond the horrors of Nazi Germany: this is a tale about hatred fuelled by fear, and how standing up to it can provide hope for future generations. So even if the events as depicted have been adjusted to heighten the drama, the film makes us wonder how many more unimaginably chilling stories from this period are still to be revealed.
15 strong themes
---
2.Aug.13

R E V I E W B Y R I C H C L I N E
From Up on Poppy Hill


dir Goro Miyazaki
scr Hayao Miyazaki, Keiko Niwa
prd Tetsuro Sayama, Toshio Suzuki, Chizuru Takahashi voices Masami Nagasawa, Jun'ichi Okada, Keiko Takeshita, Yuriko Ishida, Rumi Hiiragi, Jun Fubuki, Takashi Naito, Teruyuki Kagawa
English voices Sarah Bolger, Anton Yelchin, Gillian Anderson, Christina Hendricks, Aubrey Plaza, Jamie Lee Curtis, Bruce Dern, Beau Bridges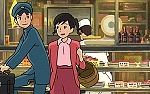 release Jpn 16.Jul.11,
US 16.Nov.12, UK 2.Aug.13
11/Japan Studio Ghibli 1h31

---
TORONTO FILM FEST

Studio Ghibli's gorgeous animation turns this gentle story into a work of art. Unlike hits like Spirited Away and Howl's Moving Castle, this is a straightforward teen drama with no fantasy elements, but it tells a complex story packed with period details and likeable characters.

On a hill above a seaside town in 1963, teen Umi (Bolger) lives with her grandmother (Hendricks) and raises flags every morning to signal her father, whose ship sank in the Korean War. With the Tokyo 1964 Olympics coming, officials want to demolish Umi's ramshackle school clubhouse. So she teams up with student journalist Shun (Yelchin) to launch a campaign, cleaning up the building's clutter and making a personal plea to the corporate boss (Bridges). But as Umi and Shun begin to fall in love, Shun finds information suggesting that they have the same father.

While the background animation is sumptious, the story could just as easily be shot live-action. Director Miyazaki (son of the Hiyao, who cowrote the script) paints the settings as if they were rendered by a fine artist, adding clever period details and landscapes that are deeply beautiful. But the anime-style characters are written and drawn simplistically, which undermines the potential emotional resonance. As a result, the two narrative strands (saving the clubhouse and discovering their parenthood) never quite come together.

In some ways, this is like a French film bubbling over with with teens, politics and lots of dialog. The characters are cheeky and engaging, and the issues they face are packed with meaning. But the characters are so inexpressive that we can never quite put ourselves in their shoes. There's a terrific climactic rush to save the building and find out the truth, both of which carry a sense of urgency. But the ending feels over-packed, abrupt and far too tidy.

That said, there's plenty of grist to chew on as we admire the work of the animators. The "save our clubhouse" strand carries the important message that "democracy doesn't mean you ignore the minority". And by exploring the fallout from both WWII and the Korean conflict through the eyes of these two orphans, the film vividly depicts how the confusion and pain of war pass from generation to generation.
U themes, some violence
---
23.May.13

R E V I E W B Y R I C H C L I N E
Looking for Hortense


Cherchez Hortense
dir Pascal Bonitzer
prd Said Ben Said
scr Agnes de Sacy, Pascal Bonitzer
with Jean-Pierre Bacri, Kristin Scott Thomas, Isabelle Carre, Claude Rich, Marin Orcand Tourres, Masahiro Kashiwagi, Arthur Igual, Agathe Bonitzer, Jackie Berroyer, Benoit Jacquot, Francis Leplay, Iliana Lolic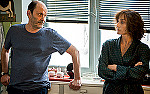 release Fr 5.Sep.12,
UK 9.Aug.13
12/France 2h02


There's a main plot thread running through this overlong, scattershot French comedy-drama, but the film never settles down long enough for it to grab our interest. The problem is that it's impossible to care about the dull man at the centre when he's surrounded my much more colourfully eccentric characters.

Iva (Scott Thomas) is a theatre director whose lead actor (Igual) makes a move on her. She initially rebuffs him, but the thought puts her in a panic, what with opening night coming up and her brother (Leplay) bugging her about help with a friend's visa. This worries her husband Damien (Bacri) because it involves asking his father (Rich), a dismissive judge, for a favour. In the process, Damien meets activist Aurore (Carre) and discovers that his dad is having a fling with a young Japanese waiter (Kashiwagi). Among other things.

This is one of those French films in which everyone chatters incessantly about a wide range of intertwined storylines, and trying to keep up with it by reading subtitles is exhausting. It's also directed in a breathless style that makes every scene feel rushed, as if we're missing something that happened off-screen. The title refers to the elusive immigration official Damien tries to track down when his father's too busy to help.

Every character has major issues with the others. Iva's lead actress (Bonitzer) can't get it right. Iva and Damien's teen son (Tourres) is frustrated with everyone. Aurore's personal issues take an impulsive, offbeat turn. Damien's best friend (Berroyer) is suicidal. There's even a gun in a drawer. But none of these things ever amount to anything. And Damien's flirtation with Aurore never feels remotely believable, even though it's essentially the film's main narrative.

Aside from a few key scenes involving Iva's play, the events are seen through Damien's eyes, and Bacri plays calmly it as a man trying to lock down the spiralling chaos around him. He struggles to control conversations he initiates and seems nonplussed by even the craziest situations he encounters, like his father's sexuality or his wife's infidelity. Scott Thomas also plays Iva as internalised, but at least we can feel the messy passion swirling inside her. Alas, she's not the central character.
12 themes, language
---
6.Aug.13

R E V I E W B Y R I C H C L I N E
Paradise: Hope


Paradies: Hoffnung
dir-prd Ulrich Seidl
scr Ulrich Seidl, Veronika Franz
with Melanie Lenz, Joseph Lorenz, Verena Lehbauer, Michael Thomas, Viviane Bartsch, Johanna Schmid, Maria Hofstatter, Rainer Luttenberger, Hannes A Pendl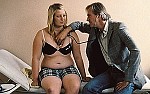 release Aut 22.Feb.13,
UK 2.Aug.13
13/Austria 1h40

---
BERLIN FILM FEST

Seidl wraps up his Paradise trilogy with this deceptively gentle film, which again mixes dark drama with pitch-black comedy. The focus this time is a teen who isn't exactly aspiring to what those around her think she should. Which makes this a potent exploration of desire and expectations, especially those that aren't actually appropriate.

While her mother is on holiday in Kenya, Melli (Lenz) spends the summer at a diet camp for overweight kids. The programme is run by a disciplinarian coach (Thomas) and a strict nutritionist (Bartsch), while Melli develops a fixation on the middle-aged doctor (Lorenz) who monitors their health. And he encourages her. She confides in new friend Verena (Lehbauer), who's much more experienced with men, as they get into all kinds of trouble, including raucous after-hours dance parties, drunken games of spin the bottle and a sneaky trip to a local bar.

Like Love and Faith, this is an observational journey following characters through quietly unnerving situations that are awkwardly humorous. Seidl casually circles around child abuse here, as these teens are put through their paces and Melli enters a relationship that feels innocent to her but certainly isn't from the doctor's perspective. As he indulges in gratuitous examinations and other inappropriate attention, we can see that he knows this is wrong.

As always, Seidl carefully sets up each shot for maximum impact. Most scenes are quietly hilarious as we watch these kids exercising even though they'd clearly rather just sit on a sofa and play games on their phones. But they also have a hopeful yearning for connections with other people, including of course a driving curiosity about sex. And the performances are astonishing for their naturalism. Both teens and adults are recognisably real people, complex, flawed and eerily likeable.

As the summer passes by, we vividly see how hope drives everyone on screen. This may be mingled with expectations and desire, but the point is that it comes from within, and those around us can do very little to change how we feel. There's a telling scene when Verena phones her divorced parents separately, giving them very different accounts of her summer. And the film's most unforgettable moment is a motivational sing-song that's all kinds of wrong: "If you're happy and you know it, clap your fat!"
15 themes, language, innuendo
---
29.Jun.13


< < F O R E I G N > >
See also: SHADOWS FILM FESTIVAL

© 2013 by Rich Cline, Shadows on the Wall


HOME | REVIEWS | NEWS | FESTIVAL | AWARDS | Q&A | ABOUT | TALKBACK