SHADOWS ON THE WALL | REVIEWS | NEWS | FESTIVAL | AWARDS | Q&A | ABOUT | TALKBACK

Shadows off the beaten path
Indies, foreigns, docs, videos, revivals and shorts...
On this page: HOW TO SURVIVE A PLAGUE | THE INVISIBLE WAR
ONE MILE AWAY | REINCARNATED
< < D O C S > >
last update 27.Mar.13
See also: SHADOWS FILM FESTIVAL

R E V I E W B Y R I C H C L I N E
How to Survive a Plague


MUST

SEE
dir David France
prd David France, Howard Gertler
scr David France, T Woody Richman, Tyler H Walk
with Larry Kramer, Peter Staley, Bob Rafsky, Mark Harrington, David Barr, Gregg Bordowitz, Jim Eigo, Iris Long, Derek Link, Bob Bahlman, Ray Navarro, Spencer Cox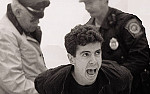 release US 21.Sep.12,
UK Mar.13 llgff
12/US 1h49

---
SUNDANCE FILM FEST


What does a decent society do to help people who hurt themselves? If you're a smoker, overeater or bad driver, there's plenty of help available. But in America, people who had unsafe sex were left to die: for nearly a decade there was no useful medication to treat Aids. This astounding film documents how grass roots organisations Act Up and TAG forced the US government to show some compassion.

In 1987, six years into the Aids epidemic, there was virtually no treatment option in the USA, meaning patients were destined to die horrible deaths and homosexuals were ostracised from society. So in Greenwich Village a group of people decided to storm city hall, forming Act Up to stage peaceful but forceful protests against discrimination and homophobic violence. When a medication was finally approved, it was the most expensive drug in history (and ultimately proven to be ineffective). So Act Up pushed the government and pharmaceutical companies to address the growing epidemic.

An astonishing range of historical footage vividly captures the wrenching anger, fear and resilience as these people demanded to be treated with human dignity. We see everything from public protests, government hearings and fiery Act Up meetings to intimate home movies. It's beautifully shaped into a strong narrative that holds us in its tight grip from the opening images to the closing credits, narrated through new and archival interviews with the people involved.

By approaching the story this way, filmmaker France remains tightly focussed on the human side of the issue. He can then explain the medical and political issues in ways that are now even more resonant. The point is that by delaying medicines or opposing the use of condoms, the US government, pharmaceutical companies and the Catholic church essentially colluded to kill hundreds of thousands of people.

With a strong dose of snappy wit and uncontained emotion, the film lucidly traces various protests as death rates kept climbing. France also documents controversies and infighting within Act Up and its splinter group TAG, as well as behind-the-scenes work of pharmaceutical companies. And it's incredibly moving when these young activists admit that they don't believe they'll live long enough for treatment to become available. So today the survivors wonder, "like in any war, why you came home".
15 themes, language
---
23.Feb.13

R E V I E W B Y R I C H C L I N E
The Invisible War


MUST

SEE
dir-scr Kirby Dick
prd Tanner King Barklow, Amy Ziering
with Amy Herdy, Helen Benedict, Donna McAleer, Susan Burke, Russell Strand, Susan Avila-Smith, Anu Bhagwati, Anthony Kurta, Kaye Whitley, Stace Nelson, Myla Haider, Loree Sutton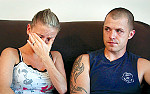 release US 22.Jun.13
12/US 1h33

---
SUNDANCE FILM FEST

This unblinking documentary reveals the epidemic of rape within the US military. Much of this is stomach-churning to watch, as it reveals a system just as complicit as the Catholic church, and even more brutal in dealing with the problem, since everyone from the top down sees women as sexual objects they can use however they want. The film has already changed the system, but the culture of violence and objectification remains.

Since women first joined the military, there have been accounts of threats, humiliation, harassment, bullying, violence and rape. This unspeakable abuse is repeatedly ignored by supervisors, accompanied by death threats if they tell anyone. More than 20 percent of female service members - some half a million women - have been sexually assaulted, while only 1 percent of serving men have had the courage to report being raped. But fewer than one in 10 confirmed perpetrators serve jail time, and not a single case has been properly investigated.

Filmmakers Ziering and Dick keep the topic personal by centring on interviews with women and men who have been raped by colleagues while serving in the Marines, Medical Corps, Coast Guard, Air Force, Army and Navy. All of them choke back tears as they relive still unresolved sexual trauma. Their stories are accompanied by experts, statistics and outlines of notorious cases like Tailhook in 1991, which revealed organised, systematic violence and rape.

Narrowing further, the film details a handful of cases in which astoundingly brave men and women are accompanied by partners to tell their stories of physical assault followed by injustice, false accusations, a lack of proper health care and the systematic destruction of their careers. Instead of stopping predators, the military's prevention programme actually urges women to cope with being raped. And we are deeply chilled by scenes in which victims realise that their attackers have probably never given them a second thought. So why would they stop when they leave the military?

Beautifully shot and edited, this clear-eyed film carefully documents how the chain of command prevents justice being done in the military system. Sexual violence is not only tolerated and covered up, it's actively encouraged by things like mandatory, taxpayer-funded pub crawls. This is a harrowing film that needs to be seen as widely as possible; indeed, Congress has already responded with reforms. But it's an understatement to call this a national disgrace.
15 strong themes, language
---
18.Feb.13

R E V I E W B Y R I C H C L I N E
One Mile Away


dir Penny Woolcock
prd James Purnell
with Dylan, Shabba, Zimbo, Yt, Zilla, Moises, Nuggz, Sykes, Meeks, Nigel Rumfitt, Errol Robinson, Jonathan Powell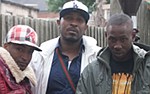 release UK 29.Mar.13
12/UK 1h30

---



See also:



Woolcock returns to the scene of her 2009 rap musical 1 Day for this documentary about the two main feuding gangs in Birmingham, the Burgers and the Johnsons. But what makes this film so notable is that it centres on one guy from each gang who is committed to finding a route to peace between the gangs.

With no neutral ground, filmmaker Woolcock has to bring these two peacemakers together in a hotel room where no one will see them and misconstrue their motives. Dylan, who starred in 1 Day, is from Burgers turf, and immediately finds some high-profile assistance in his neighbourhood. By contrast, it takes Shabba a full year before he gets support from any of the Johnsons. All of these people have to stay paranoid to survive.

Skilfully shot and edited, with a strong use of local music, the film covers a year in the city, starting in autumn 2010 when official statistics noted at least three gun crimes per day between the gangs. Woolcock's cameras roam right into tense situations, catching some startlingly nasty events along the way. Tough guys talking to her are constantly checking out the surroundings, clearly accustomed to living with the daily violence. And then there are the rappers re-enacting shootings and narrow escapes in their lively performances.

Everyone we meet in this film has a forceful, memorable personality and telling insights on the situation, which has resonance for conflicts around the world. They all know that this is a war about nothing, but no one has ever tried to stop the violence before. Back in 1985 both gangs joined in race-riots fighting a common enemy: the police. But over the decades it has descended into a pointless tribal war based on pride and revenge. And a group of 15-year-olds talk about how they've never known anything else.

Even more interesting is the way the film probes into the reasons behind this black-on-black violence (mainly the male ego!), as well as the whole issue of police racism, which is vividly documented on-screen. These people feel like the police, bankers and politicians simply don't care. It's as if they think all blacks are criminals, so would rather contain the situation than find a peaceful solution. And since the film's climactic section encompasses the August 2011 riots, it says even more than Woolcock could have intended when she started.
15 themes, language, violence
---
22.Jun.12 eiff

R E V I E W B Y R I C H C L I N E
Reincarnated


dir Andy Capper
prd Suroosh Alvi, Calvin Broadus, Ted Chung
with Snoop Dogg, Bunny Wailer, Louis Farrakhan, Damian Marley, Diplo, Cutty Corn, Shante Broadus, Cori Broadus, Daz Dillinger, Shirley Chung, Winston Martin, Angela Hunte, Dre Skull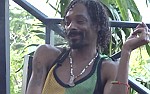 release US 15.Mar.13,
UK 22.Mar.13
12/US Vice 1h39

---
TORONTO FILM FEST
More an internalised exploration than a true documentary, this strikingly honest film follows Snoop Dogg to Jamaica in search of something new. He's not quite sure what that might be, but in the Rastafarian beliefs of his idol Bob Marley he finds a way to shift his focus from his violent past to a love-filled future.

After deciding to record a reggae album instead of his usual rap, Snoop and his entourage head to Kingston where they meet original Wailer Bunny (who renames him Snoop Lion), Marley's son Damian and other colourful figures as they explore key locations. They also smoke an almost comical amount of ganja, which clearly isn't a new experience for any of them. Along the way, Snoop reminisces about his life working with Dr Dre, Tupac Shakur and his cousin and 213 bandmate Nate Dogg, who died in 2011 after a series of strokes.

The film takes a meandering approach, following Snoop on his personal odyssey while taking side trips based on his recollections. Some of these are only tentatively linked to his quest (such as an extended sequence at Nate Dogg's funeral), even if they obviously affect Snoop's sense of purpose. After a life of crime aspiring to be a gangster and pimp, he has returned to his wife Shante and their children. And now he wants his life to be something positive.

Aside from Nation of Islam minister Farrakhan, filmmaker Capper doesn't talk to outside experts to give the film a sense of perspective. Instead, he keeps the focus tightly on Snoop, so we see everything through his eyes. What emerges is a portrait of an intelligent artist who is constantly searching for meaning in his life, fully aware of the mistakes he has made along the way. And also of the fact that he could have died like so many of his friends.

But this approach makes the film feel oddly thin. Unless we seek enlightenment through smoking weed, we can't really identify with Snoop's journey. His decision to reject the expected violence and focus on being a positive force is inspiring. But we can't help but feel that, even after attending some kind of important Rasta rebirth ceremony, he still hasn't found what he's looking for.
15 themes, language, continuous drug use
---
13.Feb.13


< < D O C S > >
See also: SHADOWS FILM FESTIVAL

© 2013 by Rich Cline, Shadows on the Wall


HOME | REVIEWS | NEWS | FESTIVAL | AWARDS | Q&A | ABOUT | TALKBACK