SHADOWS ON THE WALL | REVIEWS | NEWS | FESTIVAL | AWARDS | Q&A | ABOUT | TALKBACK

Shadows off the beaten path
Indies, foreigns, docs, videos, revivals and shorts...
On this page: KEEP THE LIGHTS ON | MY BROTHER THE DEVIL
LOVE TOMORROW | SINISTER
< < I N D I E S > >
last update 7.Oct.12
See also: SHADOWS FILM FESTIVAL

R E V I E W B Y R I C H C L I N E
Keep the Lights On


MUST

SEE
dir Ira Sachs
scr Ira Sachs, Mauricio Zacharias
prd Marie-Therese Guirgis, Lucas Joaquin, Ira Sachs
with Thure Lindhardt, Zachary Booth, Julianne Nicholson, Paprika Steen, Souleymane Sy Savane, Miguel del Toro, Sebastian La Cause, Justin Reinsilber, Maria Dizzia, Ed Vassallo, Shane Stackpole, Christopher Lenk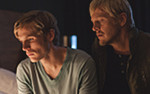 release US 7.Sep.12,
UK 2.Nov.12
12/US 1h41

---
SUNDANCE FILM FEST
BERLIN FILM FEST

This gorgeously shot and edited film is an incisive exploration of two people struggling to make a relationship work over nearly a decade. Its honest perspective makes it thoroughly involving, even if it turns dreary in the final act.

Erik (Lindhardt) is a documentary filmmaker in 1998 New York, using phone-sex lines to find anonymous hookups until he meets Paul (Booth), a lawyer. As their relationship develops, Paul is annoyed that Erik doesn't have a real job, while Erik becomes concerned with Paul's drug use. Especially when he disappears on a crack binge. Erik turns to his sister Karen (Steen) and his buddy Claire (Nicholson) for advice, and both help with an intervention. But even if Paul goes to rehab, will their relationship survive?

The film is anchored by Lindhardt's transparent performance as a man who finds it difficult to be sure about anything. He loves Paul and is desperate to help Paul sort out his life, but he also wonders if it's worth the pain. And it's not like there aren't other options, including a smart, flirty student (del Toro). With the narrative tightly within Erik's point of view, Lindhardt is able to create a complex character we can identify with, especially in his indecision.

And Booth is evocative as Paul, too pretty and smart to be a low-life addict, so his demons are unexpected (unlike insinuations about Erik's more troubled past). And since we see Paul through Erik's eyes, we yearn for him to sort himself out while worrying that we can't trust him. Fortunately, Sachs also establishes their lighter sides - jokes, teasing, friendships - before putting them through the emotional wringer.

This raw, earthiness is similar to last year's astute drama Weekend, but not just because both centre on a gay couple. These films are observant in ways mainstream dramas rarely are, daring to bare the souls of characters who are aching for love and security in a world where both are in short supply. And while this film loses momentum in the second half, it also beautifully echoes the way Erik and Paul become trapped in their cycle. And getting out is painful indeed.
18 themes, language, sexuality, drugs
---
30.Aug.12

R E V I E W B Y R I C H C L I N E
My Brother the Devil


dir-scr Sally El Hosaini
prd Julia Godzinskaya, Gayle Griffiths, Michael Sackler
with James Floyd, Fady Elsayed, Said Taghmaoui, Aymen Hamdouchi, Letitia Wright, Anthony Welsh, Ashley Thomas, Leemore Marrett Jr, Elarica Gallacher, Arnold Oceng, Amira Ghazalla, Nasser Memarzia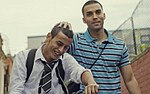 release UK 9.Nov.11
12/UK 1h51

---
SUNDANCE FILM FEST
BERLIN FILM FEST


Punchy and emotive, this British drama deals with intense themes in its story of two brothers caught between subcultures in northeast London. Even though it gets a bit overwrought, this is a beautifully observed film that gets us thinking.

A British-born teen with Egyptian parents, Mo (Elsayed) has just finished his school exams and has a bright future ahead of him. He idolises his cool older brother Rash (Floyd), who's determined to keep Mo from joining his drug-dealing gang. Rash's best pal Izzi (Welsh) wants out of the gang, and after a violent clash, Rash also decides to go straight, getting a job with French-Arabic photographer Sayyid (Taghmaoui). But Mo starts running drugs for gang leader Repo (Hamdouchi), and further revelations cause Mo to question his faith in his big brother.

Director Hosaini creates a relaxed, realistic tone with overlapping dialog and earthy characters. This provides an undercurrent of raw emotion in Rash's relationships: protective with Mo, close intensity with Izzi, feisty humour with his gang, unspoken respect for his parents. So when things turn darker, Rash is squeezed from all sides. And in many ways his fiercest battle is with his own emotions, as he reluctantly admits fundamental truths about himself.

Floyd plays these scenes beautifully, underplaying Rash's inner struggle even as he lashes out at those around him. As his goals begin to shift, the character becomes increasingly likeable. Ironically, Mo has the opposite reaction. Much of the story is told through Mo's eyes, as he aspires to run with the big boys, befriends a Muslim girl (Wright) and struggles with his rejection of Rash's new life. And newcomer Elsayed captures Mo's teenage angst with real power. Opposite them, Taghmaoui is pure class, effortlessly holding the honest emotional ground in every scene.

Skilfully shot but sometimes choppily edited, the film awkwardly cuts between scenes and story strands, which makes it feel overlong and sometimes melodramatic. It also focusses more on the intense violent encounters than the more humanising romantic plot-lines, even if shying away from the story's gay element is understandable within the context. But Hosaini is saying vitally important things about society, including a potent comment about breaking a cycle of criminality and a haunting exploration of the complexities of family ties.
18 themes, language, violence, drugs
---
10.Jul.12

R E V I E W B Y R I C H C L I N E
Love Tomorrow


dir-scr Christopher Payne
prd Stephanie Moon
with Cindy Jourdain, Arionel Vargas, Max Brown, John McArdle, Samuel Barnett, Begona Cao, Miguel Altunaga, Miguel Gibson, Stephen Brocklehurst, Muhith Hakim, Emma Wyverne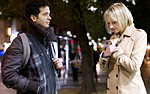 release UK Oct.12 rff
12/UK 1h20

---


Lacking in energy, this darkly emotional drama has some lovely moments but struggles to involve us with the characters, simply because they're so mopey. And this makes the performances feel false as well.

Maya (Jourdain) looks stunned as she travels across London, and this turns to annoyance when a Cuban stranger latches onto her. Oriel (Vargas) can see that she is also a dancer and, since he's preparing for a big audition, he tries to get her out of her shell to help him, taking her backstage at Sadler's Wells to watch a performance and dragging her to a dance class he's teaching. Along the way it emerges that Maya hasn't danced for three years, and Oriel needs work in order to renew his visa.

Intriguingly, Maya barely speaks for the first half of the film (we do find out why later). But this means that both Jourdain and Vargas seem to overact every scene, miming their interaction both in conversations and as dancers. It's like they're trying to show us visually whatever they're feeling. Jourdain and Vargas have some decent screen presence, and their physicality has a nice edginess to it. But director Payne should have known that overstatement never works in cinema, where being obvious always rings false.

Still, the film has a warm, cute tone, and there are sections where the low-key meandering structure feels almost charming. There's also a nice sense of London geography, as they travel by every mode of transport imaginable over the course of one day. But the cumulative effect is both contrived and relentlessly dull. Even the party Maya and Oriel attend is strangely subdued. And the lacklustre musical score doesn't help.

Along the way, there are several odd touches, such as Oriel's Yoruba religious practices and his rivalry with a dancer (Altunaga) and choreographer (Barnett) with whom he has some sort of history. We also begin to understand that Maya's problems are linked to her tenacious boyfriend (Brown), leading to what should be an emotional visit to her father (McArdle). But the late reveal of the details comes after we've stopped caring. By then we've realised that these are two uninteresting strangers helping each other make a big decision at a pivotal moment. Or something.
12 themes, language
---
19.Sep.12

R E V I E W B Y R I C H C L I N E
Sinister


dir Scott Derrickson
scr Scott Derrickson, C Robert Cargill
prd Jason Blum, Brian Kavanaugh-Jones
with Ethan Hawke, Juliet Rylance, James Ransone, Vincent D'Onofrio, Clare Foley, Michael Hall D'Addario, Fred Dalton Thompson, Victoria Leigh, Danielle Kotch, Cameron Ocasio, Blake Mizrahi, Ethan Haberfield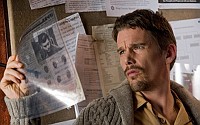 release US/UK 5.Oct.12
12/US Summit 1h50

See also:


---
FRIGHTFEST

This moody, nasty little ghost story is packed with chilling moments that are augmented by a particularly haunted performance from Hawke. But aside from the scare factor, it's difficult to see the point, beyond perhaps a cautionary warning about becoming obsessed with the dark side.

True crime writer Ellison (Hawke) moves his family to a small Pennsylvania town to research his next book. His wife Tracy (Rylance) braces herself for trouble with the local sheriff (Thompson) as she tries to protect their children (Foley and D'Addario) from the gruesome details of the crime Ellison is investigating. And he's an extremely focussed writer, diving in with morbid fascination even as he's repulsed by what he discovers. Then he finds a box of ghastly home movies in the attic that hint at a string of horrific serial murders.

Director-cowriter Derrickson builds a terrific sense of dread as we follow Hawke into the shadows, using gimmicky movie trickery to jolt us out of our seats, including sudden noises and film-jumps. The Super 8 footage Ellison examines is even creepier due to the grainy images and jittery projection. And virtually the entire film takes place in the darkness, even when it's broad daylight outside. No one in this movie ever thinks to turn on a light when they hear a scary noise in the house.

As the story progresses, the usual scary movie characters turn up, including the goofy deputy (Ransone) and academic expert (D'Onofrio), along with Rylance's bitterly sceptical wife and the obviously disturbed children. There are also the standard back-stories in Ellison and Tracy's fragile marriage plus the grisly history of their new house. So by the time Derrickson puts supernatural freakiness on-screen, we've already been drawn into a grounded story.

Despite the overlong running time, Derrickson keeps things from dragging. Some events are so horrific that we feel psychologically traumatised at the end. And Hawke invests the role with such earthy honesty that we feel like we are living through the events with him. That said, it's still utterly ridiculous, as characters refuse to behave like real people would in these kinds of situations. But not many movies can freak us out quite this effectively.
15 themes, language, violence
---
13.Aug.12


< < I N D I E S > >
See also: SHADOWS FILM FESTIVAL

© 2012 by Rich Cline, Shadows on the Wall


HOME | REVIEWS | NEWS | FESTIVAL | AWARDS | Q&A | ABOUT | TALKBACK