SHADOWS ON THE WALL | REVIEWS | NEWS | FESTIVAL | AWARDS | Q&A | ABOUT | TALKBACK

Shadows off the beaten path
Indies, foreigns, docs, videos, revivals and shorts...
On this page: ABEL | HOME FOR CHRISTMAS
RARE EXPORTS | SUBMARINO
< < F O R E I G N > >
last update 28.Oct.10
See also: SHADOWS FILM FESTIVAL

R E V I E W B Y R I C H C L I N E
Abel


dir Diego Luna
scr Diego Luna, Augusto Mendoza
prd Diego Luna, Pablo Cruz
with Christopher Ruiz-Esparza, Karina Gidi, Jose Maria Yazpik, Geraldine Alejandra, Gerardo Ruiz-Esparza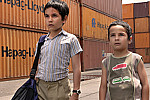 release US Jan.10 sff,
Mex 28.May.10, UK 7.Jan.11
10/Mexico 1h25

---
SUNDANCE FILM FEST
CANNES FILM FEST


For his first narrative feature as director, Luna takes an offbeat look at parenthood through the eyes of an unusual child. The result is engaging and involving, and so bizarre that it's impossible to predict where the story's going.

Abel (the remarkable Christopher Ruiz-Esparza) is a 9-year-old who's been in a hospital mental ward for the past two years. He returns home not quite healed: he thinks he's his own missing father and starts parenting his big sister (Alejandra) and little brother (Gerardo Ruiz-Esparza). His mother (Gidi) goes along with it out of concern for Abel's mental health, but when his estranged father (Yazpik) returns, things start getting out of hand. And it seems like there are only two options: carry on indulging Abel's delusion or send him back to hospital.

As a director, Luna skilfully maintains a warm sense of humour while stirring in a growing sense of unease about what might happen. The story keeps surprising us along the way, just as events are clearly surprising the characters, which makes us identify with them and travel this strange journey in their company. Luna achieves this with intensely personal camera work and editing, plus production design that's both vividly colourful and realistically earthy.

In his first acting role, Christopher Ruiz-Esparza holds the film together beautifully while Luna and the rest of the cast quietly allow him to develop Abel into an unforgettable little boy. Each actor brings a raw honesty to his or her performance to make this family eerily believable. So when the long-lost dad returns, we feel the shift dramatically. From here things grow increasingly intense, and even if the climactic set piece lacks a gut punch, it's pretty wrenching to watch.

A film about a mentally unstable child could be a difficult thing to watch, but Luna fills each scene with gentle humanity, jagged humour and vivid interaction. He also reveals truths about family interaction in ways that are both endearing and thoughtful. This may be a small film with a quirky story, but it has haunting things to say to all of us. And it marks Luna as a director with rare sensitivity and skill.
PG themes, language, some violence
---
26.Oct.10 lff

R E V I E W B Y R I C H C L I N E
Home for Christmas


Hjem til Jul
dir-scr-prd Bent Hamer
with Reidar Sorensen, Fridtjov Saheim, Trond Fausa Aurvaag, Joachim Calmeyer, Nina Andresen Borud, Igor Necemer, Nina Zanjani, Ingunn Beate Oyen, Cecile Mosli, Tomas Norstrom, Morten Ilseng Risnes, Sarah Bintu Sakor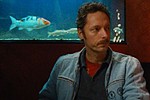 release Nor Oct.10 bff,
UK Oct.10 lff
10/Norway 1h25

---
TORONTO FILM FEST


Combining colourful characters with the continual presence of colourful Christmas lights, Norwegian filmmaker Hamer weaves together a series of sentimental but never syrupy holiday tales about generosity.

In small-town Norway, a group of people have a variety of hopes on Christmas Eve. Paul (Aurvaag) is desperate to see his kids, but his ex-wife wants to spend the evening with her new man. Paul's friend Knut (Saheim), meanwhile, is a doctor who responds to a call from a pair of stranded immigrants (Necemer and Zanjani) who are having a baby. And the homeless Jordan (Sorensen) is surprised to run into an old friend (Oven).

There are other stories as well, as Simon (Calmeyer) quietly waits for some friends to come help him, Karin (Borud) plans a romantic evening for her married lover (Norstrom), and two teens (Risnes and Sakor) look for the brightest star in the sky. Each strand finds a different meaning for the film's title while probing the characters' thoughts and feelings.

Watching this is powerfully evocative, as we can imagine ourselves to some degree in each scenario, so we discover things along with the characters, primarily about what's important to them and what they have to offer to others. They also discover the lengths they're willing to go to in order to find a sense of inner peace.

Hamer directs the film with a constant sense of the holidays, with Christmas trees and lights everywhere (including in the middle of the woods) as a reminder that the season might mean something important. He even dips into the original Nativity story with the plot about the two immigrants, a playful scene involving a creche and a climactic encounter at a midnight mass. And Santa even makes a very pointed appearance.

This is extremely clever filmmaking, with sets that are a marvel of colour and texture and a cast that skilfully captures the emotion under the surface without ever being obvious about it. It's so subtle that we hardly realise how deeply we've fallen for these lively, funny characters. But by the end we really care what happens to them. And we've seen ourselves in them as well.
15 themes, language, violence, sexuality
---
20.Oct.10 lff

R E V I E W B Y R I C H C L I N E
Rare Exports A Christmas Tale


MUST

SEE
dir-scr Jalmari Helander
prd Anna Bjork, Francois-Xavier Frantz, Petri Jokiranta
with Onni Tommila, Jorma Tommila, Rauno Juvonen, Tommi Korpela, Ilmari Jarvenpaa, Peeter Jakobi, Per Christian Ellefsen, Jonathan Hutchings, Risto Salmi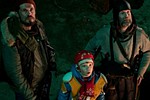 release US Sep.10 aff,
UK/Fin 3.Dec.10
10/Finland 1h17

---
TORONTO FILM FEST


Leave it to Finland, "the land of the original Santa Claus", to come up with a fiendishly clever way to twist the holiday's mythology into something that's both dryly hilarious and more than a little deranged.

When a multinational corporation drills into a mountain in Lapland, they make a freaky discovery: the original Father Christmas is encased in a buried block of ice. Local boy Pietari (Onni Tommila) figures out the secret and reads up on the grisly history of the real Santa, but his best friend Juuso (Jarvenpaa) doesn't believe any of it. And when kids start going missing, Pietari gets his father (Jorma Tommila) and his deer-hunting colleagues (Juvonen and Korpela) to help. But when they capture Santa, the strangeness has only begun.

The problem is that all of these people have been a bit naughty, and Santa knows it. And this unhinged wrinkle to the premise keeps us fully engaged with the characters. Writer-director Helander creates a tone that's darkly amusing and startlingly scary, skilfully mixing the bizarre events with more everyday realities. And the actors deliver earthy performances that are often hilarious simply because they're all so realistically clueless about what's happening. Except Pietari, of course, and Tommila is a superb central figure we can really root for.

Visually, the film captures the striking snowy landscapes and culture of Lapland, where ancient actions still have repercussions and where an age-old culture clashes with greedy big business. There are some rather ropey effects here and there, but it doesn't matter with a story as endlessly inventive as this one is. And the mixture of laughter and chills continues right to the very end, when we learn what the film's title means.

The idea that the historical Santa was actually a monstrous old man who viciously punished misbehaved children is a stroke of genius. Helander also uses iconic symbols like Christmas lights, reindeer and Advent calendars in witty ways. And the plot carefully sets up each action sequence then pays everything off with a hugely satisfying final act that has us cheering for the heroes. Frankly, this film has "cult hit" written all over it. See it before the inevitable half-baked American remake.
12 themes, language, violence
---
26.Oct.10

R E V I E W B Y R I C H C L I N E
Submarino


dir Thomas Vinterberg
prd Morten Kaufmann
scr Tobias Lindholm, Thomas Vinterberg
with Jakob Cedergren, Peter Plaugborg, Gustav Fischer Kjaerulff, Patricia Schumann, Morten Rose, Helene Reingaard Neumann, Sebastian Bull Sarning, Mads Broe, Mei Oulund Ipsen, Christian Kirk Ostergaard, Henrik Strube, Elias Ehlers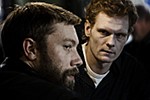 release Den 25.Mar.10,
UK Oct.10 lff
10/Denmark 1h45

---
BERLIN FILM FEST


Filmed and performed with raw honesty, this Danish drama is grim almost to the point of despair. It's like a Danish version of Requiem for a Dream, except that there's a tiny spark of hope deep inside it.

After a rough childhood, Nick (Cedergren) and his little brother (Plaugborg) lead separate lives in the same city. In his early 30s, Nick lives in a shelter, drowning his memories in beer, workouts and soulless sex with a neighbour (Schumann). But meeting an old friend (Rose) dredges up more sad memories and creates new problems. Meanwhile, Nick's brother struggles to balance his heroin addition with responsibilities to his 5-year-old son Martin (Kjaerulff), whose teacher (Neumann) is clearly interested. But he embarks on a get-rich scheme that risks everything.

The film is structured in two parts that separately follow Nick and his brother, bookended with a telling scene of them as boys (played by Sarning and Broe) dealing with an unspeakable childhood in which they find one brief reason for happiness. This quest for hope has continued throughout their lives, and they find it momentarily in the unexpected places. But their lives are slipping away from them, opportunities are fading and the future is looking very bleak indeed.

Vinterberg shoots this with deep colours and dense shadows, always centred on intimate close-ups. The result is relentless, as we are consumed by the characters' aching sadness and increasing frustration. Just when things seem like they can't get any worse, they do. And the film vividly captures these two men struggling to cope with the next thing that comes along to derail any fragile glimmer of optimism.

These tiny glimpses of promise in the gloom resonate strongly. The framing sequences are shot in bright light, as are two scenes in a church, suggesting that the past and the future might not be as awful as the present. And moments of clarity emerge along the way: at one point when the men meet up, Nick clocks his brother's addiction, quietly saying, "I'm not worried about you, I'm worried about the boy." These delicately observant performances cut through the film's occasional overstatement, challenging our own priorities and perceptions.
15 themes, language, violence, sexuality, drugs
---
24.Oct.10 lff


< < F O R E I G N > >
See also: SHADOWS FILM FESTIVAL

© 2010 by Rich Cline, Shadows on the Wall


HOME | REVIEWS | NEWS | FESTIVAL | AWARDS | Q&A | ABOUT | TALKBACK