SHADOWS ON THE WALL | REVIEWS | NEWS | FESTIVAL | AWARDS | Q&A | ABOUT | TALKBACK

Shadows off the beaten path
Indies, foreigns, docs, videos, revivals and shorts...
On this page: CRUDE | IT MIGHT GET LOUD
ONLY WHEN I DANCE | VALENTINO: THE LAST EMPEROR
< < D O C S
last update 13.Jan.10
See also: SHADOWS FILM FESTIVAL

R E V I E W B Y R I C H C L I N E
Crude


dir Joe Berlinger
prd Joe Berlinger, Michael Bonfiglio, JR DeLeon, Richard Stratton
with Steven Donziger, Pablo Fajardo, Rafael Correa, Trudie Styler, Sting, Emergildo Criollo, Maria Garofalo, Luis Yanza, Adolfo Callejas, Diego Larrea, Sara McMillan, Atossa Soltani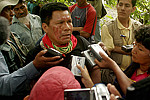 release US 9.Sep.09,
UK 15.Jan.10
09/US 1h45

---
SUNDANCE FILM FEST

This intense documentary tells a hugely important story that's packed with compelling characters and situations. Although a repetitive structure and a sense of agonising futility conspire to undermine the vital lessons it has to teach us.

Starting in the early 1960s, Texaco began drilling for oil in Ecuador's Amazon rainforest, displacing indigenous groups with polluted rivers and causing health problems for generations. In 1993, the poor residents of this area filed a class-action suit against Texaco (now owned by Chevron), which has been dragging through the courts ever since, delayed by lawyers and Ecuador's political instability. Chevron denies all blame, pointing the finger at PetroEcuador, the nationalised company that assumed ownership of the drilling sites in the 1990s. But human rights activists and lawyers argue otherwise.

The film follows the work of two lawyers arguing the case against Chevron: the American Donziger and the Ecuadorian Fajardo. These guys make a great team, and the cameras capture their interaction and camaraderie in some very testy situations in the isolated rainforest, the capital Quito and several American cities. They eventually attract rainforest activist Styler and her husband Sting to their cause. Not to mention a major spread in Vanity Fair and a hero award from CNN.

But will all of this public attention change anything? These essentially powerless people are taking on one of the biggest corporations on earth, with slippery-tongued lawyers and experts who constantly shift blame and lobby governments to rule in their favour. The raw fact is that if Chevron-Texaco had done anything like this in America there would be people in prison as a result.

Filmmaker Berlinger assembles this film like an international thriller, following these people as they battle against a system weighted against them. They get a huge break with the 2006 election of populist Correa as Ecuador's president, and indeed several rulings have gone in their favour since then. The film wobbles a bit in its insistence on showing us every back-and-forth event over these years, which gets a bit tedious as we soon understand how intractable the situation is. But it's such an important, moving story that we come away feeling like we want to do something to help.
12 themes, language, some disturbing images
---
11.Jan.10

R E V I E W B Y R I C H C L I N E
It Might Get Loud


dir Davis Guggenheim
prd Peter Afterman, Lesley Chilcott, Davis Guggenheim, Thomas Tull
with Jimmy Page, The Edge, Jack White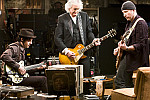 release US 14.Aug.09,
UK 5.Jan.10
08/US 1h37

---
TORONTO FILM FEST



Watching this film, we are utterly gripped as we hear the stories of three rock guitar legends and then see them interacting with each other. Yet while there's never a dull moment, the film still feels a bit random.

Filmmaker Guggenheim (An Inconvenient Truth) chooses top guitarists from three stages in rock history--Jimmy Page, The Edge and Jack White--and talks to about their childhoods and their love affairs with their guitars. It's like three mini-docs as we meet each man, learn about their first musical experiences and discover how each one's personal interests have fed into their specific style. Then he gathers all three in a room and lets them talk, compare notes, learn from each other and jam together.

The film is assembled like a narrative doc, even though there's not actually a story. Effectively using linking animation, Guggenheim adds some wonderfully surreal touches, such as the way White makes a guitar out of found bits and pieces in a farmyard and then is followed around by a younger version of himself. It's fascinating to see into the minds and gifts of these three iconic men. As The Edge says, "The guitar is my voice." And indeed, each one has a very distinct sound that couldn't be anyone else's.

Technically the film is utterly beautiful, with lush cinematography (by Guillermo Navarro and Erich Roland) and slick, telling editing (by Greg Finton). This is assembled in a way that's witty and lively, playfully echoing the three big personalities at the centre of the film and really indulging in the sounds and textures of the music, from The Edge's technological innovations to White's bluesy, unprocessed sound to Page's ethereal purity of tone, which he calls "whisper and thunder".

Along the way, the film traces its way through rock history, from Page's involvement with 1960s British skiffle bands to White's experimental recordings. There's a fantastic wealth of historical footage here, including terrific footage of Led Zeppelin, U2 and the White Stripes, as well as rare recordings of the people who inspired them. And along the way, Guggenheim really captures their passion, humour and joy. In the end the film feels a bit thin, but it's so packed with great music and wonderfully revealing stories that we can't help but walk out smiling.
15 themes, language
---
22.Sep.09

R E V I E W B Y R I C H C L I N E
Only When I Dance


dir Beadie Finzi
prd Giorgia Lo Savio, Nikki Parrott
with Irlan Santos da Silva, Isabela Coracy Alves Nascimento Santos, Mariza Estrella, Sylvana Deuzarina Alves Santos, Teotonio da Cruz Santos Filho, Lucia Amelia Nascimento Brito, Moises Abrao Alves Nascimento Santos, Mavis Staines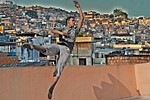 release US Apr.09 tff,
UK 4.Dec.09
09/UK 1h18

---


This inspiring, involving documentary traces the stories of two dancers from the favelas of Rio de Janiero in a disarmingly simple way. As the story gets under our skin, we can't help but cheer them on.

Irlan is a 17-year-old dancer at the Centro de Danca who's like a real-life Billy Elliot. His father Teotonio seems startled by his overflowing enthusiasm for his son's gift for ballet, something most fathers in the favela would be embarrassed about. And the school's founder Mariza says he's the best at his age in all of Brazil. Another of her students is Isabela, a black ballerina in a cruel profession that values body shape over talent. As Isabela diets, her parents Lucia and Moises struggle to raise money to send her to a competition in New York.

Filmmaker Finzi follows these two young people through a remarkable series of events both in their families and in their aspiring careers. Irlan gets a chance to compete in Switzerland before joining Isabela in New York, and waiting for the results in both places is thoroughly nerve-jangling. And that's beautifully layered with scenes showing how balanced these young people are, and how gifted they are as dancers. Frankly, Irlan is jaw-droppingly good on stage.

Meanwhile, we get to know both sets of parents, understanding the challenges they face at home and the odds stacked against both of them. As Moises says, "For the rich, victory comes easy. The rest of us have to fight." And these parents want to do whatever they can for their children, even with their limited resources. It's also incredibly endearing to see how proud they are of their children, as well as how both Irlan and Isabela want to help their parents have a better life.

Finzi captures all of this with lush, beautifully framed camerawork, sharp editing and a real sense of rhythm and movement. The narrative is instantly involving, mainly because the big personalities of everyone on screen come through strongly, and we quickly begin rooting for Irlan and Isabela and their families. It's not a big, important film, but it tells a terrific story especially well.
PG themes, language
---
10.Jan.10

R E V I E W B Y R I C H C L I N E
Valentino: The Last Emperor


dir Matt Tyrnauer
prd Matt Kapp
with Valentino Garavani, Giancarlo Giammetti, Matteo Marzotto, Antonietta de Angelis, Karl Lagerfeld, Dante Ferretti, Anna Wintour, Gwyneth Paltrow, Claudia Schiffer, Joan Collins, Michael Caine, Uma Thurman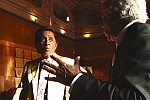 release US.18 Mar.09
08/US 1h36

---
TORONTO FILM FEST

With a fly-on-the-wall style, this doc about the build-up to designer Valentino's epic 45th anniversary celebration in Rome is a wry and affectionate look at the fashion world that quietly reveals telling things about the man behind the label.

Valentino is one of the last old-world designers, controlling every aspect of his label, from original sketches to working with models to approving the minutiae of his shows. But as he approaches a lavish party in July 2007, honouring his 45 years at the top of Italian fashion, he faces a changing world in which corporate concerns outweigh the diva-like desires of star designers. With his loyal partner Giancarlo, who patiently runs everything behind the scenes, Valentino faces a very different future. Not that he lets anyone see his insecurity.

With fairly uninhibited access, the filmmakers catch both the public and private life of this permatanned genius. Valentino obviously wants to keep his personal story out of view, but we get a vivid glimpse of his perfectionist rants while seeing the true nature of his relationship with Giancarlo. This is remarkably touching as they make such a formidable couple: the hot-cold flaming artist and the level-headed manager who always lets his lover think he's the boss.

The intimate footage also captures some truly spectacular backstage images. The grand celebration is an awesome production, dotted with celebrity guests and massive displays, shows and stunts. But even more impressive are the scenes in which we see Valentino sketching designs, adjusting fabric on the models and then cheering them out onto the catwalk. Meanwhile, we get the feeling that he is utterly unaware of the army of employees who actually did all of the detail work.

And then there's the vintage footage of fashion shows, interviews and performance pieces that fill in his almost overpoweringly glamorous past. This is an especially well-assembled documentary that vividly traces the changing nature of the fashion world while quietly capturing a remarkable relationship between two men over some five decades. It's compelling viewing that makes us mourn the passing of an entire industry. And it leaves us wanting to know more about this enigmatic man.
15 themes, language
---
3.Jan.10


< < D O C S
See also: SHADOWS FILM FESTIVAL

© 2010 by Rich Cline, Shadows on the Wall


HOME | REVIEWS | NEWS | FESTIVAL | AWARDS | Q&A | ABOUT | TALKBACK