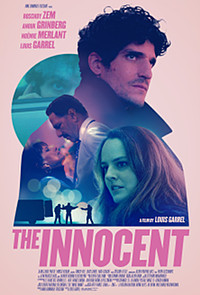 dir Louis Garrel
scr Tanguy Viel, Louis Garrel
prd Anne-Dominique Toussaint
with Louis Garrel, Roschdy Zem, Noemie Merlant, Anouk Grinberg, Jean-Claude Pautot, Yanisse Kebbab, Lea Wiazemsky, Manda Toure, Olga Amelchenko, Romain Blachier, Zorah Ait Maten, Jean-Claude Bolle-Reddat
release Fr 12.Oct.22,
US 17.Mar.23, UK 25.Aug.23
22/France 1h39

---
CANNES FILM FEST
---
Is it streaming?

---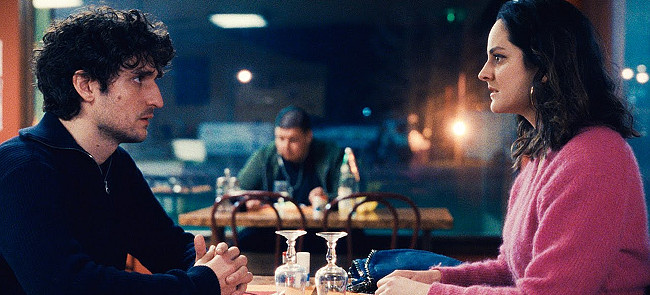 While this French romp is both engaging and entertaining, its pacing feels a bit on the frantic side, as it playfully combines romantic comedy, heist caper and crime thriller elements. Actor-filmmaker Louis Garrel inventively packs the screen with chatty characters, slapstick silliness and tense action, and he also pulls a range of story strands in often surprising directions. So watching it feels like taking a rather wild ride.
---
In Lyon, Abel (Garrel) can't help but become worried when his oft-married diva mother Sylvie (Grinberg) marries ex-convict Michel (Zem), quits acting and opens a flower shop. Abel begins spying on Michel, convinced that he's up to something nefarious. He shares his concerns with his colleague Clemence (Merleant), who was his late wife's best friend. And as they snoop around, they discover that Michel has been coerced into a heist by his old pal Jean-Paul (Pautot). Soon, Abel and Clemence are involved as well. And of course nothing goes quite as anyone intended it to.
---
Connections between the four central characters are enjoyably messy, complicated by each person's personal issues. It's clear that Abel has been too preoccupied to notice a strong mutual attraction he shares with Clemence, so where that heads is unsurprising. And there's never a question that Michel is a good guy, despite his lingering connections to a criminal underworld. Instead, the writing and direction infuse the action scenes with comedy beats, so nothing gets too nasty or threatening. But there's a nice edge to the mayhem that holds the interest.

Garrel is a likeable protagonist, the innocent guy pulled in various directions by his rather naive assumptions about everyone around him. His general state of panic feels both realistic and ridiculous, and is also very easy for the viewer to identify with. He has terrific chemistry with the sparky, bracingly witty Merleant. And he's a great foil for the riotously prickly Grinberg. She creates a sweet and sexy connection with Zem, who brings the film some calm gravitas as the smart, thoughtful Michel

As the plot embraces its more farcical elements, the narrative's strong momentum carries it through a few rather jarring tonal shifts. And in the end, this becomes a charming tale about a group of people who learn to balance their own feelings with the needs of the others around them. So the story packs a few emotional punches as it heads to a conclusion that's both satisfying and perhaps a bit more complex than expected.
| | | |
| --- | --- | --- |
| | themes, language, violence | 1.Jun.23 |
---
Love Life
Review by Rich Cline |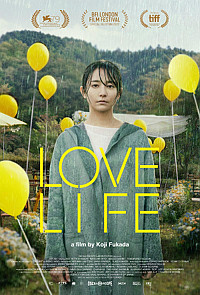 dir-scr Koji Fukada
prd Yasuhiko Hattori, Masa Sawada
with Fumino Kimura, Kento Nagayama, Atom Sunada, Hirona Yamazaki, Tetta Shimada, Tomoro Taguchi, Misuzu Kanno, Natsume Mito, Keiichiro Azuma, Masahide Osada, Akari Fukunaga, Yoshiki Urayama
release Jpn 9.Sep.22,
US 11.Aug.23, UK 15.Sep.23
22/Japan 2h07

---

TORONTO FILM FEST
LONDON FILM FEST
---
Is it streaming?

---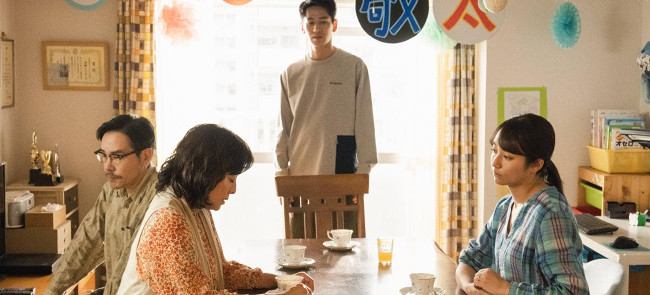 Sunshine and colour fill the screen in this understated Japanese melodrama. Writer-director Koji Fukada infuses this overlong but involving film with touches of character-based comedy amid the intense emotion. So the story remains honest and resonant, reminding us that the path to love is far more complicated than we wish it would be. And in the end, this is also perhaps the most gentle exploration of anguish imaginable.
---
Working for a homeless charity, Taeko (Kimura) has a happy life with husband Jiro (Nagayama) and boisterous 6-year-old son Keita (Shimada). But a celebratory dinner with Jiro's parents (Taguchi and Kanno) reenforces some harsh feelings, and an accident triggers fractures in their relationship. Then Taeko's ex-husband Park (Sunada), Keita's deaf father, shows up. He turns out to be angry and homeless, which puts him between Taeko and Jiro at work, but both try to help him get back on his feet. They also have further issues in their marriage that need to be resolved.
---
Capturing everyday events with a skilful attention to detail and remarkably fluid camerawork, Fukada traces the entangled connections and intersections in this very normal family. The first scene between Taeko and Park is wrenching, reflecting their past pain without a word spoken between them. As the story continues, there are added wrinkles that bring both more hurt but also some happiness, plus conflicted emotions as Taeko reconnects with Park and Jiro reaches out to an ex-girlfriend (Yamazaki) he wronged.

Each of these people has giant steps to take as they deal with their feelings and the knotted bonds they have with each other. Every moment of interaction in this film is staggeringly complex, working on various levels. Because of the film's hushed, often silent ambience, the performances are unusually subtle, revealing inner thoughts in inventive ways that have a strong impact. Even without speaking, scene-stealer Sunada has the most expressive role. And both Kimura and Nagayama find wonderful textures in brittly distant scenes with each other and the characters around them.

There's a remarkable fragility in the combination of happiness and pain depicted in this story, as big feelings ripple through each softly spoken scene. The drama that emerges is jaggedly pointed and would be much more difficult to watch if the interaction was heightened or shouty. Instead, Fukada's thoughtful storytelling brings the viewer in, so we can feel each wrenching moment. There are glimpses of joy here and there, but the feelings run so deep that our reaction has to be more complicated.
| | | |
| --- | --- | --- |
| | themes, violence | 7.Aug.23 |
---
Simone: Woman of the Century Simone: Le Voyage du Siècle
Review by Rich Cline |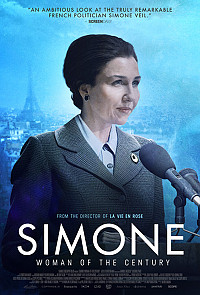 dir-scr Olivier Dahan
prd Vivien Aslanian, Romain Le Grand, Marco Pacchioni
with Elsa Zylberstein, Rebecca Marder, Elodie Bouchez, Judith Chemla, Olivier Gourmet, Mathieu Spinosi, Sylvie Testud, Philippe Torreton, Philippe Lellouche, Bastien Bouillon, Lubna Azabal, Francois Rollin
release Fr 12.Oct.22,
UK Nov.22 lfff, US 18.Aug.23
21/France 2h20





---
Is it streaming?

---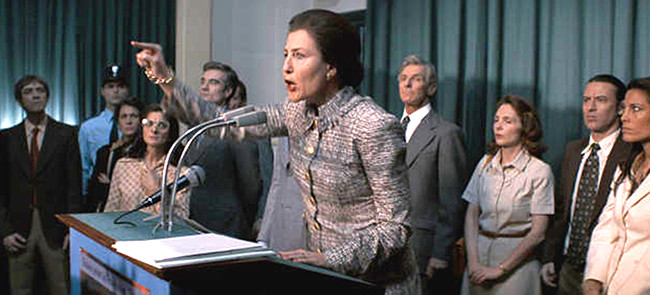 Jumping around in time, this biopic covers the life of politician Simone Veil from about 1940 until her death at 89 in 2017. The scrambled structure is challenging for viewers unfamiliar with her story; as the narrative powers at a brisk pace out of order, keeping track of the bigger picture is increasingly difficult. But each individual sequence has its own real power, drawing vividly on memory and witnesses.
---
After growing up in a secular Jewish home in Nice, Simone (Marder) is deported by Nazis with her entire family, surviving Auschwitz with her sister Milou (Chemla). After the war, Simone studies law in Paris and meets husband Antoine (Spinosi then Gourmet). During her career in government, she addresses issues relating to prison conditions and medicine. As France's minister of health in 1974 (now Zylberstein), she boldly faces opposition, leading the drive to make contraception and abortion legal and safe. In 1979 she is elected the first president of the European Parliament.
---
Immaculately designed with first-rate production values, the film captures details from each period through Veil's momentous life. The fragmented approach allows her harrowing experiences in prison camps to colour her entire life. A born survivor, she pursued a career when women didn't do such things. As a government minister, she ruffled feathers by showing more concern for prisoners than guards and taking a compassionate approach to Aids. Her return to Auschwitz is intensely moving, leading into newsreel clips of the real Veil challenging Europe over Bosnia's concentration camps.

Performances are terrific, embodying the characters with passion and internalised energy. Both Zylberstein and Marder have terrific scenes as Simone, a strong-minded woman whose life experience pushed her to fight for unity, equality and justice in a variety of ways. Bouchez (as her mother) and Chemla have very strong moments along the way, most notably in the World War II scenes, while the male roles kind of fade into the scenery.

Simone Veil had a noted impact on so many issues over her career that the film begins to feel overwhelming, shifting from one intensely emotional situation to the next. Her work in Algerian women's prisons is so harrowing that it almost eclipses her hellish experience in Auschwitz. But then there are significant events in each decade, marking Veil's astonishing groundbreaking work. And seeing her stand up to hatred again and again is a nasty reminder of how bigotry and totalitarianism continue to plague the world.
| | | |
| --- | --- | --- |
| | themes, language, violence | 17.Aug.23 |
---

< < F O R E I G N > >
See also: SHADOWS FILM FESTIVAL

© 2023 by Rich Cline, Shadows on the Wall


HOME | REVIEWS | NEWS | FESTIVAL | AWARDS | Q&A | ABOUT | TALKBACK