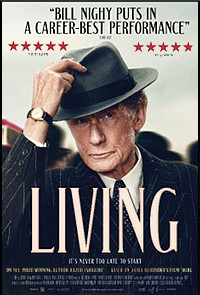 dir Oliver Hermanus
scr Kazuo Ishiguro
prd Elizabeth Karlsen, Stephen Woolley
with Bill Nighy, Alex Sharp, Aimee Lou Wood, Adrian Rawlins, Tom Burke, Hubert Burton, Oliver Chris, Patsy Ferran, Barney Fishwick, Michael Cochrane, Zoe Boyle, Lia Williams
release UK 4.Nov.22,
US 23.Dec.22
22/UK Film4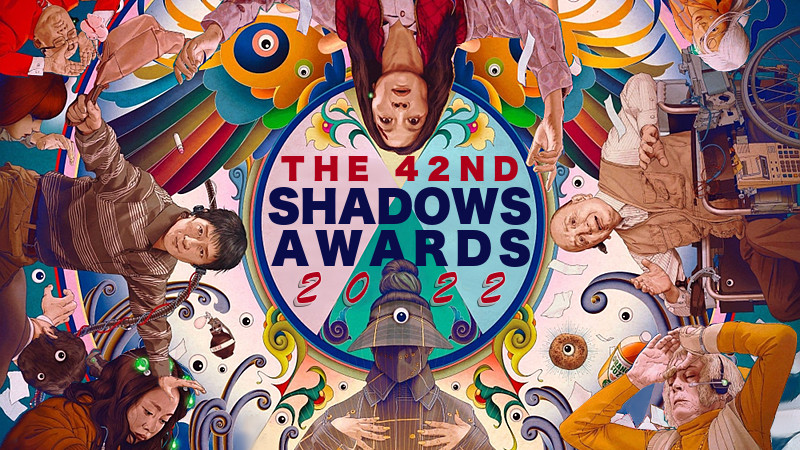 • TOP 10 FILM
• BEST SCREENWRITER

SUNDANCE FILM FEST

LONDON FILM FEST
---
Is it streaming?

---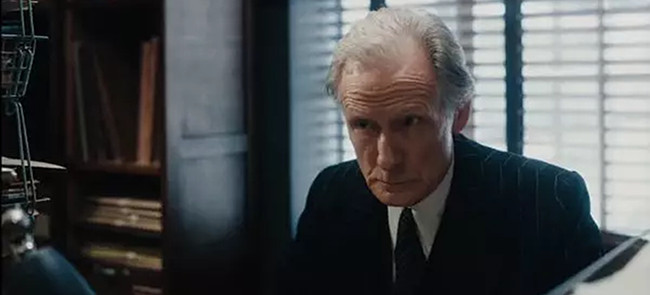 With a smart, delicate script by Kazuo Ishiguro and incisive direction by Oliver Hermanus, this remake of Kurosawa's 1952 classic Ikiru is skilfully shot in period style. Sensitive filmmaking and a punchy story tackle themes that feel powerfully relevant 70 years later, and everything is delivered in a subtle, understated way that's carefully tied in with the story's characters and setting. It also offers Bill Nighy a wonderful lead role.
---
In 1953 London, Williams (Nighy) runs the public works office in London's County Hall with a team of loyal, intimidated bureaucrats. Like other departments, he mainly just pushes work along for someone else to deal with. Diagnosed with terminal cancer, he can't bring himself to tell either his colleagues or his son and daughter-in-law (Fishwick and Ferran), whom he has lived with since his wife died. Escaping to the seaside, a stranger (Burke) provides an epiphany: Williams should begin living in whatever time he has left. And perhaps he'll create a legacy in the process.
---
Britain's repressive class system shows in the deferential way underlings approach Williams, and also in how he cowers before his boss Sir James (Cochrane). The script provides additional perspectives in Margaret (Wood), one of Williams' team who moves on to another job and becomes a kind of confidant, and also Peter (Sharp), a newcomer in whom Williams sees a glimmer of hope. The story structure maintains the characters' reticence, circling around to fill in the details later, while offering pointed humour and pungent emotions along the way.

This is an unusually beefy role for Nighy, who is able to bring some powerfully emotional angles to the stiff-upper-lip Williams, while also adding moments of brittle fragility and warm wit. His interaction with Wood is particularly enjoyable, as she draws out his feelings with her earnest curiosity and compassion. Sharp's Peter has a similar effect, with very different textures. And Burke registers strongly in the sequence in which his louche character takes the slowly unfolding Williams under his wing for a night on the town.

Packed with vivid themes that are understated to perfection, the film rewards close attention with some powerful insights. Jamie Ramsay's cameras find artfully gorgeous angles that force us to look deeper, while Hermanus gently draws out the almost subliminal power in Ishiguro's screenplay. What emerges is a bracing reminder to engage with life every day, and to avoid letting society's rules and restrictions lead to lingering regrets. Although making an impact requires opening our hearts to the possibilities. Sundance/Venice tt9051908
| | | |
| --- | --- | --- |
| | themes, language | 27.Sep.21 / 14.Sep.22 |
R E A D E R R E V I E W S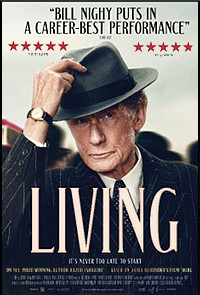 Still waiting for your comments ... don't be shy.