---
All That Breathes
Review by Rich Cline |

MUST

SEE

dir Shaunak Sen
prd Teddy Leifer, Aman Mann, Shaunak Sen
with Salik Rehman, Mohammad Saud, Nadeem Shehzad
release UK 14.Oct.22,
US 21.Oct.22, Ind Nov.22 diff
22/India 1h37

---
SUNDANCE FILM FEST
CANNES FILM FEST

---
Now streaming...

---
Shot and edited with a narrative sensibility, this documentary recounts a story in such an intimate way that it pulls the audience deep inside. Which of course allows much wider themes to come vividly to life. Ben Bernhardt's lush cinematography observes the action quietly, catching a wonderful range of details with visual panache. And the film also catches the witty personalities of its hugely engaging central figures.
---
In Delhi, brothers Saud and Nadeem have created a makeshift hospital in their cramped home, caring for scores of birds that have been wounded by the city's pollution and congestion, which forces all animals to adapt. Their favourites are the black kites that soar majestically overhead. As they tenderly care for their patients with their volunteer assistant Salik, they also deal with wider issues of civil unrest, discrimination and government inaction on urgent environmental issues. They must also seek funding and education to expand their work. And they can't help but worry about the future of this city.
---
Saud and Nadeem have been rescuing birds since they were teen bodybuilders, as Muslims taking particular care of the carnivorous species that are ignored by vegetarian Hindus. They've also had to cope with the harsh societal prejudice against them. But their attitudes remain positive, just getting on with the job at hand, caring for creatures no one gives a second thought about. All three men have other things to worry about, but their tender camaraderie and clear concern for birds shines through, along with their cheeky senses of humour.

Because of the film's observational approach, the big issues add a remarkable perspective to both understated interaction and gorgeous footage that skilfully juxtaposes natural beauty with urban blight. As a result, this film works on a variety of levels: it's an artistic nature doc, a profound story of young men who care deeply about nature, and a thoughtful exploration of how humans and animals are inextricably connected within their environment. In its unassuming way, this is an urgent, essential documentary.
| | | |
| --- | --- | --- |
| | themes, language, grisliness | 1.Dec.22 |
---
Crows Are White
Review by Rich Cline |


dir Ahsen Nadeem
scr Ahsen Nadeem, Matt H Mayes, Dawn Light Blackman
prd Ahsen Nadeem, Riel Roch Decter, Sebastian Pardo
with Ahsen Nadeem, Kamahori, Ryushin, Dawn Light Blackman
release US Mar.22 sxsw,
UK Oct.22 lff
22/US 1h37

---

---
Now streaming...

---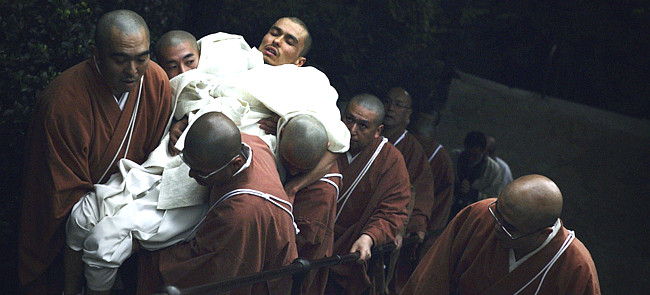 Beautifully photographed in otherworldly locations that are rarely seen by outsiders, this documentary has a compelling narrative structure that explores the nature of faith and traditions in the present day, specifically looking at Buddhism and Islam. Set out as a complex personal odyssey, it centres on filmmaker Ahsen Nadeem's exploration of extreme lengths people go to in search of enlightenment. The offbeat result is witty, revealing and strongly resonant.
---
It took Nadeem two years to get permission to visit an isolated Buddhist monastery in the misty forests of Mount Hiei near Kyoto. There, Kamahori has been chosen to complete a dangerous ritual that requires him to walk a marathon every night for seven years. If he fails, he is required to commit suicide. If he survives, he will be declared a living Buddha. And then there's the low-level, third-generation Ryushin, who loves heavy metal and wishes he could go out and see people. Over an extended period of time, the monks test Nadeem's resolve.
---
At the beginning, Kamahori is in period of silence, so only sits and stares at the camera. So it's other monks who speak about life in this unusual place where daily routines and traditions haven't changed for centuries. When Nadeem asks one young monk if he's ever been in love, he doesn't understand the question. Another gives the same answer when asked if he has any regrets. Later, Nadeem witnesses rituals that can be fatal, and he begins to realise that enlightenment isn't a destination: it's a reminder to keep working.

Nadeem speaks about how living a double life spurred him to immerse himself in monastic existence. This sparks childhood memories of fervent prayer, growing up in Saudi Arabia and hoping to become a great prophet. His family moved to Ireland during the Gulf War and maintained strict Muslim discipline at home. This led him to lie to his parents about being a good Muslim boy, and to hiding his non-Muslim fiancee Dawn from them.

Finding commonality between people of faith, Nadeem hopes that this monastery can help him deal with his issues. But he's still unable to tell his parents that he now has married a non-Muslim. Three years go by, and this duality has taken a toll. He's even given up on the film. It's both entertaining and inspiring to see him rekindle his friendship with Ryushin, revisit the monastery and work up the nerve to do what he knows he has to do. So the film's final scenes are astonishing.
| | | |
| --- | --- | --- |
| | themes, language | 14.Oct.22 |
---
Getting It Back: The Story of Cymande
Review by Rich Cline |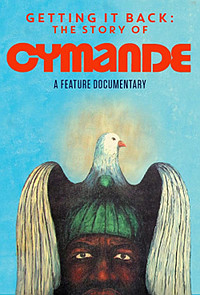 dir Tim MacKenzie-Smith
prd Tim MacKenzie-Smith, Matt Wyllie
with Patrick Patterson, Sam Kelly, Steve Scipio, Pablo Gonsales, Derrick Gibbs, Mike "Bammi" Rose, Mark Ronson, Norman Jay, Jim James, Craig Charles, Jazzie B, DJ Maseo
release US Mar.22 sxsw,
UK Oct.22 lff
22/UK 1h29

---

---
Now streaming...

---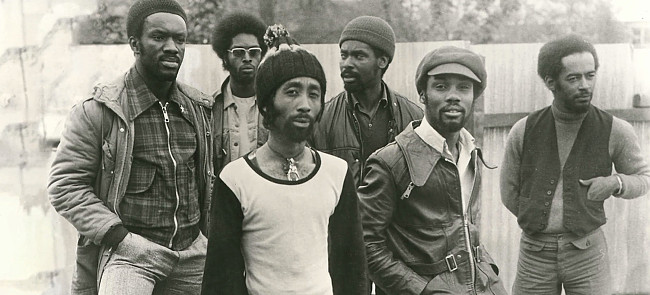 Unsung and hugely influential, the British group Cymande was overdue for a documentary, and this beautifully assembled film is a superb overview. Shot and edited with the same soulful groove the band injected into the music industry, the movie features an entertaining collection of interviews, music and archival film. Director Tim MacKenzie-Smith clearly has a lot of affection for the band. And so do we after watching his film.
---
Growing up as immigrants in racist 1960s Britain, a group of Afro-Caribbean boys started hanging out for support and friendship, using music as therapy. They formed Cymande in the early 1970s and found success in 1972 America with their funky tunes about peace and love. But back home they were sidelined. Frustrated, they stepped away to take jobs as lawyers and businessmen. Meanwhile in America, musicians were mimicking and sampling their iconic tunes. And this ongoing interest led Cymande to reunite in 2014 for a tour and their first new album in 41 years.
---
Filmmaker MacKenzie-Smith tells the story chronologically, using interviews with both the bandmates and musicians who have been influenced by them. Looking at Cymande through hindsight reveals their influence on major artists ever since, all in the context of social upheaval, including civil rights activism in both the US and UK, where, as one notes, systems were designed to work against Black people. This adds powerful resonance to their work, which has only grown in influence over the following decades.

It's great to see that these men are just as close today as when they were young children, once again making music together. As they speak about their experience, they are honestly angry but never bitter about how badly they were treated by Britain's recording industry. Things were very different across the Atlantic, where Cymande were seen as American, having a direct influence on house and hip-hip. And the film shows how they continue to be discovered by each new generation of artists who see their music as bracingly current.

Along with a portrait of these musicians, this is a terrific chronicle of the Windrush generation and the battle for racial equality in Britain and elsewhere. Cymande's music is so honest and personal that it sounds fresh and new today. This mix of politics and artistry makes the film important as it shines a light on a little-known but vital group of ground-breaking musicians. As Ronson notes, "The arc of history bends to the just", so it's no wonder that they are having a well-deserved resurgence.
| | | |
| --- | --- | --- |
| | themes, language | 17.Oct.22 |
---

< < D O C S > >
See also: SHADOWS FILM FESTIVAL

© 2022 by Rich Cline, Shadows on the Wall


HOME | REVIEWS | NEWS | FESTIVAL | AWARDS | Q&A | ABOUT | TALKBACK