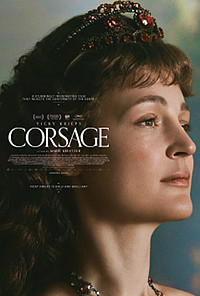 dir-scr Marie Kreutzer
prd Alexander Glehr, Johanna Scherz
with Vicky Krieps, Florian Teichtmeister, Katharina Lorenz, Colin Morgan, Jeanne Werner, Alma Hasun, Manuel Rubey, Finnegan Oldfield, Aaron Friesz, Rosa Hajjaj, Lily Marie Tschortner, Marlene Hauser
release Aut 7.Jul.22,
US 23.Dec.22, UK 30.Dec.22
22/Austria 1h53




---
CANNES FILM FEST
TORONTO FILM FEST

---
Is it streaming?

---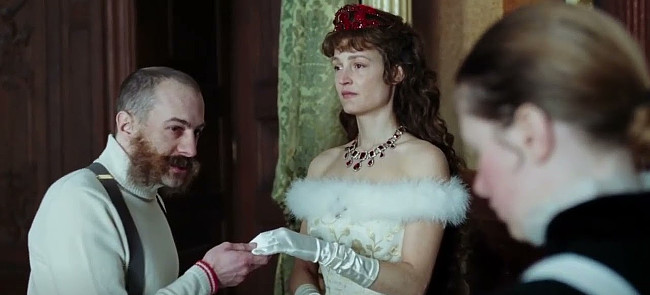 Fictionalising a real historical story to bring out deeper themes, Austrian writer-director Marie Kreutzer inventively uses witty flourishes to spice up what might have been a standard period biopic. This includes departing from recorded facts and quietly peppering the film with anachronistic touches. This mischievous approach creates a remarkably present-tense portrait of a defiant, important woman who doesn't deserve to be lost to a more traditionally staid biography.
---
On Christmas Eve 1877, Austria's Empress Elisabeth (Krieps) turns 40 and is labelled an old hermit by the press. Tired of the nasty gossip, she decides to change her image, making more public appearances and insisting that her servants keep her corsage, or bodice, waifishly thin. Her stifling husband Franz Joseph (Teichtmeister) has no idea what to make of her feistiness. And he and their teen son Rudolf (Friesz) are annoyed by Elisabeth's handsome male friends, including her artistic cousin King Ludwig (Rubey) of Bavaria, sexy riding instructor Bay (Morgan) and charming filmmaker Louis (Oldfield).
---
Setting out the story in short anecdotal scenes, Kreutzer and Krieps cleverly reveal various aspects of Elisabeth's restless personality and give her a wonderfully deadpan sense of humour. The film's tone is understated and playful, continually subverting expectations. It's also impeccably designed, with terrific costumes and sets that are bracingly grounded in realism, even as they break the usual cinematic rules. Several sequences are jarringly provocative, such as Elisabeth trying out a new drug called heroin just before a public appearance. And the way Kreutzer rewrites history is exhilarating.

There's a brittle honesty to the performances that continually reveals surprising attitudes both for Elisabeth and the people around her. In a demanding role, Krieps has a wonderfully engaging presence as this complex woman bristles against the requirements of life in the public eye, while also enjoying the attention. Indeed, she's almost amused by the injustice around her. Each of the supporting cast members registers as a real person with an intriguing life that's taking place off-screen. Although they can't resist being drawn into Elisabeth's orbit.

By including modern-day music and locations, Kreutzer cleverly highlights the larger themes about gender inequality. So they're unusually vivid, even though she never pushes the point. Everybody around Elisabeth is worried about her untraditional behaviour, which is code for their desire to crack down on her independence and creativity. This of course brings powerful echoes of spirited women who have fought for their place in history, including those who never wanted the limelight but rose to the challenge.
| | | |
| --- | --- | --- |
| | themes, violence, sexuality | 10.Nov.22 |
R E A D E R R E V I E W S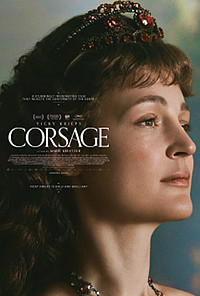 Still waiting for your comments ... don't be shy.