dir Pablo Larrain
scr Steven Knight
prd Juan de Dios Larrain, Pablo Larrain, Jonas Dornbach, Janine Jackowski, Paul Webster, Maren Ade
with Kristen Stewart, Timothy Spall, Sally Hawkins, Sean Harris, Jack Farthing, Jack Nielen, Freddie Spry, Amy Manson, Stella Gonet, Laura Benson, Richard Sammel, Elizabeth Berrington
release UK/US 5.Nov.21
21/Germany 1h51




---
VENICE FILM FEST
TORONTO FILM FEST

---
Is it streaming?

---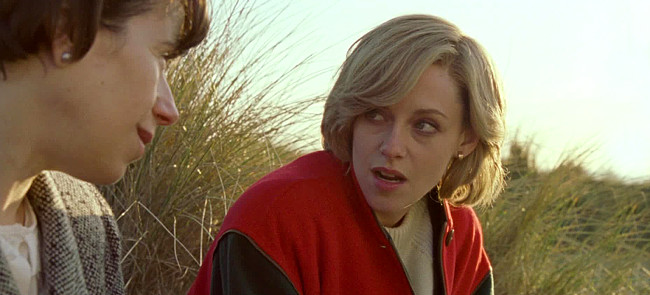 Taking an inventive, ambitious approach to a familiar story, writer Steven Knight and director Pablo Larrain elicit resonant emotions over just a few days in the life of Princess Diana. Calling this "a fable from a true tragedy", the film uses surreal touches to get deep under the surface of events depicted. This adds humour, melodrama and even horror, while pulling us down into the rabbit hole.
---
Britain's Royal Bamily has been summoned to Sandringham for Christmas, and everyone's on time but Diana (Stewart), who drives herself there. Feeling trapped by the traditions and rules, she stages little rebellions, conspiring with her sons William and Harry (Nielen and Spry) while relying on her maid Maggie (Hawkins) and confiding in head chef Darren (Harris). But butler Alistair (Spall) sees everything. And while the traditions and expectations begin to choke her, Diana is trying to figure out how to save herself and her children as her marriage to Charles (Farthing) is so clearly over.
---
Visually, the film is flat-out gorgeous, from the enormous palace to glorious landscapes to a lavish parade of gowns laid out for Diana to wear at each moment of each day. And a loose jazz score by Jonny Greenwood adds to the astonishing sense of how overwhelming this lifestyle must feel for outsiders. Cinematographer Claire Mathon sticks very close to Diana, so everything is seen through her eyes, including visions of Anne Boleyn (Manson) sparked by a book someone has pointedly left in her bedroom.

None of the performances are mimicry, which allows Stewart to create a fully internalised character. The visual clues are clever, but it's her emotional journey that carries a ponch. Her frustration infuses every scene, including the fact that her childhood home is just next door, now boarded up. Opposite Stewart, Spall, Hawkins and Harris have terrific moments along the way, drawing out specific textures in Diana's personality, as do the superb young actors Nielen and Spry.

Nothing plays in a straightforward way: dialog is whispered and elusive, while the pacing shifts to linger on one moment or completely skip another. A few metaphors are overused (including a tattered raincoat and rather a lot of pheasants), and some of the fantastical elements feel overreaching. But this isn't a movie you watch for earthy realism: it's a fiercely stylised dive into the soul of a woman living under a microscope both at home and in public. And one of those has to give.
| | | |
| --- | --- | --- |
| | themes, language | 7.Oct.21 lff |
R E A D E R R E V I E W S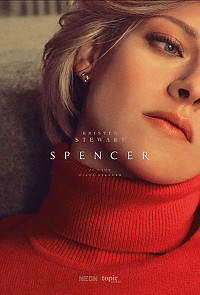 Still waiting for your comments ... don't be shy.